Event planning
Best venues for unique networking events
Whether meeting the sunset in the dunes of the Arabian desert or cheering on at the races, Dubai offers plenty of unforgettable venues to suit every style of event.
Whether meeting the sunset in the dunes of the Arabian desert or cheering on at the races, Dubai offers plenty of unforgettable venues to suit every style of event.
1
Meydan racecourse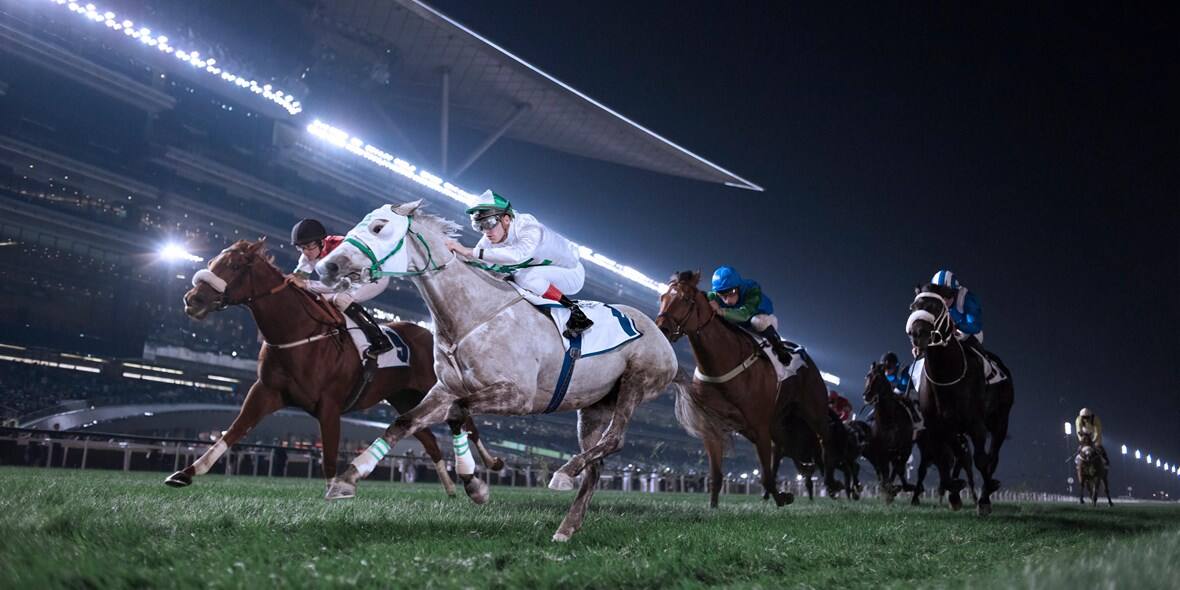 Dubai has a thriving horse racing culture, and at its heart is the state-of-the-art racing complex, Meydan, which stretches over 1.5 kilometres. Meydan is also a premium venue for meetings and conferences both in and outside of the racing season, with 12,000m2 of indoor spaces, and a dedicated 16,000m2 of space outdoors.

The adjoining Meydan Hotel has 71 multi-purpose breakout rooms, and seven restaurants that offer both casual and fine dining, as well as 285 elegant rooms and suites to accommodate delegates. The Hotel's spaces have the versatility to host different sized and styled social events. Its different-sized Sky Bubble spaces are contemporarily designed, and offer an elegant environment to host dinners for 400-1000 people, or cocktail-style parties for 750-1000 guests. The 16,000m2 trackside Apron Views caters for expansive events such as festivals, large banquets and open-air exhibitions.

Other flexible spaces include Dubai Millennium – which looks out onto the Meydan racecourse with a private terrace for coffee breaks or cocktail receptions, the Gallery – an elegant hall for conferences and exhibitions, and the Turf Lounge – a 350-capacity multipurpose space on level 4 of the grandstand. 

Also at your disposal is a 432m2 ballroom that can be partitioned into four spaces, and an outdoor terrace that opens up onto stunning views of the racecourse.
2
Madinat Jumeirah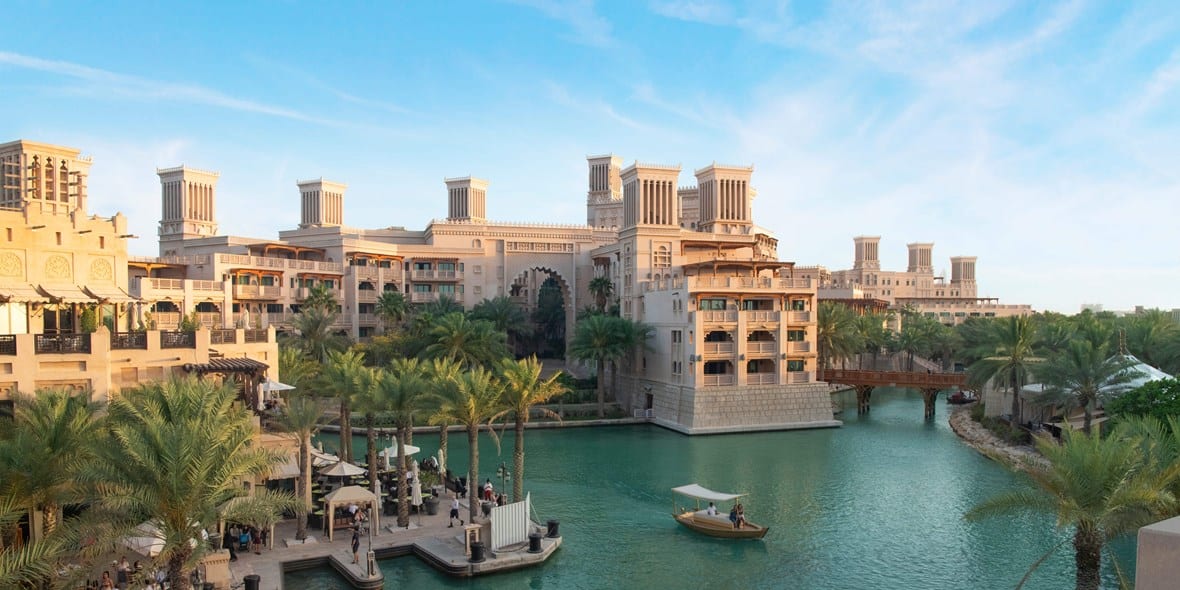 Madinat Jumeirah is a unique location inspired by the traditional architecture of Dubai's low-rise sandstone buildings and enhanced by the benefits of modern luxury and technology. It also offers the most extensive amount of hotel event space in the UAE and its style and ambience lends perfectly to hosting unique social gatherings.

The beachside resort is close to landmarks such as the Mall of the Emirates and Burj Al Arab, and wooden boats ferry Madinat Jumeirah's hotel guests along an idyllic network of canals lined with restaurants and bars, frequented by locals and visitors alike enjoying the waterways' relaxed buzz.

 Among its event facilities is Fort Island. Separated from the main complex by a wooden bridge, Fort Island is a supreme grass-covered outdoor space set within 1,750m2 and large enough to accommodate up to 1,400 people but within an ambiance of an intimate occasion.

Another is Magnolia, set on the waters' edge of Madinat Jumeirah's serene canal system with indoor and outdoor spaces that can accommodate 250 people. Or there's Layali, a secluded and idyllic grass area adjacent to the Jumeriah Al Qasr private beach and overlooking the iconic Burj Al Arab. These are just to name a few.
3
Dubai Opera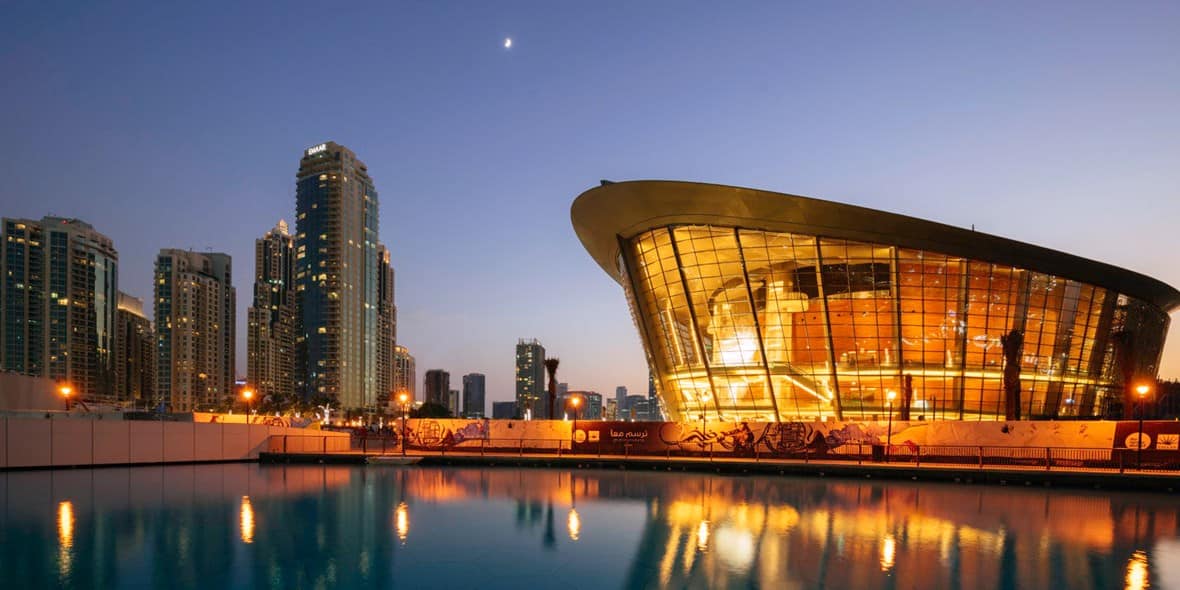 Dubai Opera is situated in Downtown Dubai, the city's central business and leisure district, among landmarks such as the Burj Khalifa (the world's tallest building) and the elegant Dubai Mall (one of the world's largest retail spaces).
The 2000-seat multi-format theatre is one of the Middle East's most vibrant performing arts and entertainment centres, boasting a varied and widely attended programme of performances by leading international artists and theatre companies.
Dubai Opera's innovative and unique design allows it to transform into three different layouts: a theatre, concert hall, and flat-floor auditorium, giving it the versatility to stage theatre, opera, ballet, orchestras, fashion shows, and art and industry exhibitions and conferences. In its flat-floor configuration, it can accommodate 1000 people, making it ideal to host gala dinners or post-exhibition parties.
Aside from the main auditorium, there are a number of areas you can utilise for events within Dubai Opera. Inside the facility there are sizable foyer areas – and for more intimate gatherings the 75m2 Majlis. Extensive outdoor spaces include the 1,475m2 Dubai Opera Garden grassed area, 1,980m2 Plaza and 2,760m2 Promenade – ideal for dining events.
4
Armani Pavilion
The Armani Pavilion at the Armani Hotel is a charming al fresco terrace at the heart of Downtown Dubai, seated at the foot of the Burj Khalifa and the edge of a 30-acre lake, with a ringside view of the spectacular Dubai Fountain – the world's largest choreographed fountain. It is also the perfect setting for cocktail receptions, informal parties or seated dinners, for up to 1,500 guests.
Armani Pavilion is a signature feature of the luxurious Armani Hotel Dubai which occupies the first eight floors of Burj Khalifa. Designer Giorgio Armani personally oversaw every detail of its sophisticated décor. Meeting spaces are fitted with state-of-the-art technology, while the Armani Ballroom has a capacity for up to 350 people.
Armani Hotel also has direct access to The Dubai Mall – one of the world's largest retail spaces. Burj Khalifa itself has a number of spaces to hold your social event 'at the top of the world'. Burj Level 112, has 990m2 of flexible events space with state-of-the-art audio-visual equipment, wireless connectivity, and minimal finishes so you can customise it to your own theme and concept. At 400 metres, it offers breathtaking views of the city.
5
The Arabian desert
For a bona fide Arabian experience, an escape into the desert is an ideal setting for a social event. The Dubai Desert offers the real thing. Undulating sand dunes, superb night skyscapes, and the most experienced guides to offer you an experience that you will not have outside of the Arabian Gulf.
If there's one thing that you and your delegates should experience on your visit to Dubai, it is an Arabian desert night.
Several companies in Dubai offer desert safaris, which include an exhilarating drive over the sand dunes, allowing delegates and groups to experience authentic Arabian cuisine and camel rides along with a breathtaking desert sunset.
For corporate social events, many companies do tailored desert safari trips, where safari guides share their extensive knowledge about the desert and Arabian culture. A range of different team-building activities are also on offer.
You can entertain your delegates on whichever scale you need – from smaller groups to large-scale desert dinners for 2,000 people.
And if your delegates opt for an overnight stay you can be assured that they will spend a comfortable and luxurious night under the stars accompanied with a sumptuous Arabian feast. Experiences range from paramotor tours to night time adventures. There are many operators providing plenty of options to explore the desert such Desert Adventures, Desert Safari Dubai, Desert Conservation Reserve, Paramotor Desert Adventure. 
6
Jumeirah Beach Hotel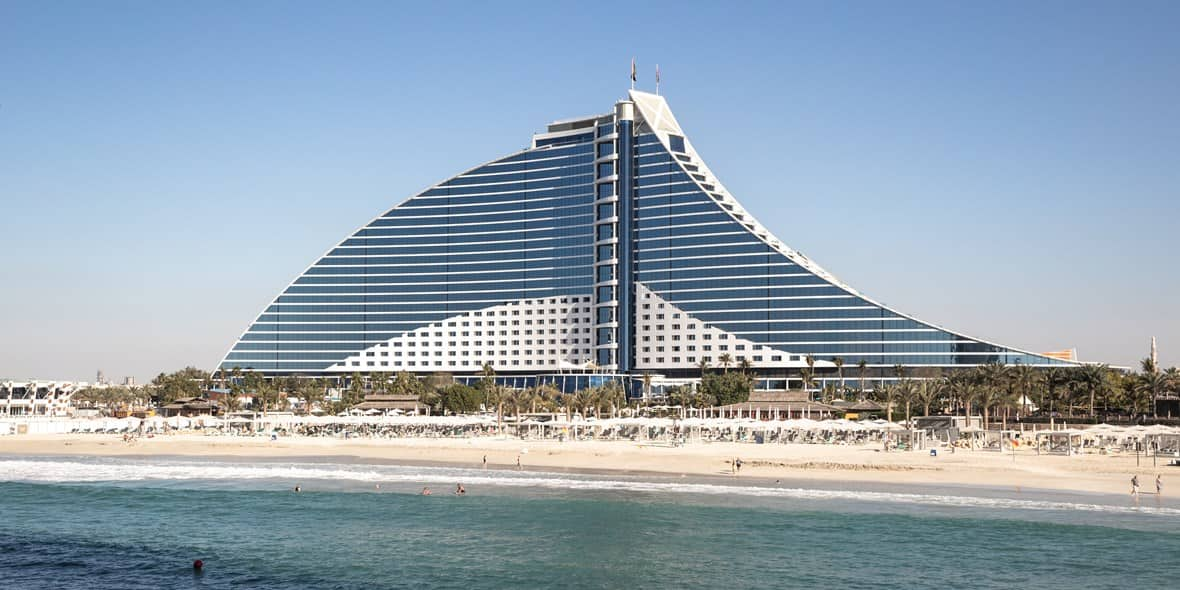 Jumeirah Beach Hotel offers some superb outside lawn locations for events of different scales. Each is idyllically close to the beachside, and each has the best view in town of the iconic Burj Al Arab.
The hotel has 599 renovated ocean-view rooms and suites, and 19 traditional Arabian styled beachside villas. So it offers a very conducive environment for your delegates to stay.
There is a plethora of indoor and outdoor events spaces to choose from. The 3,800m2 Events Arena is the hotel's largest versatile outdoor space catering for up to 2500 guests for a stand-up cocktail reception, or 1,500 for a seated dinner. The 400m2 Beachcomber Garden accommodates more intimate meals or drink receptions for up to 120 people. The slightly larger and beautifully landscaped Sunset Garden accommodates up to 150 guests.
On the second floor of the hotel with direct lift access is Sundeck Level 2, perfect for social gatherings or receptions for up to 150 people.
Indoor spaces include a stand-alone conference centre ideal for hosting various kinds of social or corporate events from private gatherings to medium-sized exhibitions and conferences, the tiered Meyana Auditorium with a seating capacity of up to 414 guests, and its eight Marasi meeting rooms with a seating capacity of up to 150 guests, which can be combined to suit individual event requirements.
Its 13 restaurants, cafes and bars include some truly charming choices, both within the hotel and along its private beach.