Dubai Economic Agenda 'D33'
The Dubai Economic Agenda 'D33' seeks to firmly establish Dubai as one of the top 3 cities to invest, live and work in.
D33 – Dubai City Ambitions
Dubai
The fastest, safest and most connected city in the world.
Investment
Conducive business environment for domestic and foreign direct investment.
Economic Hub
A sustainable, diverse and productive economy.
Global leader
A city at the forefront of the digital economy.
Talent Hub
An enhanced ecosystem to develop and nurture local talent.
An aspirational statement of intent
On January 4, 2023, His Highness Sheikh Mohammed bin Rashid Al Maktoum, Vice President and Prime Minister of the UAE and Ruler of Dubai, unveiled the Emirate's new economic agenda called 'D33'. This forward-looking initiative is Dubai's leadership aspiration for the future.
The 'D33' Agenda includes the launch of innovative projects that will drive sustainable economic growth through innovative approaches and double GDP by 2033, making Dubai the fastest, safest and most connected city in the world.
To achieve these goals, Dubai will accelerate growth by investing in human development and advanced technology. The city will also focus on consolidating its global competitiveness, fostering innovation, and nurturing a knowledge-based economy. By leveraging its strategic location and cutting-edge infrastructure, Dubai will establish itself as the most enabling business environment for national and international investments, attracting companies and talent from the UAE and across the globe.
Dubai strives to be at the forefront of innovation and economic growth by becoming a global leader in the digital economy. Furthermore, the agenda defines the city's vision of becoming a prominent global economic hub by prioritising sustainable practices and economic diversification.
Dubai Economic Agenda 2033
"
2033 will mark 200 years since the foundation of Dubai: the year in which Dubai will be the most important global business centre, and by then we would have completed the Dubai Economic Agenda 2033.
"
Major priorities for the next decade
The Agenda focuses on key priorities for the next decade, including raising the value added of the industrial sector and promoting export growth, contributing to a sustainable, diverse and productive economy. Other priorities include making Dubai one of the five leading logistic hubs in the world, and one of the top four global financial centres.
Furthermore, D33 aims to integrate upcoming generations of Emiratis into the private sector, making Dubai a hub for skilled workers, the most attractive global business centre, and an international hub for multinationals and local SMEs.
A major objective of the 'D33' Agenda is to make Dubai one of the top three international tourism and business destinations by creating a globally competitive business environment and reducing business costs. The 'D33' agenda aims to enhance the city's position as a fast-growing, attractive business hub with world-class quality of life and the highest levels of security and safety for Dubai's citizens and residents.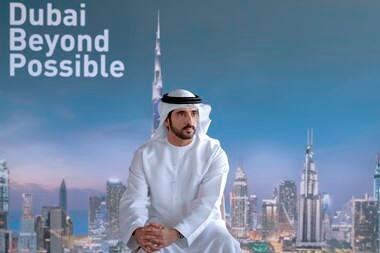 Establishing Dubai's global presence
Focusing on the following themes
Dubai Economic Agenda Initiatives
The work for D33 is already underway, with an initial focus on the following projects to kick-start Dubai's economic journey for the next 10 years.
First set of projects
Doubling the volume of Dubai's foreign trade and adding 400 cities to the map of foreign trade.
Launching Dubai Green and Sustainable Industry Plan.
Launching Dubai's Future Economic Corridors 2033 with Africa, Latin America and Southeast Asia.
A program to support the growth of 30 companies in new sectors to become global unicorn companies.
Integrating 65,000 young Emiratis into the labor market in promising sectors.
Launching Dubai Traders Project to empower the new generation of Dubai traders in key major sectors.
Launching Dubai Unified License to provide a unified commercial identity for all companies all over Dubai.
Launching "Sandbox Dubai" to allow testing and marketing of new products and technologies, to make Dubai a major hub for incubating innovations.
Launching the Dubai Project to attract the best international universities, to make the emirate a global leading center for higher education.
Developing a program to promote the growth of SMEs by identifying 400 companies with high potential and supporting their capacity-building and global expansion.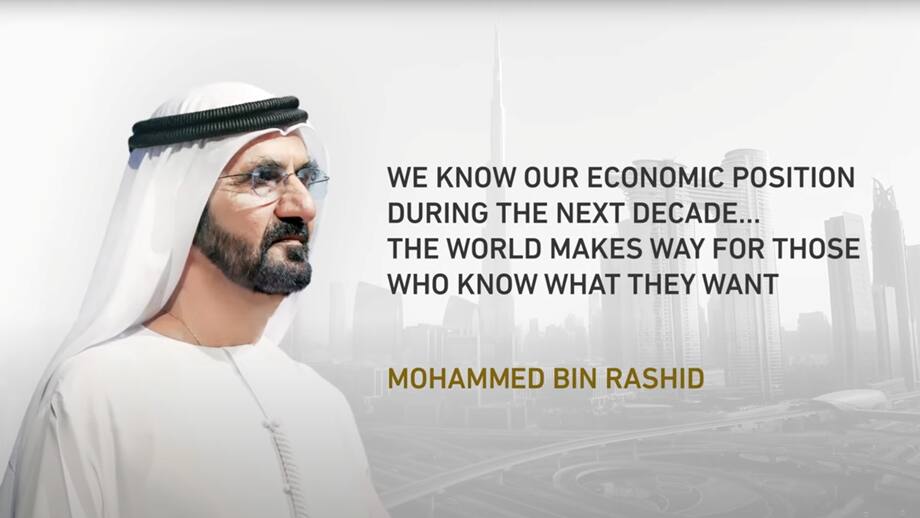 More from Why Dubai
Discover why Dubai is a global hub for business and investment.