Adventure
Top 8 amazing adventures in Dubai
Get your heart racing with these power-packed adventure activities in Dubai, from skydiving to dune driving in the desert.
Get your heart racing with these power-packed adventure activities in Dubai, from skydiving to dune driving in the desert.
1
Go skydiving with the best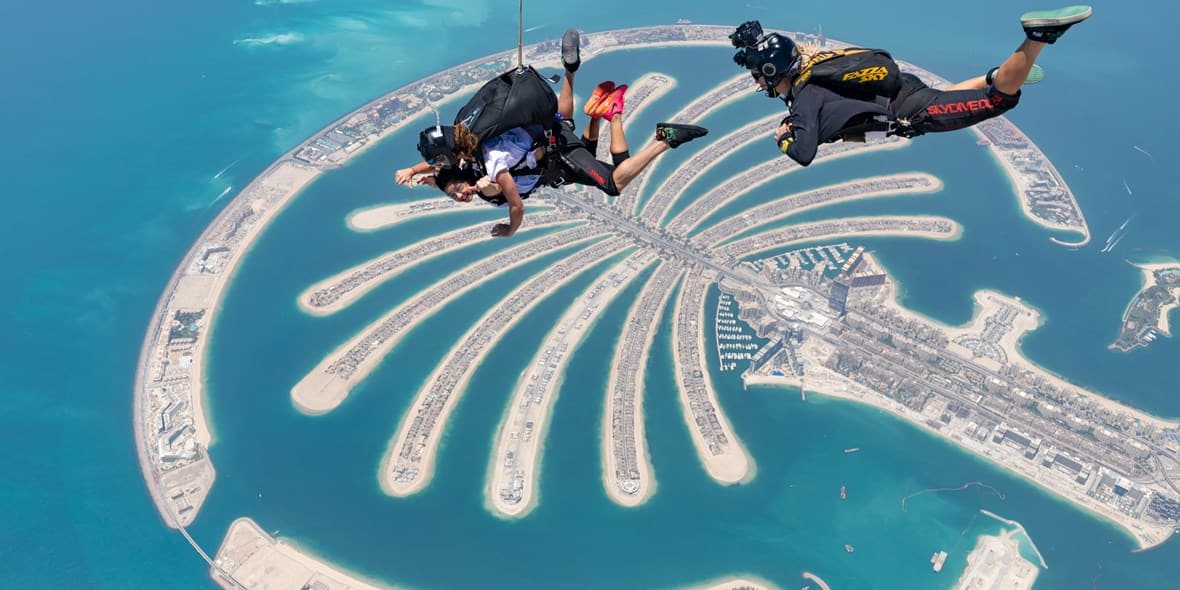 Sign up for one of Dubai's favourite adventures, loved by tourists and residents alike at Skydive Dubai. Go from fear to exhilaration in no time as you hurtle through the sky and take in breathtaking views of the Palm Jumeirah below. First-time skydivers jump tandem, so you will be accompanied by a professional at all times, ensuring safe thrills. All you're left to do is hold on tight, enjoy that unforgettable view and remember to smile for the camera.
2
Slip and slide with waterpark fun
Adventurous families can head to Atlantis, The Palm's Aquaventure Waterpark for a splash of fun. There are numerous attractions here, ideal for every thrill-seeker. Face your fears at Poseidon's Revenge – once the trapdoor opens, you'll slide down a transparent vertical tube, plummeting in a great splash. Or take the Leap of Faith, a near-vertical drop that only the bravest of riders dare undertake. There's also the Odyssey of Terror, one of the many waterslides at the new Trident Tower attraction within the waterpark. Don't worry, there's a lazy river nearby if you need to slow down your heart rate.
3
Tackle the desert dunes in style
Dubai's desert terrain means there are plenty of thrills to be found on terra firma. Take on the dunes in high-powered 4WD vehicles, or try sandboarding and quad biking. With the cars often sliding down the dunes sideways, get ready for guaranteed edge-of-your-seat excitement. Book a desert safari from the city's leading tour operators, such as Arabian Adventures and Platinum Heritage. They'll combine drives with an evening at a Bedouin-style camp, complete with an Arabian dinner, traditional entertainment and live music.
4
Soar high on a hot air balloon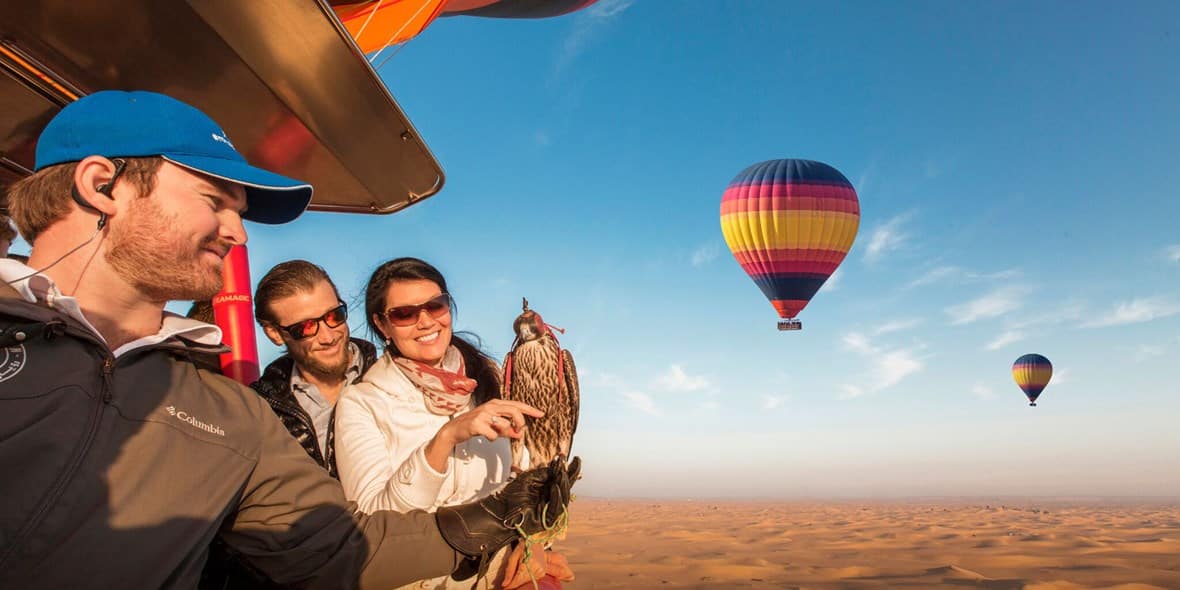 A once-in-a-lifetime experience for many, hot air ballooning continues to be a popular draw in Dubai. Indulge in serene aerial views of the desert sands, far away from the bustling city with Balloon Adventures. You'll float 4,000ft above the Dubai Desert Conservation Reserve and watch a memorable falconry show set to a spectacular sunrise, before landing and conquering the dunes on a desert safari.
5
Rise up with flyboarding
The latest watersport on the block, flyboarding involves a board, balance and bravery. Your flyboard is attached to a jetski, which means you'll be airborne as soon as the engine thrusts water through the tube and into the flyboard. Take in views of Burj Al Arab from 10m above, and make use of the hand controls to get even higher. Book a session with the experts at Nemo Watersports or SeaRide – both offer all the safety gear and equipment you'll need, as well as a trusty guide to take you through it all.
6
Scale new heights with rock climbing
If you're looking to get the adrenaline pumping, rock climbing is the activity to try. There are plenty of facilities in Dubai, including Mountain Extreme in
Al Quoz
, which is packed with indoor walls of varying heights and difficulties, and Rock Republic, the Middle East's largest centre for bouldering (a type of climbing done without ropes and harnesses) at Dubai Investment Park. Meanwhile, at
Hatta Wadi Hub
, you can flex outdoors at the 10m high climbing wall.
7
Get on your bike at Mushrif Park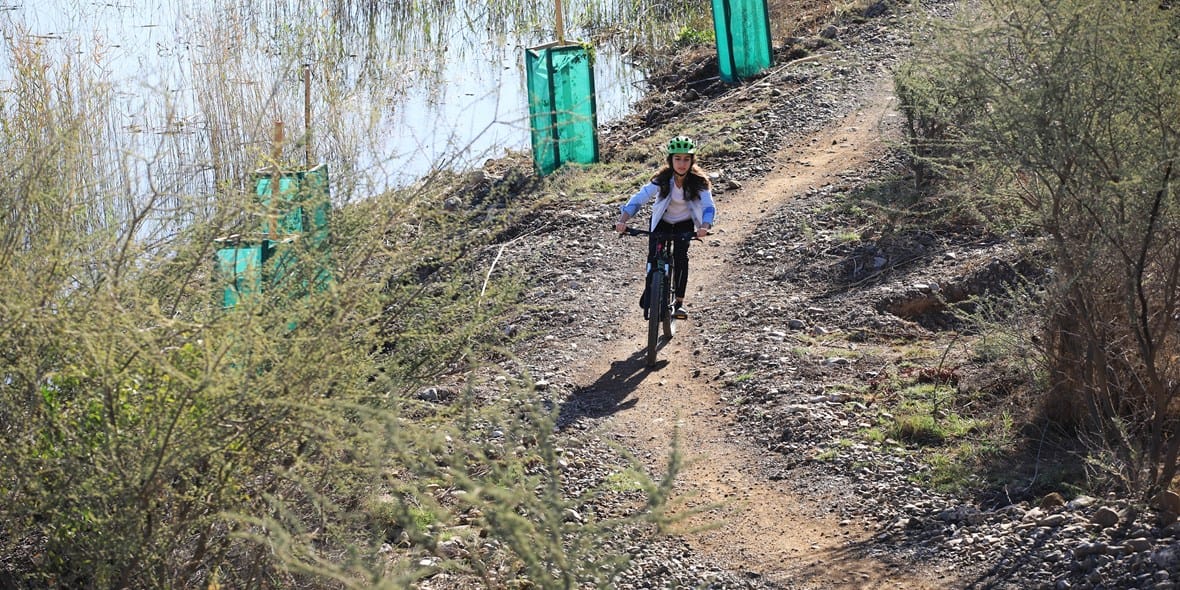 Put your pedal to the metal at Mushrif Park, one of the
UAE's oldest parks
, which recently opened the first phase of its 50km mountain biking track. There are currently 20km of trails, with another 30km set to be completed soon. The track starts close to the park's main gate and is 3m wide, with capacity for 3,000 cyclists a day. There are trails of varying difficulty, so whether you're
a beginner or an expert cyclist
, you're sure to find the perfect route for you.
8
Walk along the ledge of a skyscraper