Food & Drink
Taste Dubai's best Emirati food
Eat like a local at restaurants serving traditional recipes and inspired fare.
Eat like a local at restaurants serving traditional recipes and inspired fare.
1
Aseelah
This fine dining venue at Radisson Blu Hotel is set in the heart of Old Dubai and offers a contemporary twist on traditional flavours. Savour classics such as samak (fish in gravy with spiced rice), and a delightful menu offering a selection of imaginative dishes, combining indigenous ingredients with European cooking and presentation techniques. 
Order: Poached Arabian lobster with herbed pilaf, pureed peas and fennel salad. 
Opening hours: Friday 7pm to 11pm and Saturday 12:30pm to 4pm 
Contact: +971 4 205 7033 
www.radissonhotels.com
2
Logma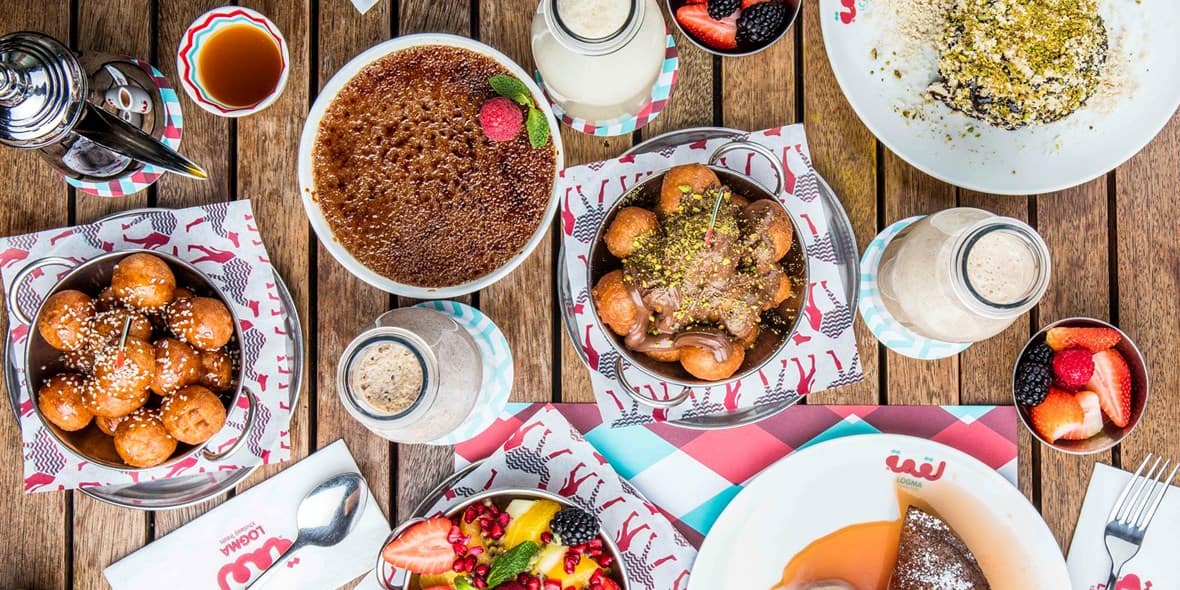 Located in Dubai Mall, this casual café serves up authentic Khaleeji cuisine. Tuck in with breakfast specialities such as chebab (Emirati pancakes) and khameer (flatbreads served with date syrup and cheese), or heartier dishes such as Emirati-style chicken and rice. 
Order: Balaleet – Logma's version features sweet vermicelli with a saffron-spiced omelette. 
Opening hours: 10am to midnight 
Contact: +971 800 56462 
www.logma.ae
3
SMCCU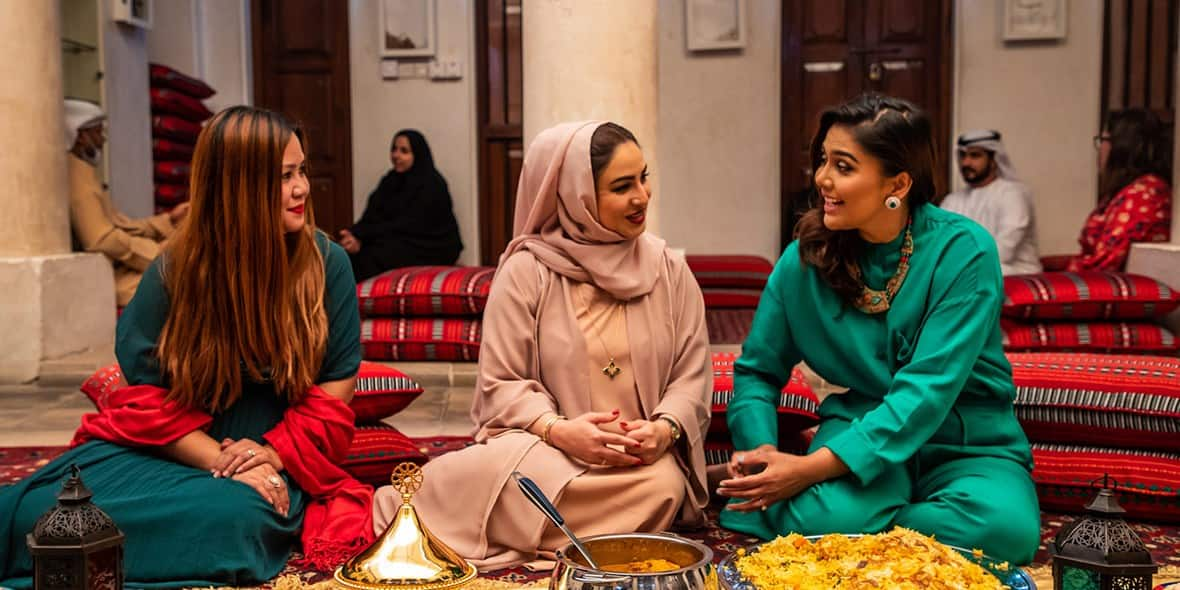 Located in Al Fahidi Historical Neighbourhood, the Sheikh Mohammed bin Rashid Al Maktoum Centre for Cultural Understanding (SMCCU) is a great place to sample the full variety of authentic Emirati cuisine, while learning about the local culture at the same time. 

Order: Traditional Arabic coffee, served in small finjaan cups from the traditional dallah pot. 
Opening hours: 9am to 10pm 
Contact: +971 56 319 9037 
www.cultures.ae
4
Al Fanar Restaurant & Cafe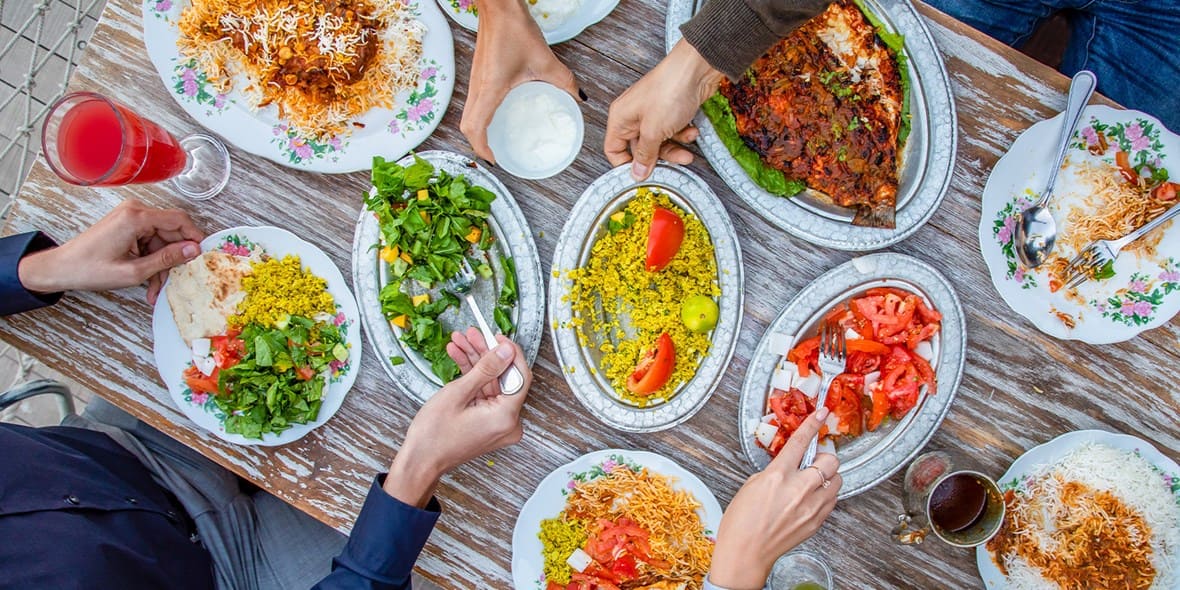 This popular restaurant offers a faithful recreation of old-world Arabia with rustic style decor and a varied menu to match, featuring Emirati classics such as maleh nashef (salted fish in tomato sauce) and jesheed (baby shark with Arabic spices), Al Fanar offers a quintessential Arabian dining experience. 
Order: Al Fanar's shorbat adas, a delicious and delicately-spiced lentil soup. 
Opening hours: 9am to 10pm 
Contact: +971 4 232 9966 
www.alfanarrestaurant.com
5
Siraj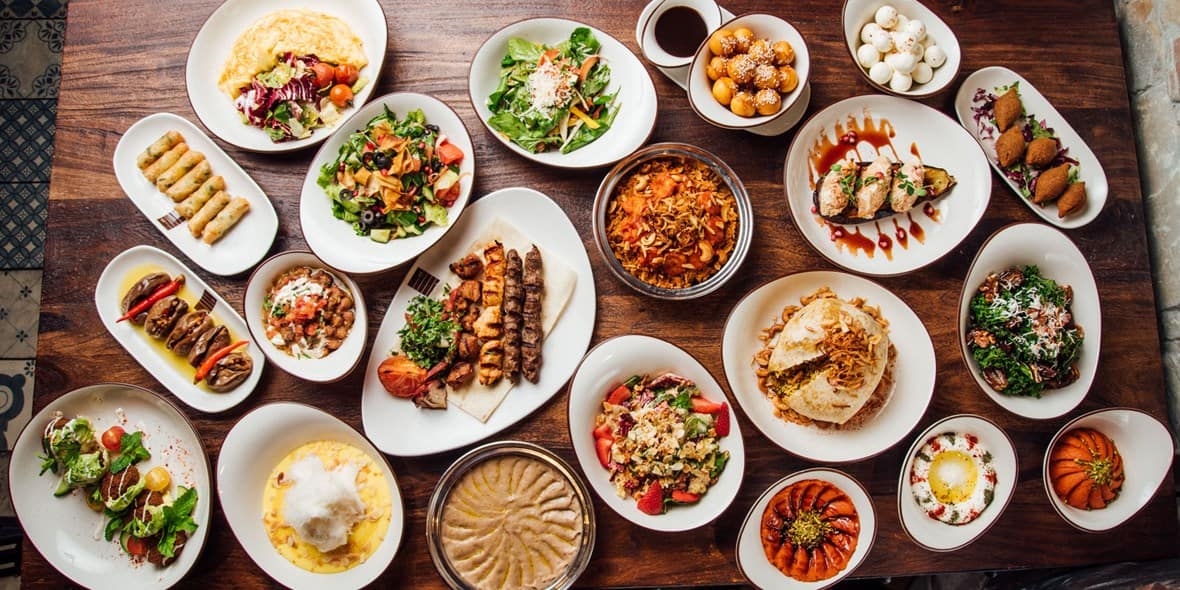 Food at Siraj in Souk Al Bahar is a modern reimagining of Emirati-Levantine flavours – think warm date and kale salad, lobster kibbeh (stuffed dough balls), chicken biryani served in a flatbread parcel, or mouhalabiya (Lebanese milk pudding) drizzled with indulgent 24-karat gold honey. 
Order: Perfectly grilled saffron prawns, marinated with just the right amount of spice. 
Opening hours: 12pm to 1am 
Contact: +971 52 267 3840 
www.sirajrestaurant.com
6
Saba'a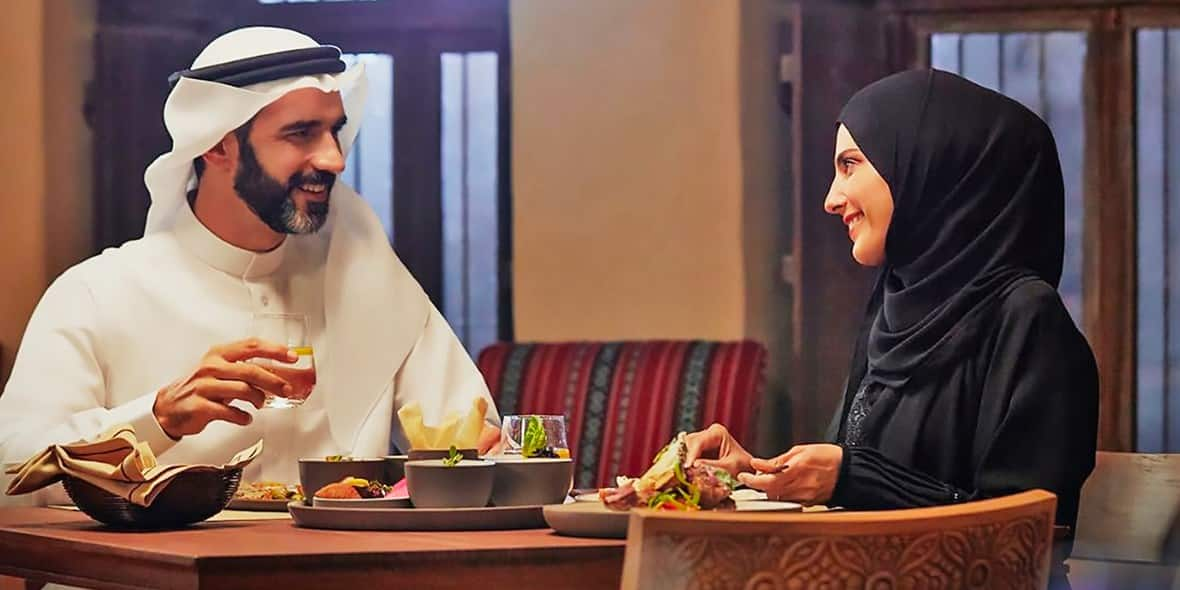 Here you'll feel transported to a traditional setting amid this atmospheric location's wind towers while being served stalwarts like foul medames, mezze and strong Arabic coffee for breakfast. At night, the emphasis is on meshawi or grills – as huge portions of seafood and meat are in the spotlight. 

Order: Meshawi – you'll be spoilt for choice as platters of mixed meat or seafood are brought for you to feast on. 
Opening hours: 7am to 11am, 1pm to 4pm, then 6:30pm to 10pm 
Contact: +971 4 707 7077 
www.hilton.com
7
Al Khayma Heritage Restaurant