Getting to & around Dubai
From touchdown to take-off, getting around Dubai is easy.
Getting to Dubai

Dubai has two world-class airports that provide thousands of international flights each week. Dubai International Airport (DXB) has been the gateway to the emirate since the first airstrip was developed in the 1960s – it is now one of the busiest airports on the planet. The newer Al Maktoum International Airport (DWC) is a part of the expansive Dubai South development, which will eventually span 6.7 million square kilometres, including real estate, leisure facilities and retail.
The vast majority of visitors will arrive in Dubai by plane, but you can arrive via neighbouring countries easily by road. The UAE shares land borders with Saudi Arabia and Oman, and Gulf (GCC) residents can drive easily between each. Some of the busiest borders include Hatta and Al Ain, where adventure-seekers can get quick access to the Hajar Mountains, or take quick road trips on the outskirts of Dubai. Visitors from outside the region may have some visa restrictions so please plan accordingly.
Cruise tourism in Dubai has thrived thanks to the Dubai Cruise Terminal located at Mina Rashid. The luxurious port typically welcomes around half a million visitors each year. The terminal is a great vantage point from where you can explore the emirate, equipped with plenty of facilities, including a café, restaurant and minimart, with free WiFi, seating and tour company outlets. There's even a complimentary shuttle service to selected shopping destinations and a paid shuttle service to The Dubai Mall and Dubai International Airport.
Getting around Dubai

The Dubai Metro has two convenient lines – red and green – that run from Dubai International Airport (DXB) and through the busiest areas of the city. It is the world's largest driverless train system, offering comfortable seating, affordable prices and full air conditioning. Simply buy a Nol card, keep it topped up, or grab a single-use ticket at your starting station.
Buses are a low-cost option to explore the city. You can hop on a bus at all of Dubai's airport terminals, with routes intersecting every major neighbourhood. They run 24-hours a day as often as every 30 minutes – just make sure to check your map to understand the extensive network. You should also buy a top-up Nol card in advance as bus drivers will not accept cash.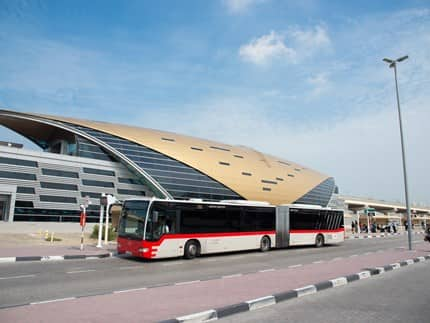 A range of Dubai taxi services are available from the RTA and you can grab a cab from almost anywhere in the city, or order one by phone or via an app – such as Careem or Uber. Airport taxis will start from AED25 ($6.80), with clear signs pointing you towards the official pick-up area in any terminal.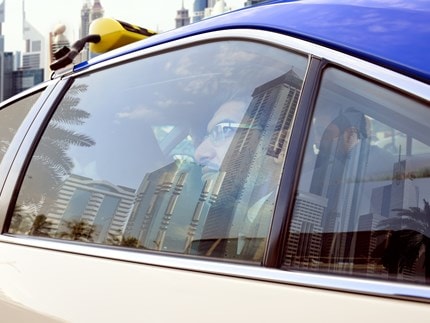 Cycling is a healthy way to get a different perspective on both the city and the desert. There's a growing number of urban bike paths and easy options to get around on two wheels, thanks to bike rental services. If you want to explore the open roads beyond the city centre, stop by Al Qudra, an epic 86km desert cycling path. It's a serene escape from the city.
Bicycles are available to rent across the city and are a common sight at tourist hotspots, including Downtown Dubai and Dubai Marina. Nextbike, Byky and Trek Bikes are popular companies to rent from, while Careem BIKE is the first large-scale, bike-sharing initiative in the region. In partnership with the city's Roads and Transport Authority (RTA), Careem BIKE makes it even easier to rent your ride via a dedicated smartphone app.
See more
Dubai emerged as a pearl diving community so it's no surprise there are plenty of ways to travel by water. Options range from the affordable AED1 Dubai Creek crossing by wooden abra to luxury yacht rental packages for huge parties and events. The RTA also offers the Dubai Ferry. From AED15, visitors can tour the Dubai coastline and stop off at a number of neighbourhoods, including Business Bay and Dubai Marina. Ferries from the Al Jaddaf station depart daily at 10am, 12pm and 5:30pm.
See more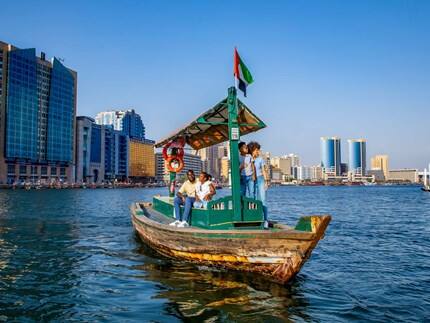 Motorised and e-scooters are becoming increasingly popular in neighbourhoods across Dubai, including the Sheikh Mohammed bin Rashid Boulevard in Downtown Dubai, Jumeirah Lakes Towers, and Dubai Internet City. To unlock a scooter near you, download a licensed operator's smartphone app – Careem, Tier, Skurtt, Arnab or Lime – available on the Apple Store and Google Play store.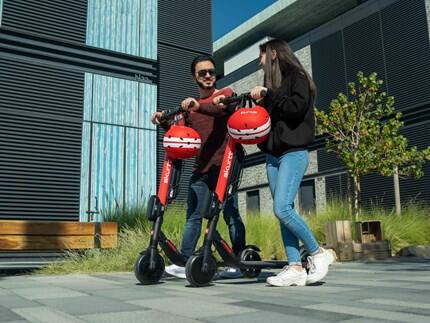 Get to know the city
Discover the city's lively and diverse neighbourhoods.