Food & Drink
Treat yourself to Dubai's best afternoon teas
Spectacular settings to superb sights, here's where to sip your tea in lavish style in Dubai.
Spectacular settings to superb sights, here's where to sip your tea in lavish style in Dubai.
1
Sahn Eddar
The afternoon tea at Sahn Eddar embraces the Burj Al Arab's reputation for elegance and luxury. Located on the first floor of the hotel, the restaurant boasts a splendid Arabian-style atrium decked out with opulent marbles and mosaics. The hospitality here is always impeccable, as is the selection of fresh, dainty sandwiches, pastries and cakes. The surroundings may be impressive, but the food is equally as magnificent.
2
At.mosphere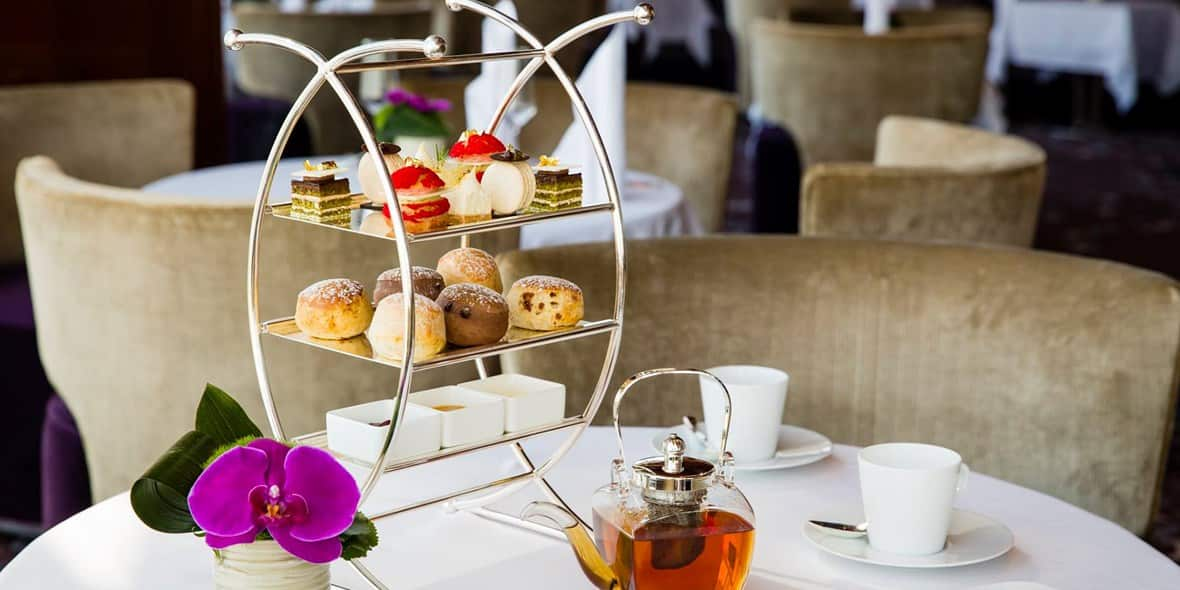 Take 'high tea' literally from the 122nd floor of Burj Khalifa. At.mosphere renders a stylish setting with views that are in a league of their own, considering the tower's iconic status as the world's tallest. Feast on a choice of three dining options – fresh and fruity, cream and savoury, or fine roasts and vegetables – and be spoilt for choice thanks to an extensive selection of fine teas. It might be worth paying a little extra for a seat right by the windows to make this once-in-a-lifetime experience even more unforgettable.
3
The Farm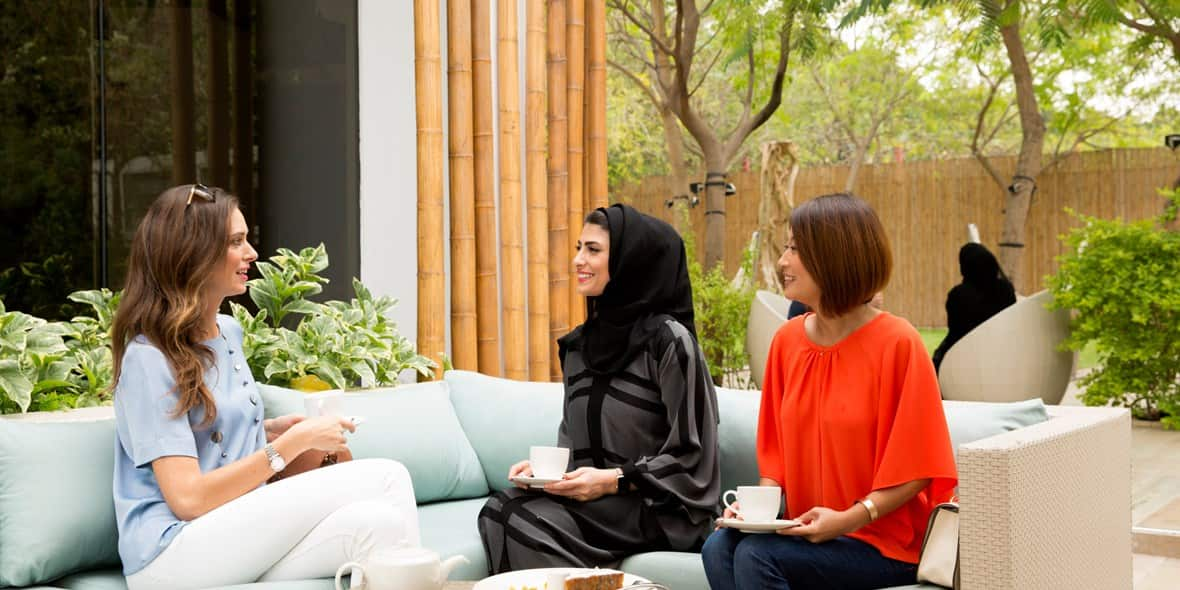 A hidden oasis in Dubai, The Farm at Al Barari is the perfect place to enjoy an afternoon tea. Surrounded by lush greens with a 'water garden' theme and an earthy vibe, you'll soon fall in love with the setting. With a focus on sustainable and organic ingredients, the power-packed menu features classics such as sandwiches and pastries, accompanied by refreshing blends of your choice. This isn't an experience to be rushed, so it's ideal for long, lazy afternoons.
4
Al Fayrooz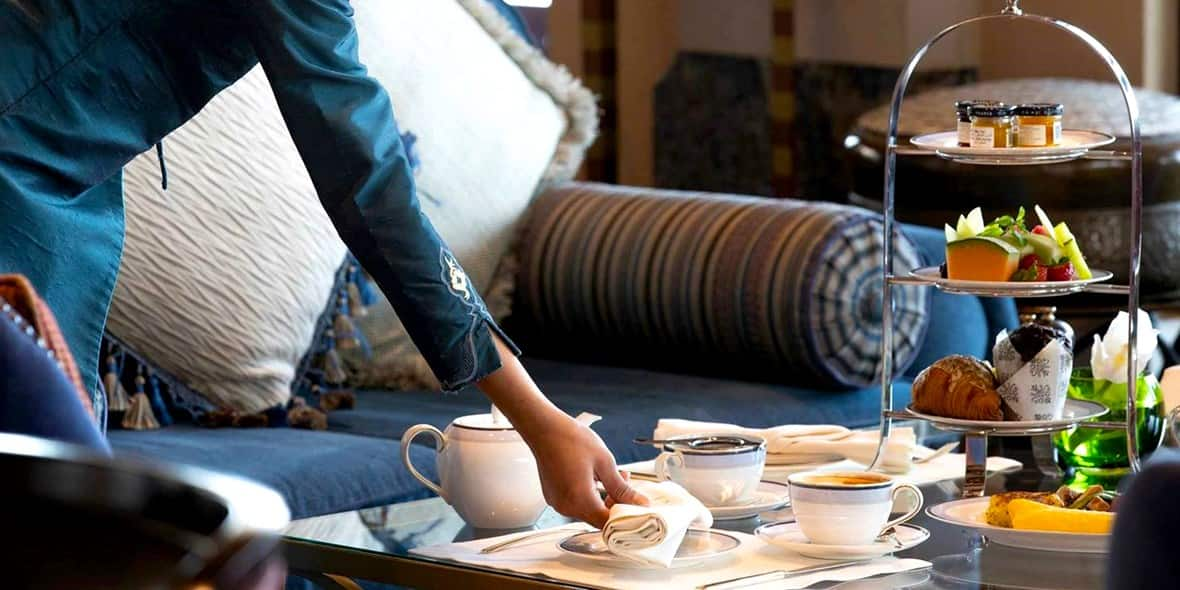 Al Fayrooz Lounge in the palatial Al Qasr resort treats the traditional English afternoon tea as an art form. Here, you can sample myriad options to indulge all tastes against the spectacular backdrop of the Burj Al Arab and winding waterways of Madinat Jumeirah. Savoury bites include a mini crab bun with creamy paprika sauce, while sweet treats include the indulgent pear and dark chocolate tart. Wash it all down with a fruity refreshing blend or a creamy hot chocolate with marshmallows.
5
Peacock Alley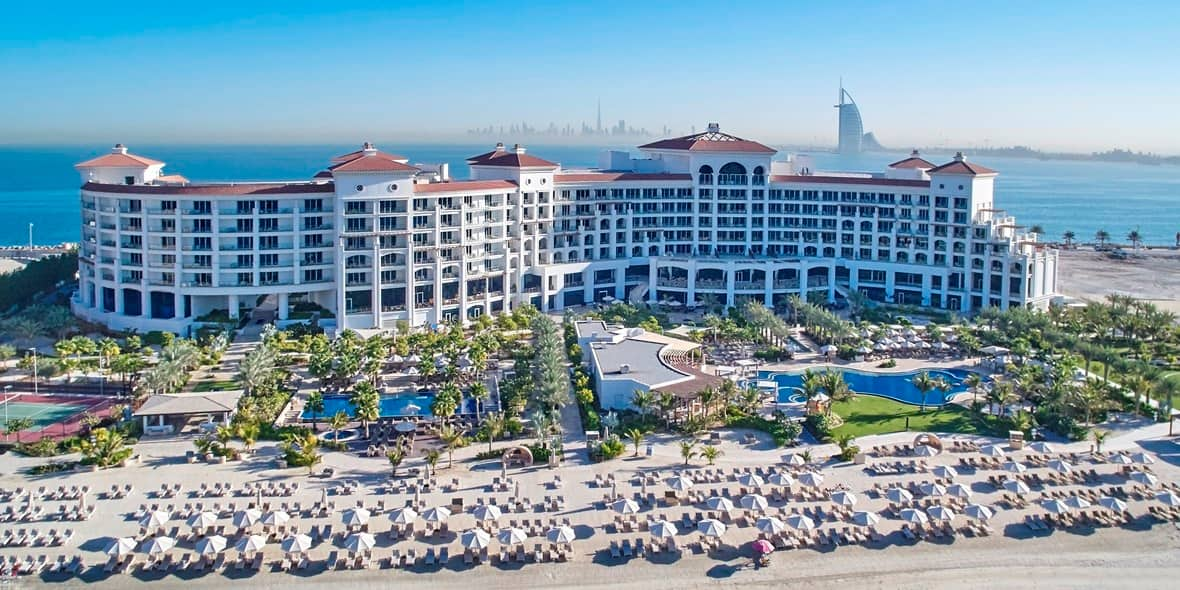 The term 'Peacock Alley' was originally coined to describe the colonnade connecting The Waldorf and The Astoria hotels in New York, which was frequented by high-society personalities. You can reflect on this rich heritage over a classy afternoon tea at the Palm Jumeirah venue in Dubai. Book a table at this fashionable destination to enjoy quintessential treats such as sandwiches, scones and pastries, with your choice of premium TWG teas. For a unique brew, try out the Waldorf Astoria signature blend or customise one of your own. 
6
Raffles Salon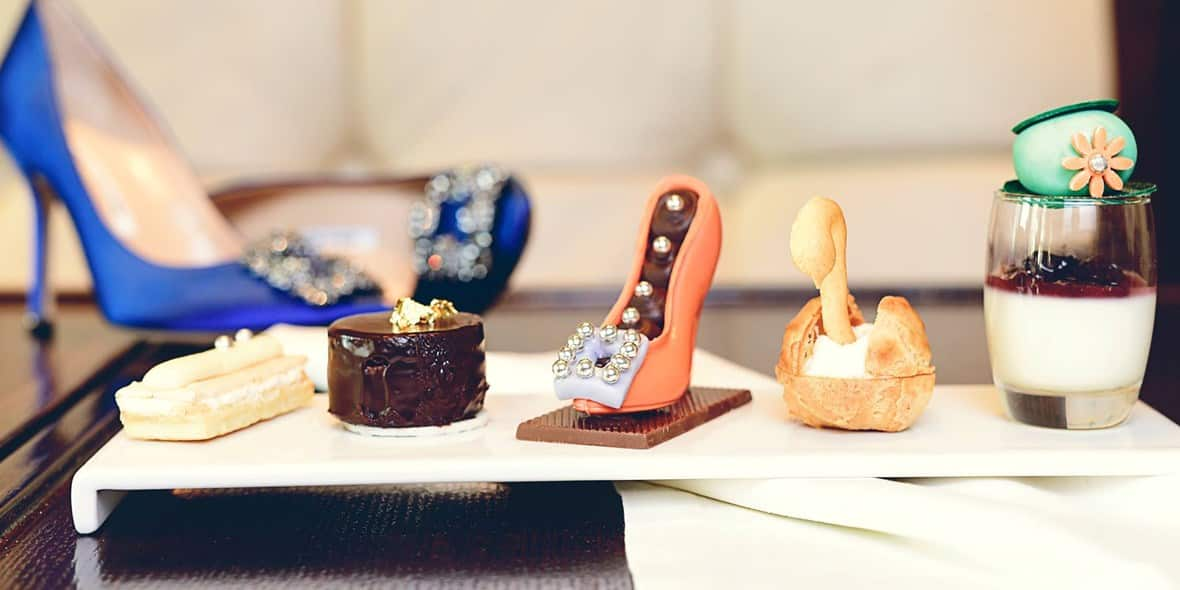 Arguably the most fashionable afternoon tea in the emirate, Raffles Salon located by WAFI Mall offers inspired culinary creations. The award-winning Floral Afternoon Tea gives the British tradition a distinctly floral twist with rose petal scones and rosewater-infused strawberry jam, hibiscus-cured salmon and jasmine-flavoured chocolate ganache. With a classic presentation and slick service, the experience is perfectly suited to a leisurely afternoon. Little ones with a refined palate will be happy to know that the venue caters to them too, with a dedicated children's afternoon tea offering savoury and sweet bites – think beef sliders, cakes and creamy hot chocolate.
7
Al Bayt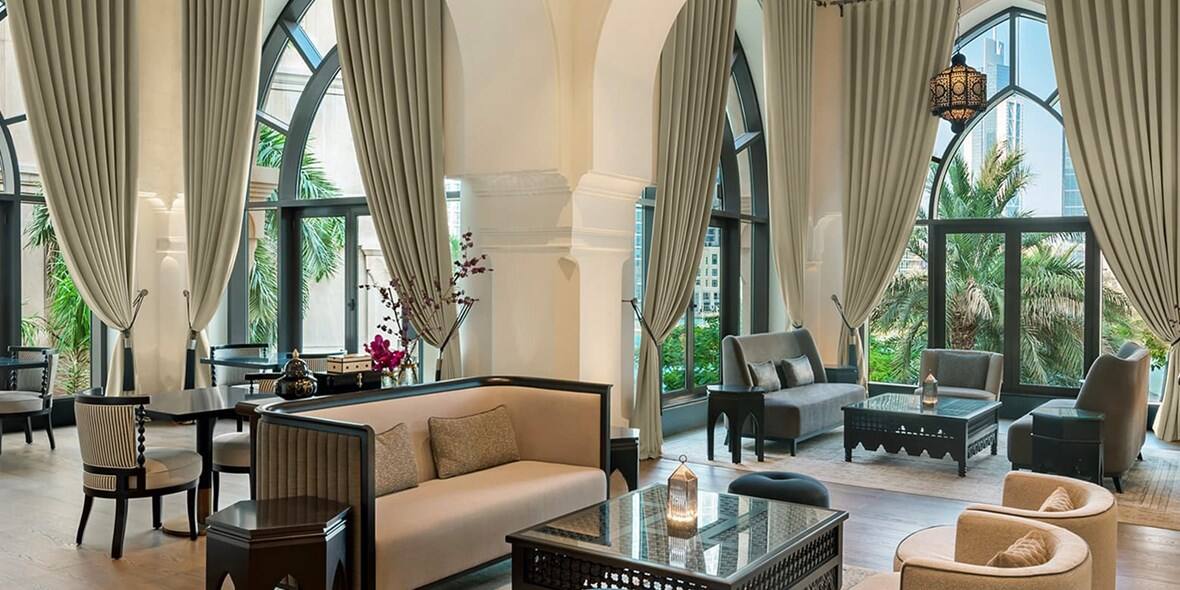 The afternoon tea at Palace Downtown's Al Bayt is a suitably high-end affair, as you'd expect from this famous hotel. Situated within the lobby lounge, this Arabesque venue is popular with both residents and tourists. Come here for a sophisticated dining experience at one of the city's most refined luxury hotels. Treat yourself to a traditional English or Arabic afternoon tea complete with pastries and delicious sandwiches. And for those who prefer their beverages cold, they also have a few refreshing iced teas alongside loose leaf TWG blends that are steeped in picturesque pots. 
8
Choix Patisserie & Restaurant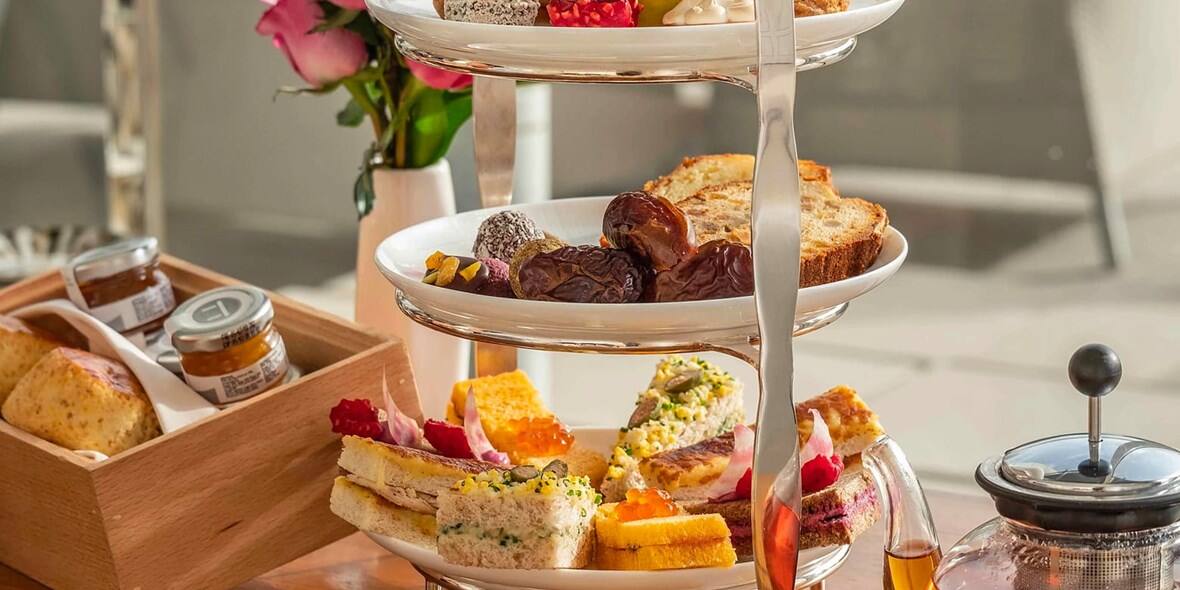 9
Mosaico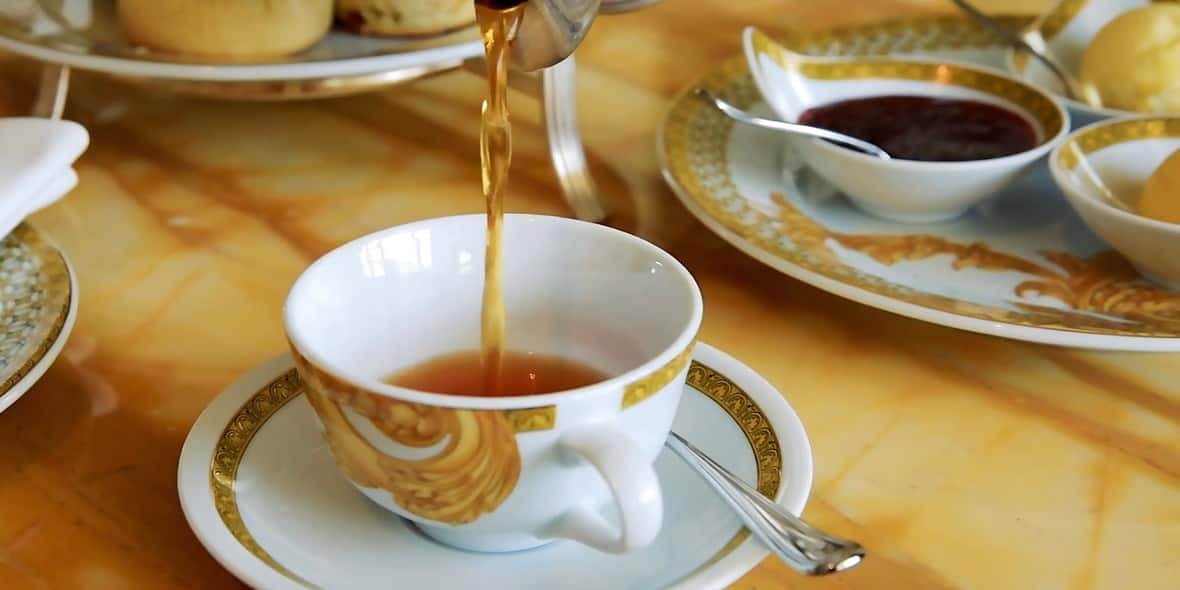 Its prime position at the entrance of the impressive Palazzo Versace Hotel means the high tea at this opulent lobby lounge is a very popular choice for both visitors and residents alike. Expect Dammann Frères brews or Illy coffee beans, an assortment of finger sandwiches, scones served with homemade jam, clotted cream and lemon curd, and a selection of pretty pastries. Decadent ingredients include egg salad rolls topped with caviar, marinated prawns with avocado pearls and beef bresaola on brioche. Plus you can choose to dine indoors or out on the terrace taking in the views.
10
Tania's Teahouse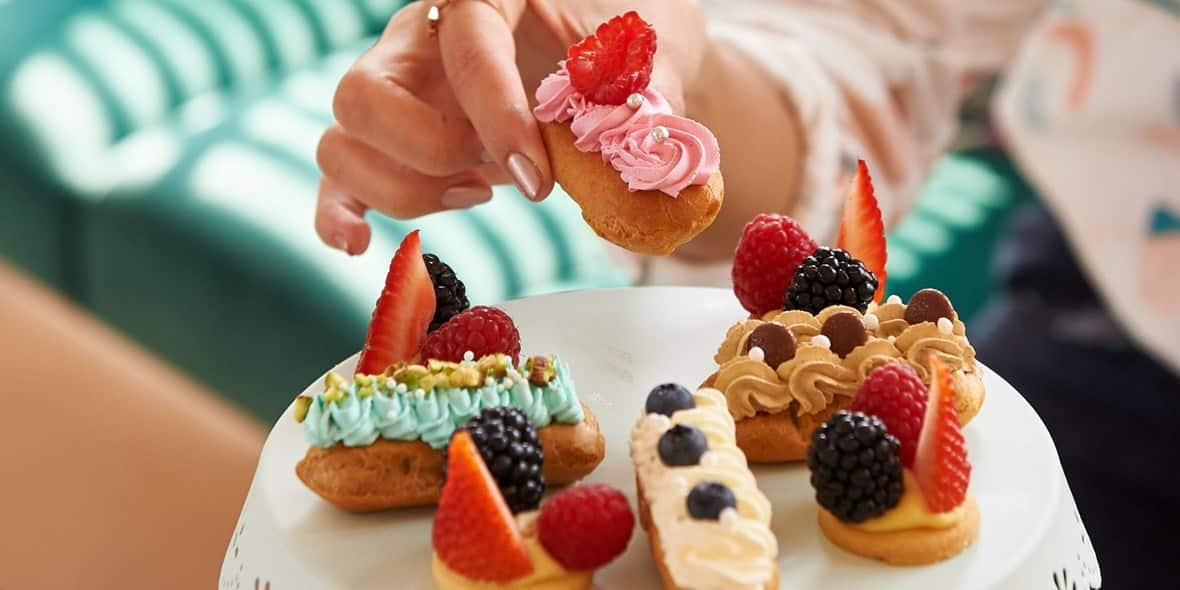 One of the city's most Instagrammable cafes, Tania's Teahouse in Jumeirah is a pretty sight. Adorned in pastel pink, pops of green and all the quirky tea-inspired slogans you can think of, this homegrown spot never fails to impress. Their bottomless high teas are served on signature three-tiered platters for two, with unlimited coffee and tea. The sandwiches, desserts and cakes are all irresistible, with everything made with love and care. The cafe is committed to small-batch production too, in an admirable effort to reduce food waste and promote sustainability.
11
The Lounge at Address Beach Resort
Located at the edge of the The Walk at Jumeirah Beach Residences, this towering resort is an ideal choice for an elevated afternoon. The lobby lounge is designed to be refreshing retreat with brilliant beach views. Take a seat outside when then the weather is cooler to fully appreciate the setting, admiring the dramatic Sails of the Future calligraphy-inspired sculpture by Emirati artist Mattar Bin Lahej in the distance. The afternoon tea menu is equally impressive with crab rolls and gazpacho alongside creative basil and multigrain scones and pistachio madeleines. For drinks, choose from iced infusions, latte creations that change every month, artisan teas and more.