Food & Drink
The complete guide to Al Habtoor City's restaurants
Located on the banks of the striking Dubai Water Canal, Al Habtoor City is a trendy district with delicious distractions.
Located on the banks of the striking Dubai Water Canal, Al Habtoor City is a trendy district with delicious distractions.
1
World Cut Steakhouse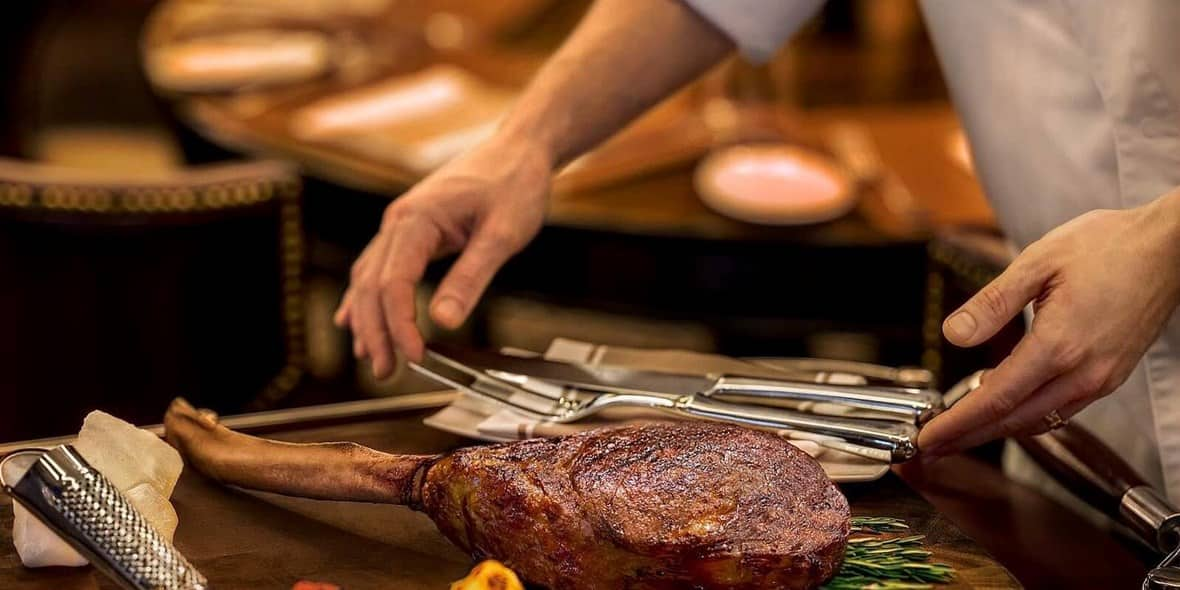 Ideal for a group gathering, explore a sophisticated collection of classics at World Cut Steakhouse. An elegantly designed space with natural dark woods and glamorous light fixtures, this American steakhouse serves sizeable steaks that are fast-tracked to Dubai from specialist farms. You can select your 
favourite cut
 and age from the raw display bar, and it will be cooked to your taste and liking, with gourmet sides such as truffled macaroni and cheese.
2
Rose and Crown
As Al Habtoor City's quintessential British eatery, this roomy venue is full of comfort food, homely charm and good conversation. The Rose and Crown is a great place for locals and expats to meet up and unwind, and serves up a curated menu of classics including fish and chips, meat pies, Scotch eggs, braised lamb shank, and a 'Big Ben' burger. Enjoy the trendy gastro-lounge setting, where the food is made just right. 
3
BQ
Located up the Habtoor Palace hotel's stunning white marble staircase, BQ - French Kitchen is a little slice of France in Dubai. An instant hit with the city's chic crowd, the restaurant serves up the best from different regions, compiling distinct flavours in a single menu, such as Fine de Claire oysters, lobster bisque and apple tarte tatin. If you're looking to linger a little longer, head to the Patisserie for excellent espressos and sweet treats.
5
Sirali
Traditional Turkish cuisine finds its home at Sirali Dubai. Here you will find centuries-old recipes presented in a new-age style. Don't let the eatery's glam interiors and foilage covered roof distract you from their delicious kebabs and grills — cooked using only the freshest ingredients. The aroma of sizzling meats and the glass cube in the centre of the indoor section, where you can view at least two carvers preparing the meat, ensures you have an unforgettable sensory experience when you visit.
6
Gonpachi
The Dubai outpost of Gonpachi may not have a Hollywood filming credit like its Tokyo counterpart (a scene from Quentin Tarantino's movie Kill Bill was shot there), but that doesn't stop them from serving up exceptional, authentic Japanese dishes that will make you come back for more. From Kushi-style grilled skewers to fresh soba noodles and delectable miso black cod, the dining destination nails each dish to perfection. The service is friendly and the elegant wooden interiors remind you of old-time Japan.
7
Sauce
Remember the 1950s when diners were all the rage? Sauce at Al Habtoor City takes you back to the golden era with its offerings. Whether you are craving burgers, hot dogs or an all-American breakfast with the works, this vibrant eatery has got you covered. The indoor section has a hip coffee and dessert bar that serves all the favourites — from apple pie to banana splits and classic chocolate, vanilla and strawberry milkshakes.
8
Level Seven
With gorgeously designed interiors of wood, steel and vintage art, this rustic Mediterranean eatery serves a curated collection of Spanish, Italian and Grecian dishes. Focusing on market-fresh ingredients and authentic recipes, Level Seven at V Hotel offers tapas, a crudo selection, rotisserie, and an à la carte menu for both lunch and dinner. This bustling social hotspot is the perfect place for indecisive diners, with a wide range of starters, mains and desserts available.