Animal fun for kids in Dubai
Looking to take a walk on the wild side? From winged wonders to furry friends, here are our pick of top Dubai spots where little ones can get up close to nature.
Looking to take a walk on the wild side? From winged wonders to furry friends, here are our pick of top Dubai spots where little ones can get up close to nature.
1
Stay at Happiness Farm and get the buzz about bees
3
Spread your wings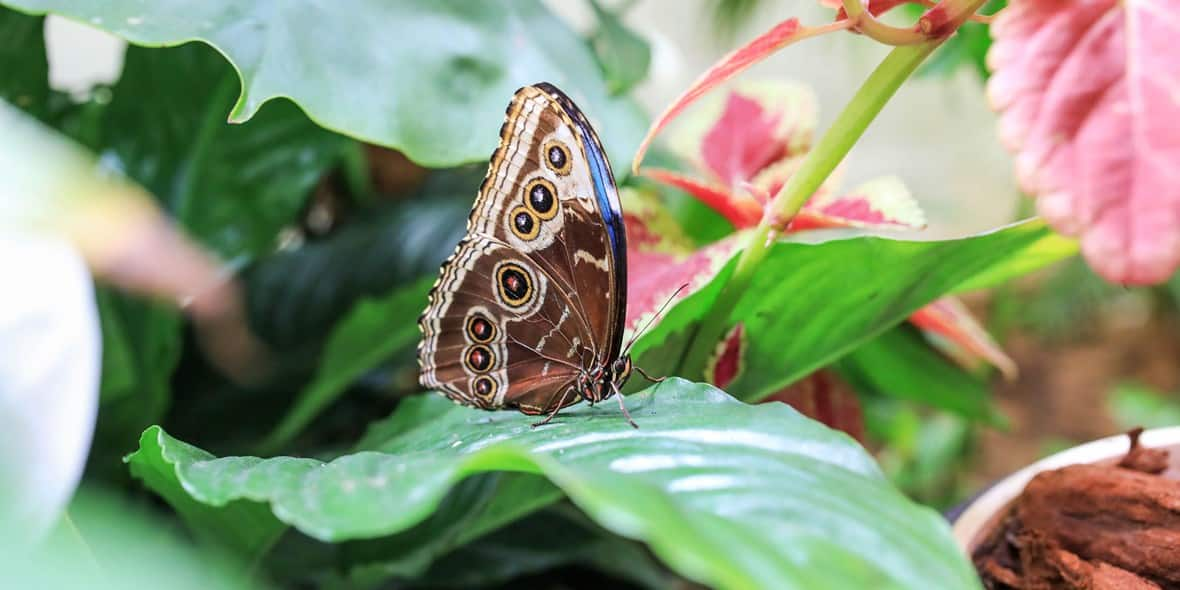 This record-breaking space, right next to Dubai Miracle Garden, is home to 15,000 winged insects. The Dubai Butterfly Garden is the first attraction of its kind in the Middle East, with nine domes full of the creatures' habitats. You can learn everything about them, and discover how they change from caterpillars to the 32 different species of rare and colourful varieties that flutter through the air.
4
Journey into the rainforest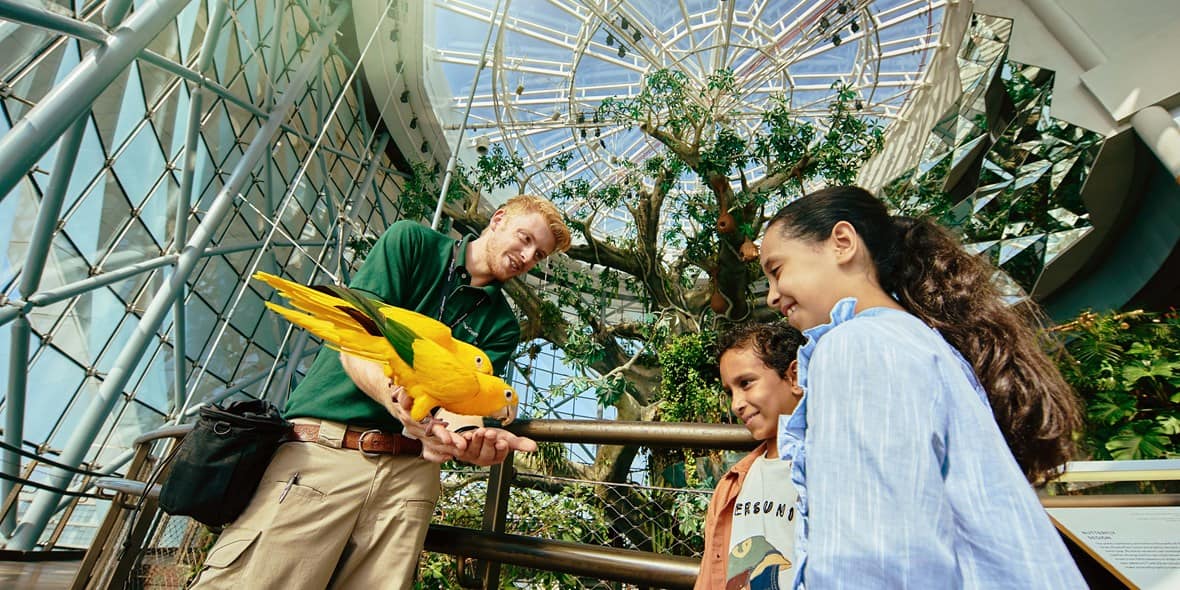 Venture into the tropical bio-dome that is The Green Planet, and discover more than 3,000 species of plants and animals including toucans, colourful macaws and chameleons spread out over four floors. Learn how important the forest ecosystem is to our planet, and enjoy interactive, informative encounters with some of the creatures that call it home. Budding environmentalists will also want to sign up for more intimate experiences and guaranteed sightings of sloths, parrots and sugar gliders. There's even the option to spend the night in the temperature controlled space and camp with the whole family.
5
Catch a camel ride
Get up close and personal with the UAE's most beloved creatures at Kamel Uschi, just 30 minutes' drive away from the bustle of Dubai. You can join in on a camel trek through Wadi Saih al Salam desert, while knowledgeable staff members are on hand to answer any questions about the desert wildlife. Or, there are a host of friendly creatures including rabbits, deer, goats, chicken, sheep, turkeys at The Camel Farm set amid the dunes of the Dubai desert. There's lots to do when you get there with activities like camel riding, a desert eco walk and even camel hugging therapy on offer. You'll have all your questions about your new furry friends answered and don't forget to let your little ones enjoy a baby goat petting session.
6
Splash into a waterworld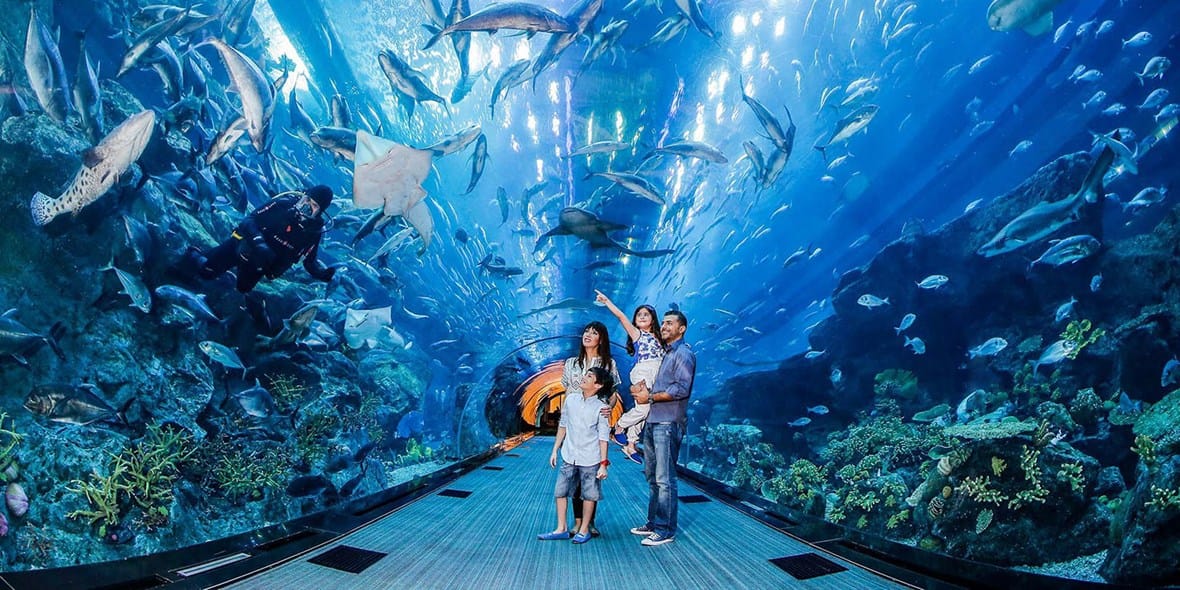 Your children will feel like they've stepped into the story of Finding Nemo as they saunter through the multiple rooms and showcases of the Dubai Aquarium and Underwater Zoo. The 10 million litre tank will amaze the young and young-at-heart as more than 33,000 sea creatures swim by. From sand tiger sharks to stingrays, penguins to seahorses and rainbow-hued fish, there's no better place to learn about their natural habitat. Looking to get an even closer look? There are a plethora of exciting experiences you can sign up for including glass-bottom boat tours, cage snorkelling and even a king croc encounter. 

7
Make furry friends
The Desert Oasis Petting Farm
in the heart of Al Khawaneej is a fun day out for children of all ages. The sanctuary is home to fluffy and feathery creatures alike, from deer and donkeys to peacocks and adorable ducklings. Get up close to the animals, and your little ones can even feed them some tasty snacks. From farm animals to more exotic critters, you can expect plenty of memorable encounters. 
At the opposite side of Dubai is 
The Sustainable City
. It's no wonder it is such a big 
hit with families as the neighbourhood has its very own farm. For residents and visitors alike, the green scene comes complete with wandering ducks, horses, donkeys and other fowl making it a charming outing. There's also a park that runs through the entire length and 11 biodome greenhouses to explore. 
8
Watch flamingos take flight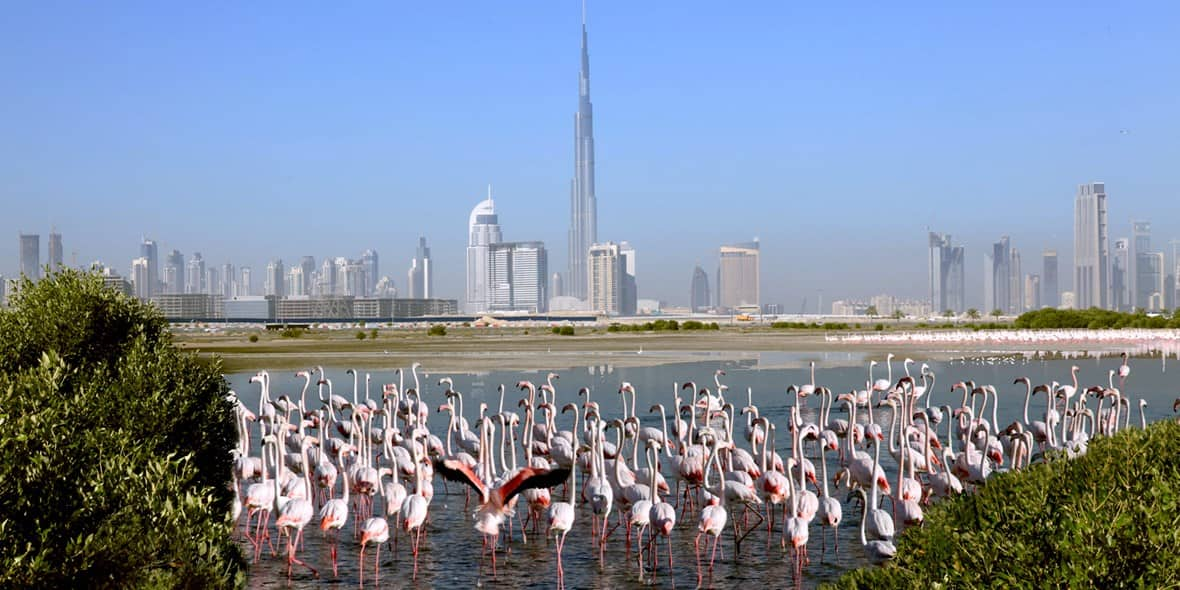 It's a spectacular scene of pink plumes as hundreds of flamingos settle on the water at the Ras Al Khor Wildlife Sanctuary, right in the heart of the city. You don't need to venture far to witness this sight, as you can take in this protected species - as well as lots of other birds -  with Dubai's skyline providing a striking backdrop. Best of all, entry is free, but the flamingos are only there during the cooler season so plan your visit accordingly.
9
Follow the call of the wild