Shopping
Best places to buy Arabian couture in Dubai
Discover the city's contemporary abaya shops, department stores and designers for stunning Arabian style.
Discover the city's contemporary abaya shops, department stores and designers for stunning Arabian style.
1
Symphony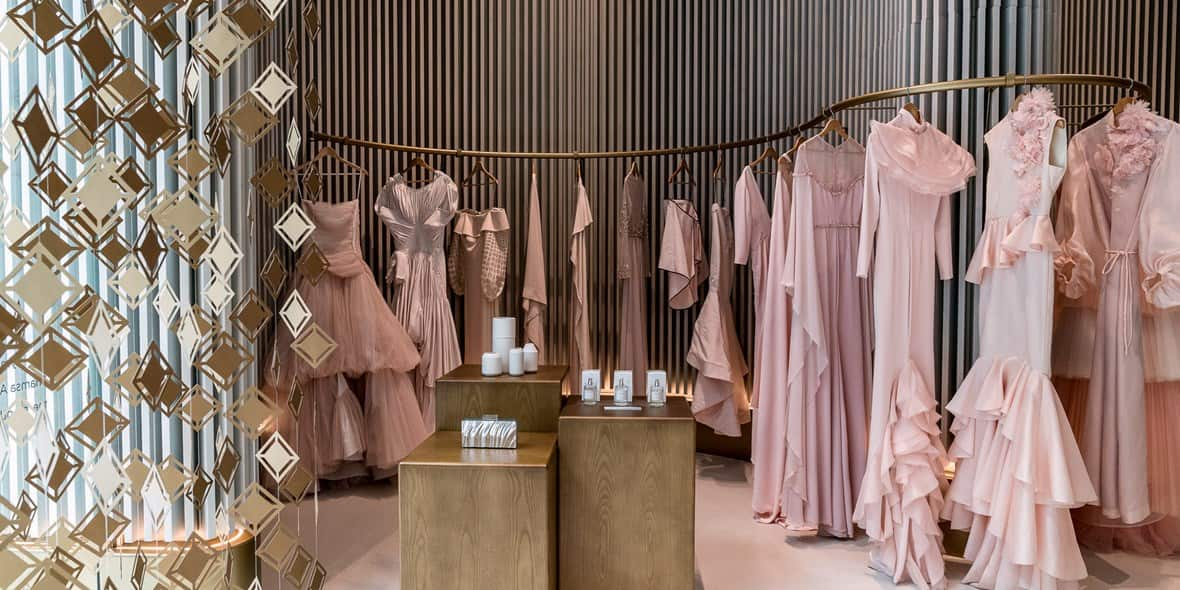 Arabian style is nothing if not glamorous, and there's nowhere like Symphony for fully immersing yourself in the world of Middle Eastern fashion. The rails are packed with unique pieces from
regional designers
 alongside dreamy international evening wear, delivering a beautiful blend of fashion favourites to help round out even the most well-stocked wardrobe. They've even got a beautiful terrace where you can take a break from shopping to watch the
dancing fountains
.
2
Bloomingdale's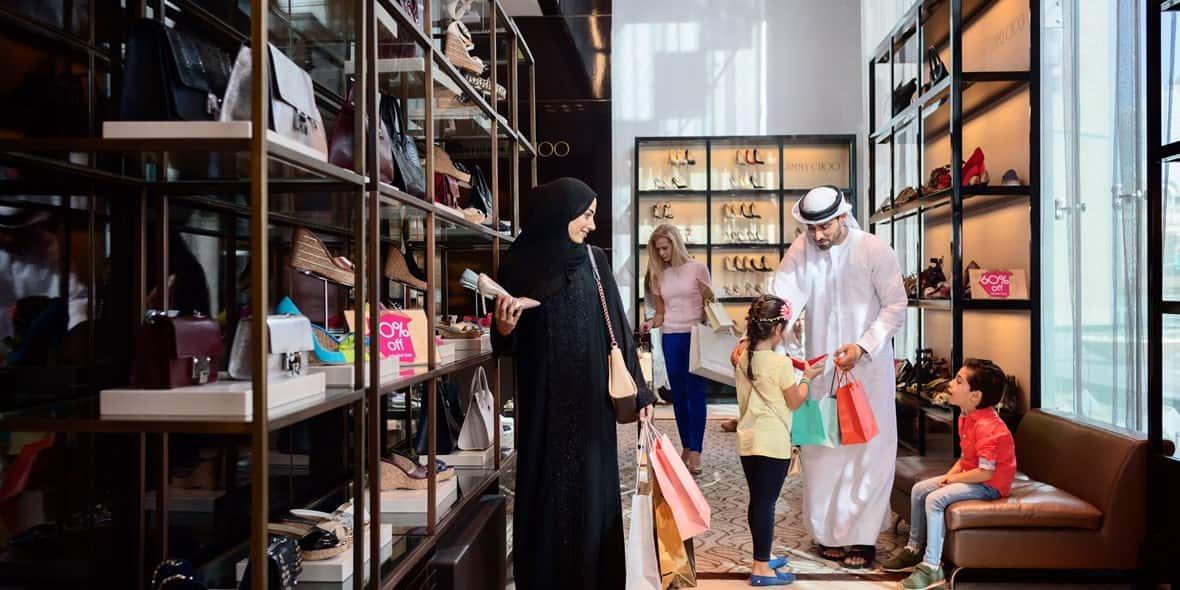 Bloomingdale's at Dubai Mall is a perfect place to pick up designer pieces in the city, along with accessories, perfume, jewellery and homeware. Since opening its doors in 2010, the upscale department store has been bringing the world's top brands and even bigger crowds to the lifestyle destination – and its modest fashion game is on point. Roam through three levels of designer labels in apparel and accessories, and you'll be strutting in Arabian style in no time. 
3
Galeries Lafayette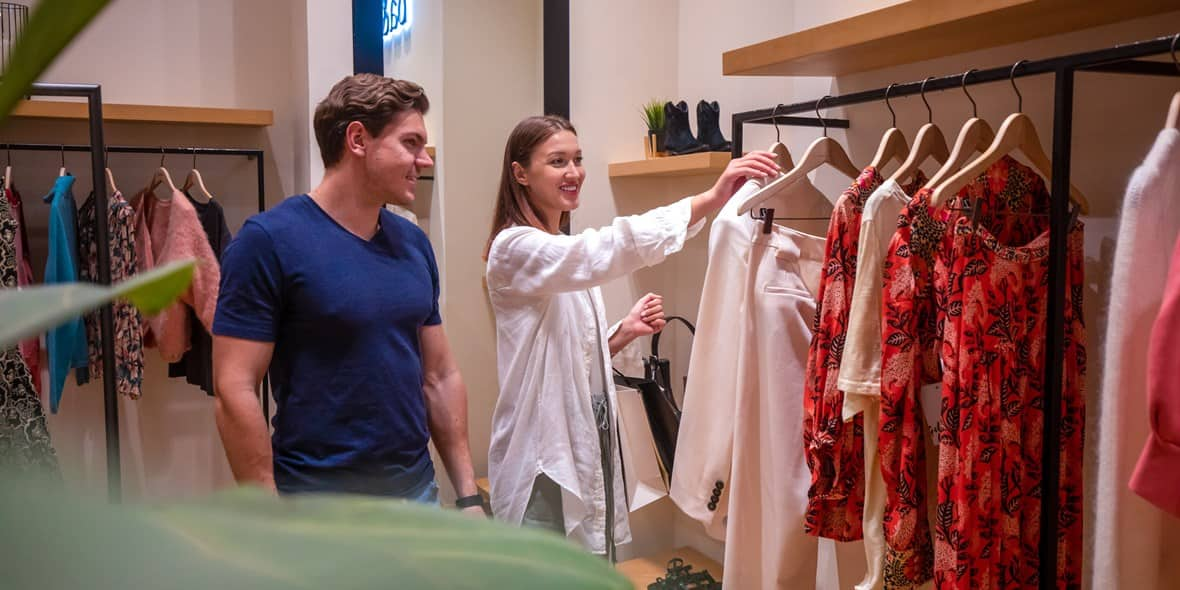 With modern Arabian designs and chic surroundings, the city's largest department store is a great place to shop for abayas in Dubai. Located at the world's largest fashion and entertainment destination, Dubai Mall, Galeries Lafayette is teeming with elegant designers. Take your pick from chic contemporary styles to statement outfits that flatter. You'll also be able to browse shoes, luxury accessories, cosmetics and more.
4
Abaya Mall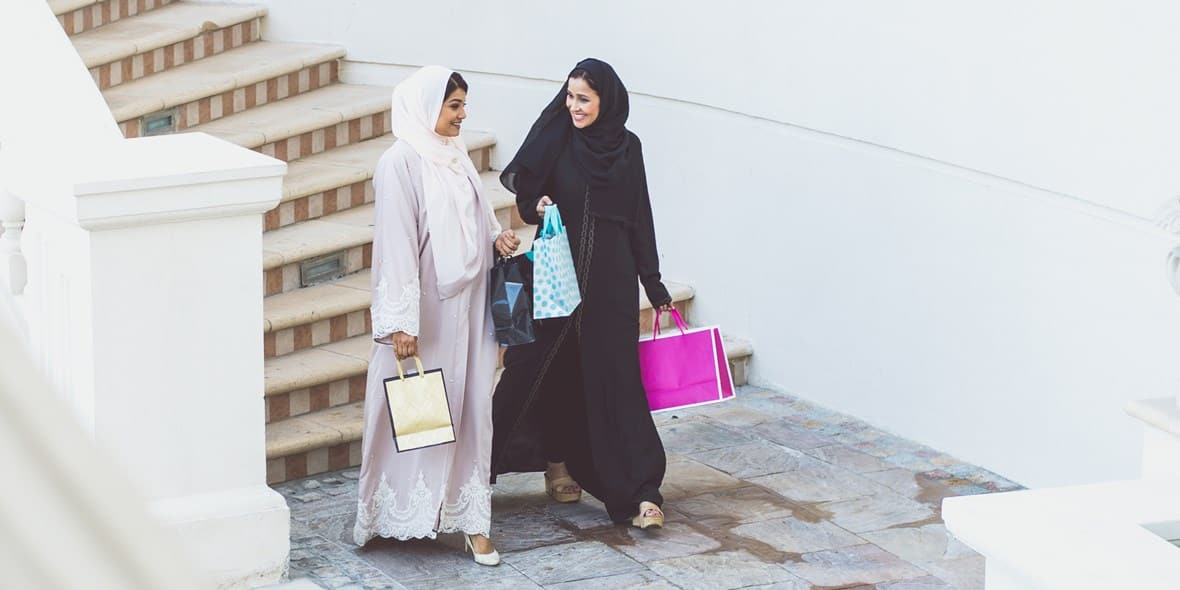 One of the best places to get abayas in Dubai is the Abaya Mall, specialising in everything from wedding dresses to everyday wear in various designs and patterns. Don't leave the city without a custom Arabian abaya from the on-hand tailors at the mall. While you're there, pick up something shiny at one of the many jewellers, or indulge in a spot of relaxation at the spas and salons.
5
Diva Abaya Couture
Want to stand out from the crowd? Arabian fashion concept Diva Abaya Couture creates
bespoke designs
, offering specifications for sheer panelling, digital prints, lace
dentelle
, raw silk and hand embroidery. The store employs expert seamstresses who can spend days perfecting every last stitch, crafting a kaftan or contemporary abaya to your exact fit.
6
Bambah Boutique
Homegrown fashion label Bambah Boutique is an international favourite, worn by celebrities including Amal Clooney, Emma Roberts and Aishwarya Rai. Created by Dubai-based designer Maha Abdul Rasheed, the label's modest fashion looks are always striking, with bold colours and playful vintage accents – think bows, ruffles and gowns with A-line skirts. If you're looking for something classic with a playful spin, head to the boutique at City Walk.
7
baruni
Desert cues are immediately evident in designer Fadwa Baruni's collection of eponymous day and evening wear. The feminine designs employ loose silhouettes and elegant frills to play with structure and movement, while her abaya jackets offer a stylish take on the classic garment. You'll find the designer's best at Dubai Mall's flagship Galeries Lafayette.
8
Mounay
Mounay is one of the most elegant abaya shops in the city, offering a stunning range of contemporary options in a variety of cuts and materials. Established in 2013 between Dubai and Beirut, the label is known for its carefully-picked fabrics, beautiful designs and eye-catching colours. Every collection presents a unique style, so head to Symphony in Dubai Mall to browse pieces today.
9
Razan Alazzaouni
It's no surprise to learn that Saudi Arabian designer Razan Alazzouni has a background in sculpture. Her designs feature beautiful, elegant silhouettes that have a playful edge and her modest fashion pieces are works of art. The designer often creates iconic Arabian-inspired designs, transforming classic styles with flashes of colour and delicate touches such as floral embroidery and beadwork.
10
Y N M
Founded in 2014, Y N M is a Dubai-based ready-to-wear label offering a stunning range of abayas in soft Italian silk organza. Each item is then handcrafted and carefully screened to ensure impeccable artisanship. Located in Dubai Design District, the fashion label is a labour of love by London College of Fashion graduate Yasmin Al Mulla, who oversees everything from the colour schemes to the hand-sketching of embellishments.