Spas & Wellness
The best Arabian-inspired spa treatments in Dubai
Discover traditional Arabian treatments at Dubai's best spas, from Dead Sea salts to date scrubs and camel milk baths.
Discover traditional Arabian treatments at Dubai's best spas, from Dead Sea salts to date scrubs and camel milk baths.
1
Wellness In The Dunes at Timeless Spa
Given its location in the Dubai Desert Conservation Reserve, Al Maha Desert Resort's focus is firmly on the desert and its wisdom, including within its Timeless Spa. One of its most popular offerings is the Spa Indulgence Package. This is a full-day experience, which along with access to the reserve and the resort's dune-facing infinity pool, includes a 60-minute massage in a 'wellness tent' which takes inspiration from traditions of the Bedouin, Dubai's first inhabitants. Enjoy the soothing power of traditional essential oils applied by an an experienced masseur amid the absolute tranquillity of the desert.
2
Oud and sandalwood at Anantara Spa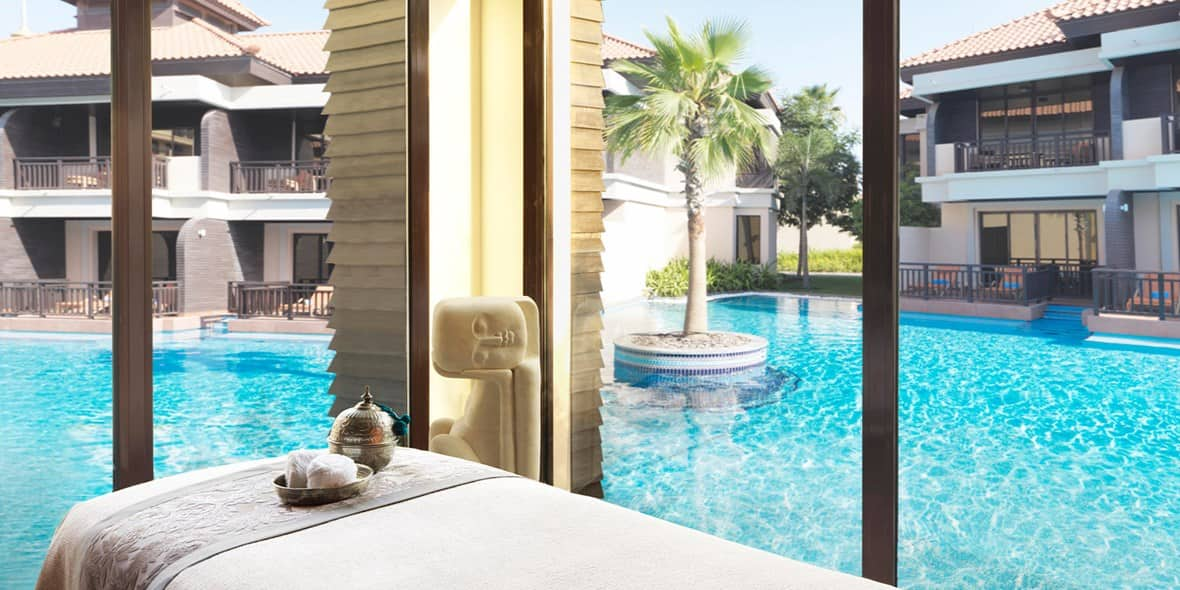 At Anantara Spa, the therapists use the latest innovations in wellness and premium products to boost your well-being with soothing therapies. The plush spa features aroma, crystal and gemstone steam rooms, bamboo sauna, herbal bath, liquid sound pool, salt inhalation room, ice grotto, Kneipp walk and an experience shower. The Anantara Royal Hammam treatment is perfected with an age defying elixir of rare prickly pear, organic  Argan oil hair serum and Arabian oud body mist with a sandalwood oil finale.
3
Arabian haven at Awaken Wellness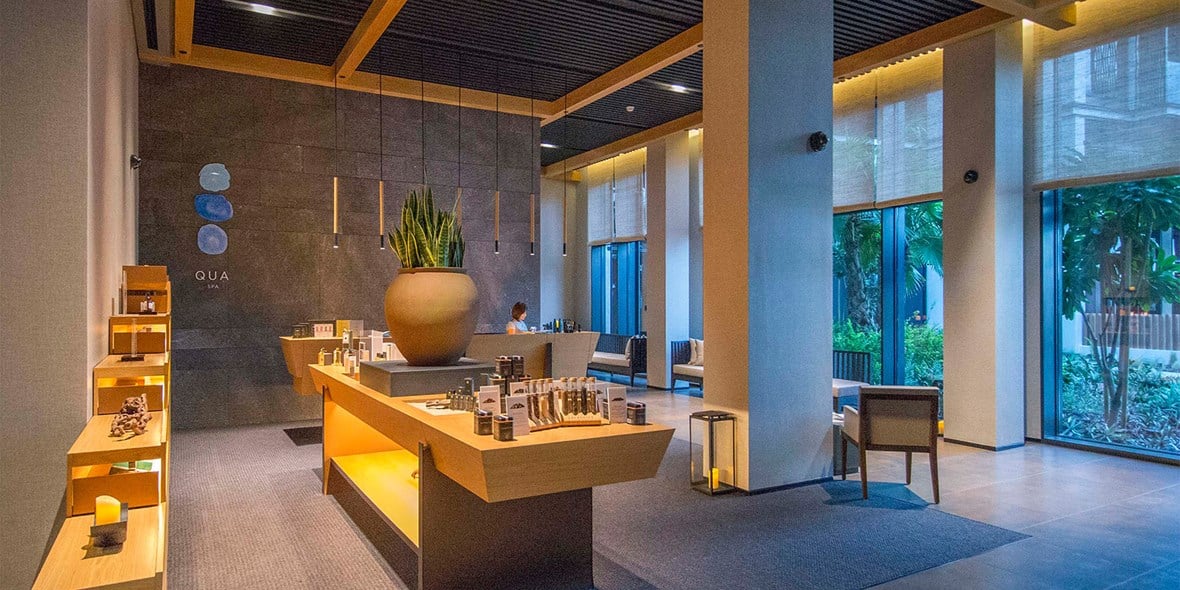 The newly rejuvenated wellness centre at the Atlantis, The Palm, Awaken promises to take you on a journey of self-discovery. The spa offers four rejuvenating Arabian-inspired treatments: for ultra-soft skin, try the Desert Sand and Date Sugar Infusion for a handcrafted experience that also includes oud and Khaliji pink clay. Alternately, the Gulf Salt and Moringa Leaf variant is a gentle scrub that will leave you feeling detoxed and revitalised.
4
Arabian Escape Ritual at The Spa
The Spa at The Address Dubai Mall may be the place to go for the most Dubai-style treatments anywhere in the city. The Arabian Escape ritual is inspired by journeys of yesteryear and features a henna and date scrub for your skin followed by an indulgent camel milk body wrap and renewing date facial. The three treatments combine in perfect unison to pamper your skin and leave it glowing radiantly. There's also a range of rejuvenating massages and facials to pick from.
5
Arabian Nights at Saray Spa
For a more scent-focused treatment, Arabian Nights at Saray Spa in JW Marriott Marquis takes place in an 'exotically scented' room. Start with a massage including florals and herbs, then move to a milk bath infused with rose, and finish with another massage, where sandalwood, sweet almond and floral oils are worked into your skin and hair. Another treatment drawing inspiration from the Middle East is Saray's Cleopatra Milk And Honey Ritual, with an olive stone scrub followed by a warm massage of milk, rose oil and Arabian honey – and then a hot stone body massage to finish. 
6
Explore the Ottoman Empire at One&Only Royal Mirage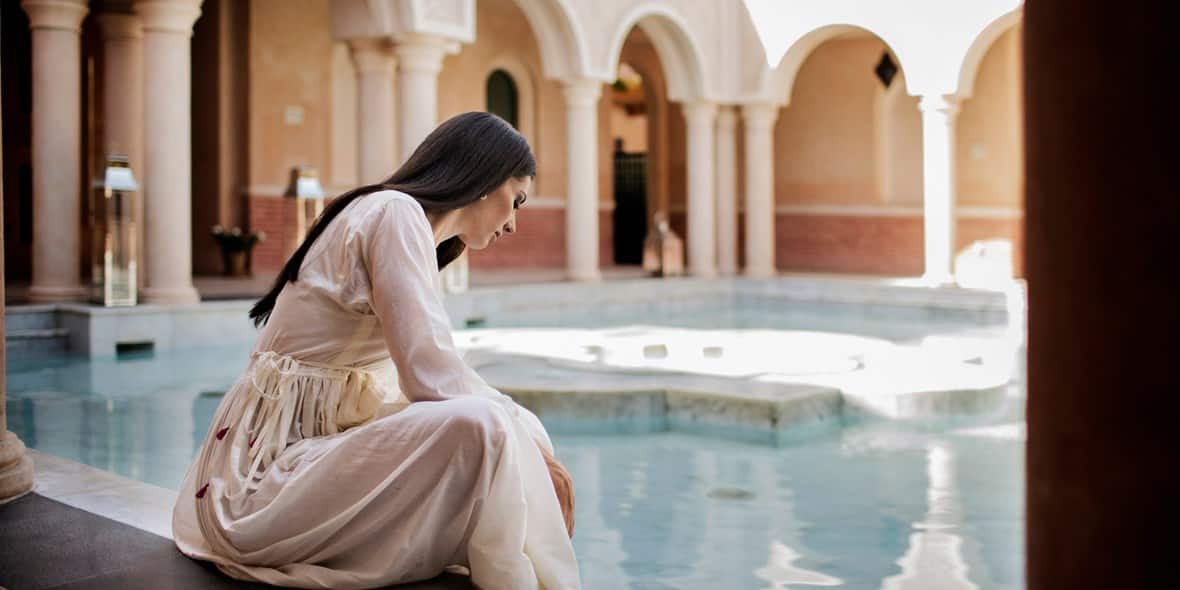 Unwind, balance, uplift – these are the three pillars One&Only Spa was built on. This private spa at the One&Only Royal Mirage offers a range of tailored exercises and treatments to let your hair down and your troubles go. Opt for the ancient route with a traditional hammam treatment. This lets you leave the world behind whilst you relax and enjoy the decadent massages and skin treatments of the Ottoman Empire. The hot marble, steam rooms and steam bath will transport you to a world of relaxation.
7
Floral bliss at Talise Ottoman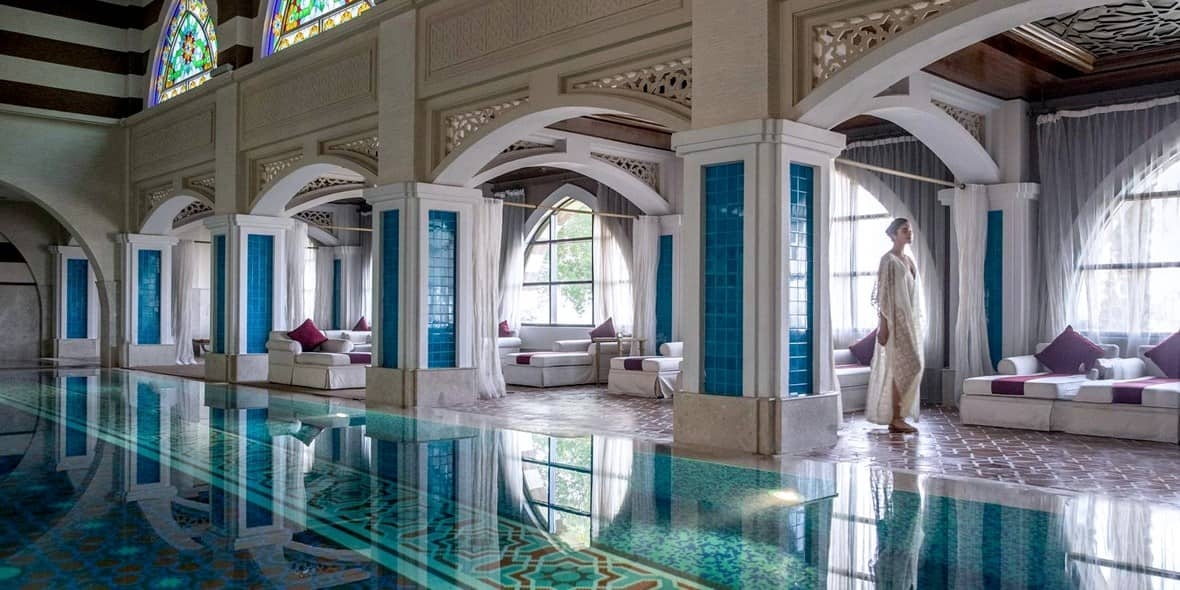 Rejuvenate and unwind at the exquisite Talise Ottoman Spa at the Jumeirah Zabeel Saray Hotel on Palm Jumeirah. With many fixtures hewn from marble, decorated by dark woods, mosaics and murals, the lavish Turkish hammam sits at the heart of the spa. The Rose Bliss Body Massage uses Arabian roses for a pampering ritual created to reduce the visible signs of aging and promote the skin's elasticity. Using only decadent and organic spa products, your skin is softened with a dry body exfoliation, then massaged with rose indulgence oil.
8
Dubai Decadence at Raffles Spa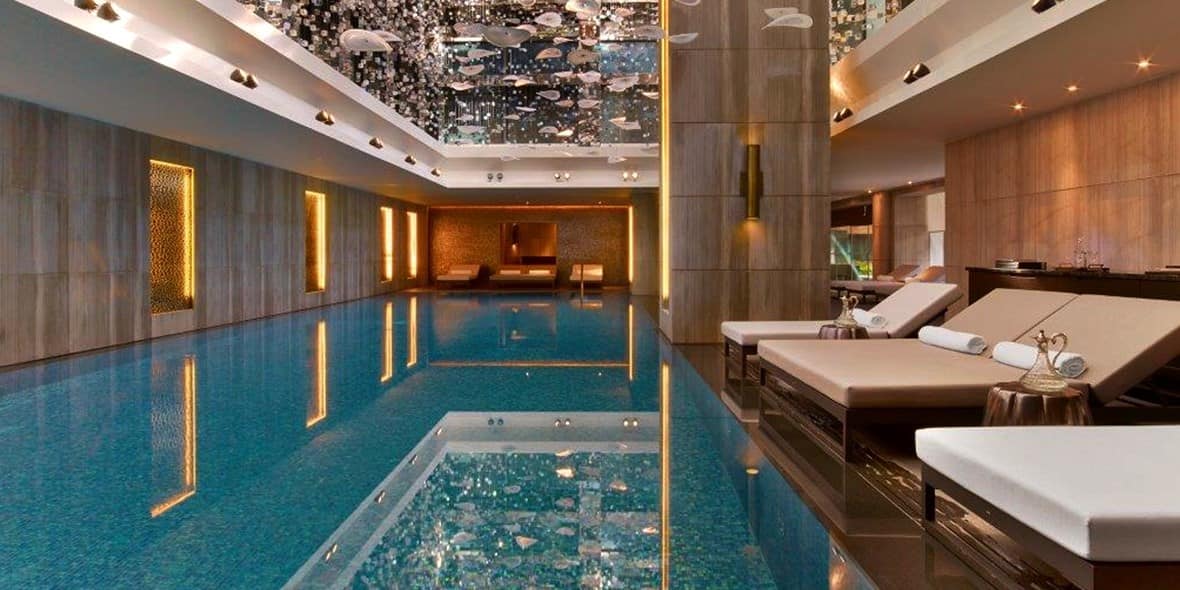 Prepare to be tempted by every treatment on the menu at Raffles Spa, located in the famous Raffles Hotel. Featuring exclusive rejuvenating treatments, inspired by Asian, Middle Eastern and European traditions, the spa promotes holistic well-being. With six spa suites and one couples suite, the 1200sqm spa space is complete with world-class wellness facilities. Begin your experience with the Dubai Decadence package, a full six hours of head-to-toe pampering treatment.