Food & Drink
Must-try chocolate shops and dessert spots in Dubai
Discover some of the most decadent places in the city to indulge your cocoa cravings, with everything from cakes and brownies to truffles and shakes
Discover some of the most decadent places in the city to indulge your cocoa cravings, with everything from cakes and brownies to truffles and shakes
1
Mirzam Chocolate Makers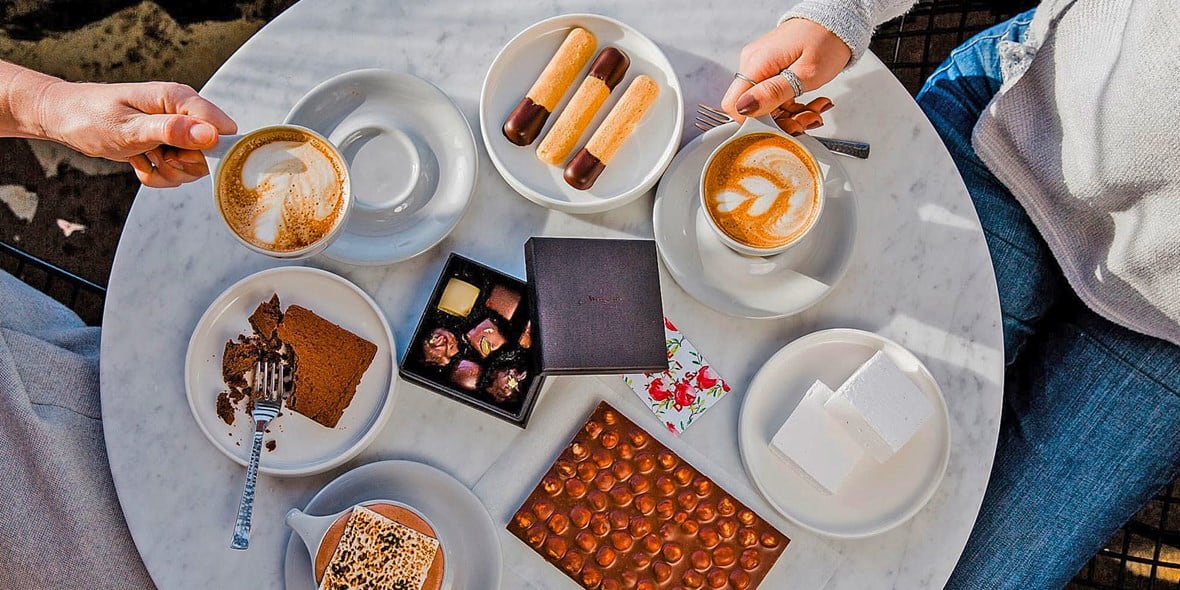 2
Melange Dubai
Treat yourself to desserts from this Dubai-based bakery, known for creating towering cakes, tarts and cookies. Mélange specialises in small-batch gourmet bites and luckily its menu showcases options perfect for the chocoholics out there. Try the black forest cake, salted caramel chocolate 'quarantine' number, and the irresistible cocoa and coffee cookies at Melange's new pop-up at ME by Melia in The Opus By Omniyat, designed by the legendary Zaha Hadid. There's even a new flavour inspired by the late architect with hazelnut, mascarpone and mocha. Otherwise you'll find a curated selection of their cookies and tahini brownies at the Depachika Food Hall in Nakheel Mall.
3
Delice Gourmet
One of the emirate's most renowned chocolatiers, this shop specialises in a wide range of luxury delicacies, from sweets and macarons to one-of-a-kind chocolates. Combining the finest ingredients with time-honoured traditional culinary skills, Delice has concocted a plethora of signature creations, from rose-flavoured chocolates to vegan sweets made entirely from pistachios. Head to their showroom and chocolate lab
in Jumeirah
 to see where the magic happens.
4
Al Nassma Chocolate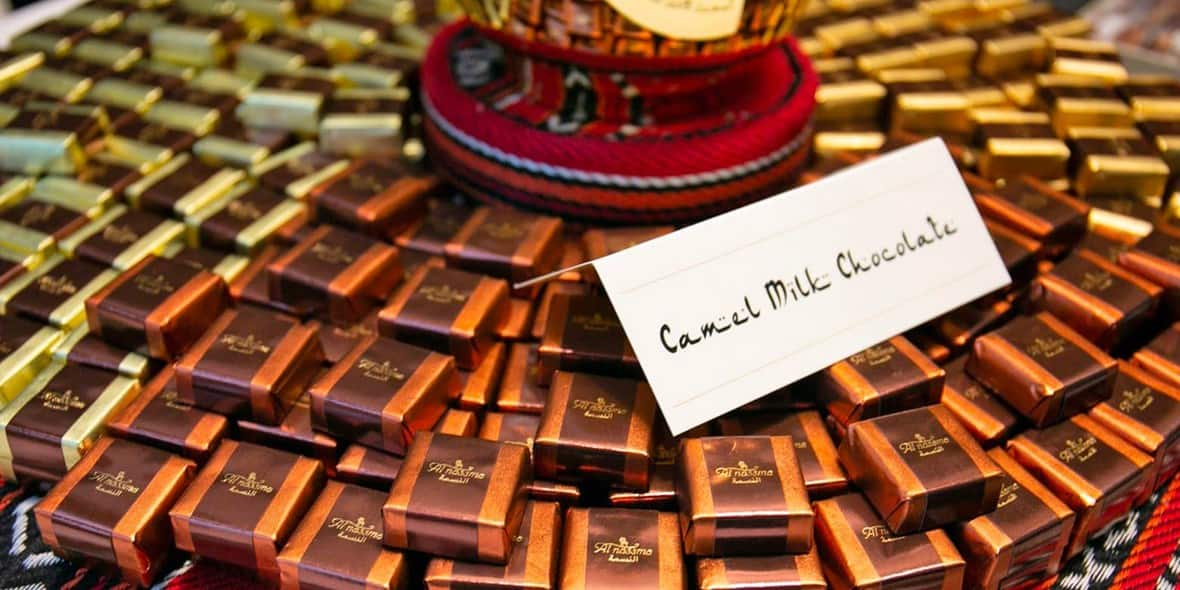 Find confectionery with a difference at Al Nassma, the world's first chocolate company to use a very special ingredient in their creations – camel milk. First launched in 2008, this Emirati brand's delicious bars are available in several flavours and are made using just four other ingredients: sugar, honey, cocoa butter and vanilla. A distinctive gift idea, you can discover the entire range at their dedicated boutique in Deira's Gold Souk, while selected Al Nassma chocolates are also available at local convenience stores and shopping malls like The Dubai Mall.
5
Cocoville
The destination of choice for chocolate fans, this homegrown brand specialises in artisanal creations. You can get all kinds of exquisitely-made treats at this boutique, which can be found on Al Wasl Road, a short drive from
Sunset Mall
. Head over to grab some while on the go, or pull up a chair and linger awhile – there's everything from handmade truffles and pistachio-flavoured chocolate to melt-in-the-mouth brownies and 'chococcino' drinks to try.
6
Patchi
This upmarket Lebanese chocolatier stands out thanks to the use of all-natural and premium ingredients. Patchi, which was founded in Beirut in 1974, has long been a favourite of Dubai residents. You'll find Patchi boutiques across the city, including Mercato Mall and City Centre Mirdif. Aside from their bestselling gift boxes, you can also treat yourself to specialist creations, such as the cocoa-dusted almonds and layered chocolate with yogurt cream, biscuit and strawberry jam.
7
Alison Nelson's Chocolate Bar
You can find this dessert cafe in both The Dubai Mall and 
Mall of the Emirates
 where it offers creative and inventive cocoa-based delicacies to tempt your tastebuds. Chef Alison Nelson, after whom the eponymous pudding palace is named, started her culinary journey in New York but now has outposts across the globe, stocking sugary creations made with fresh ingredients. Sate your appetite with everything from melted Nutella cake to chocolate 
karak
 pastries at this must-try eatery.
8
Godiva
If you're a chocoholic, you have to visit Godiva. This
Belgian chocolate maker
 has branches all over the world and, in Dubai, fans can discover a charming cafe experience at 
City Walk
, Mall of the Emirates and
The Outlet Village
. The shops serve up hot drinks, including decadent hot chocolate, as well as dramatic chocolate spheres and chocolate fondue. Their luxury chocolates and pralines created by master chocolatiers are always a treat too, and can be beautifully wrapped in gift boxes to take home.
9
Black Tap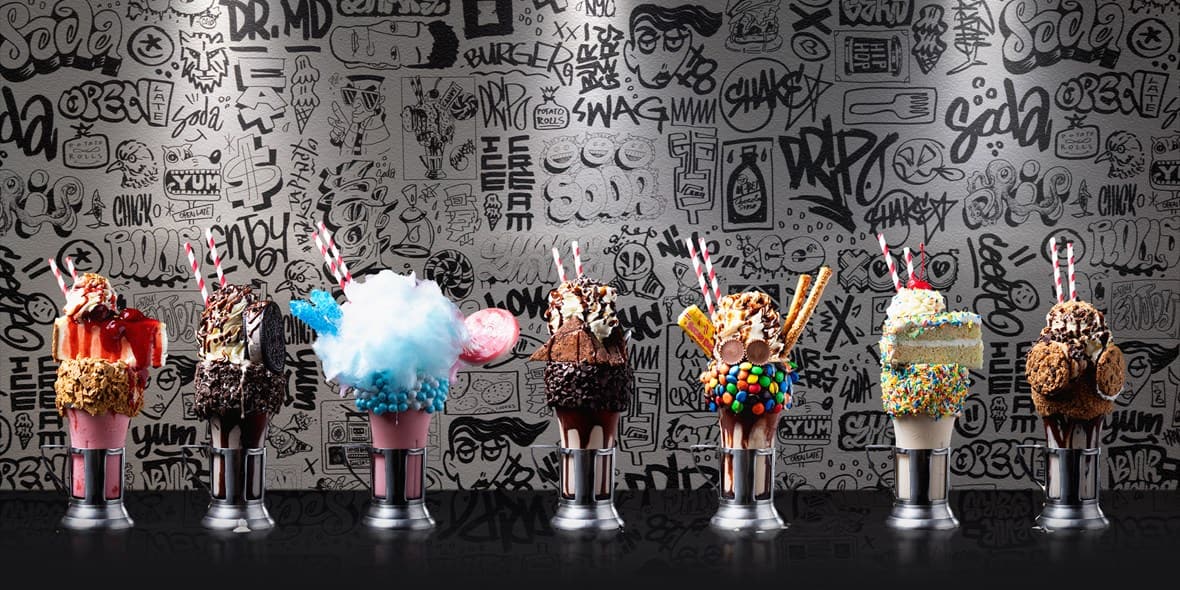 While this restaurant might primarily deal with
gourmet burgers
, it's their towering milkshakes – or CrazyShakes, as they've been dubbed – that keep people flocking back for more. Black Tap serves up different varieties of shakes, with flavours ranging from bubblegum to peanut butter, but their crowning glory is the Brooklyn Blackout that's best suited to those craving cocoa. The rim of the glass is coated in chocolate chips and frosting, while the entire drink is topped with whipped cream and two perfect brownies.