Entertainment
Be blown away by Dubai's best cinema experiences
Big-screen blockbusters, arthouse fare and silver-screen nostalgia – Dubai's cinemas have it all.
Big-screen blockbusters, arthouse fare and silver-screen nostalgia – Dubai's cinemas have it all.
Experience super-premium cinema
Even a visit to the multiplex in Dubai can be a luxury experience, with plenty of the city's cinemas offering ultra-comfortable options: reclining seats, pillows, blankets and at-seat food service. Reel Cinemas' Platinum Suites at Dubai Mall boasts all of these, while Roxy Cinemas at Dubai Hills Mall offers three private "Director's Boxes" as well as Platinum service. And Novo Cinemas provides a "7-star" experience at all three of its Dubai venues, also with reclining leather seats, at-seat butler service and a private lounge to enjoy before the film.
Expand your horizons with cultural screenings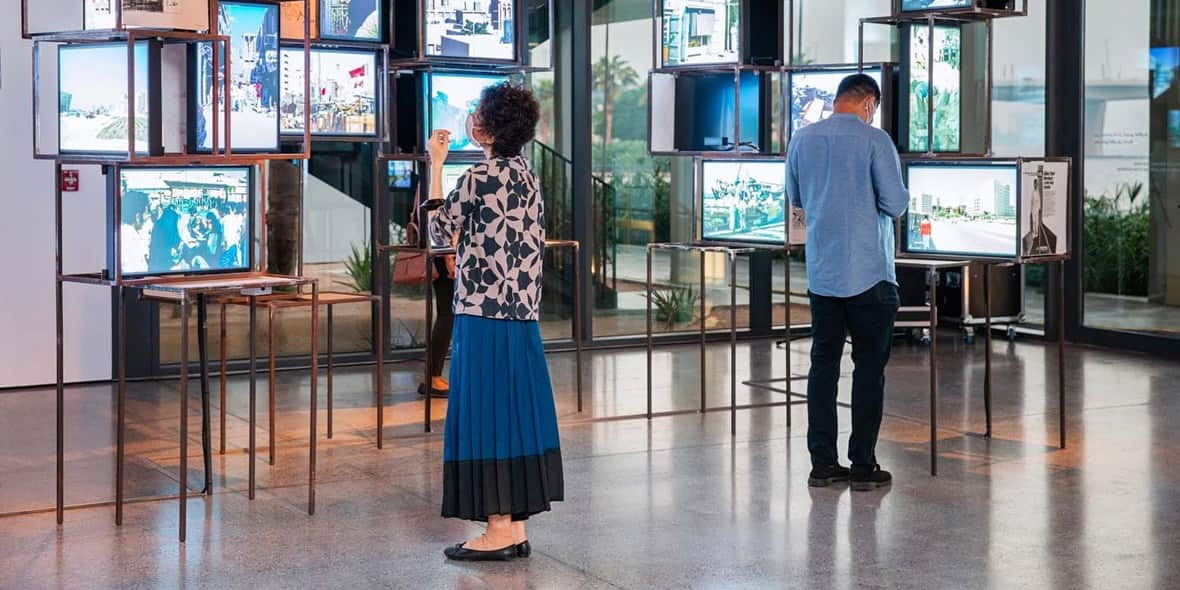 Everyone loves a blockbuster, but sometimes it's great to experience something different – and Dubai's art centres and museums can help you do just that. Places such as Jameel Arts Centre and Etihad Museum regularly host screenings of documentaries, short films and arthouse cinema projects, often linked to a particular exhibition. These can be a great – and free – way to enjoy something you'd never be able to find in your local multiplex.
Encourage budding film buffs
If your kid is a budding auteur, or already knows all the Best Picture Oscar winners from 1929 onwards, why not nurture this through groups and activities designed specifically for children? Milkshake Film Club is open for kids aged 9-17 and offers film-making courses, summer camps and more – with a focus on practical skills as well as an overall education in film and media. And Looking Glass Film Club curates screenings designed for children aged anywhere from three to 15, with regular showings at Cinema Akil and a festival at Jameel Arts Centre.
Watch a movie in the snow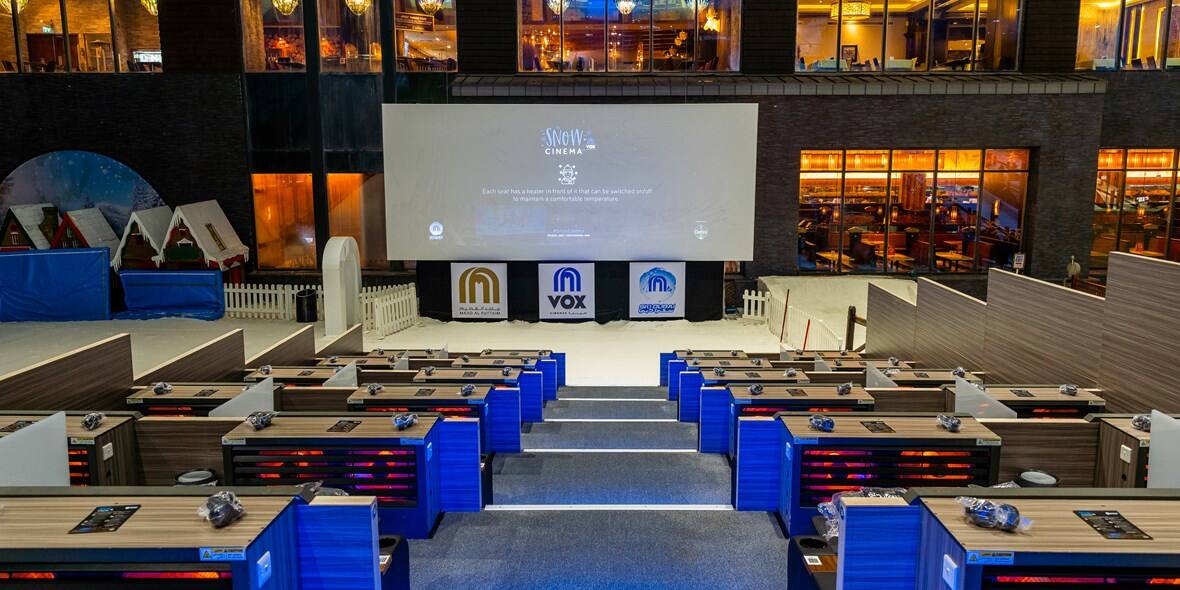 Ever watched a movie on a ski slope? Well now is your chance to give it a try. Ski Dubai provides one of the most novel movie experiences in the city, as the icy slope transforms into a cinema for screenings of the latest releases. Tickets start at AED100 and the price includes a hot chocolate, popcorn, gloves, socks, a beanie hat and a blanket to snuggle under. Bundle up and enjoy a movie session like no other.
Enjoy Hollywood magic at Paramount Hotels
You might be surprised to hear you can experience some genuine Hollywood history in the heart of Dubai, but that's exactly what the city's Paramount Hotels provide. The two properties, both in Business Bay, are packed full of Tinseltown memorabilia, with all rooms themed around film-making equipment. And maybe best of all, the Paramount Hotel Dubai also offers an in-house cinema, with regular screenings from Paramount's extensive catalogue including Grease, The Godfather, Transformers and more. You can also find private screening rooms at other hotels, including Rove Downtown and Raffles The Palm.
See something different at a film club or festival
Get your arthouse film fix in Dubai through the city's movie clubs, or one of the film festivals hosted in Dubai. The Culturist Film Club, run by Emirati artist Hind Mezaina, arranges semi-regular screenings of new independent films, niche cult masterpieces and other cinephile delights at venues including Jameel Arts Centre – with a lively discussion after each screening. Cinema Paradiso Dubai is from Mihai Sava, and shows an eclectic mix of films outdoors from autumn to spring. And the Meta Film Festival, held in November, will bring some of the latest independent cinema to Dubai through screenings at Wafi Mall.
Experience huge screens, IMAX and 4DX
If you're seeing something on the big screen, why not go really big? Roxy Cinemas at Dubai Hills Mall offers the region's largest screen, at a whopping 423 square metres, while Novo at IMG Worlds of Adventure has the city's largest IMAX screen. There are plenty more IMAX cinemas across Dubai, with VOX and Reel also offering the huge screens. And for a more interactive experience, try 4DX cinema with motion seats and other effects – you'll literally feel every moment of the latest blockbusters! VOX Cinemas offers Virgin Radio 4DX, while Reel Cinemas and Novo Cinemas both offer MX4D at various locations.
Catch a film in the fresh air
In the cooler months there are plenty of outdoor cinema options across Dubai, including permanent screens from VOX at Galleria Mall and Roxy at Galleria Al Barsha, regular outdoor showings at Cinema Akil and more – locations including Expo City Dubai, Wafi Mall, The Walk at JBR and more have all hosted alfresco movie nights. Have a look at our dedicated outdoor cinema article linked below, or keep an eye on Dubai Calendar and local listings for more outdoor screenings. (Note that, as with any outdoor event, weather can affect performances, so confirm any screening is going ahead on the day.)
Tuck into three courses and a movie
You don't have to choose between a delicious meal and a great film – in Dubai you can have both at once. At VOX Cinemas across Dubai the "TheEATre" experience offers gourmet items such as mushroom arancini, hoi sin duck rolls, hot dogs with truffle and brie, dulce de leche crepes and more. And Reel Dine In at Dubai Mall delivers diner-style dishes including deluxe burgers, salads, appetisers, desserts and beyond – all served while you're enjoying the movie.
Watch indie flicks in the city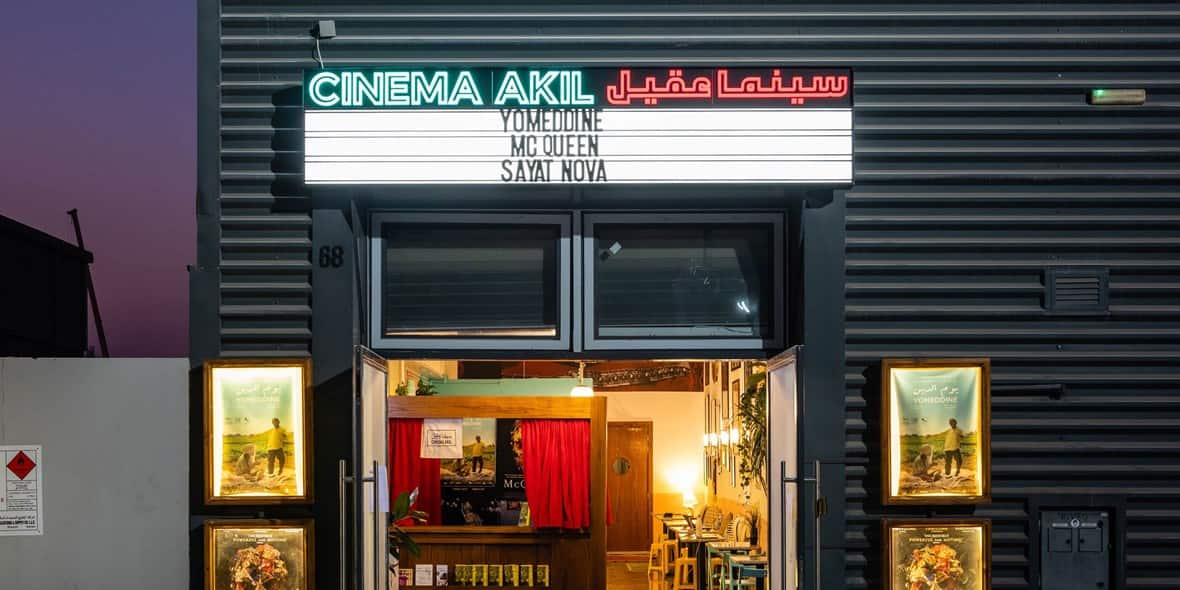 Another place to enjoy independent film is Cinema Akil, a dedicated arthouse cinema venue, to explore incredible stories from across the globe. Located in Dubai's leading arts hub, Alserkal Avenue, the cinema presents a splendid showcase of independent films all through the year. During winter they also hold movie screenings under the stars. And don't leave without trying the karakchai from the on-site Project Chaiwala cafe.