Ramadan
Unmissable iftars to try this Ramadan in Dubai
From fusion plates to private dining experiences, discover some of the city's best Ramadan spreads.
From fusion plates to private dining experiences, discover some of the city's best Ramadan spreads.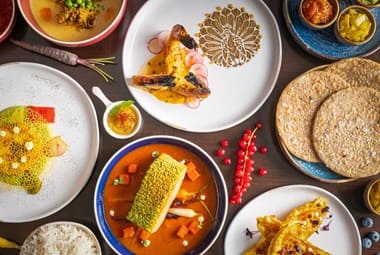 Under AED100
Watch the sunset at ILA Restaurant and Café
Enjoy an iftar meal of modern Arabic dishes, followed by delectable sweets, for just AED69 per person. The dishes at ILA Restaurant & Café, located in Al Seef, include gourmet dates, lentil or vegetable soup, cheese rolls and vine leaves, followed by a sharing platter of mixed grills, Moroccan tagine, and much more. Desserts include rice pudding and umm ali, and all of this can be enjoyed in chic surroundings with breathtaking views of the sun setting over the heritage district.
Contact: +971 4 358 5822
Book now
Rove Hotels are getting into the spirit of sharing this Ramadan, with their 'Pass It On' initiative. Enjoy iftar meals at The Daily restaurants located all across Dubai, for AED99 per person, including a buffet of salads, appetisers and mains. Everyone who enjoys one of these meals will receive a voucher for another free meal, which they can pass on to a friend, family member, or those less fortunate.
Contact: +971 4 561 9999
Book now
Take in mountain views at JA Hatta Fort Hotel
Dine surrounded by unforgettable landscapes at the JA Hatta Fort Hotel's serene Gazebo Restaurant, for just AED95 per person. The menu is packed with all the traditional delights, starting off with kamardeen, laban, and jallab drinks, followed by cold and hot mezze. You'll also be able to enjoy classic dishes such as lentil soup, lamb saloona stews, shish tawook grills, baked eggplant moussaka and more, while taking in the sweeping panoramic views of the Hajar mountain range.
Contact: +971 4 80 99 333
Book now
Immerse in tradition at SIKKA Café
For an iftar steeped in Arabian culture, look no further than SIKKA Café. This Ramadan, the eatery is offering a traditional iftar experience across five delectable courses, featuring all your Middle Eastern favourites and unlimited Ramadan beverages. The meal is priced at AED95 per person and AED45 per child, while kids aged under six-years eat for free.
Contact: +971 800 666 353
Book now

Tuck into smoky meats at Absolute Barbecues
This Holy Month, Absolute Barbeques are firing up the grill for an iftar with a twist. Special snacks will be served up alongside barbecued meats hot off the coals, while fans of Indian cuisine can enjoy authentic dishes such as the Hyderabadi Haleem. This delicious spread costs just AED89 and is available from 6:30pm at the Sheikh Zayed Road branch.
Contact: +971 4 561 0708
Book now

Soak up stunning views at Beirut Bay

Head to The Pointe for a mouth-watering set menu of Lebanese favourites at Beirut Bay. The waterside eatery is offering a tasty set menu costing AED150 for two and AED300 for four. The iftar is available from 6:45-10pm every evening and promises unforgettable flavours paired with gorgeous views of the sunset.

Contact: +971 4 566 3974
Book now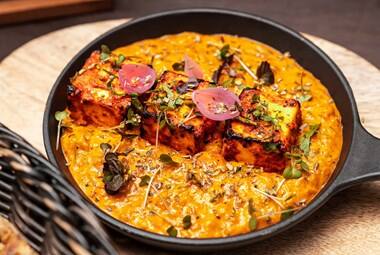 Under AED200
Dine al fresco at OSH
Uzbek restaurant OSH is laying out an exquisite spread this Holy Month, featuring a selection of drinks, cold starters, salads, soups, sides and desserts, all for AED149. Set on the northern end of La Mer, diners can break their fast while taking in waterfront views spanning from the tranquil sea to the blue skies. The menu is available daily until 15 May from 6:30-10:30pm.

Contact: +971 55 963 6756
Book Now
Admire the silver screen scene at MasterChef, The TV Experience
Enjoy a truly one-off iftar experience at MasterChef, The TV Experience. The eatery, which is inspired by the hit TV show, is plating up a three-course set menu throughout the month, for AED145 per person. Start off your meal with pomegranate juice, dates, bread and hummus, before sharing starters such as grilled figs or king fish tostones. The mains are packed with global flavours, including southern fried chicken waffle, Brazilian beef picanha and Italian orecchiette pasta, and there are decadent desserts to finish off the meal.
Contact: +971 4 550 8111
Book now
Discover new dishes at Farzi Café
This month, Farzi Café have added their trademark molecular gastronomy stamp to traditional iftar dishes in order to create an innovative menu. Blending Indian and Middle Eastern flavours, this sharing-style feast includes dishes such as spiced chicken soup, vegetarian and chicken kebabs, and charcoal-infused jalebis soaked in sweet syrup. For just AED149 per person, Farzi's menu is available to dine-in customers as well as home delivery.
Contact: +971 4 394 2556
Book now
Unearth hidden gems at BOCA
The Mediterranean eatery BOCA has teamed up with Frying Pan Adventures, a company that organises tasty tours of the city's hidden culinary treasures, to lay out an unforgettable dining adventure. Their eight-course menu will feature fusion dishes that pay tribute to the flavours of old Dubai, such as chilli and sumac stuffed falafel, and labneh empanadas. The moreish desserts are set to include a unique take on kunafa, as well as jallab ice cream with pine-nut brittle. All this can be enjoyed for just AED160 per person, but advance bookings are essential.
Contact: +971 4 323 1833
Book now
Share the joy at Eat & Meat
Get the family together for an iftar you won't forget at Eat & Meat. The US-style eatery in The H Dubai is laying out a spread of sumptuous sharing-style plates so everyone on the table can get involved. Dishes include traditional favourites like hot and cold mezze, mixed grills and lamb ouzi finished with a choice of delectable Arabic sweets. The iftar costs AED159 per person and AED75 for kids, while those under six years dine for free. Early birds who book before 12 April will get 20% off their booking, and groups of 10 or more pay just AED139 each.
Contact: +971 4 501 8630
Book now
Unwind at The Restaurant

The Address Beach Resort's chic eatery is offering diners an immersive iftar menu this Ramadan, filled with traditional dishes and Arabic delicacies. Dine outdoors, overlooking Ain Dubai and Bluewaters Island, and enjoy a sumptuous buffet spread of soups, sushi and more, as well as live stations and delectable desserts. The experience costs AED198 per person, or AED99 for kids, who can also spend time at The Qix Club next door, a kid's play area with a host of activities.

Contact: +971 4 879 8866
Book now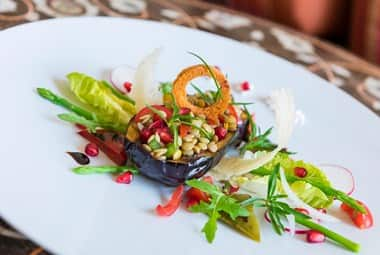 Under AED300
Be steeped in tradition at JA The Resort
Head down to Captain's Restaurant this month to enjoy a zarb experience – an authentic Bedouin-style barbecue on the beach – for AED250 per person. As well as juices and dates, diners will be served marinated lamb, cooked under the sand using ancient techniques. Finish off the meal with Arabic desserts and coffee as you relax on the beach, gazing out over the waters of the Arabian Gulf.
Contact: +971 4 814 5604
Book now
Discover iconic elegance at Ewaan
The Palace Downtown's signature restaurant, Ewaan, is hosting iftar for AED260 per person. Gather your loved ones at this luxurious eatery, and enjoy a lavish buffet of Middle Eastern and international dishes, as well as traditional Ramadan beverages, while harmonious oud music fills the air and adds charm to your evening.
Contact: +971 4 428 7961
Book now
Feast on Indian delicacies at Tresind
This Ramadan, enjoy a generous fine dining spectacular at this famous Indian eatery. Feast like royalty for just AED250 per person, enjoying the acclaimed restaurant's signature twists on classic dishes served in chic surroundings. Vegetarians will be spoilt for choice too with a special limited-edition menu, available on request.
Contact: +971 56 420 9754
Book now
Journey to Portugal at Tasca
This Jumeirah spot is serving up a hearty Portuguese-style iftar, designed to be shared with friends and family, for AED265 per person. Indulge in succulent dishes, all made with the freshest of ingredients, as you break your fast and sip on one-of-a-kind Ramadan-inspired drinks, admiring views of the city's iconic skyline and waters of the Arabian Gulf in the distance.
Contact: +971 4 777 2231
Book now
Create memories at The Ritz-Carlton DIFC
At this hotel's luxurious Ramadan Majlis, guests can enjoy a lavish iftar feast, delivered right to your table. There are heaps of delicious hot and cold mezze to tuck into, as well as traditional Arabic sweets and a live dessert station serving up crepes, Turkish ice cream and chocolate truffle cake – ideal for those with a sweet tooth. The deal costs AED219 for adults and AED110 for kids, while children under six years eat for free.
Contact: +971 4 372 2628
Book now
Indulge in tradition at Bella
Be transported back to the Bedouin days with a delectable amalgamation of Middle Eastern flavours at Bella. This Ramadan, the rooftop Italian restaurant is mixing things up with sophisticated Arabic plates, serving up dishes such as baba ganoush, creamy hummus and camel milk ice cream. The buffet is priced at AED250 per person and is available at the Business Bay outpost daily from sunset until 1am.
Contact: +971 4 873 3377
Book now
Tuck into a banquet at COYA
Feast on a gourmet three-course iftar menu at this Peruvian eatery for AED230, packed with classic dishes that you know and love, as well as some new culinary creations. COYA's menu is available wherever you are – dine in their vibrant restaurant every evening, or get it delivered right to your front door instead.
Contact: +971 4 316 9600
Book now
Explore more must-try and luxury iftar options this Ramadan with Zomato.