Sights & Attractions
Top 5 views of Burj Al Arab
Admire the sail-shaped silhouette of one of Dubai's most famous landmarks
Admire the sail-shaped silhouette of one of Dubai's most famous landmarks
1
In the frame at Sunset Beach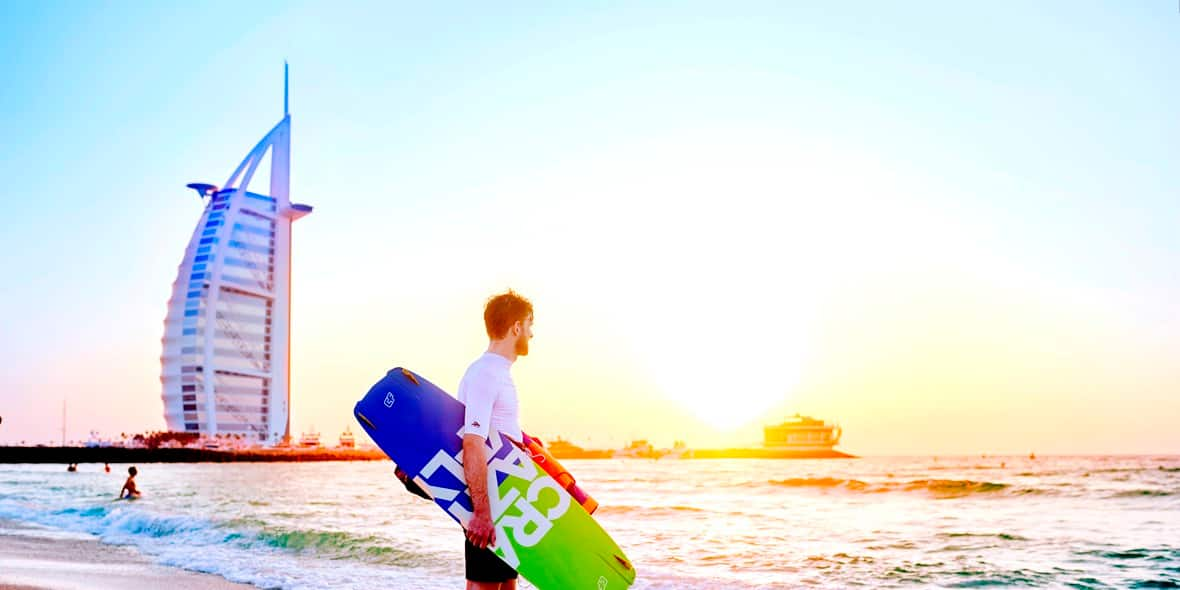 Sun, sea and sweeping views. This popular stretch of sand in Dubai is a favourite with both locals and visitors alike, and it's easy to see why. Its location by the coast sees rhythmic swells ideal for watersports and, with plenty of beachside cafés nearby to refuel, you'd be hard pressed to find a better place to enjoy the city's year-round sunshine. The Burj Al Arab commands a dramatic presence here on one side of the skyline, making it an inimitable backdrop for holiday photographs. Head over at sunset when the sky casts a striking glow – a setting so perfect, we named the beach after it.
2
Magical moments at Madinat Jumeirah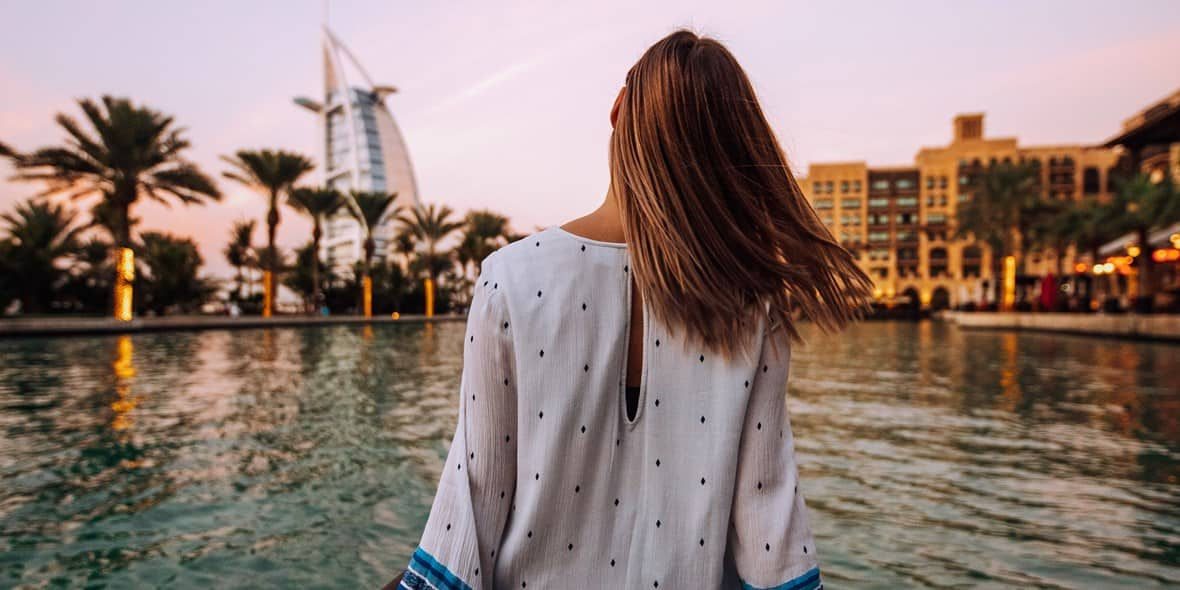 Complete with sand-coloured wind towers and vaulted arches at every turn, Madinat Jumeirah is an ode to Arabian classicism. The inter-connected complex, featuring five-star hotels and a souk, is located right beside Burj Al Arab, making it one of the city's best vantage points. Book dinner at Pierchic, located on its own pier that slices through the waters of the Arabian Gulf, or choose to dine at Shimmers, which lets you dig your toes in the sand. We'll let you in on a little secret though – our favourite views are from the traditional abra boat ride that winds its way through the Madinat waterways, where the Burj Al Arab is your gleaming north star.
3
Sparkling scenes out at sea
Nothing quite compares to a cruise when on holiday. Making the most of its pristine coastline, Dubai makes maritime magic a reality with an array of premium yacht charters to choose from. Whether you want to party onboard with two or 200, make sure to check with the team about the best route that incorporates sailing past the Burj Al Arab. Out at sea you'll have a wholly different perspective of the landmark, with its sail-shaped design glistening in the sunlight, coupled with views of the terrace extension that houses a sandy private beach. Yes, you can tell your friends you've now seen sand floating on water.
4
The view next door at Jumeirah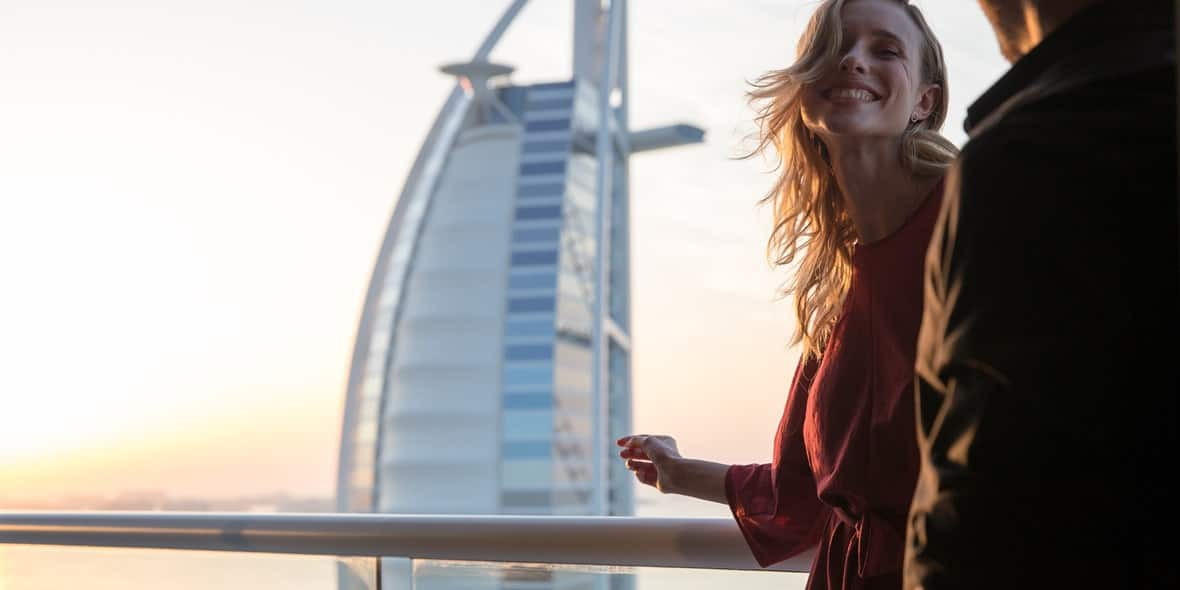 Jumeirah Beach Hotel, located right beside the Burj Al Arab, is one of the most convenient addresses for prime views. You can enjoy a lazy lunch at Fika as you admire front-row views of the landmark. Looking to get creative? Wild Wadi Waterpark's fun rides and slides will let you capture the Dubai icon from new, unconventional angles.
5
Fun-filled dates at The Palm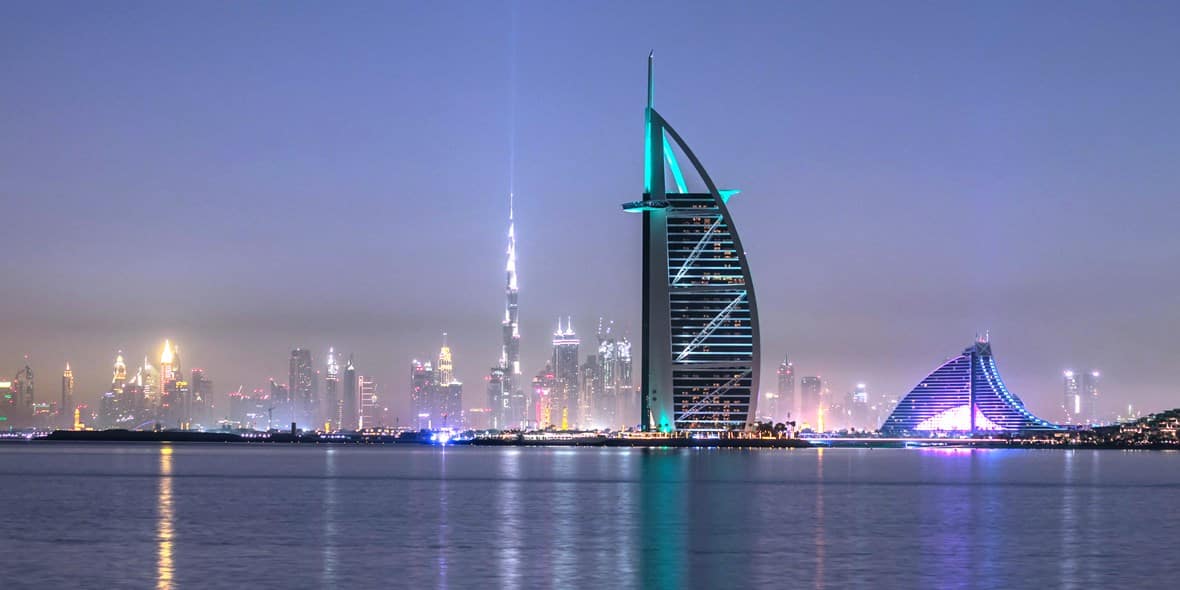 A short drive away from Jumeirah's shores is Palm Jumeirah – another instantly recognisable landmark in Dubai. The palm tree-shaped island is home to luxury hotels, leisure hotspots and beach clubs, but if it's views of Burj Al Arab you're looking for, make your way to the island's east crescent. The Palm Jumeirah Boardwalk, a dedicated walkway hugging the coastline, is perfect for a sunset stroll, or head eastside for dinner at Mekong in Anantara The Palm or LAO at Waldorf Astoria Dubai Palm, both serving up skyline views and gourmet flavours. Closer to the mainland, Il Faro trattoria is a hidden culinary gem, transporting you straight to the Med with its seaside menu and vibes, while the stunning views of Burj Al Arab will remind you of Arabia's allure.