Essential Information
The budget traveller's guide to Dubai
From flights to attractions, let us show you how to save big on a week-long holiday and experience the city's best for just AED6,000.
From flights to attractions, let us show you how to save big on a week-long holiday and experience the city's best for just AED6,000.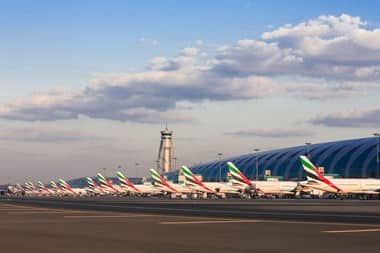 Flights for AED2,400
Booking a cheap ticket to Dubai can be about good timing as much as anything else, but there are a few things you can do to increase your chances.
Plan well in advance
Airlines usually release their cheapest tickets around six months before any given date, so booking five or six months before you travel is a good way to secure some real savings. For example, savvy travellers have bagged return flights from London for around AED2,400 each.
Alternatively, check with travel operators to see if they have special deals and packages on offer, which usually include discounted airfare. This is especially handy if you're holidaying as a family or in a group.
Be flexible
Dubai's airline Emirates flies to over 150 destinations around the world but plenty of other airlines fly into the city, including flydubai, a government-owned budget airline with a growing network. Being flexible about your airline, departure airport, number of stops or even the time you fly can result in significantly lower prices.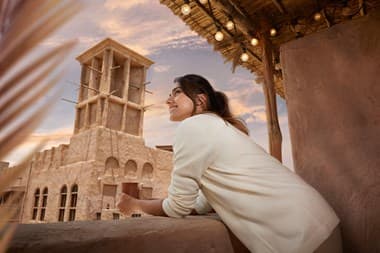 Hotels for AED1,500
Accommodation is often the biggest expense in any trip – fortunately, Dubai has plenty of options that won't break the bank.
Standards are higher
While Dubai hotels have the same star-rating system as everywhere else, the standards at each level are generally higher than many other destinations. A two-star hotel room in Dubai may be more like a three-star room elsewhere, but the hotel may lack facilities such as pools and gyms, or extras like room and laundry service.
Chains like Ibis, Premier Inn and Holiday Inn Express and homegrown brand Rove are often extremely competitive, with rooms from just a few hundred dirhams a night at some of the city's most popular neighbourhoods – and there are plenty of independent hotels as well.
Location, location, location
Hotels on the beach will always charge a premium – but you don't need to stay by the beach to visit it. Most of Dubai is only a few minutes away from the beach by taxi or public transport. With a little planning and research, you may find there are plenty of good-value accommodation options within easy reach of Dubai's main attractions. But do use tools such as Google Maps' route planner to check before booking, depending on what you want to see and do.
Hotel alternatives
Dubai has plenty of hotel apartments – also called aparthotels – which offer more facilities such as a kitchen and washing machine, but often fewer services. Not only can these be cheaper than hotels but they may also help save money in other areas, especially when travelling as a family. Aparthotels are also ideal if you're planning a longer stay, stretching into a couple of weeks or more.
Villa Rotana right on Sheikh Zayed Road and Roda Amwaj Suites Jumeirah Beach Residence right by the beach are popular choices, and there are several to choose from in the vibrant Dubai Marina district too. There are also plenty of Airbnb listings in Dubai, which are in high-demand during the winter season.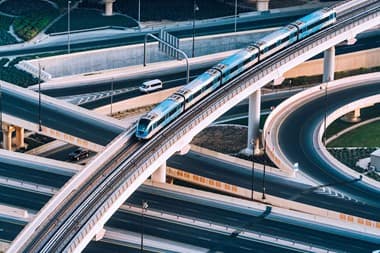 Transport for AED600
Dubai's taxis are great value compared to other major cities but costs can mount up. With a bit of advance planning, you can easily save on getting around in the city.
Taxis vs public transport
Dubai has a large fleet of licensed taxis, which can be hailed on the street or ordered by phone or via an app, along with ride-hailing service Uber and its local subsidiary Careem. However, not many people realise that taxis can also be rented for a few hours, for a flat fee. For example, you can have a Dubai taxi and dedicated driver shuttle you and your family around for six hours for just AED500 – a great option for when you want to see different sights at opposite ends of the city.
Dubai also also has a modern and ever-growing public transport system, including the Dubai Metro, Dubai Tram, and hundreds of bus routes. Public transport can be a great way to get around, especially for solo travellers. However, for families or groups of people, you may find booking a taxi is cheaper.
Renting a car
Driving is easy in Dubai, and almost every destination has ample parking nearby. For families or groups that expect to do a lot of travelling around the city, renting a car may be the best option – just remember to factor in insurance, Salik road tolls and parking fees. Handy kiosks for leading car rental companies such as Hertz and Europcar can be found at Dubai International (DXB) airport, but there are plenty of options to choose from across the city.
There are carshare services too – check out the ekar app or the uDrive platform that lets you choose pay-per-minute or daily fares on the car of your choice, with the option to pick up and drop off rentals at your convenience.
Walking
If the weather's cool enough, the best and cheapest way to get around is on foot. Dubai is very walkable, and areas such as Dubai Creek and Deira's traditional souks are best explored without a vehicle.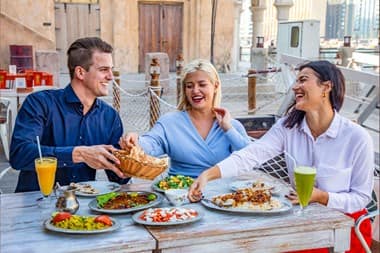 Food for AED700
Eating out can quickly get expensive, especially at Dubai's fine dining establishments. However, there are plenty of ways to enjoy stunning, authentic dishes for a fraction of the cost.
Great food on a budget
Dubai's multicultural nature means you can find dozens of different international cuisines in the city, from every variety of South Asian food to Ethiopian, Korean, Brazilian and more to fantastic Arab and Lebanese food. Some of the best experiences can be found in the city's bustling residential areas of Satwa, Karama, Deira and even Jumeirah Lakes Towers.
One legendary example is Ravi Restaurant in Satwa, made famous by visitors such as the late Anthony Bourdain: here a generous portion of Pakistani-style spicy chicken kadai will cost around AED15, while freshly-baked tandoori roti to enjoy it with costs a princely sum of AED1, so you can easily enjoy a filling meal for under AED20 (around US$5). There are plenty of similar places offering authentic meals at reasonable prices in Dubai, so get exploring!
Dining deals
Fine dining may never exactly be cheap, but there are ways to get a better deal, such as using The Entertainer. This homegrown special offer app focuses on 2-for-1 deals, and includes plenty of gourmet options for a special treat. There is a fee (often discounted) for the app, but all its offers are searchable before purchase. Restaurant aggregator Zomato also offers irresistible savings through its platform, so with some advance planning you can eat your way around some of Dubai's best restaurants for less.
Alternatively, skip the middle man and simply check your preferred restaurant's website and social media channels to see what weekly dining promotions and deals are currently being offered.
Cooking in an aparthotel
One advantage of staying in an Airbnb or hotel apartment is the ability to cook for yourself. There are plenty of corner shops and grocery stores across Dubai, often with a wide range of foodstuffs – but be aware imported fresh food can often be expensive. However, it's the perfect time to try new recipes using local staples.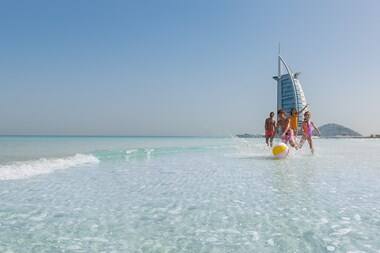 Sights and attractions for AED800
There are a lot of things to see and do in Dubai, and having at least a rough plan of priorities before your trip will help you keep to a budget.
Book ahead
For some sights, such as At The Top, Burj Khalifa, booking in advance is significantly cheaper than booking on the spot. Almost all of Dubai's top attractions can be booked online, allowing you to get the best price – and to guarantee you a time slot in some cases.
Special offers
Consider buying Dubai Pass – a savings-packed attraction card offering up to 60% discounts on the most popular hotspots, including Dubai Parks and Resorts, desert safaris, Wild Wadi Waterpark and much more. For families or groups, using the Dubai Pass can make a big difference to the overall holiday cost.
Dubai also hosts a range of citywide festivals all through the year, with many attractions joining in the celebrations. There are plenty of deals to enjoy during the Dubai Summer Surprises as well as the Dubai Shopping Festival in winter. Visit Dubai Calendar to find out what's on during your stay, and take the time to do your research.
Public beaches
Dubai has a lot of free-to-use public beaches, or beach parks such as Al Mamzar, which are very cheap to access. At Kite Beach you'll find toilets, showers and other facilities, as well as shops nearby. The Beach opposite Jumeirah Beach Residences has plenty of shops and restaurants close at hand, and is very lively. There are also plenty of smaller beaches to explore.
Beach club day passes
For the full Dubai beach holiday experience – but at a fraction of the cost – buy a day pass at a private beach resort. These vary in price and service levels, but at a minimum you will be able to enjoy sun loungers and pool time, complete with towels and parasols, on a stretch of private beach. Take the time to explore as some deals also include discounts on food and beverages.