Experiences
Your guide to Dubai's best hotel pools
Dubai is home to some of the coolest hotel pools in the world, offering epic views to the ultimate in relaxation – here's our pick of the best.
Dubai is home to some of the coolest hotel pools in the world, offering epic views to the ultimate in relaxation – here's our pick of the best.
World-record pool views at Address Beach Resort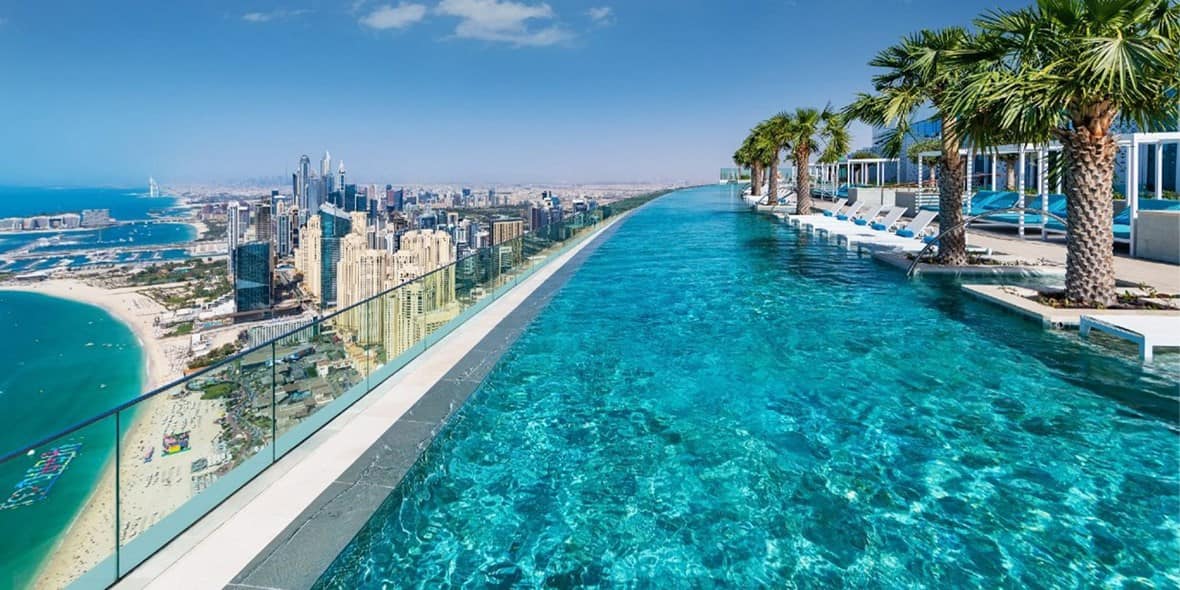 Family fun at Club Mina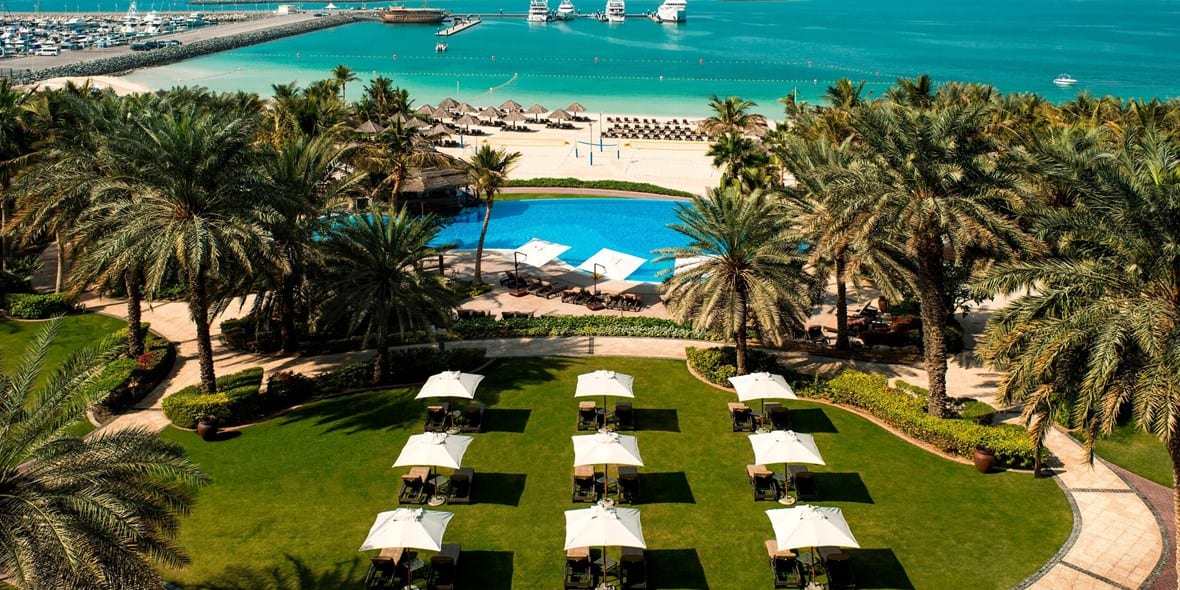 There's nothing better than a relaxing family day out by the pool at one of Dubai's many fantastic hotels. And Club Mina, covering The Westin Dubai Mina Seyahi and Le Meridien Mina Seyahi, offers one of the best. At Club Mina you can enjoy access to the hotels' five pools, including two dedicated children's pools, along with a private beach only for adults and older children. You'll also have access to the exclusive Kids' Club between 9am and 6pm, entitling you to a few blissful hours of child-free respite. And don't worry about exposing your children to the summer sun – these year-round shaded pools will keep your little one's skin well protected.
Ultimate relaxation at Madinat Jumeirah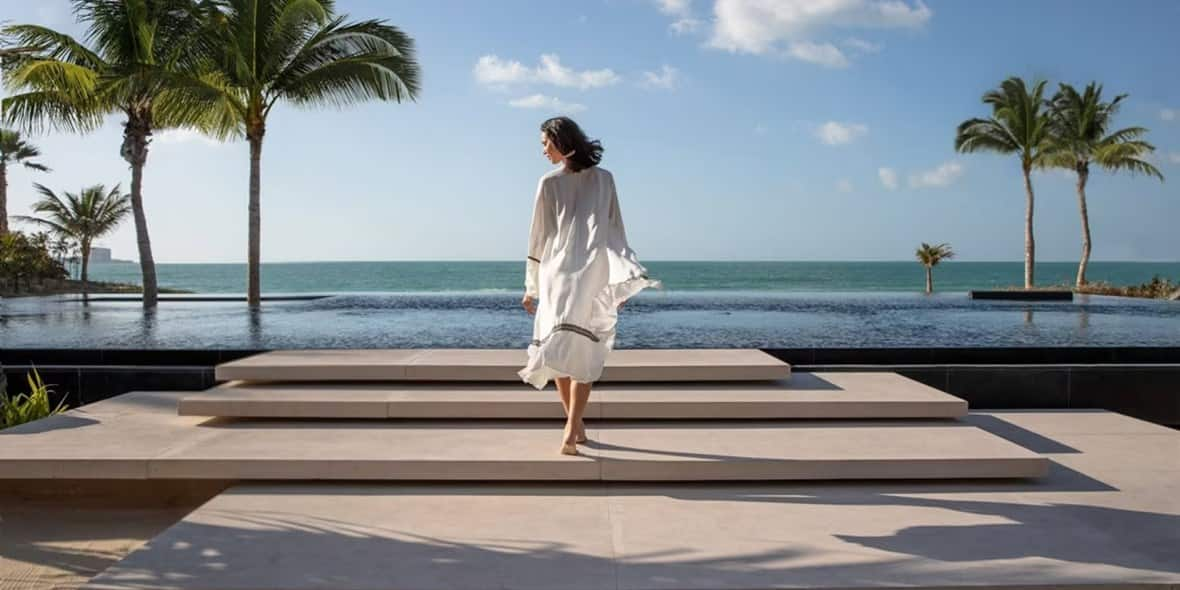 Bathe in the Burj Khalifa's shadow at Address Sky View
Another stunning infinity pool involving a world record – but this time it's the building opposite which takes the trophy. This pool, located on the hotel's Sky Deck on the 54th floor,  offers the best view of the Burj Khalifa in the city, and exquisite facilities to match, including private cabanas and poolside service. Access is only for hotel guests, although there are occasionally offers for day passes. Alternatively Address Sky View's lower level pool, Deck Too, offers day access, along with a popular brunch – and also has a pretty stunning Burj Khalifa view. 
Recline regally at Atlantis, The Palm's Royal Pool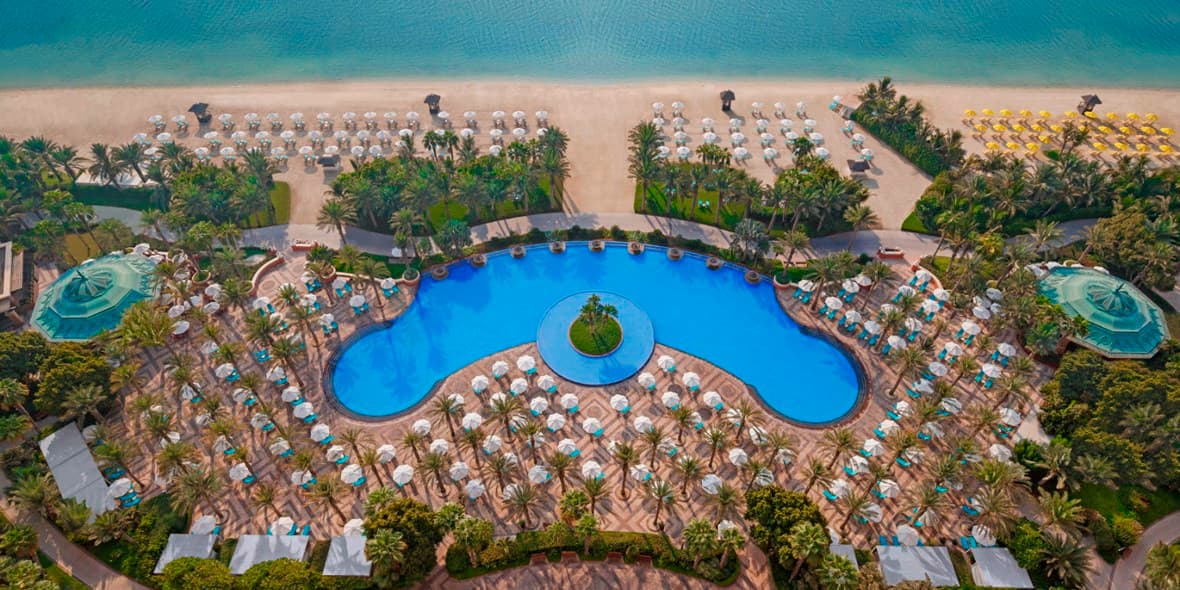 If you want to take a break from the thrills of Aquaventure water park, the Royal Pool at Atlantis, The Palm is a haven of tranquility. Surrounded by leafy greenery, and with gently swaying palms dotted throughout the poolside area, the Royal Pool is perfect for taking a refreshing dip after sunbathing – and is also just seconds from the equally peaceful Royal Beach and its stunning golden sands, for a change of scenery.
Bask by a creekside lagoon at Park Hyatt Dubai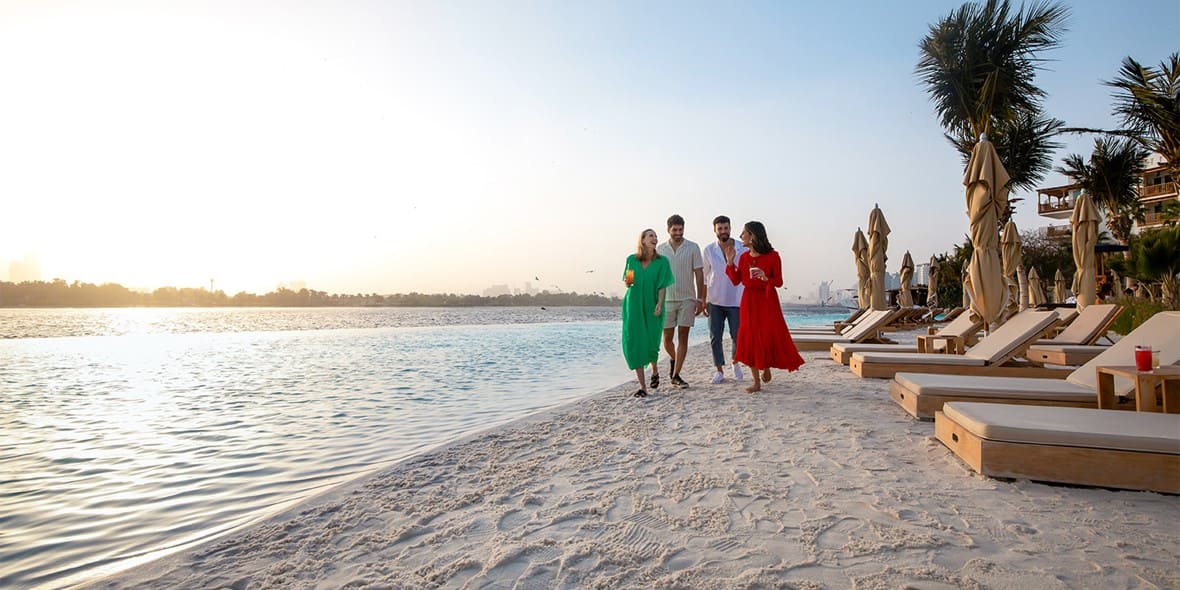 Infinity and beyond at Burj Al Arab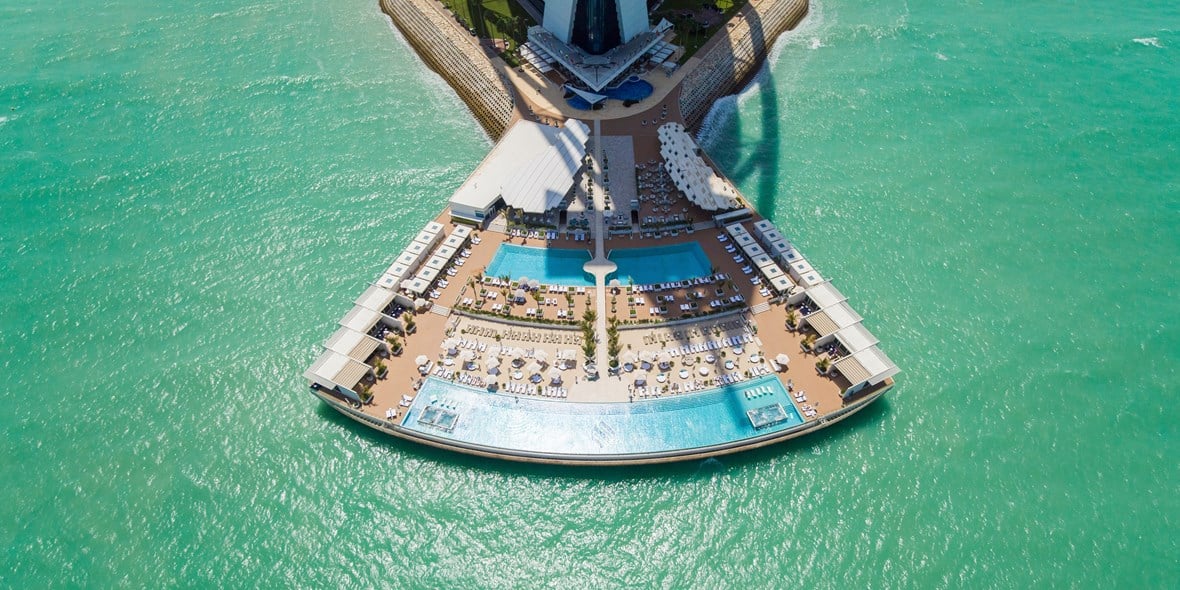 One of Dubai's most famous landmarks, the Burj Al Arab takes the business of leisure seriously. Trust the skilled team at this ultra-luxurious hotel to make your plans to unwind worth every penny. There's a team of waitstaff poolside to ensure you have enough shade and refreshments at all times. Wade through either the fresh water pool or the stylish salt water infinity pool, surrounded by world-class amenities and scintillating views overlooking the Arabian Gulf.
Get a great value pool view at La Ville City Walk
Located in the chic City Walk shopping district, La Ville City Walk's rooftop infinity pool offers terrific views of Downtown Dubai's skyline, including the iconic Burj Khalifa. Via the pool's accompanying Look Up lounge you can get day access for AED150 with AED100 back to spend in food and drinks between 7am and 10pm with the Dip in the Dark offer. In the evenings Look Up and the pool area becomes one of the area's trendiest destinations, offering live DJs and an assuredly good time – especially with its spectacular skyline view.
Enjoy a Privileged experience at SLS's world-record pool
Dubai is the city of world-beating achievements, so it's not surprising to have another world's highest pool – this time the world's highest overflow pool at Privilege, located on the 75th floor of SLS Dubai Hotel & Residences. Based in Business Bay, the hotel offers a fantastic view of Downtown Dubai's skyline, especially at sunset. Privilege has plenty of pool-time offers throughout the week, while in the evenings it turns into one of the city's most fashionable nightspots.
Bask in poolside tranquillity at Bab Al Shams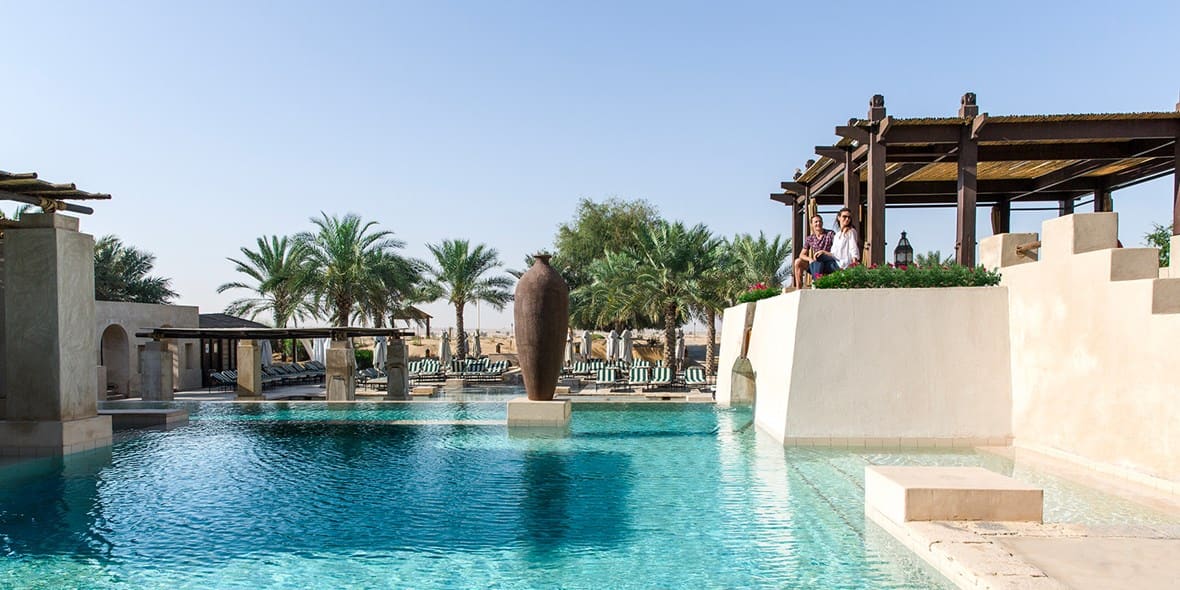 Only a short drive from the centre of Dubai, but a world away from the city's bustle, Bab Al Shams is a stunning desert resort. Havens of tranquillity, the resort's pools are one of the best in Dubai, with dedicated options for laps, a plunge pool and a kids' pool – along with a stunning infinity pool. Find your space on a sun lounger set among umbrellas and swaying date palm trees and enjoy the peacefulness – before ordering up a leisurely lunch from Zala, Bab Al Shams' poolside restaurant. There are plenty of day pass options, as well as access for hotel guests.
Picture-perfect luxury at One&Only The Palm
If you are looking for serenity and absolute indulgence, a day at One&Only The Palm will be deeply satisfying. Tuck into elegant surroundings on a huge daybed covered in fluffy towels and a large pool lined by palm trees swaying in the breeze. Expect total relaxation for you, and fun for the little ones; the activity-packed Kids Only programme and guided water-skiing, swimming and tennis lessons will keep children entertained.
Rooftop relaxation at Address Dubai Marina
Surrounded by sparkling views of Dubai Marina's skyscrapers, the Address's gorgeous infinity pool that will make you feel like your super-yacht might be docked on the pier below. As places to view cityscapes go, there's very few that beat this Dubai Marina pool – especially with the poolside lounge and restaurant to keep you refreshed. There's also a dedicated children's pool, making it ideal for families – or really anyone who wants to enjoy breathtaking views and unwind after a busy week.