Couples
Top 10 date spots on Palm Jumeirah
From spectacular views to delectable cuisine, The Palm is a treasure trove of romantic experiences.
From spectacular views to delectable cuisine, The Palm is a treasure trove of romantic experiences.
1
Impress with a helicopter ride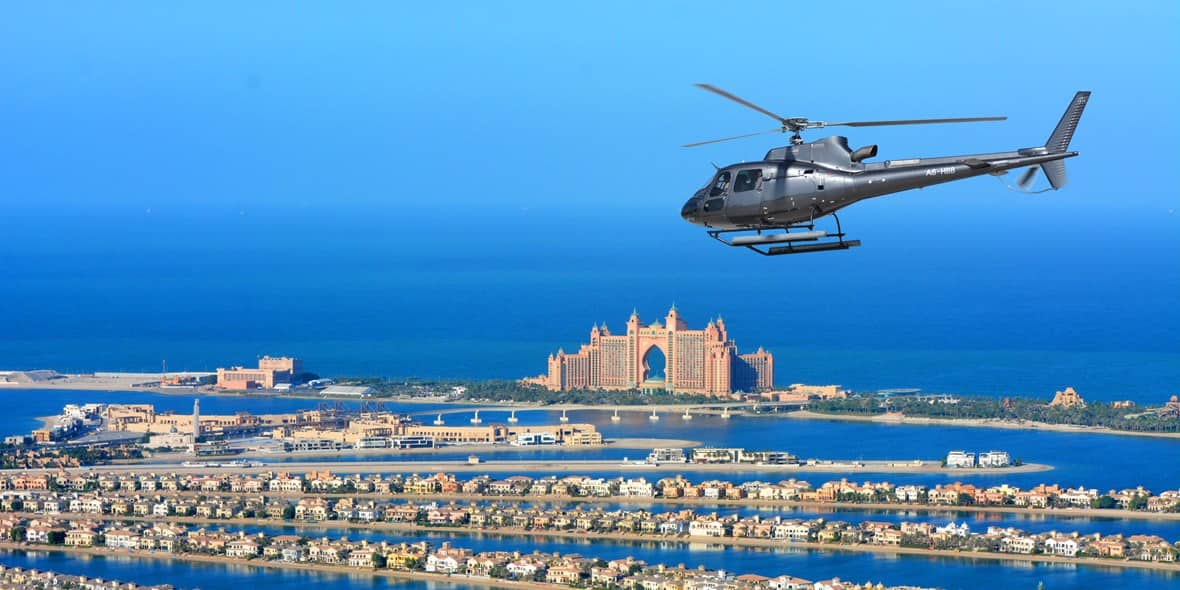 Taking a helicopter tour is certainly one of the most romantic things to do in Dubai for couples. Popular helicopter tour operator HeliDubai has a special tour of Palm Jumeirah that takes in sights of the famous Atlantis, The Palm hotel with its coral-inspired silhouette and beyond. You'll also enjoy epic views of the Burj Al Arab, The World Islands, record-breaking Burj Khalifa, and famed Jumeirah coastline. Plan your trip to coincide with the sunset to see the sky transition from light blue to a rich medley of pink, orange and purple.
2
Dine underwater at Ossiano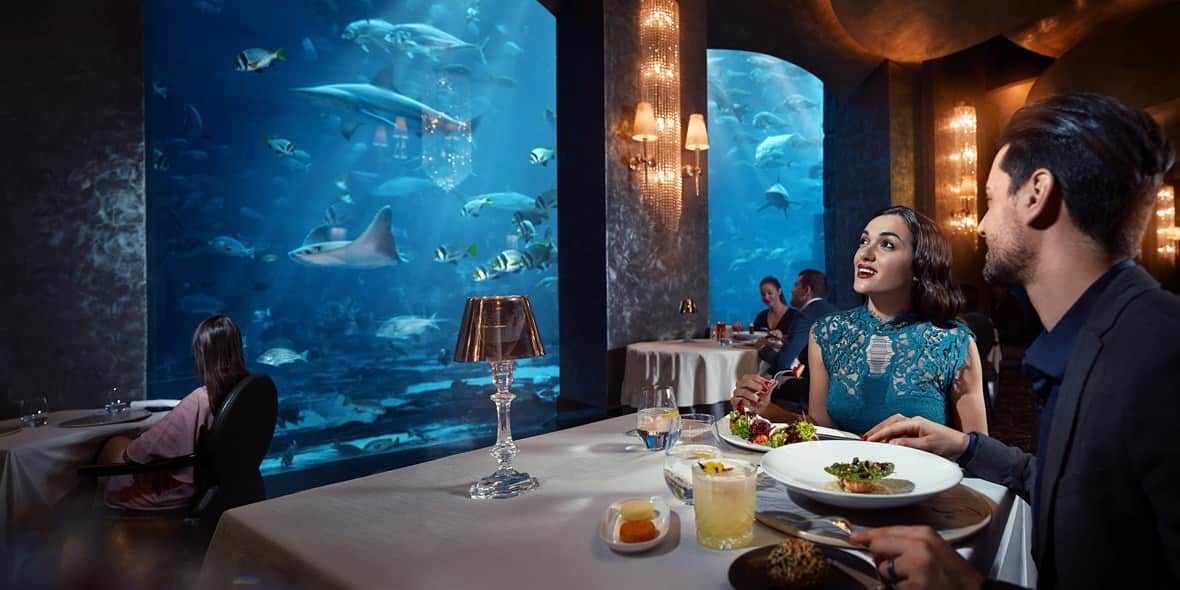 If you want to set the bar high, reserve a table at Ossiano in Atlantis, The Palm where you'll feast on a multi-course Mediterranean dinner amid an enchanting underwater setting. Stingrays and sharks float by the iconic floor-to-ceiling aquarium and, on select evenings, live musicians will add the perfect soundtrack to your meal. Looking for more impressive dining choices on The Palm? Choose from elegant Japanese fare at Nobu and award-winning bites at Social.
3
Stroll on the sands at Palm West Beach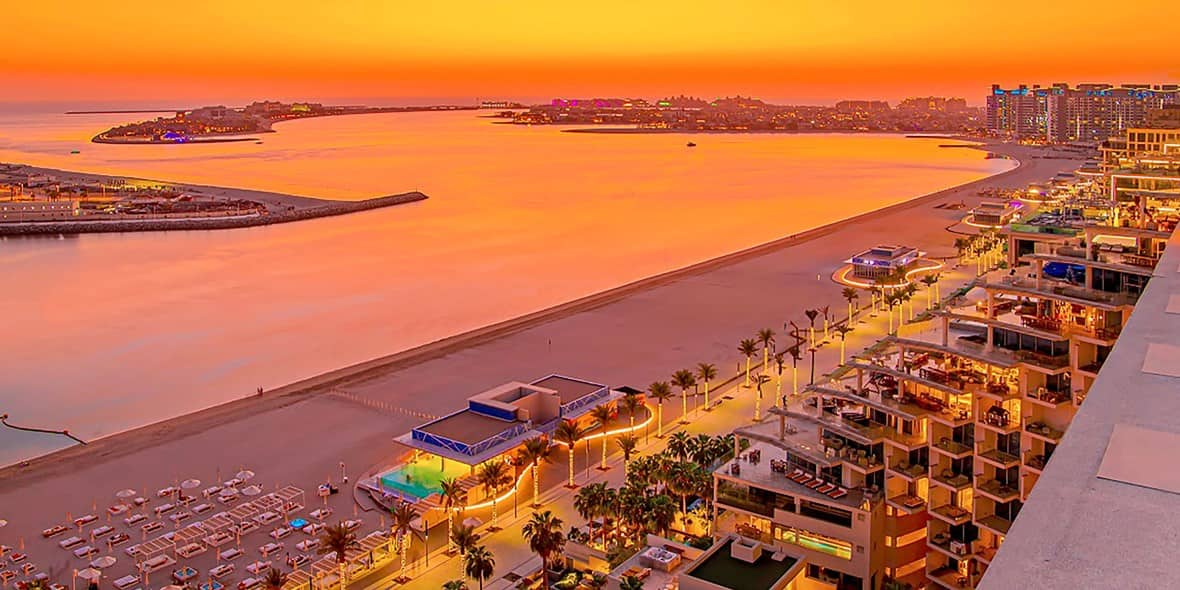 One of the city's best sunset destinations, Palm West Beach has been lighting up Instagram feeds around the world of late. This perfect stretch of sand is dotted with lively restaurants and lounges, including the Bali-themed Koko Bay, luxurious beach club SĀN Beach and Mexican fiesta spot Señor Pico. Afterwards, stroll the beachside promenade hand in hand, or hop on a kayak at the watersports centre and make more memories.
4
Make new marine friends in Dubai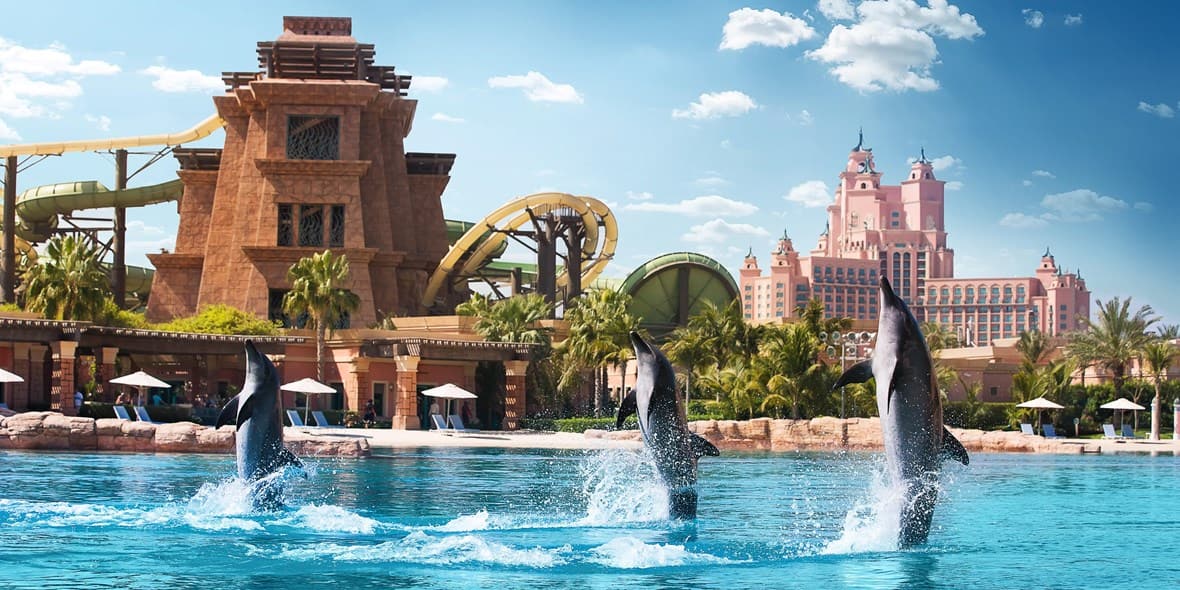 Dolphin Bay is a treat for all ages and, if you want to uncover more mysteries of the underwater world, consider a Dolphin Dive and Discover experience for two. Dive below the surface using an underwater high-tech helmet and be surrounded by the resident dolphins in a once-in-a-lifetime encounter. Pay a visit to the Ambassador Lagoon next door to acquaint yourself with the 65,000 marine animals that call the aquarium home.
5
Soak up the sun at Waldorf Astoria
Your own private cabana suspended over the water? Now, that's romantic. The luxury Waldorf Astoria resort presents a one-of-a-kind leisure treat at its Palm Avenue restaurant, promising a magical meal amid the vibrant colours of the sun and sea. Savour light California-inspired cuisine – think crispy seafood tacos and Hawaiian vanilla panna cotta – under the cool ocean breeze, before relaxing by the sparkling pool.
6
Book a spa date for two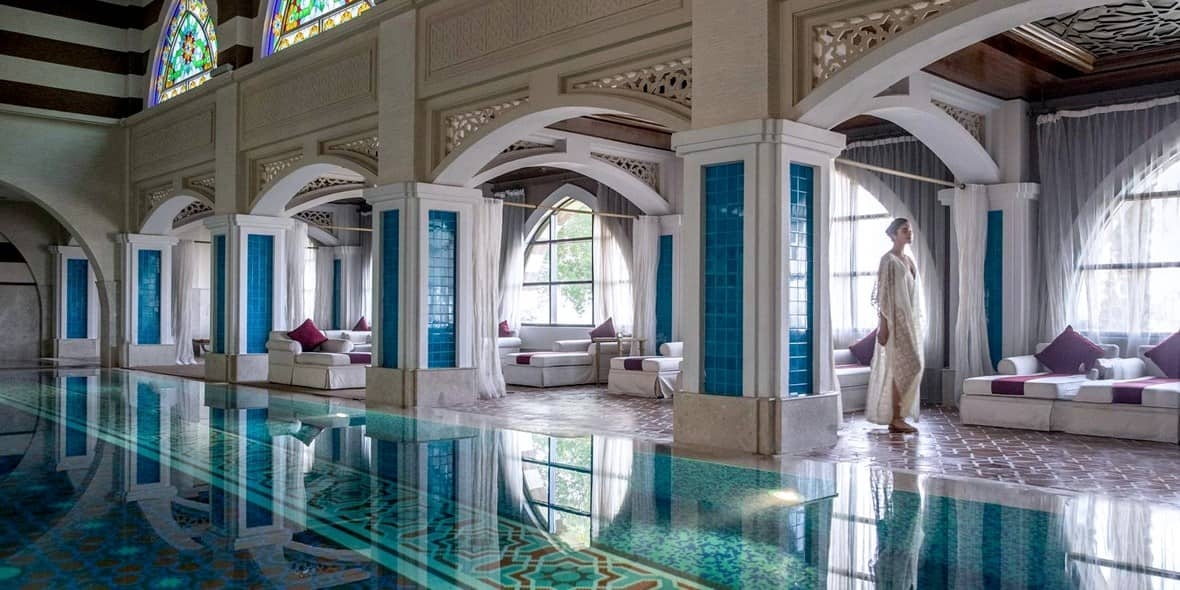 Treat yourself and your loved one to quality pampering time at Talise Ottoman Spa. Located in Jumeirah Zabeel Saray, this splendid spa offers all kinds of couple treatments to leave you both feeling renewed. Sign-up for a side-by-side Thai massage which uses ancient healing philosophies and techniques to loosen tight muscles and improve flexibility. You can even try a traditional Turkish hammam for an Arabian-inspired wellness experience.
7
Cruise the crescent at Palm Jumeirah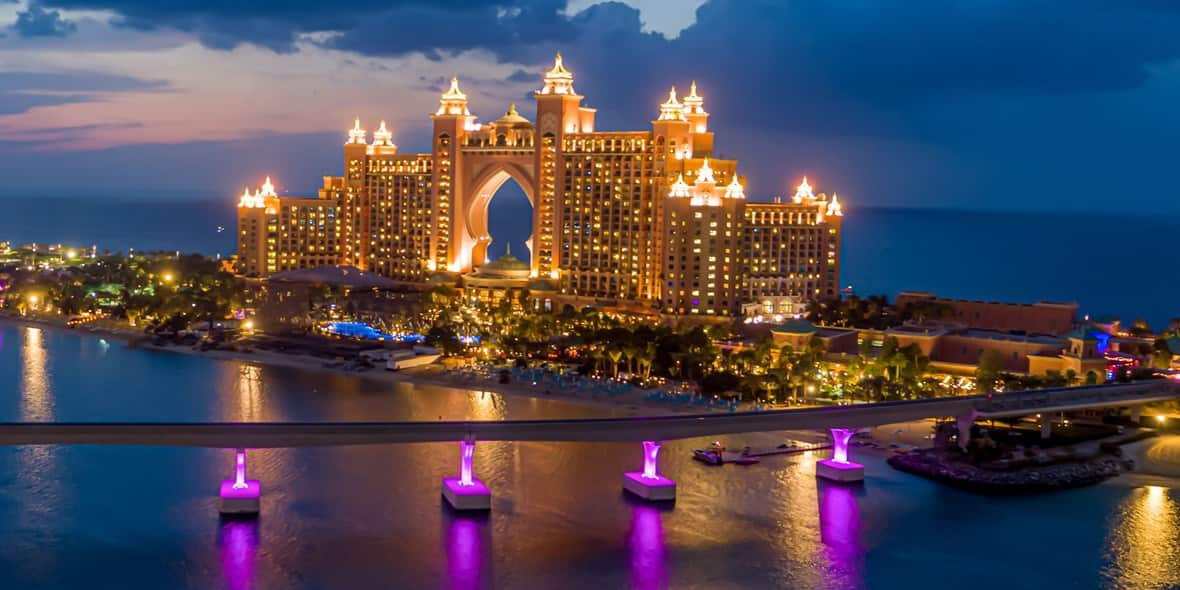 Framing the Palm Jumeirah is a crescent-shaped road, connecting five-star resorts along the eastern half to the western. Take your loved one for a scenic drive along this 11km route, appreciating breathtaking views on either side. Coast past the remarkable architecture and, afterwards, park and take a stroll along the Palm Boardwalk, admiring Dubai's soaring towers by day and twinkling lights by night.
8
Paddle around The Palm
For something a little different, surprise her with a stand-up paddleboarding (SUP) or kayaking session along the waters of Palm Jumeirah. Starting from the Sofitel Dubai The Palm on the east crescent, you'll paddle west with a short break on the beach with views of Dubai Marina. On the way back, you'll be treated to stunning views of the Atlantis, The Palm and Burj Al Arab. The watersports experts SeaYou will bring all the equipment, so all you need to do is pick a day that suits.
9
Dine at Atlantis The Royal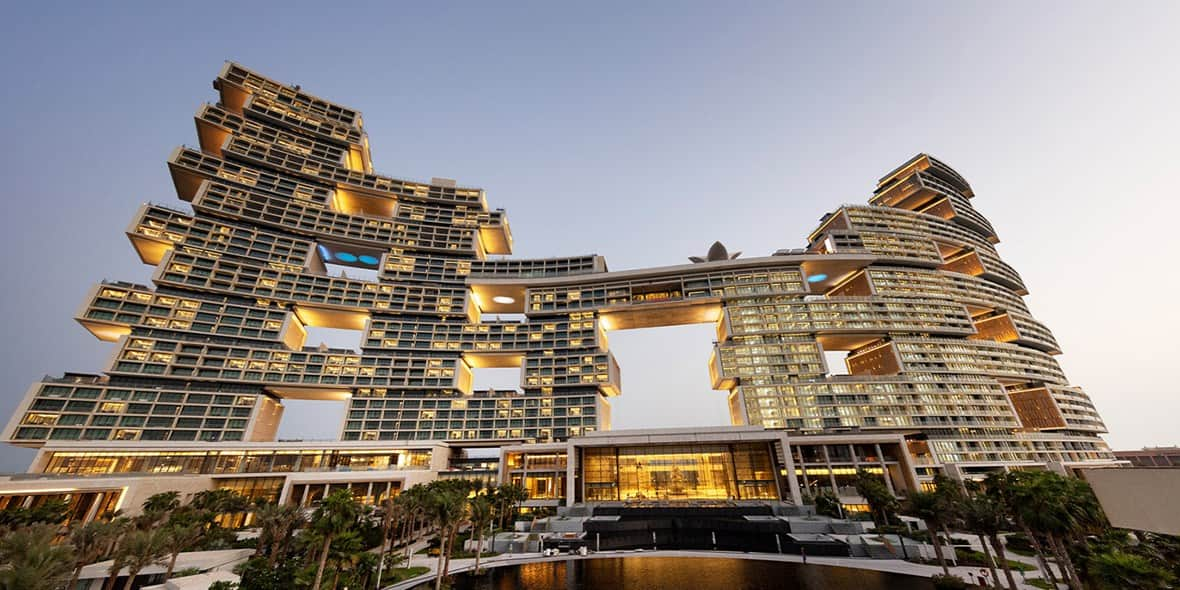 10
Savour rooftop vibes at Trèsind Studio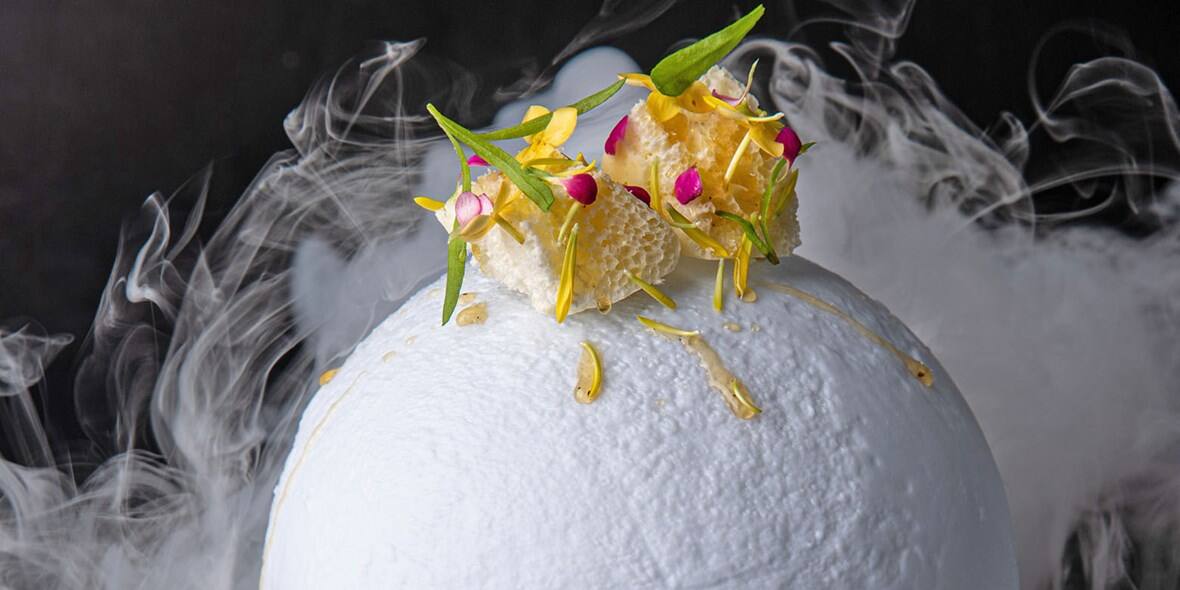 Fancy a romantic dinner for two? Chef Himanshu Saini's Trésind Studio is justifiably regarded as one of the best restaurants not just in Dubai, but in the world – as affirmed by Trésind's two Michelin stars. His curated tasting menus, featuring multiple carefully-choreographed dishes, take diners on an Indian-accented culinary journey that can't be forgotten. The intimacy of the restaurant on the rooftop of Nakheel Mall ensures you're at the chef's table no matter where you are seated, even if you only have eyes for your significant other.