Theme parks
The most thrilling theme parks in Dubai
Whether it's family fun or hair-raising thrills you're after, Dubai has a theme park for you.
Whether it's family fun or hair-raising thrills you're after, Dubai has a theme park for you.
1
IMG Worlds of Adventure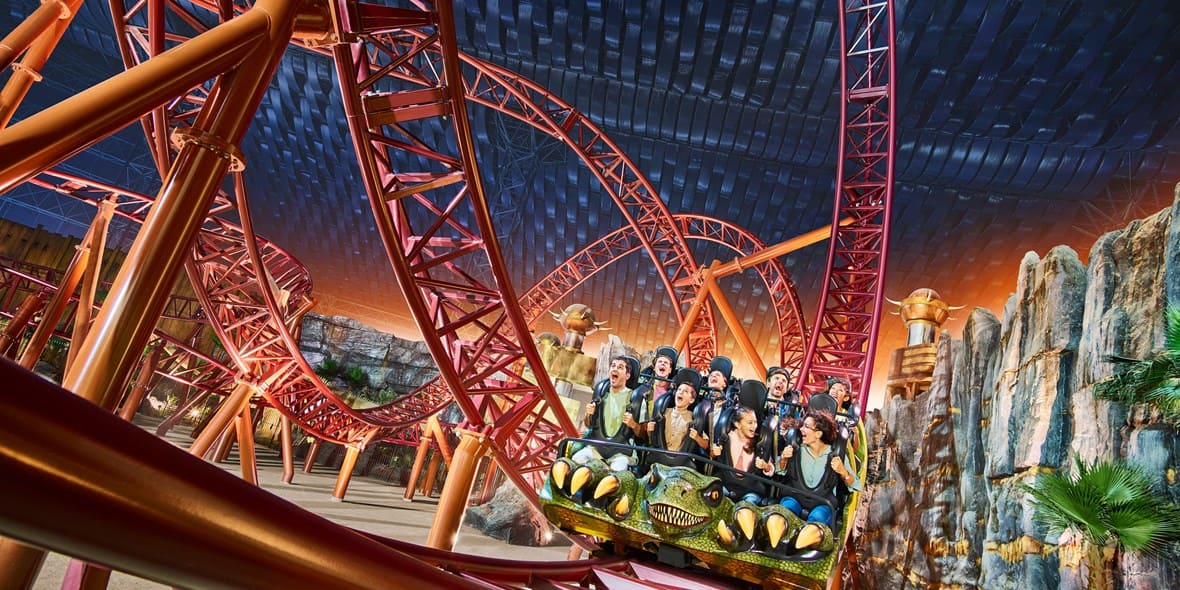 Dinosaurs meet The Avengers at IMG Worlds of Adventure, an indoor theme park the size of 28 football fields. Featuring four zones including one dedicated entirely to the Jurassic era, the temperature-controlled theme park has more than 20 rides and attractions. Mingle with your Marvel comics superheroes (think Captain America, Iron Man, The Hulk and Thor), or relive the adventures of your favourite Cartoon Network characters including the Powerpuff Girls and Ben 10.
Signature ride: The Velociprator is the tallest and fastest rollercoaster in Dubai, propelling guests to 100km in 2.5 seconds from prehistoric jungle into the desert.
2
MOTIONGATE Dubai
A blockbuster in its own right, this Hollywood-inspired adventure land features 27 rides inspired by 13 memorable action and animation films, including Ghostbusters, Shrek and The Hunger Games. There are three zones dedicated to Hollywood's most legendary film studios including Dreamworks, Lionsgate and Columbia Pictures, plus  Smurfs Village where the kids will be enthralled for hours.
Signature ride: Madagascar Mad Pursuit, the fastest rollercoaster in the park, propels you on a wild chase as the Zoosters try to escape the obsessive animal control officer, Captain DuBois.

3
LEGOLAND Dubai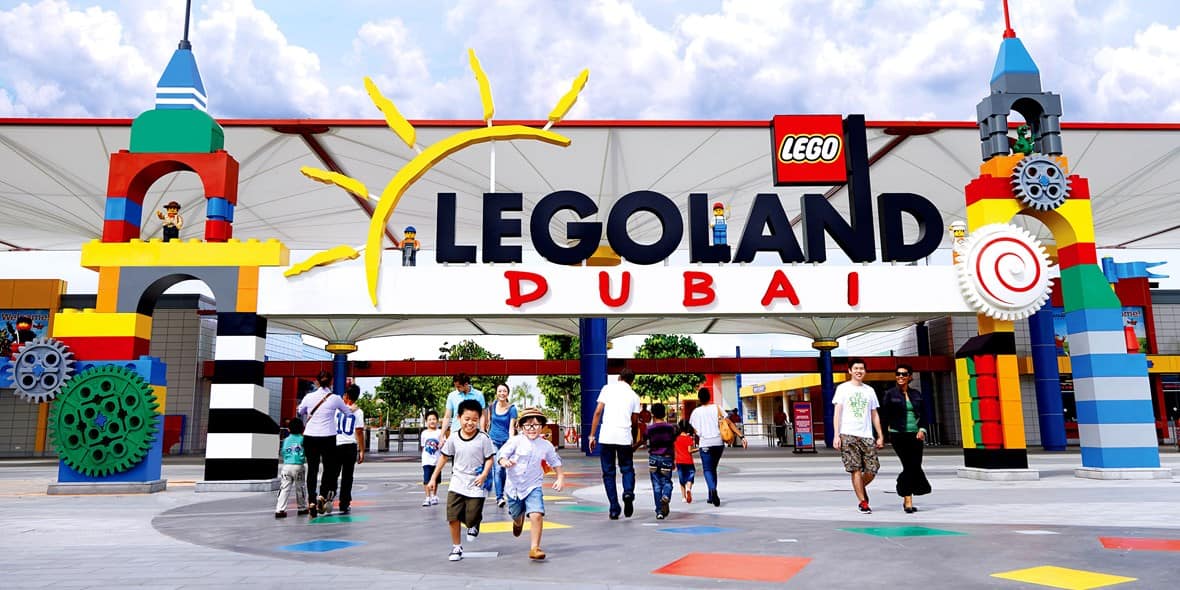 Explore a world where the LEGO brick comes to life at Legoland Dubai. Ideal for families with children aged two to 12, there are more than 40 rides and 15,000 Lego models, with many attractions requiring kids to use teamwork and apply their skills to steer a boat or drive a car. A mere 60 million bricks were used to build this family theme park, which is made up of six lands – both indoor and outdoor – including Lego City and the Middle East-themed Miniland. If it's water rides you're after, head to Legoland Water Park, located just next door.

Signature ride: Climb aboard the medieval Dragon Coaster and encounter twists and turns with a view of life in the enchanted King's castle. 
4
Bollywood Parks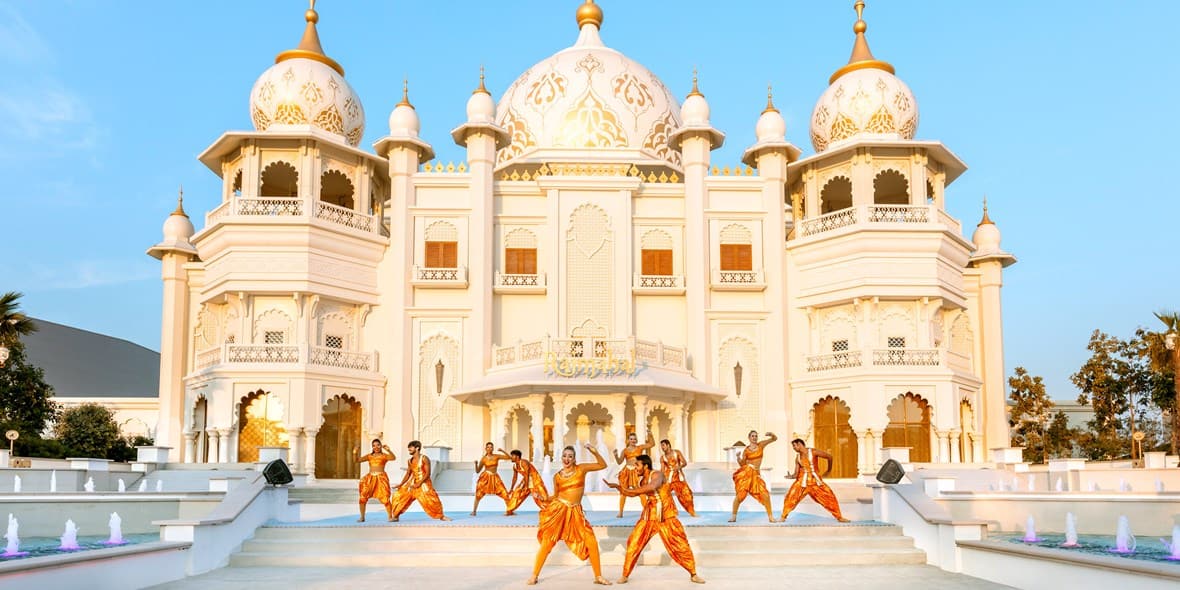 5
VR Park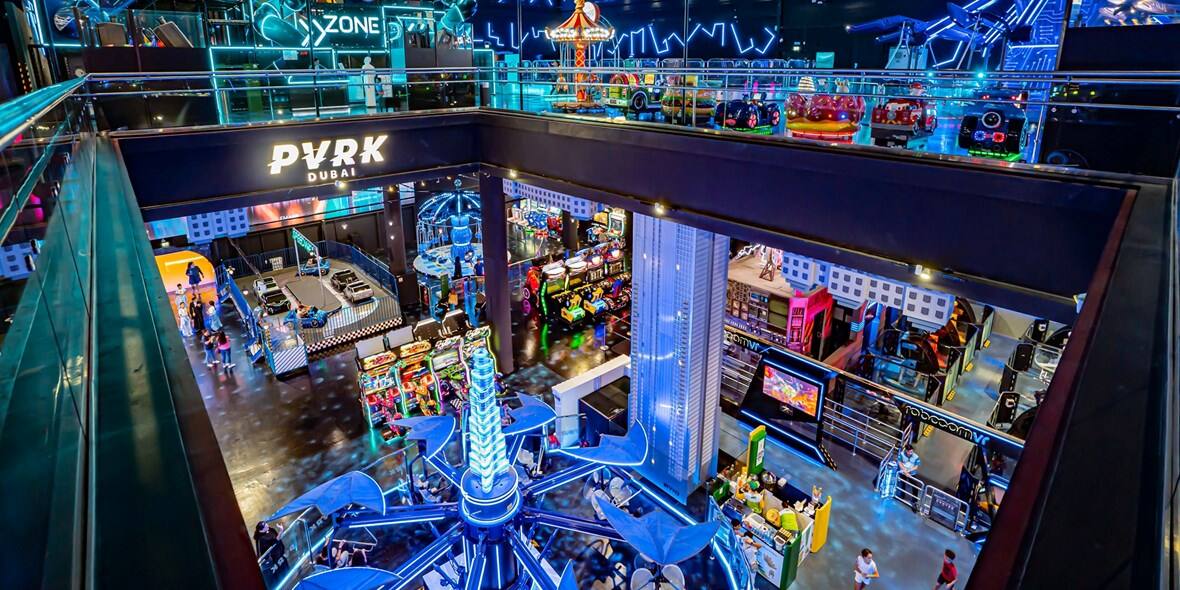 Located in The Dubai Mall, VR Park is the largest indoor virtual reality park in the world. Here you'll find more than 30 exhilarating rides to explore over two floors, with all ages catered for. Immerse yourself in the solo and multi-player experiences at this unique theme park. Whether you're a fan of horror, sports, adventure or just a plain old adrenaline junkie, you're sure to find an incredible experience.
Signature ride: Test your nerves with a ride on Burj Drop; a seriously nail-biting VR experience that sees you hanging onto the Burj Khalifa by a thread – will you be saved in time?