Arts & Culture
Admire art on a walking tour of Dubai
Imagination and retail merge in this tour of the city's most creative districts.
Imagination and retail merge in this tour of the city's most creative districts.
1
Park life at Al Khazzan
Start your day at Al Khazzan Park on the edge of Dubai's bustling Satwa neighbourhood. The park is entirely powered by solar energy and is instantly recognisable while walking in Dubai thanks to its towering 40m-high blue and white water tank.
Take a stroll in the sunshine and stop by the homegrown cafe HAPI, which is located in a quaint building of its own with exterior walls made of reclaimed coral. HAPI's menu stays true to its name with coffee classics, all-day breakfasts and inspired desserts.
2
Bright lights of City Walk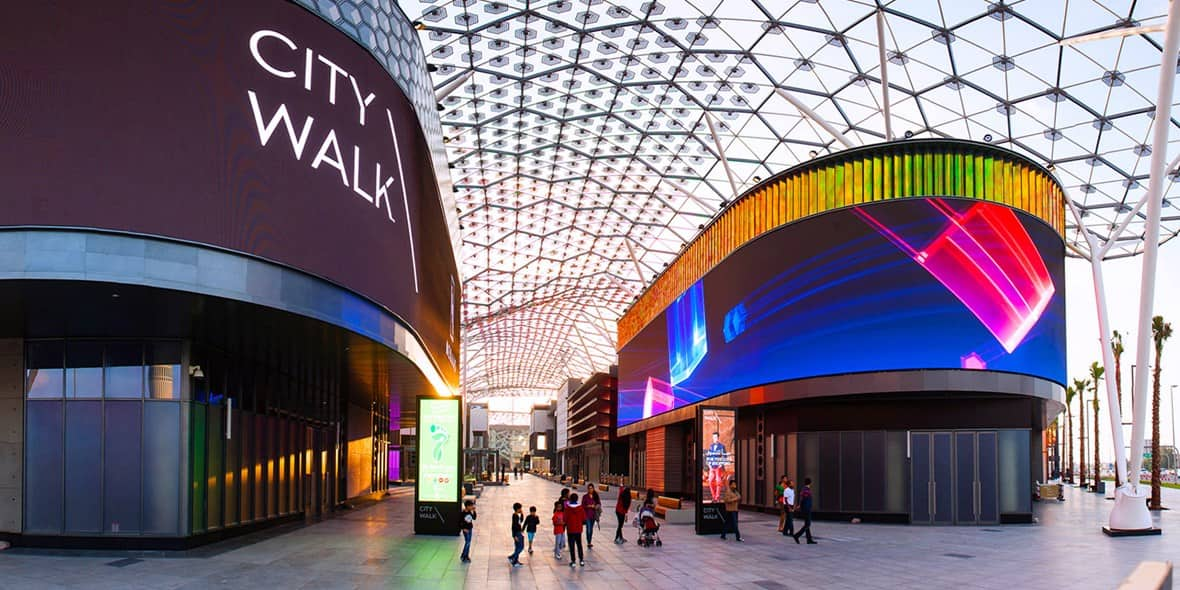 Head southwest on 2nd December Street to Al Safa Street and wander over to City Walk. Surrounded by LED screens and bustling with activity at all hours of the day, the central plaza is the epicentre of one of the world's most futuristic lifestyle districts.
City Walk seamlessly blends entertainment, shopping and dining, alongside boutique hotels and chic residential apartments. The area is also home to the Dubai Walls Project, where 15 of the world's best-known urban artists have made their mark on the city's eclectic art scene. With striking architecture reminiscent of European streets, take a stroll and explore City Walk's top fashion spots, such as ANATOMI, Harmont & Blaine and Luxury Maison, while admiring the work of street artists from around the globe.
3
In the frame at Central Plaza
Wander towards City Walk's central plaza and you'll find walls decorated with the work of American contemporary artist Ron English in his signature POPaganda style, competing for attention with Beau Stanton's stunning shifting maritime mural also nearby. Have your camera at the ready to snap the work of British graffiti artist Nick Walker, titled 'I Heart Dubai' or New York artist Aiko's colourful lady wearing a kimono.
Continue your tour past works by Eelus, whose image of a girl with an umbrella under a rainbow rain shower is another top Instagram pick.
4
Fuel up with gourmet gems
Circle back to the central plaza and follow the twinkling lights down the path towards La Ville Hotel & Suites. Dine at Chival, a cosmopolitan restaurant with a menu that celebrates 'global social' cuisine or head upstairs to LookUp, a rooftop lounge with spectacular views of Burj Khalifa.
There are many other dining options to find while walking in this area, such as Farzi Café for modern Indian bistro dishes, Boaz for authentic Turkish grills, Sarabeth's for New York-style sweet treats and L'Antica Pizzeria Da Michele for irresistible Italian.
5
Local art at 2nd December Street
Step outside the hotel and walk along Multaqa Street to admire the transformative calligraphy artwork by el Seed on the facade of The Green Planet, an impressive indoor rainforest in Dubai.
If you're short on time, take a taxi to 2nd December Street nearby or carry on walking to see the home of local graffiti-inspired art. The street presents a series of 12 large-scale building murals, woven around the theme of the UAE's history and heritage, thanks to the Dubai Street Museum Project.
A 30-minute loop around both sides of the street showcases the talent of acclaimed international artists including photorealist pioneer Case Maclaim, who crafted a close-up of gahwa (Arabic coffee) and German artist 1010's 3D mural Hole in the Wall, which symbolises the country in shape and colour – yellow for sun and sand; blue for sea and sky.
Don't miss the delectable food on offer at the street's low-key eateries (see our picks here), including Al Mallah Restaurant, before wrapping up the tour at the other end – close to Etihad Museum. Come back another day to explore this complex encircling Union House, where the United Arab Emirates was formally established as a country in 1971.