Adventure
Thrilling watersports in Dubai
Choose from diving, sailing, jet-skiing and other epic marine adventures for a thrill to remember.
Choose from diving, sailing, jet-skiing and other epic marine adventures for a thrill to remember.
1
Soar with flyboarding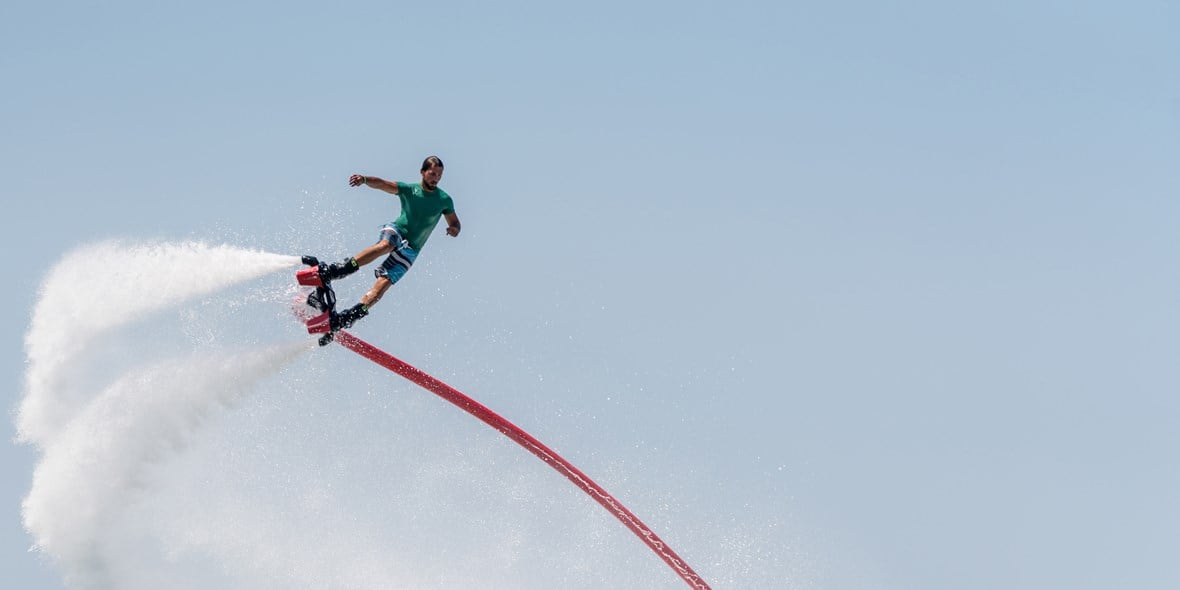 Definitely the closest thing to flying freely above water, flyboarding lets you enjoy elevated views without having to jump from crazy heights or hanging off old-school parachutes and boats. Take off on a one-person water-propelled flyboard, which can shoot up to nine metres in the air and keep you afloat – if you can keep your balance. A 20m hose is connected to a personal watercraft, pumping water at extreme force and redirecting the water output to two jets on the bottom of the board to keep you airborne. It's an exhilarating experience and the perfect addition to any adventure holiday in Dubai.
2
Go for gold with wakesports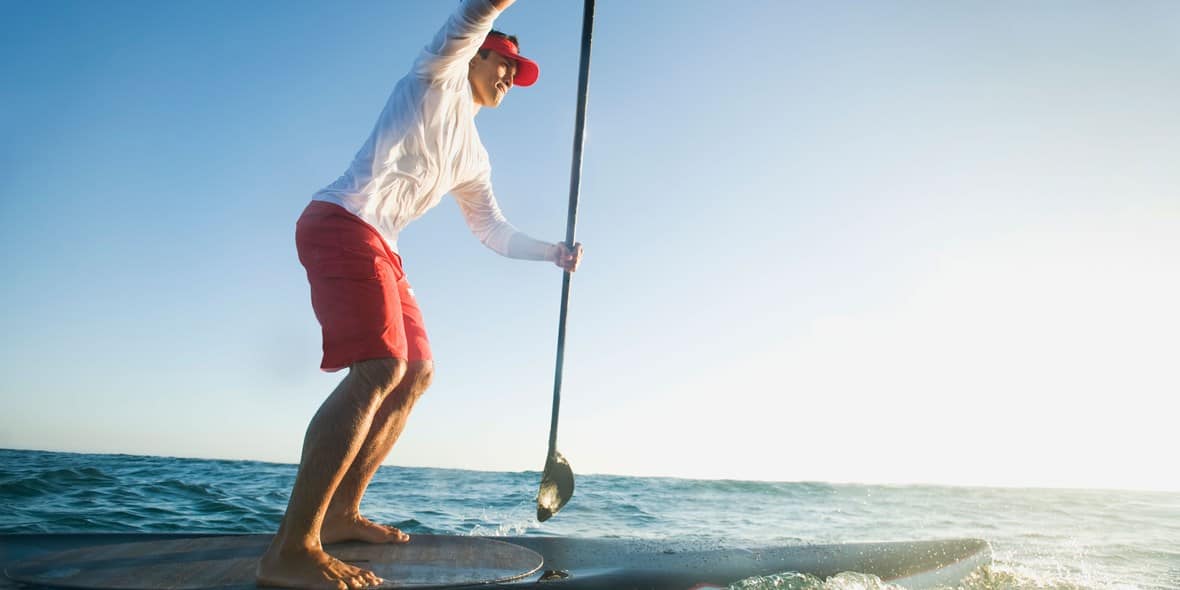 Wakesports are very popular in Dubai, especially in the cooler winter months. Beginners and professionals can book some wakeboarding, wakesurfing or waterskiing time with the expert team at Seawake for an unforgettable day out in the sun. The watersports facility, located right next to Le Meridien Mina Seyahi, includes easy access to boats and the beach – with quick prep times so you can spend more time participating in ocean action.
If you'd prefer a slower pace, book a stand-up paddleboard ride with the experts at Kite N' Surf. The company organises sessions at the city's best beaches, including Kite Beach.
3
New-age adventures with Seabreacher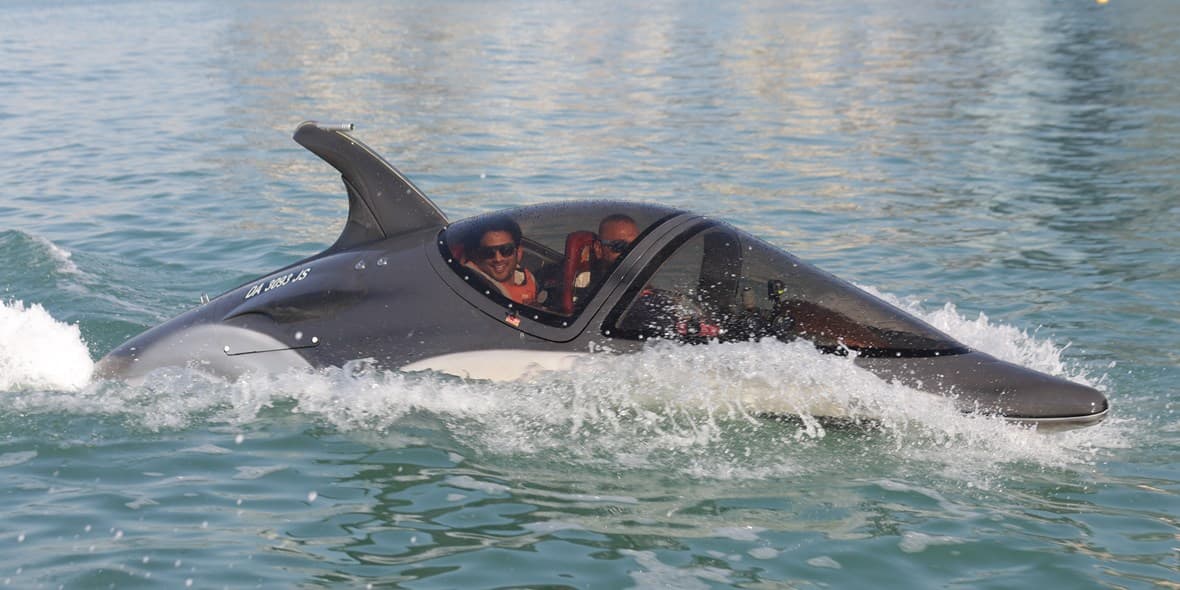 For the thrill-seekers out there, this latest watersport just might catch your attention. The Seabreacher lets you hit the waters like a shark – literally. Although this is technically a mini-submarine in the shape of a shark, the vehicle is almost like an aircraft with a powerful 260hp engine, reaching speeds of up to 100kmph. It even mimics the tail movements of a real shark and can jump up to six metres out of the water, hence the name. Take the plunge with Water Adventure Dubai in JBR or SeaBreacher Diving Club and Watersports situated at the P&O Marina in Umm Suqeim.
4
Try kitesurfing and parasailing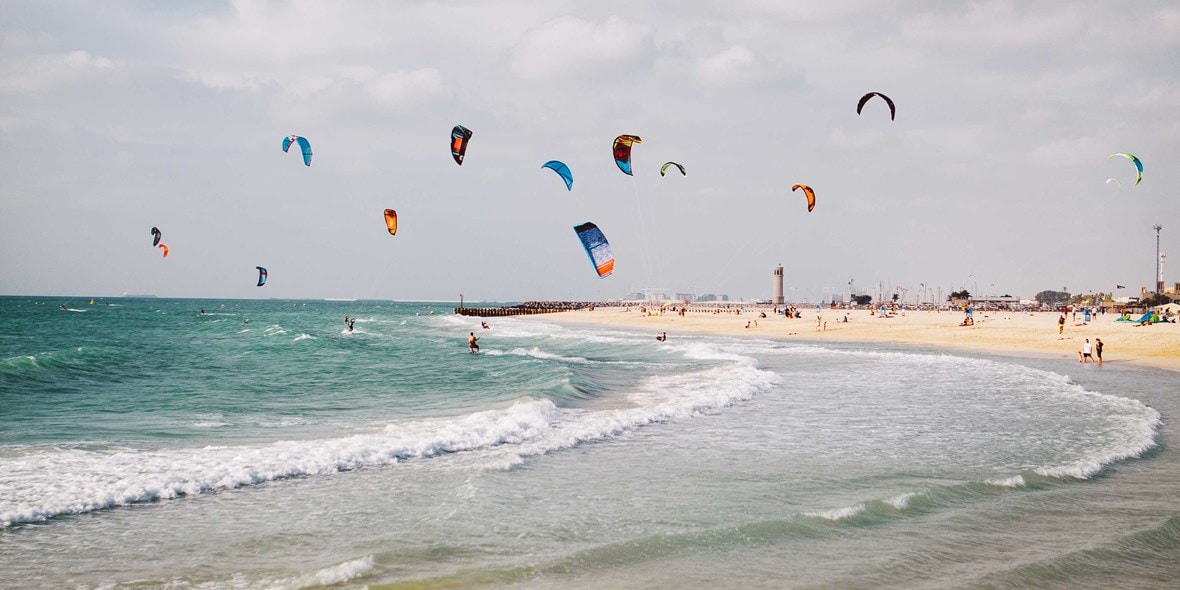 If there were any doubts about Dubai's love for kitesurfing, all you'd have to do is visit its namesake, Kite Beach. It's on this patch of sand that both amateurs and pros try their luck at this extreme sport, thanks to plenty of lessons and hiring facilities, like Dukite. The sport requires you to grip onto a handle attached to a parachute – which you then manoeuvre to increase speed and change direction. Not only is it a wild ride, it's also a great full-body workout.
Swap the board for just a parachute, and you've got parasailing. This uninitiated sport doesn't require experience navigating through the wind, because you are pulled behind a boat on a parasail that will lift you up almost 150m in the air. It's an amazing way to experience the windy sport and enjoy elevated views of Dubai.
5
Speed ahead with jet-skiing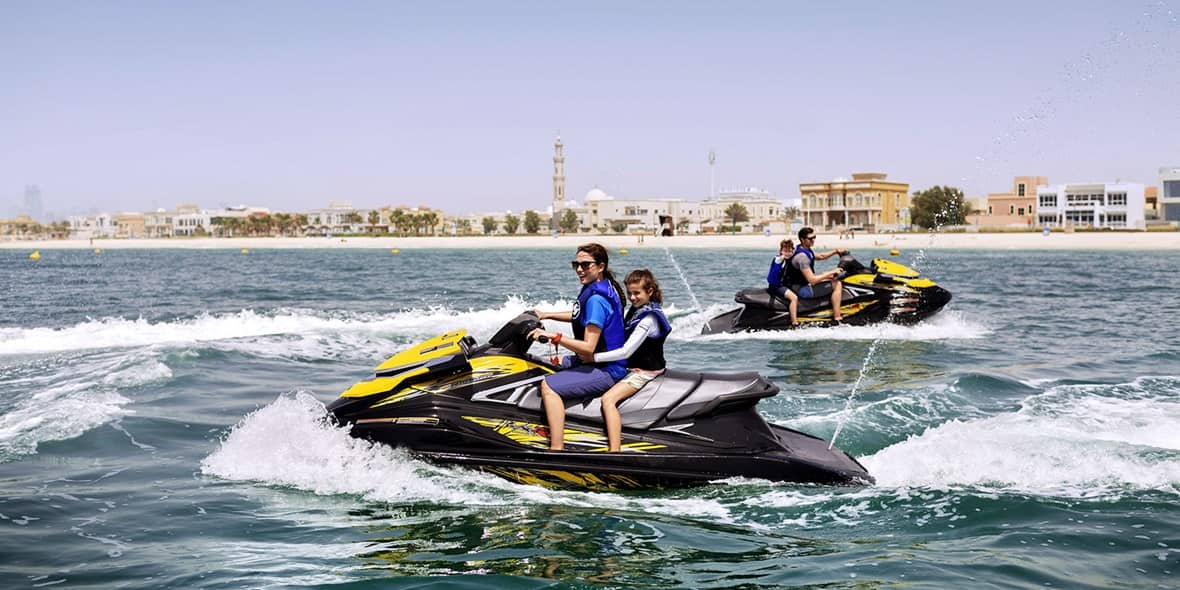 6
Say hello to sharks and shipwrecks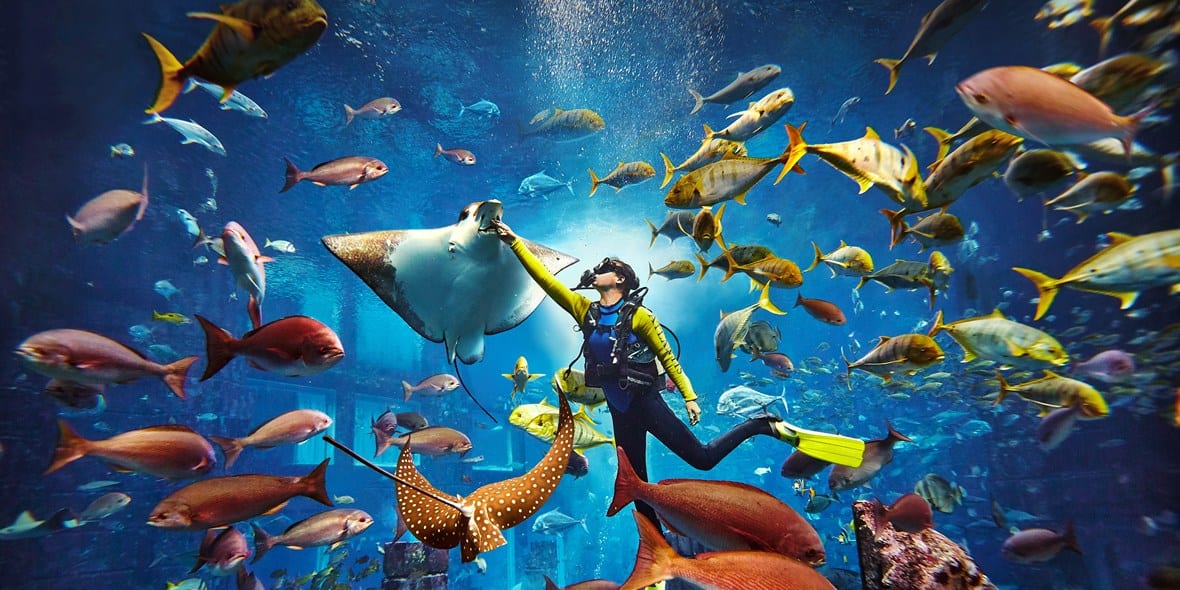 Dubai's warm waters offer scuba divers year-round diving opportunities, and a host of five-star experiences under the sea. Both first-timers and experienced divers are catered for at Atlantis Dive Centre, which has a qualified team of PADI Instructors and several certification courses. Located at Atlantis, The Palm, the Atlantis Dive Centre offers a variety of marine experiences in the Ambassador Lagoon – the largest open-aquarium in the region. Explore a range of snorkelling and diving options for kids, families and expert divers. Want to experience something a bit more daring? Dive into the depths of ruins amongst rare sea creatures, or embark on a predatory dive to hand-feed up to 14 different species of sharks and rays.
7
Book boat tours with a twist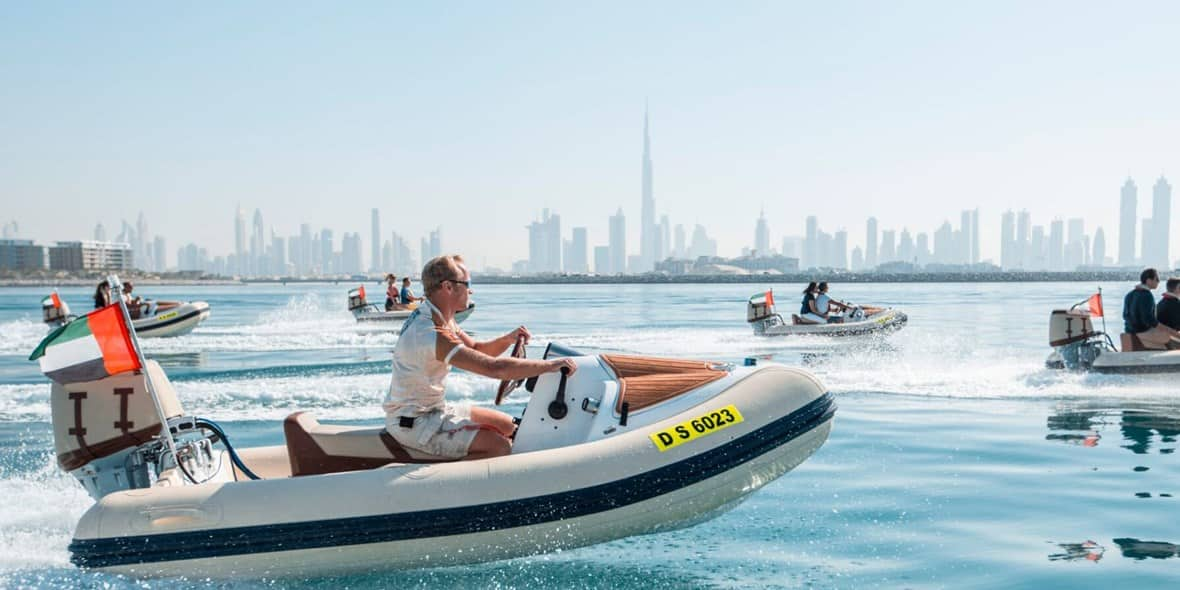 Want to combine sightseeing with a thrilling adventure? Explore Dubai from the water with Hero Boat Tours – Dubai's only self-drive boat tour. You won't need a boat licence either, so the whole family can join in the fun. The HERO boats are easy to operate, and can reach speeds over 50km/h. Zoom across the water and take in sights such as Burj Al Arab and Palm Jumeirah, with the opportunity to snap unobstructed pictures from a unique angle.
If you'd prefer to be a spectator, book a tour with The Yellow Boats that combines the sights of the city and jet-set speed. The company caters to all group sizes and durations, from a short evening trip around Dubai Marina to a full-length tour of all the key landmarks.
8
Dive into a record-breaking underwater experience