Food & Drink
Dubai's best breakfast spots
Experience the best start to your day at these charming cafes in the city.
Experience the best start to your day at these charming cafes in the city.
2
Revo Café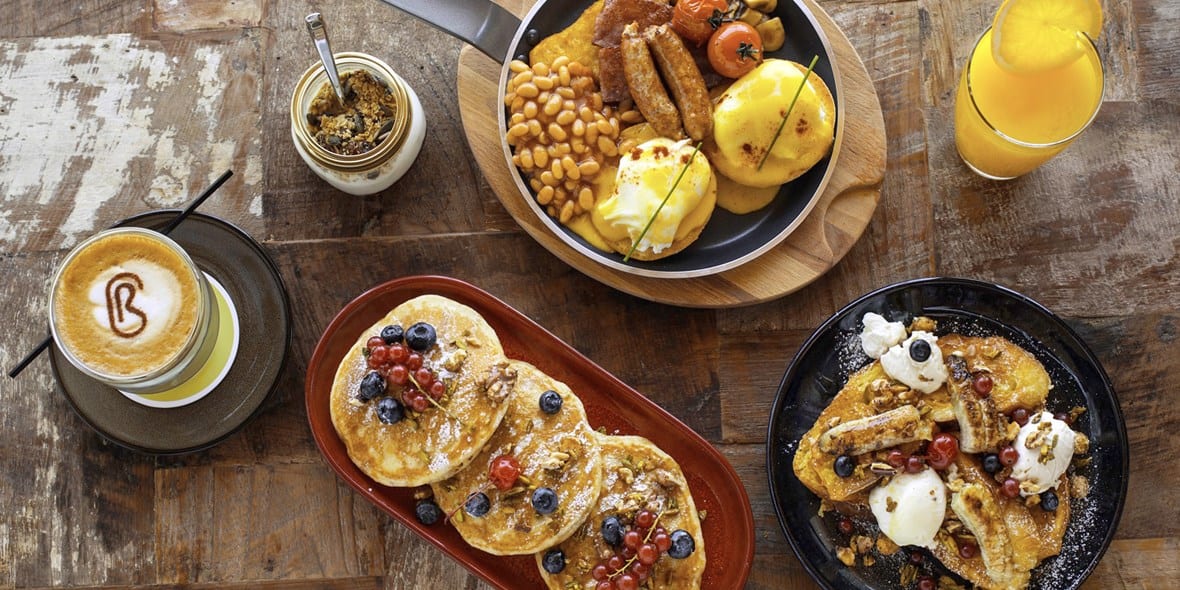 Sit back, relax and settle in for a leisurely breakfast with a view. Revo Café at Anantara The Palm serves up vistas of the Arabian Gulf's shimmering waters as well as a selection of healthy dishes created using fine, fresh ingredients. 
You'll be spoilt for choice here with nutrition-packed homemade muesli and granola, pancakes, waffles, French toast and scrambled eggs, to name just a few. Don't forget to toast to an incredible morning by the beach with a refreshing detox juice blend before taking in the sights of 
Palm Jumeirah
.
3
Tasha's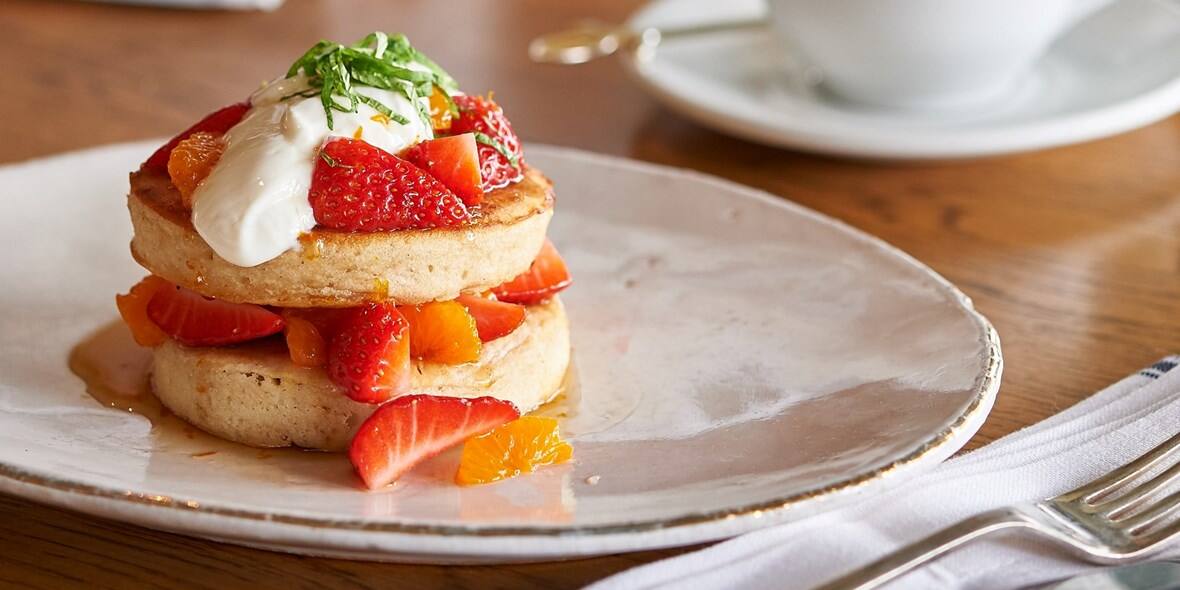 Located in Jumeirah's upscale mall 
The Galleria
, this neighbourhood eatery is bright, airy and welcoming – all the ingredients for a memorable breakfast setting. Every inch of this beautiful space is carefully thought out, and this attention to detail spills over to the dishes served here. 
Aside from classic poached eggs and croissants, there are a number of healthy surprises in store each morning, such as the buckwheat flapjacks topped with roasted butternut and pumpkin seeds. Also worth trying are the hummus toastie and quinoa breakfast tart for a novel superfood twist.
SEVA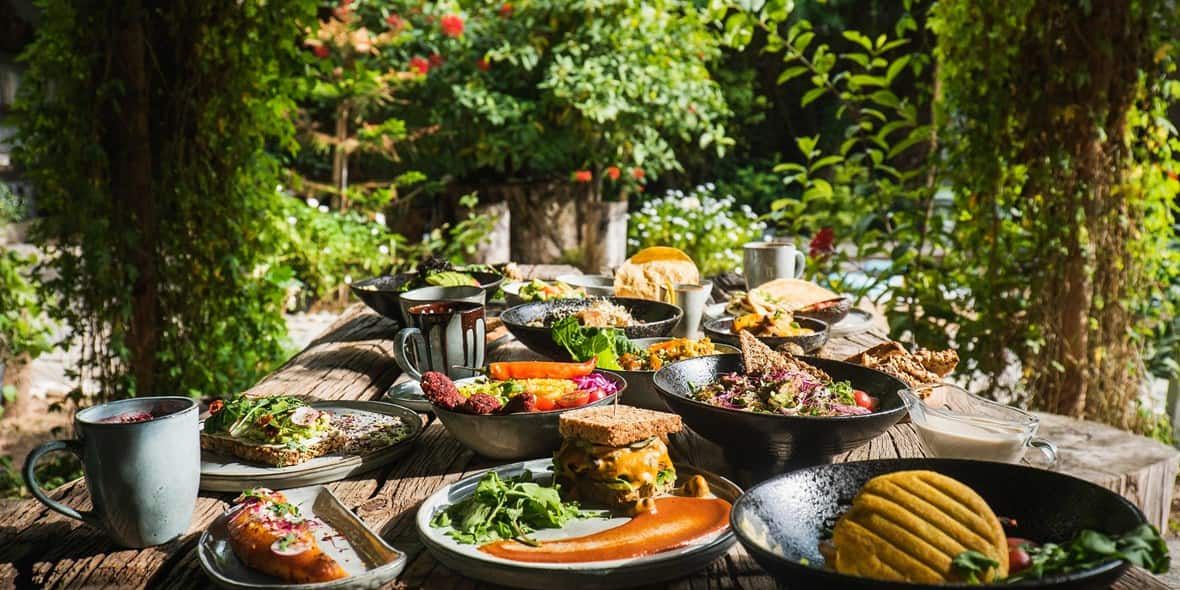 This holistic haven is one of the city's hidden gems. The dedicated wellbeing centre also boasts a plant-based café amid its tranquil zen-like garden complete with cobbled pathways, rustic log tables and colourful decor. 
The slow pace attracts visitors who are keen to catch up on their reading or relax with friends over a cup of freshly-brewed coffee. With health as the key focus, the food served here is free from gluten, sugar, dairy and artificial ingredients, but definitely doesn't compromise on taste. Their rich chocolate porridge will convince you of that.
5
The Sum of Us
The Sum of Us is no ordinary cafe. From the moment you enter the chic space, the aromas of freshly-baked dough mixed with roasted coffee beans (and a little bit of culinary creativity) greet you. You won't want to leave. 
The venue, which doubles up 
as a bakery and coffee roastery, 
aims to please with its all-day breakfast menu. Served from 8am to 5pm, it's the perfect breakfast spot for those who aren't fans of early morning starts. Fuel up with the smoothie bowl, blueberry and ricotta pancakes, coconut and chia pudding, or go all out with their 'big breakfast'. Oh, and it's true – the coffee here really is in a league of its own.
6
Baker & Spice
Comptoir 102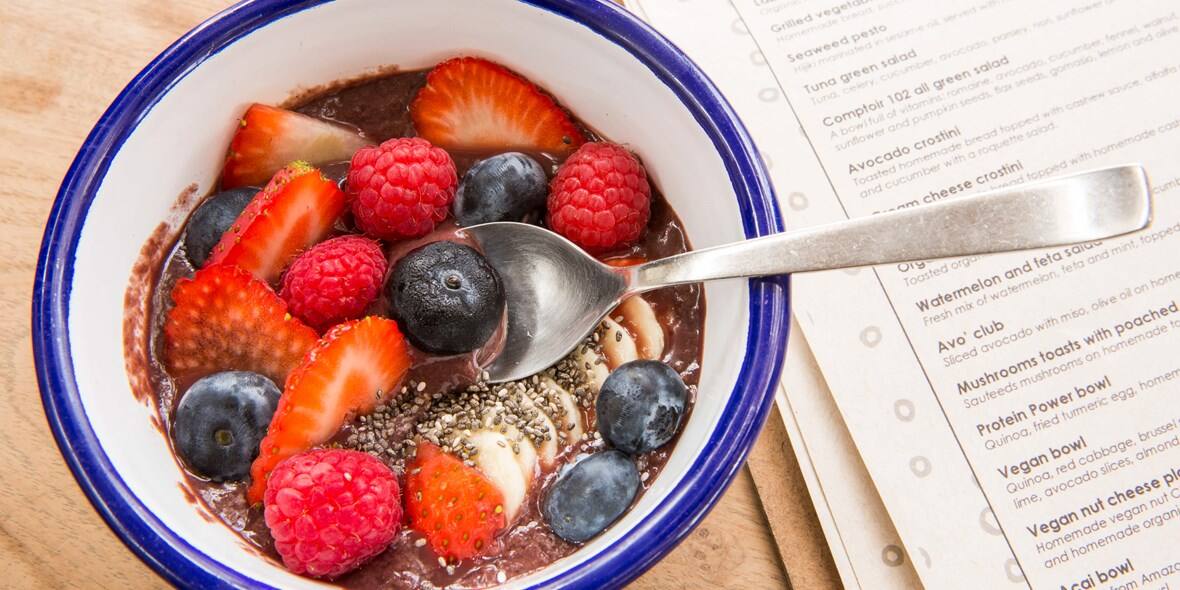 For a great start to your morning, look no further than this atmospheric concept store and café occupying a Jumeirah villa. Their health-boosting menu echoes the eclectic theme and décor, and uses nutrient-rich, organic ingredients that are prepared to maximise nutritional value. Taste is not compromised at all in dishes such as the buckwheat pancakes (sweet and savoury), crème Budwig (pureed fruit with lemon juice, topped with nuts and seeds), and the chia seed pudding. Wash it down with a dairy-free, superfood-boosted smoothie, and you'll be set for the day.
The Lighthouse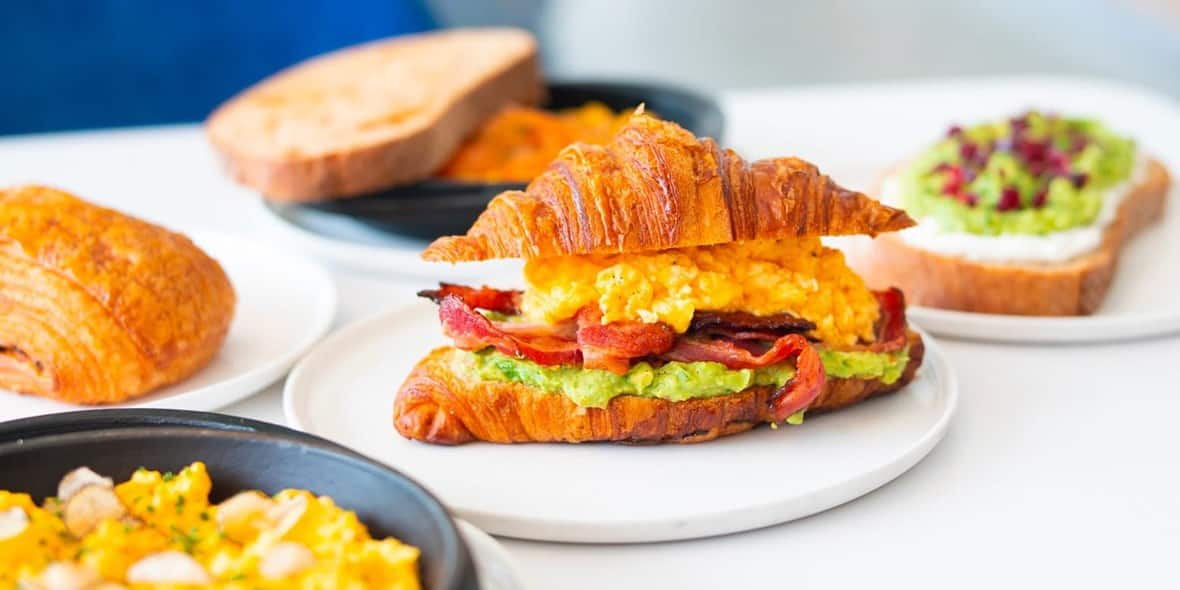 In the heart of 
Dubai Design District
, this chic restaurant also doubles as a concept store, selling everything from minimalist furniture to books and handcrafted gifts. The menu is packed with simple yet healthy dishes, from freshly-made pastries to baked cheese pies. 
There are plenty of egg-based dishes to choose from – enough to satisfy every breakfast craving. Once you're full, you can browse The Lighthouse's gift shop or explore the district's range of popular concept stores and art galleries.
Raju Omlet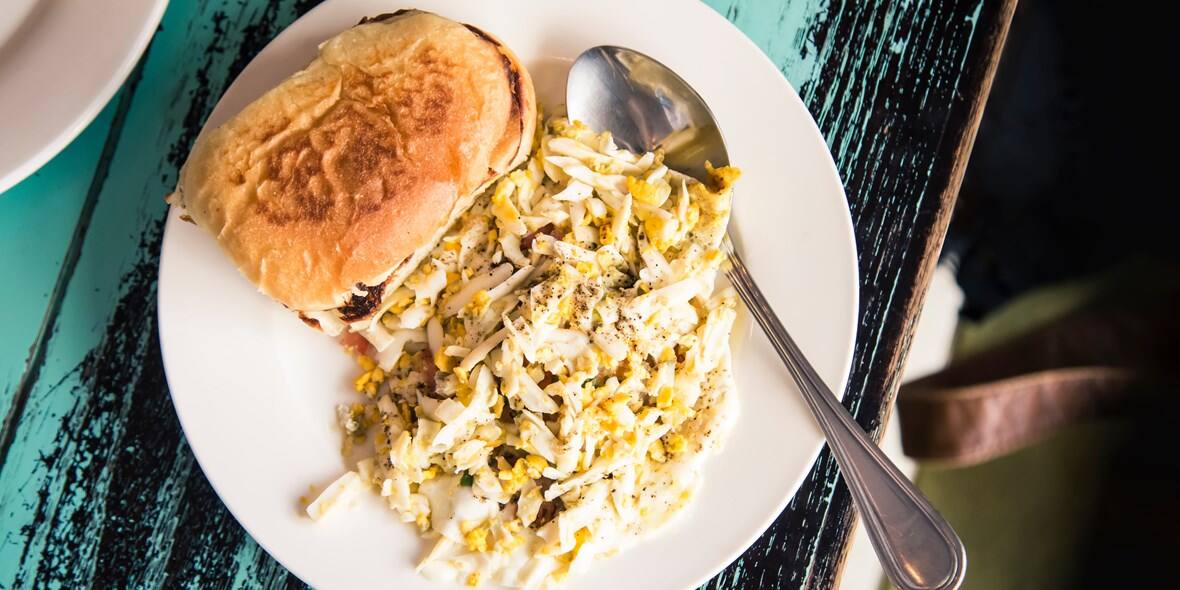 For an egg-cellent value-for-money breakfast made vibrant with Indian street food flavours, Raju Omlet hits the spot. At this no-frills venue, favoured by the city's on-the-go residents, you can't go wrong with a cheerful combination of fresh eggs and slow-cooked ginger tea. Start your day at one of the four locations, conveniently spread across Dubai in Karama, Business Bay, Al Quoz and Jumeirah Lakes Towers. Try the popular gravy omelette, a typical burji – Indian-style scrambled eggs – or lay low on spice while packing on the bites with a hearty egg roll, made in a generously-layered paratha bread. Eggs for breakfast doesn't get better than this.
Sikka Café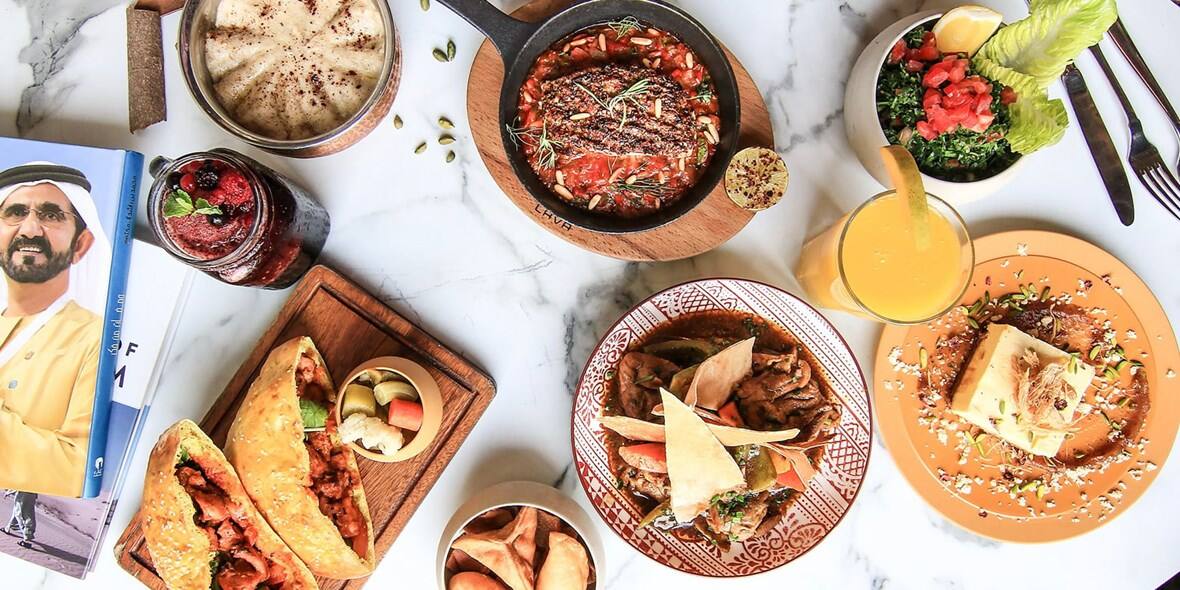 Sikka Café is inspired by the rich legacy of the United Arab Emirates, connecting its pearl diving history and modern cosmopolitanism via taste. Its expansive menu boasts a mélange of local, Indian and Persian cuisines, celebrating flavours loved by Emiratis for centuries. Sample breakfast favourites like khameer, a traditional bread served with cream or chebab, a hearty pancake with cheese and date syrup. If you'd rather settle down for a feast for two, the Signature Style Breakfast will keep you satisfied well into the afternoon – expect a decadent assortment of bread, pickles, jams, pancakes, pulses cooked in delightful variations and many more options to choose from.
Harrie's Pancakes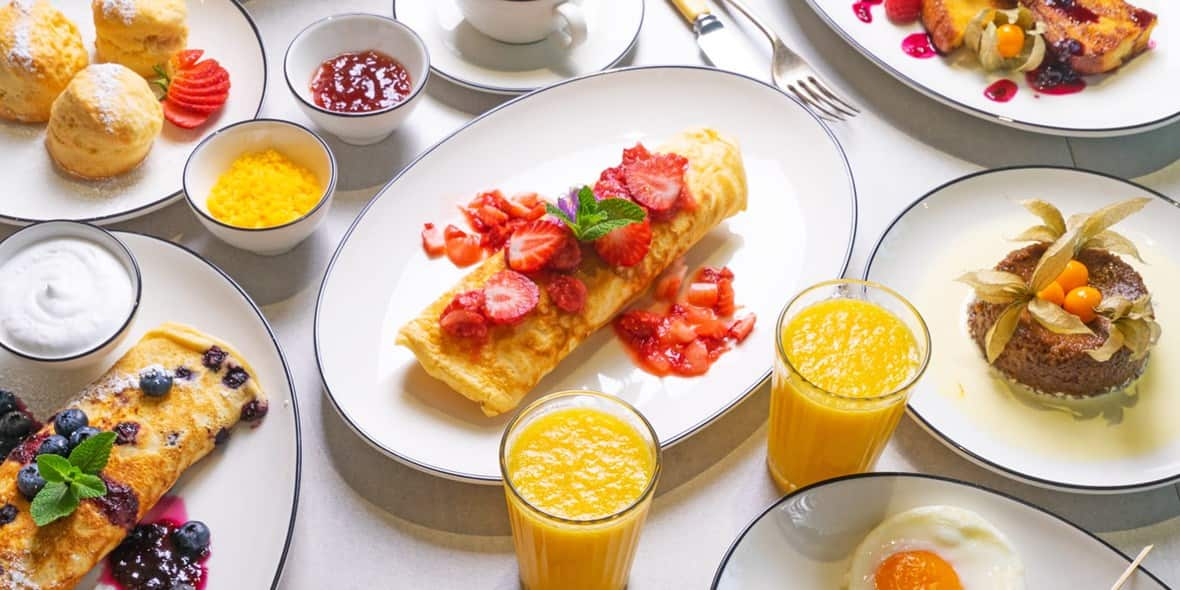 This much-loved South African café – which specialises in pancakes, as the name implies – opened its doors at Dubai Marina in April 2021. The original Harrie's Pancakes has been around since 1986, serving traditional flavours and delicious dishes. As its first international branch, this Dubai eatery is the place to go for mouth-watering breakfasts, including poached eggs, boerewors shakshouka pancakes, and acai bowls. You can also satisfy your sweet tooth with the cinnamon sugar or apple pie pancakes, or their homage to a local favourite, the kunafa pancake.
14
SĀN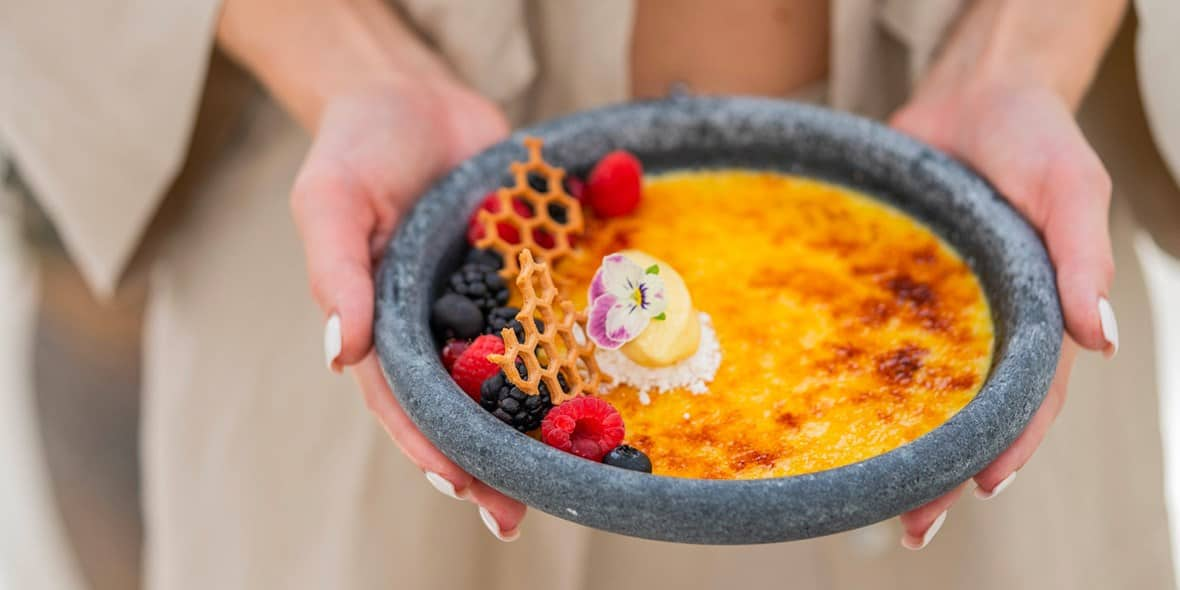 For breakfasts combined with a soul-reviving seaside setting, SĀN at Palm West Beach's latest lifestyle destination, The Club, is the place to be. A modern sanctuary inspired by ancient nature-focused philosophies, SĀN is serious about starting the day with a filling meal. Laze by the water and indulge in fresh-baked goods, exotic fruit platters and eggs as you like – poached with greens, scrambled with cheese or fried with baked beans, among other delicious selections.