Sights & Attractions
Spend a day at the best parks in Dubai
Explore the city's lush green spaces for some fun in the sun.
Explore the city's lush green spaces for some fun in the sun.
1
Zabeel Park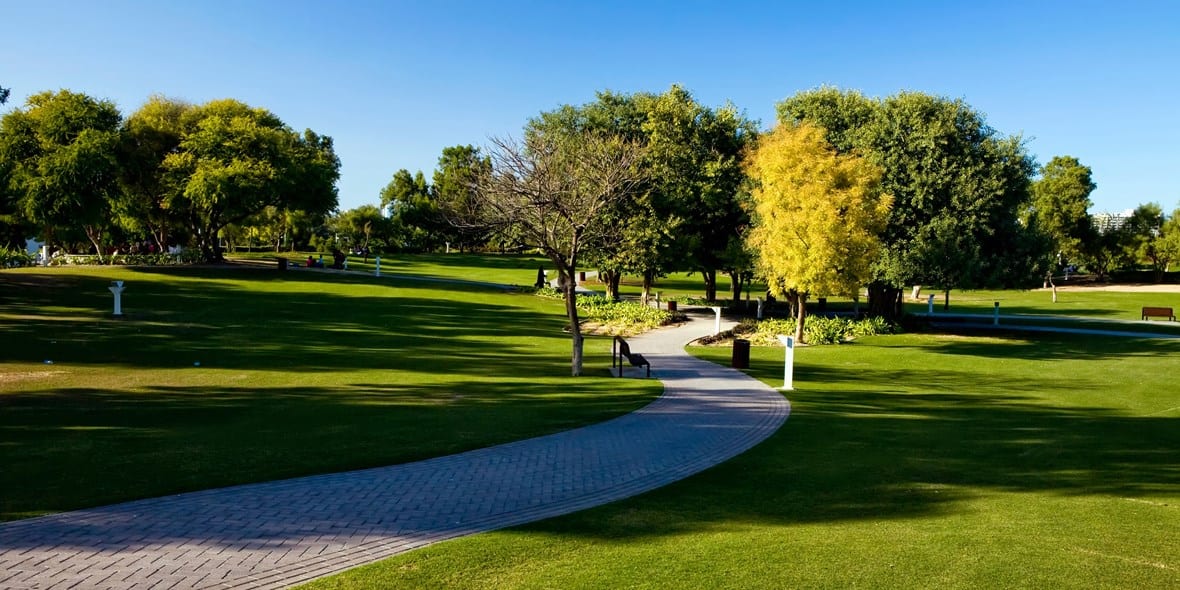 More than just a park, Zabeel is a hotspot for fun in Dubai. Aside from well-designed play areas, palm tree-lined jogging tracks and cricket grounds that see a lot of action, the park also delights all ages with Dubai Garden Glow – an expansive glow-in-the-dark garden made of millions of energy-saving bulbs. Zabeel Park is also home to the statuesque Dubai Frame, a children's 'edutainment' centre, a lake for tranquil boat rides and a train that circumnavigates the green space with happy kids and parents in tow. 
2
Burj Park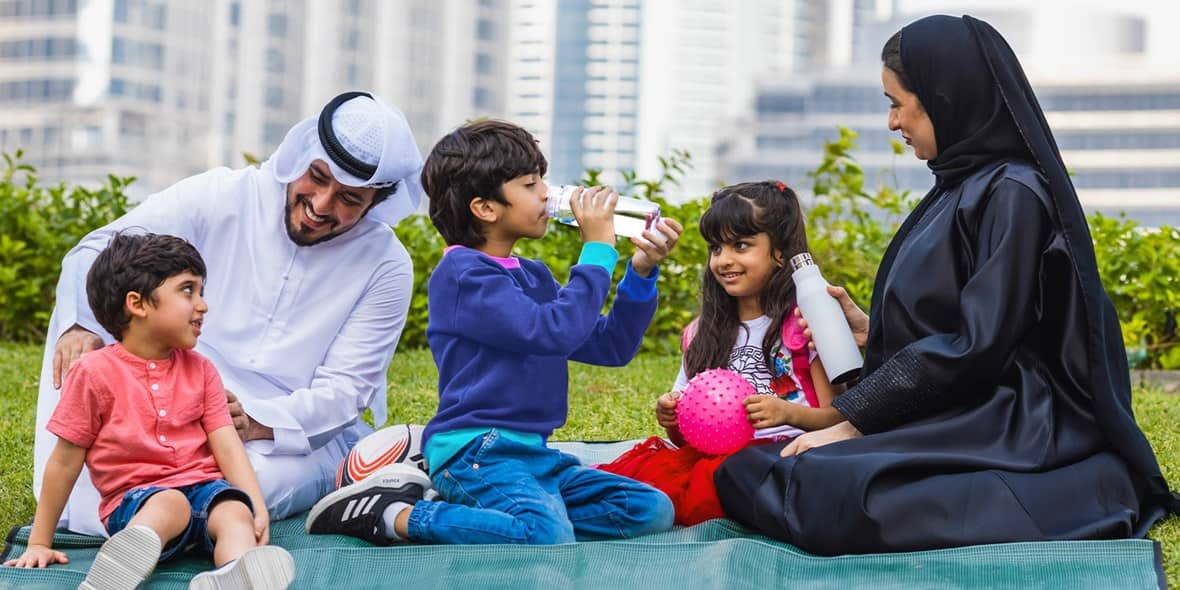 Located beside the record-breaking Burj Khalifa, in close proximity to some of the city's most popular attractions including Dubai Mall and Souk Al Bahar, Burj Park is one of the city's green enclaves located in the bustling Downtown district. Landscaped with wide footpaths, the park is also one of the city's most pedestrian-friendly spots. Follow the locals and hire bikes at the entrance to cycle through the area and enjoy an active day of sightseeing.
3
Mushrif National Park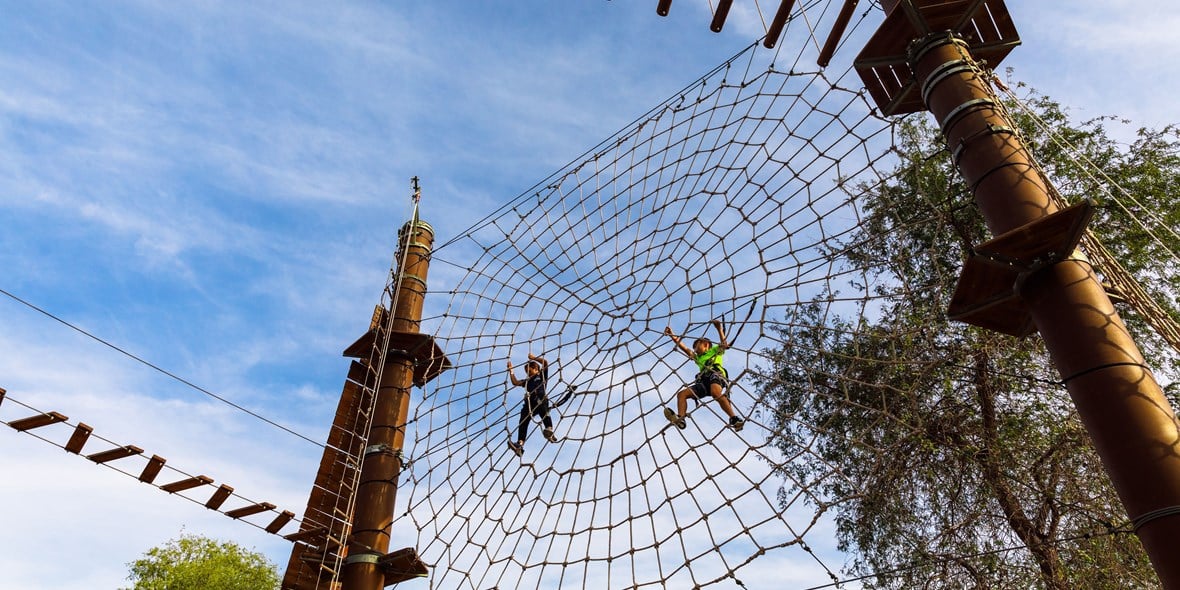 One of the oldest parks in Dubai, Mushrif Park is a natural gem. Originally a forest, the park still has acres of thriving woodland and thousands of trees. Entertain your family with restaurants, barbecue areas, refreshing pools, a petting zoo, walking and bicycle tracks, and even horse riding. This park is also famous for being the home of Aventura Parks – a high-flying adventure zone with tree surfing, zip-lining and rope climbing thrills for all ages.
4
Quranic Park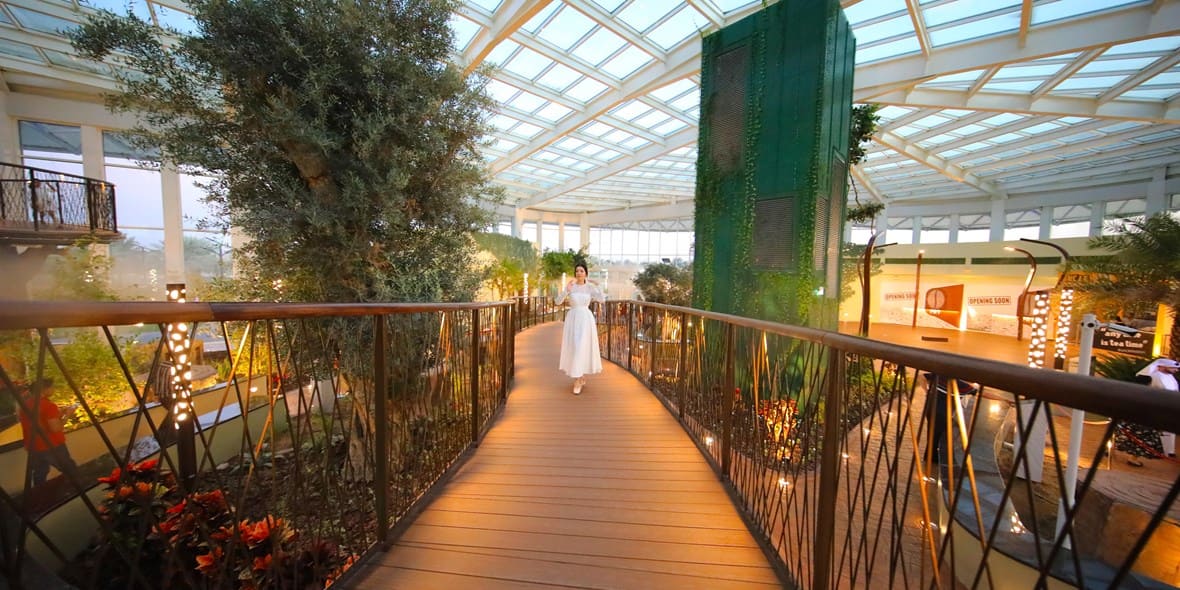 Opened in 2019, Quranic Park offers more than 60 hectares of stunning lawns and attractions with a cultural spin. Designed to promote a greater understanding of Islamic heritage, the Glass House is one of the main draws at the park and houses 29 different plants and trees that are mentioned in the Holy Quran. Afterwards, stop by the high-tech Cave of Miracles, which showcases remarkable events from the holy book, or simply wander around the beautiful themed gardens and soak in the sunshine. Best of all? This park is free to enter, making for a serene way to spend the day.
5
Al Barsha Pond Park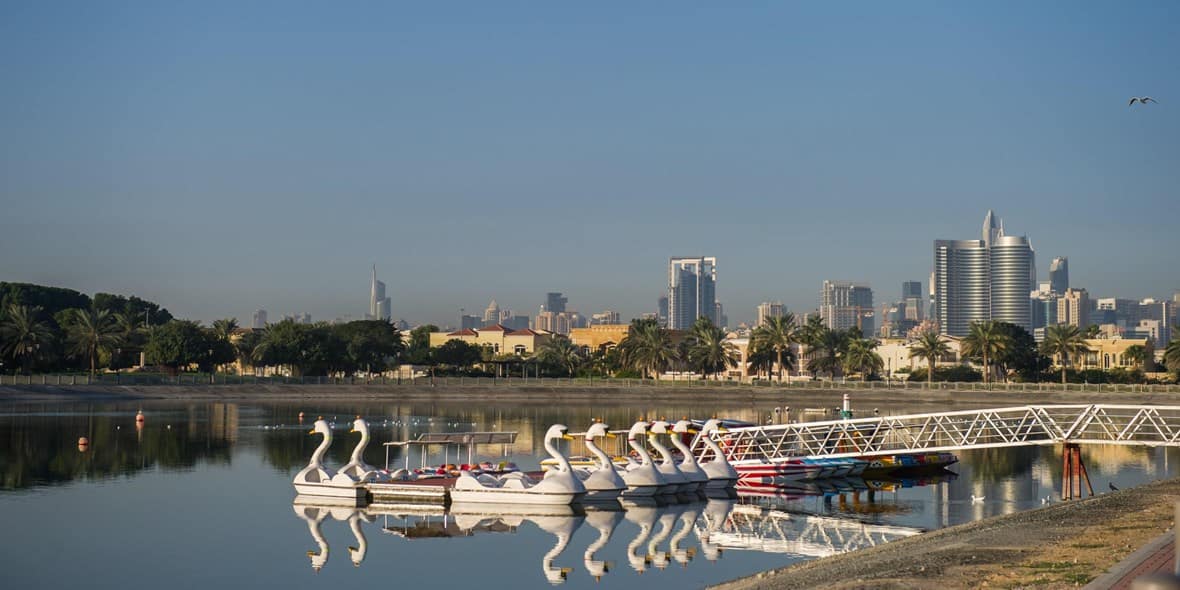 This suburban park in Al Barsha impresses with its large picturesque pond. Little ones will love the kids playgrounds, fountains and a jumping castle, while parents can make the most of the running track, gym equipment, and basketball and tennis courts. There are bikes and karts for hire too, so visitors of all ages can stay fit and active in the sunshine. Want to make a day of it? Pack a picnic with delicious goodies from Al Barsha Mall, a short walk away.
6
Al Mamzar Park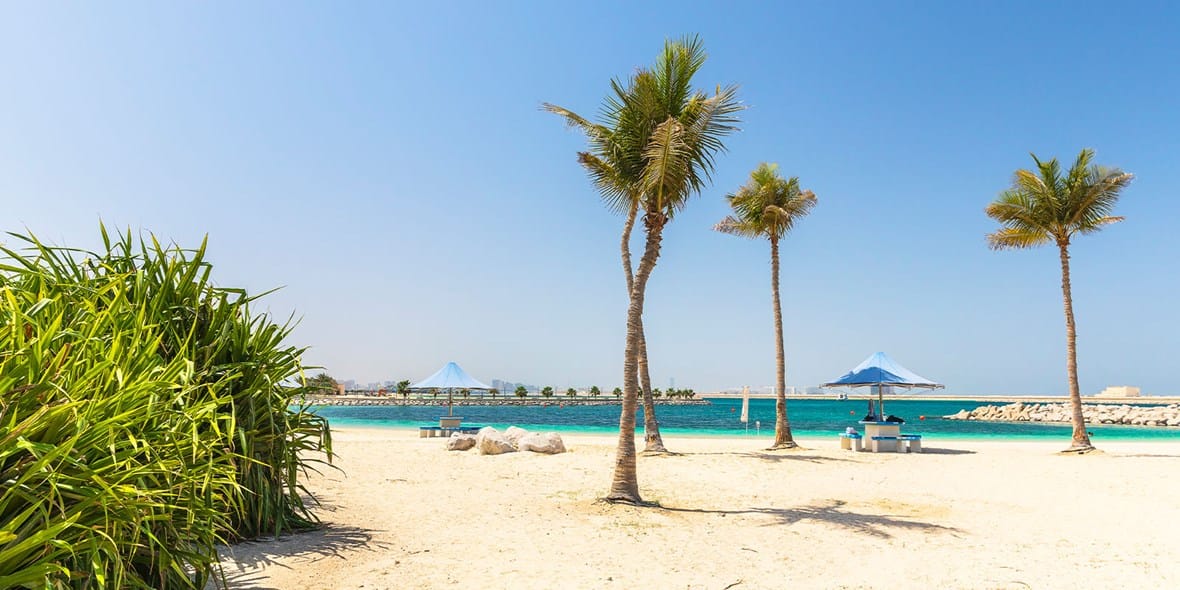 Set right on a beach at the southern end of Dubai, Al Mamzar Park is a popular choice thanks to its scenic views and laidback vibe. It's a great option for family barbecues, with equipment available for public use. Ensure you arrive early, especially on weekends, to avoid missing out on a prime spot. Al Mamzar also offers private beach huts available for hire as well as a swimming pool, making it the ideal place for a day out with loved ones.
8
Creek Park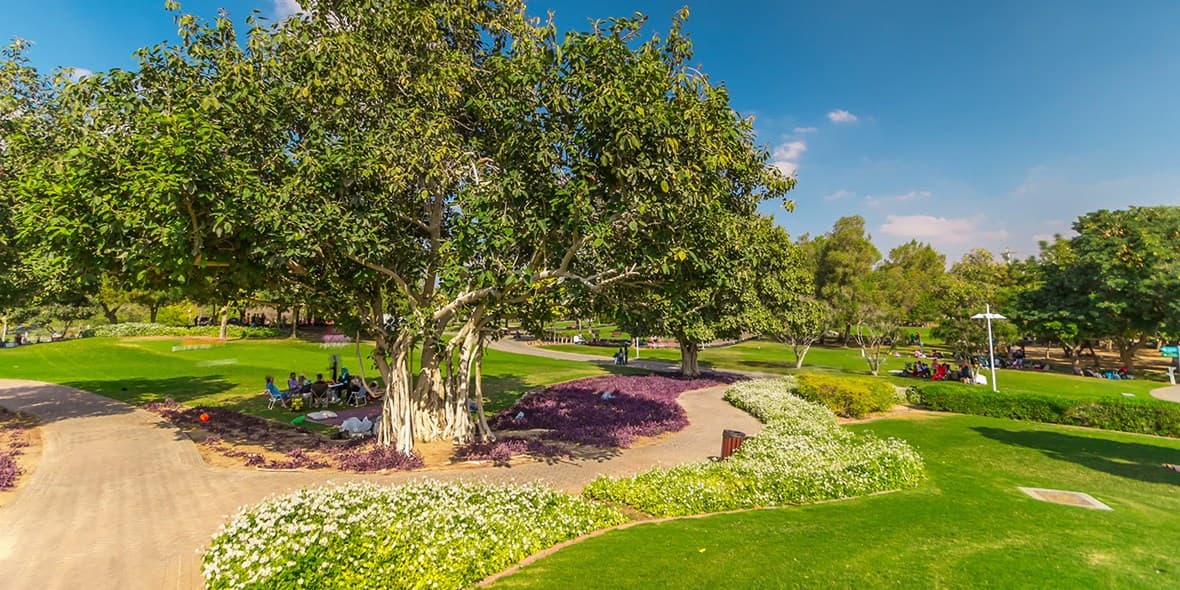 As the name suggests, Creek Park sits right on the edge of Dubai Creek – making it stand out from other green spaces in the city. The second largest park in Dubai, it features acres of lawns and botanical gardens as well as play areas, a mini-golf zone and a go-kart track. Creek Park is also home to
Children's City
 – an indoor 'edutainment' centre – and the
Dubai Dolphinarium
, where families can enjoy a packed programme of dolphin tricks and seal stunts.
9
Al Khazzan Park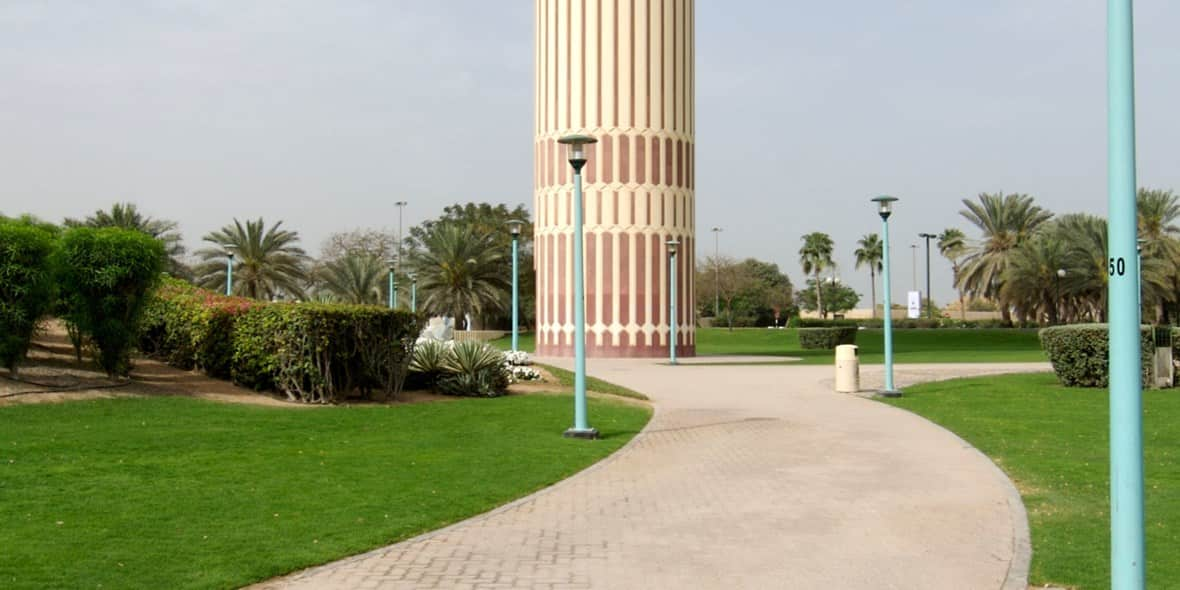 If you're wondering what to do with the children on a sunshine-filled afternoon, Al Khazzan Park should be on your list of attractions. Situated near City Walk, Al Khazzan is a popular urban retreat. It is a zero-energy park where everything including the electricity, irrigation system and night lighting is powered by solar energy, generated through on-site photovoltaic panels.
10
Jumeirah Lakes Towers Park
Quiet and unassuming JLT (Jumeirah Lakes Towers) is built around three lakes and a 55,000sqm grass-lawned park. There are plenty of community events to join in at the park, and lots of quirky cafes, restaurants and shops to explore after you've strolled around the lakes.