Food & Drink
The best supper clubs in Dubai
From gastronomic experimentation to pop-culture playfulness and celebrity chefs, Dubai's supper clubs are taking diners on exciting culinary journeys.
From gastronomic experimentation to pop-culture playfulness and celebrity chefs, Dubai's supper clubs are taking diners on exciting culinary journeys.
1
#ThreeChefsDinner
Celebrated food blogger Samantha Wood from FooDiva hosts a special #ThreeChefsDinner experience at select dates all through the year. It's a unique concept that brings together three talented chefs based in the city to offer a one-off menu that always impresses. Held at a different host restaurant every time, the chefs each prepare one course for the night, inspired by innovative flavours from around the world. A sold-out event that brings together foodies near and far, advance bookings are essential. Visit the FooDiva website for upcoming dinners and other foodie-focused events worth its salt.
2
Get INKED
Inviting curious gourmands to 'get inked', this test kitchen in Alserkal Avenue injects creative fuel to menus. Experiences change with the season and are always unique, making repeat visits a thing of wonder. Past dinners have seen calligraphy artist eL Seed shift his talent from the canvas to the kitchen with a Tunisian-inspired menu, while a different 'Mushroom Mania' menu presented a burst of umami flavours across five creative courses. INKED, which also hosts one-off chef table and private supper club experiences, is always worth checking out. Visit their official website to see what's on next.
3
LOWE Supper Club
The perfect supper club should have a sense of mystery before you even reach the venue, and LOWE certainly achieves that. Well out of the centre of Dubai, LOWE is a proudly independent restaurant in the Nasab development: after pausing operations in early 2020, the team relaunched with their 'experimental' supper club a few months later. Held twice a month, the supper club varies wildly in theme. As of writing this, its suppers have been helmed by Australia-based chef Jesse Blake, Thai food maestros The Yellow Monkey, and local growers Mattar Farm. Who knows what's next?
4
Social Club // LOCAL 21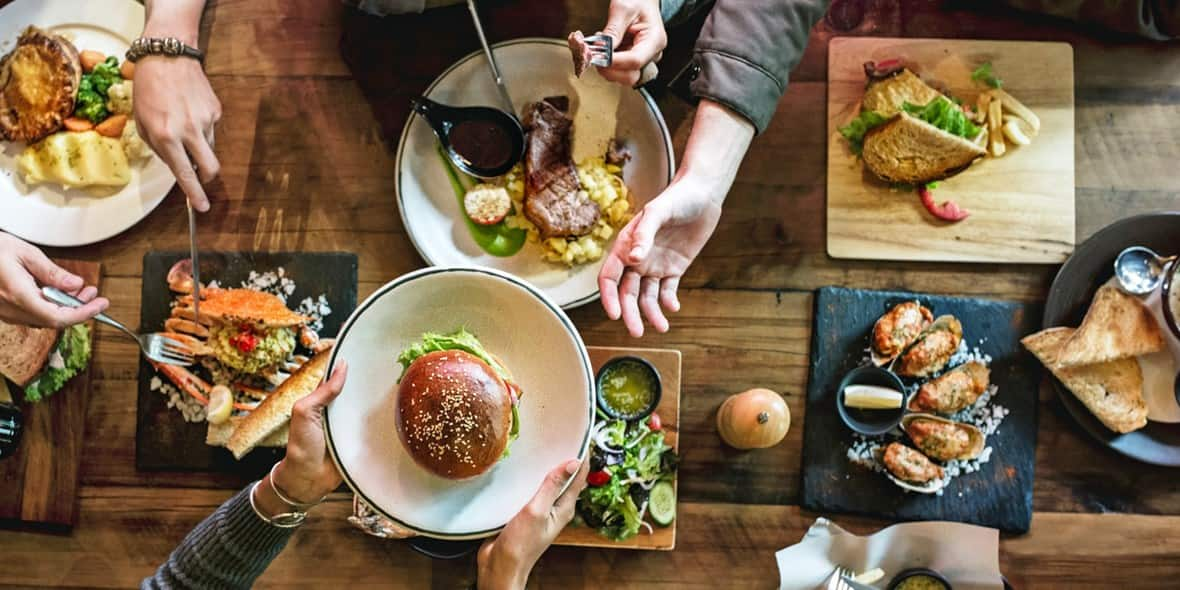 Described as an urban Balkan bistro, 21grams was already one of Dubai's most interesting restaurants before anyone even mentioned the words 'supper club'. The bistro's

Social Club // LOCAL 21 concept

, held twice a month, sees different chefs take over the restaurant for the evening – and don't expect it to be limited to Balkan cuisine either. Punjabi and Persian food specialist Kunwal Safdar and a vegan feast with Dubai-based yogi Dina Ghandour have all worked their magic here in the past, and we can't wait to taste more.
5
Home sweet home
Dubai has a growing legion of talented at-home chefs who invite foodies over for their own spin on the supper club experience. Head over to Instagram to book a meal and more at Kuv's Secret Supper Club (@kuvsecretsuppers), Tano's at 8 (@tanosat8) and The Curry Bureau (@thecurrybureau), to name just a few of our favourites. Several of these chefs also organise pop-up supper clubs at restaurants across the city, amassing more adoring fans along the way. Dubai resident Neha Mishra, the passionate home chef and ramen queen behind @astoryoffood, has also gone on to open her own restaurant Kinoya, located at The Onyx Tower on Sheikh Zayed Road. Take a seat, you're in for a treat.
6
See the MasterChefs
While it's not formally described as a supper club, we think this fits the description: alongside its normal menu of dishes from the hit TV show MasterChef, the restaurant in Dubai Marina hosts winners of the programme for special days- or even week-long 'residencies'. During their time at the culinary helm, the MasterChef champions create their signature dishes for diners – and also offer a strictly-limited masterclass in their culinary technique. With challenges and twists thrown in, expect the unexpected.
7
Pop-ups to dine for
Pop-up dining, one of the hottest food trends for the year, is here to stay in Dubai. Every season brings with it several limited-time events, like the debut of 'Proudly from Dubai' food market at Downtown Dubai in February that showcased the best from eight homegrown concepts, including Tres Marias Coffee Company and The Mattar Farm Kitchen. Leading hotels also get in on the act with seasonal pop-ups and gourmet dining experiences – for example, Burj Al Arab recently impressed with SAL, a pop-up restaurant presenting the first ever 'mirror dining room' in Dubai. Add to that annual citywide foodie events such as Dubai Food Festival, and there really is something for every taste.