Desert
Top things to do in Dubai's desert
Whether you're looking to raise your adrenaline levels with a desert safari or enjoy a luxury overnight stay, you'll find plenty to do in our 'desert city'.
Whether you're looking to raise your adrenaline levels with a desert safari or enjoy a luxury overnight stay, you'll find plenty to do in our 'desert city'.
1
Embark on a desert safari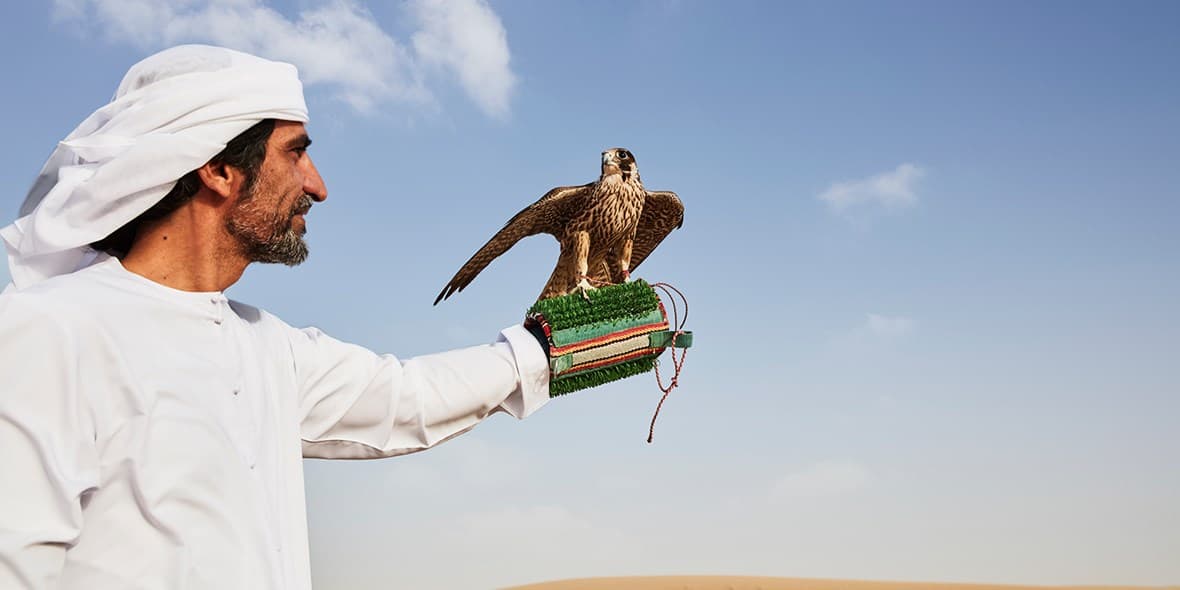 There are few experiences that are as 'Dubai' as the desert safari. Take a backseat (unless you prefer to sit at the front of the four-wheeled drive) and hold on tight as an experienced driver manoeuvres over sand dunes at high speeds. Feel a rush while teetering on the edge of seemingly sheer drops, before dipping down sandy slopes and back up again for more. If you book with tour company Arabian Adventures, there'll be a couple of stops for sunset photos before you're safely whisked away to a traditional-style Bedouin camp, where a feast under the stars awaits.
2
Rev up for quadbiking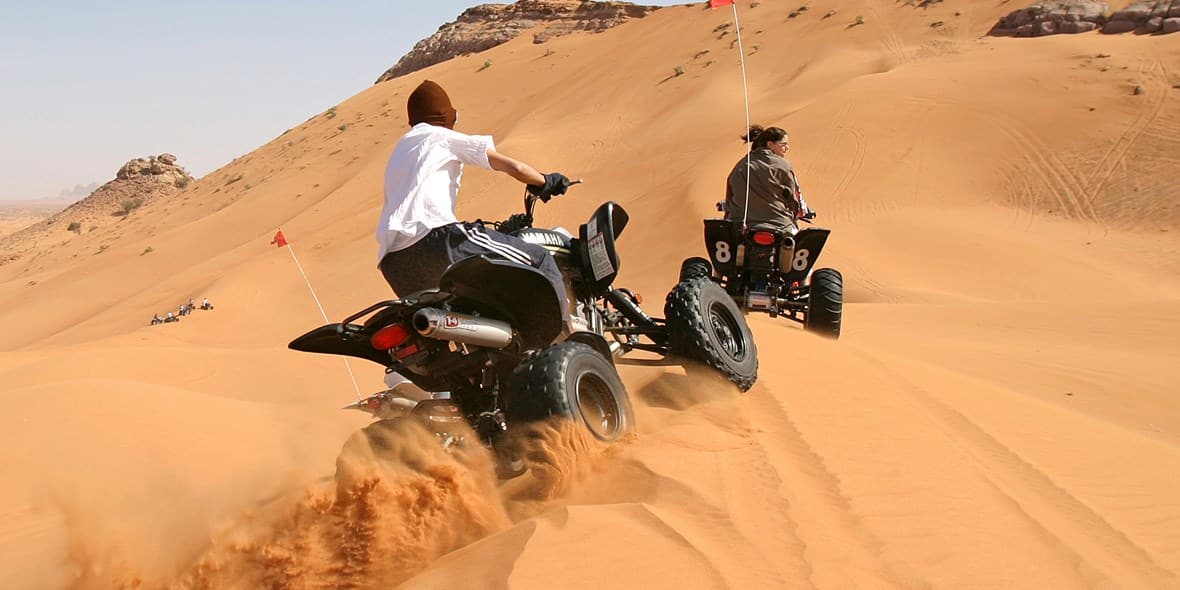 If you want to get a taste of true adventure while in Dubai, hit the dunes for some heart-pumping action with Big Red Adventure Tours. You can get behind the wheel of your very own quad bike (ATV) or sit back, relax and enjoy the ride while a friend or family member takes the driver's seat in a
dune buggy
. Take in incredible views of this majestic landscape in between adrenaline-inducing action.
3
Go sandboarding in style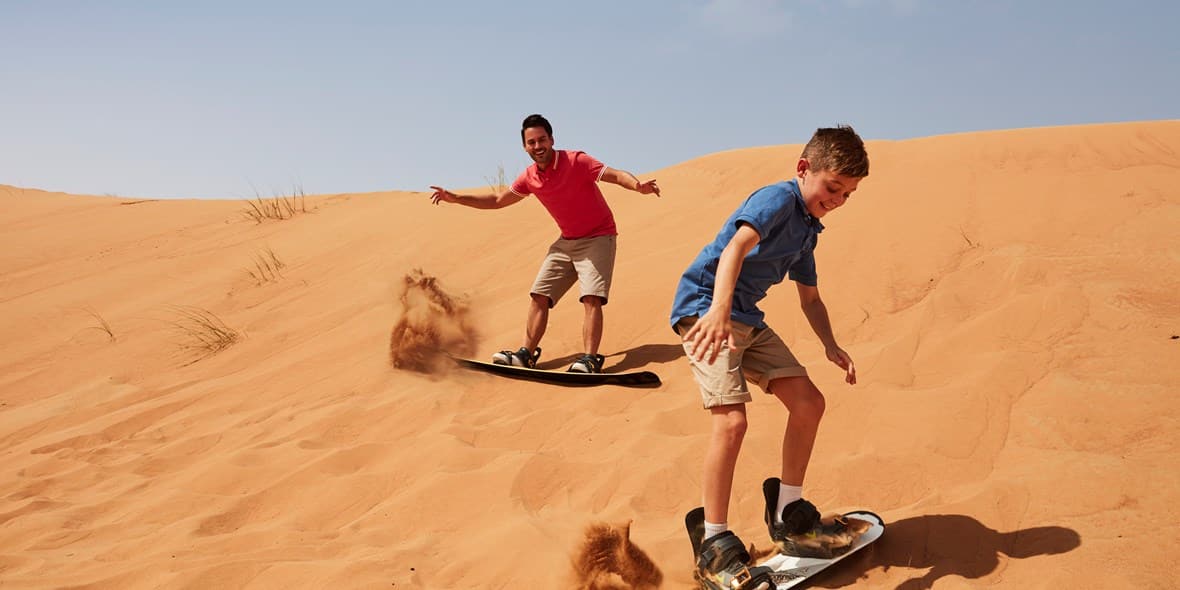 This is one for true adrenaline-seekers. Strap this snowboard-like contraption to your feet and glide down the dunes just like you would at the slopes of
Ski Dubai
. There are a number of companies – such as Desert Safari Dubai  – that offer the full sandboarding experience, along with tips and tricks for gliding through the dunes. The company's two-hour morning desert safari package offers sandboarding, dune driving, camel riding and quadbiking, while the extreme adventure safari is for more experienced thrill-seekers.
4
Indulge in a VIP safari experience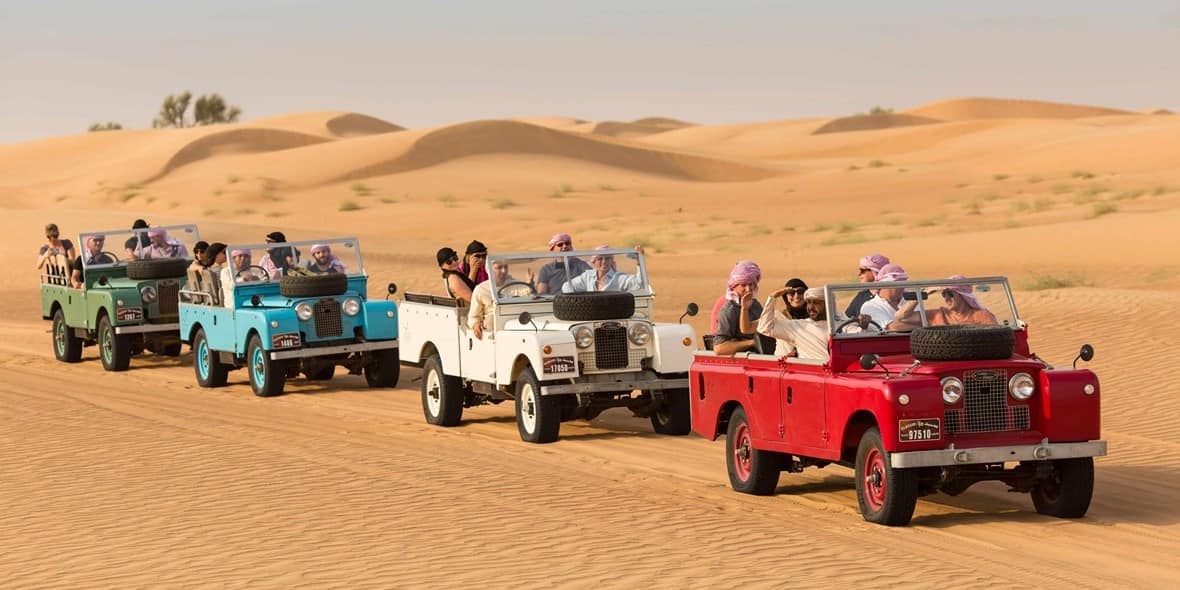 Dubai-based luxe tour operator Platinum Heritage offers a number of safaris in Series 1 Landrovers through the Dubai Desert Conservation Reserve, where you can spot native wildlife such as Arabian oryx. Onboard the vintage vehicles, guests are taken through an authentic desert experience. Choose the morning wildlife safari and finish off with a traditional Emirati breakfast and storytelling by a local Bedouin. Or, opt for the night safari, where you'll stop for stunning sunsets and cap it off with a scrumptious meal at a royal desert retreat.
5
Stay overnight in desert luxury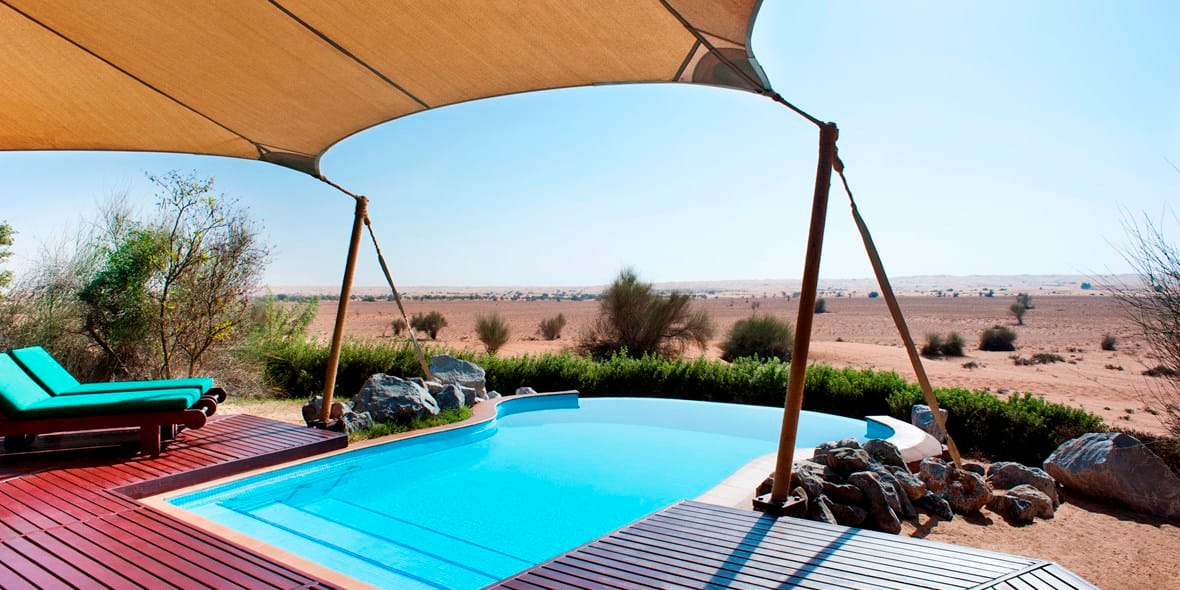 If camping is not really your thing, Al Maha Desert Resort & Spa at the Dubai Desert Conservation Reserve takes glamping to another level with luxury tented-style villas in a resort setting, each featuring its own private infinity pool. It's a place for relaxation rather than risk-taking, with a number of chilled activities on offer, including sunset camel rides over the rolling dunes. Ask for a villa overlooking one of the natural oases, where you can watch gazelles and Arabian oryx stop by for a drink.
6
Up, up and away with hot air ballooning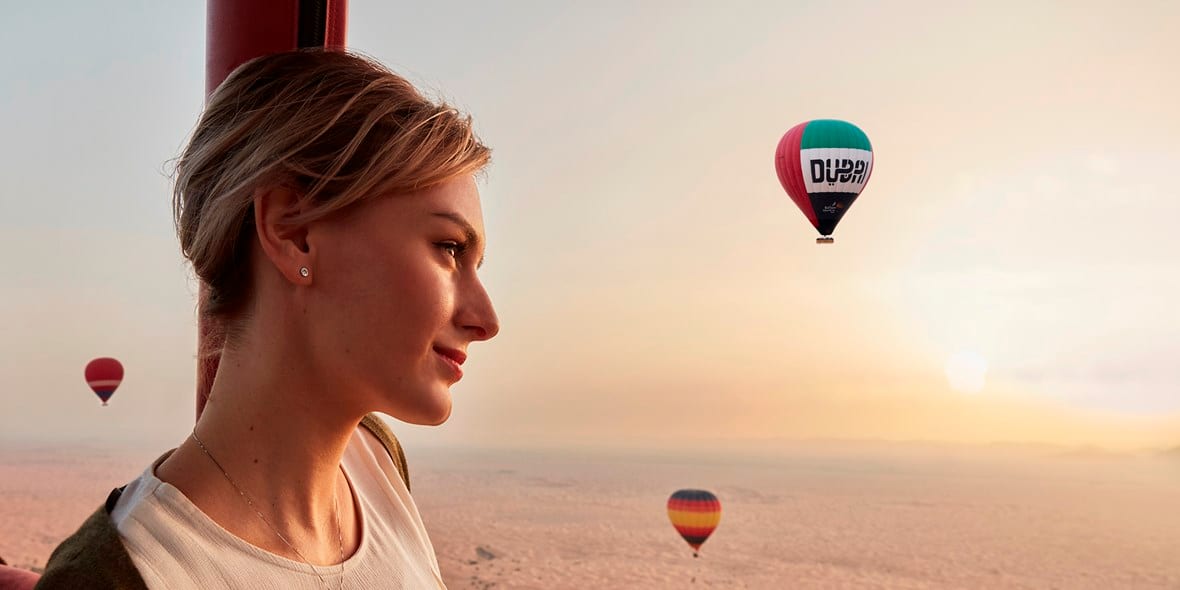 Experience Dubai from a whole new perspective in a hot air balloon ride over rolling desert dunes. Book with Balloon Adventures and enjoy the thrill of soaring above the clouds as you view the stunning landscape below. Whether you choose to set off at sunrise or sunset, you'll also have the chance to spot herds of Arabian oryx and gazelles roaming free across the vast expanse, and capture envy-inspiring photos. This is an experience to remember.
7
Experience Tomorrowland in Dubai's desert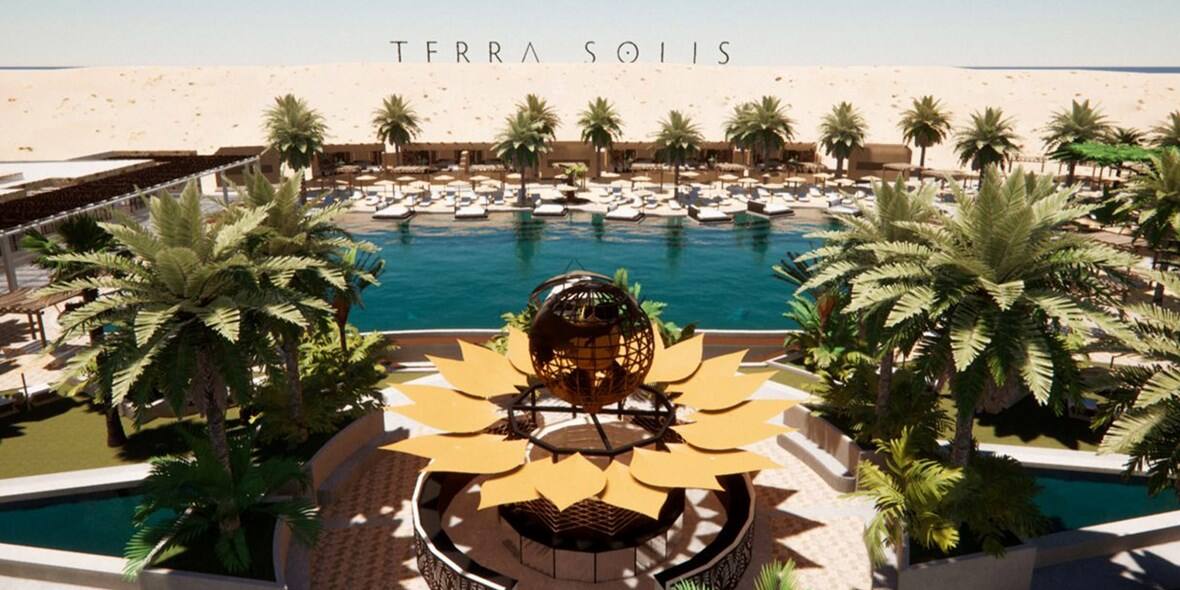 Immerse yourself in the essence of Tomorrowland at Dubai's very own Terra Solis. The exclusive oasis
glamping site
, launched by the world famous music festival, is set to open to desert sojourners from September 2022 until June 2023. Whether you want to enjoy the reviving natural ambience and revel in soothing rhythms during the day or go all out with a memorable overnight stay, this secluded destination amid undulating dunes is certainly worth a visit.
8
Enjoy eco-friendly dining on the sands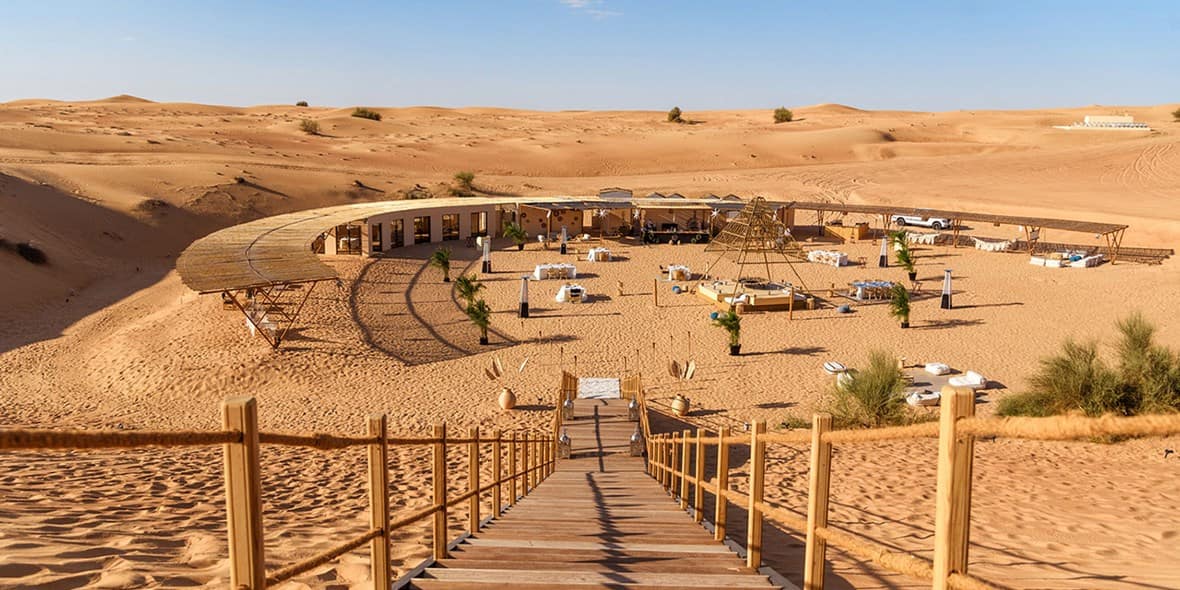 Dine at the unique desert restaurant, Sonara Camp, which features an elaborate fine dining menu, sided by live entertainment and chic lighting. French chef Franck Sanna's curated menu makes every dish a delight with regional and western blends. Bestsellers include beef tacos, chicken shawarma, fusion lamb asador, black truffle and mushroom risotto, and the mouthwatering dulce de leche pie. The open-air kitchen also serves special options for vegans, vegetarians and kids.
9
Soar above the dunes on a paramotor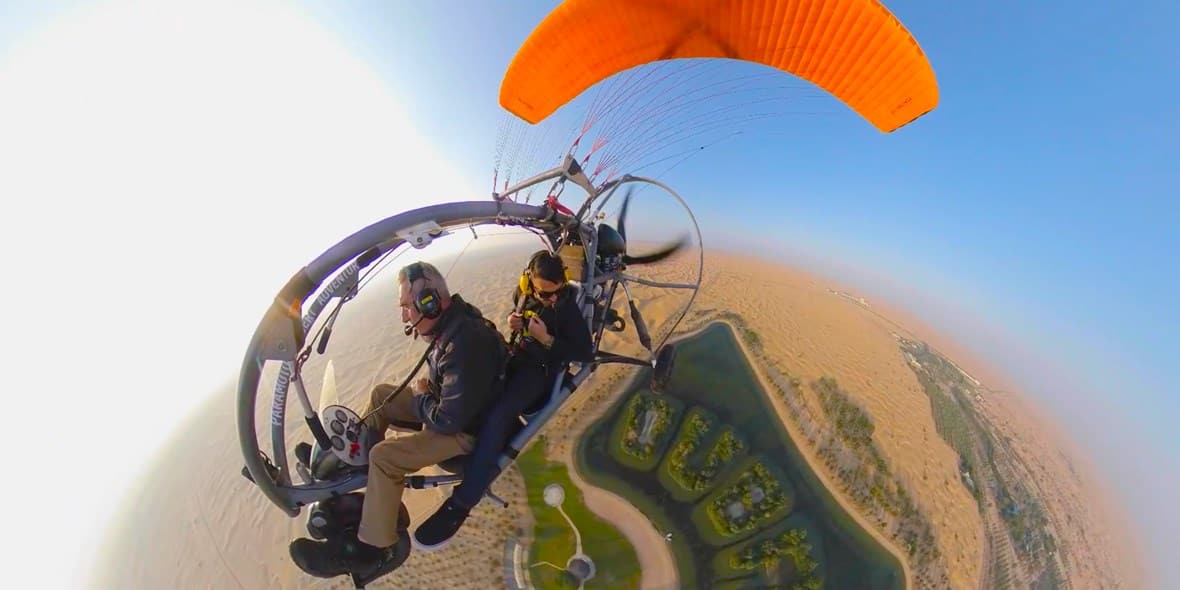 Paramotor Desert Adventure is the go-to favourite for flying experiences in the Dubai desert. Located at the Skydive Dubai Desert Campus, the Emirati-led company has been offering sky-high adventures since 2013. With expert guidance, enthusiasts can take on new challenges and see the world from above. Gear up for an exciting flight above the Dubai desert at sunrise or sunset – and make sure to snap a selfie from far above the vast dunes for that perfect holiday memento.
10
Take in the views on a bike ride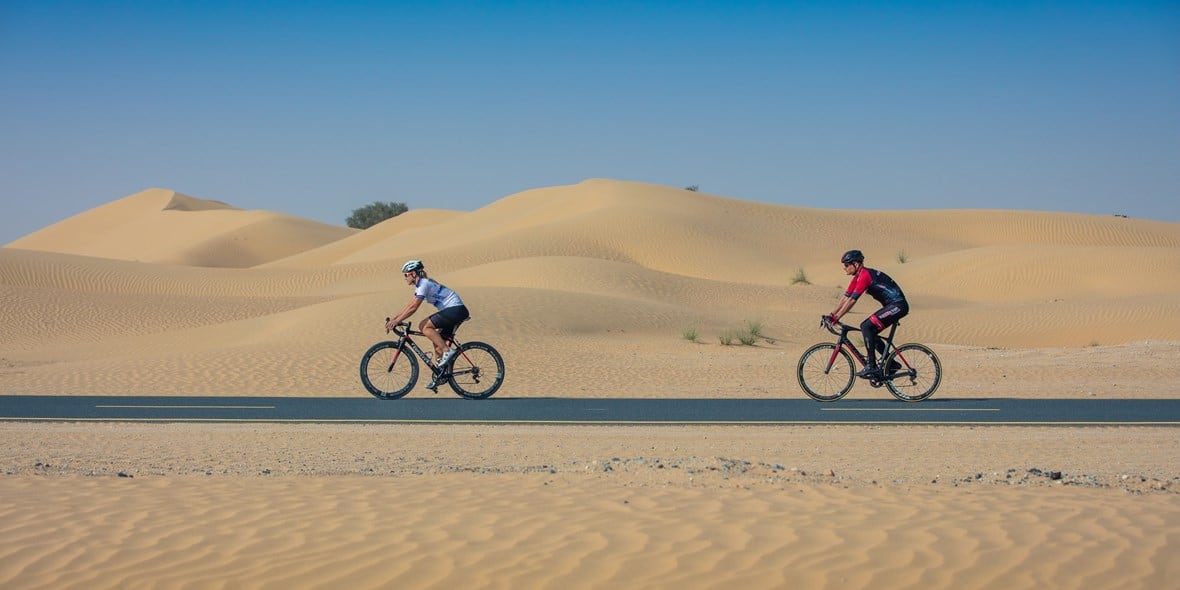 Al Qudra Cycling Track is a popular destination among Dubai's adventure seekers and fitness enthusiasts. With 86km of smooth track and amazing views of the desert, it's popular with both professional and novice riders alike. You might even catch a glimpse of local wildlife along the way. Some say that the best time to ride is at sunrise, because the views and feeling of the morning breeze are unparalleled. 
11
Cheer on your favourite camel at the races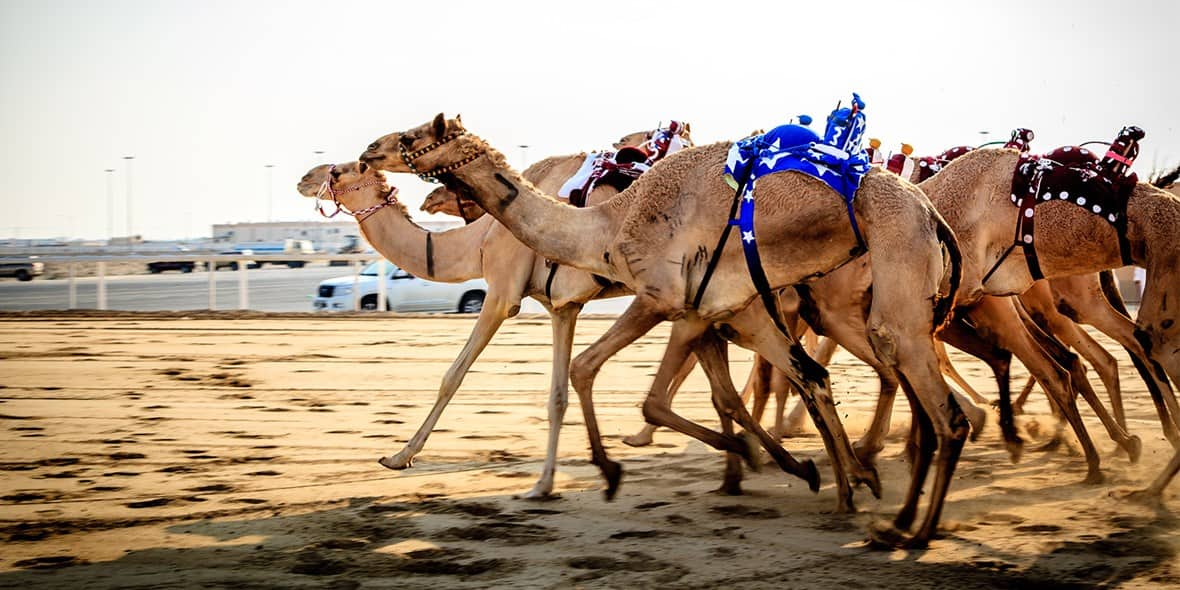 The Dubai Royal Camel Racing Club caters to the heritage sport of camel racing – a drawcard for both locals and visitors. Located half an hour's drive from the city, the racing club attracts camel owners from across the UAE, and even some from neighbouring countries. Drop in early, and you'll have the opportunity to pet the camels and take photos with them before they compete. It's home to the city's largest track, Al Marmoom Camel Race Track, which is a hive of activity during winter's racing season.
12
Plan a romantic lakeside picnic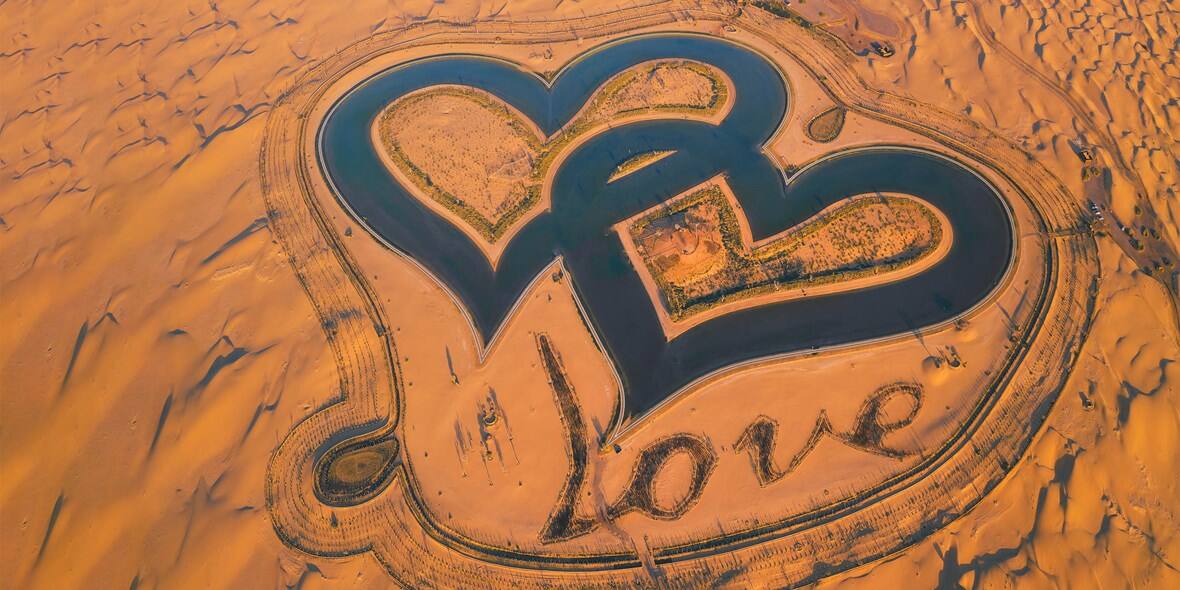 Immerse yourself in nature at the serene Al Qudra oasis where you can take in the sights and sounds of Love Lake Dubai. This popular spot consists of two large, inter-connected heart-shaped lakes, which inspired its name. With plenty of parking, visitors can picnic or set up barbecues in designated areas and take in the greenery. Watch the spectacular sunset from this venue where everything is dedicated to love – with sculptures of hearts and even trees manicured in a way to spell out the word 'love' when seen from above.
13
Explore the night sky with astronomers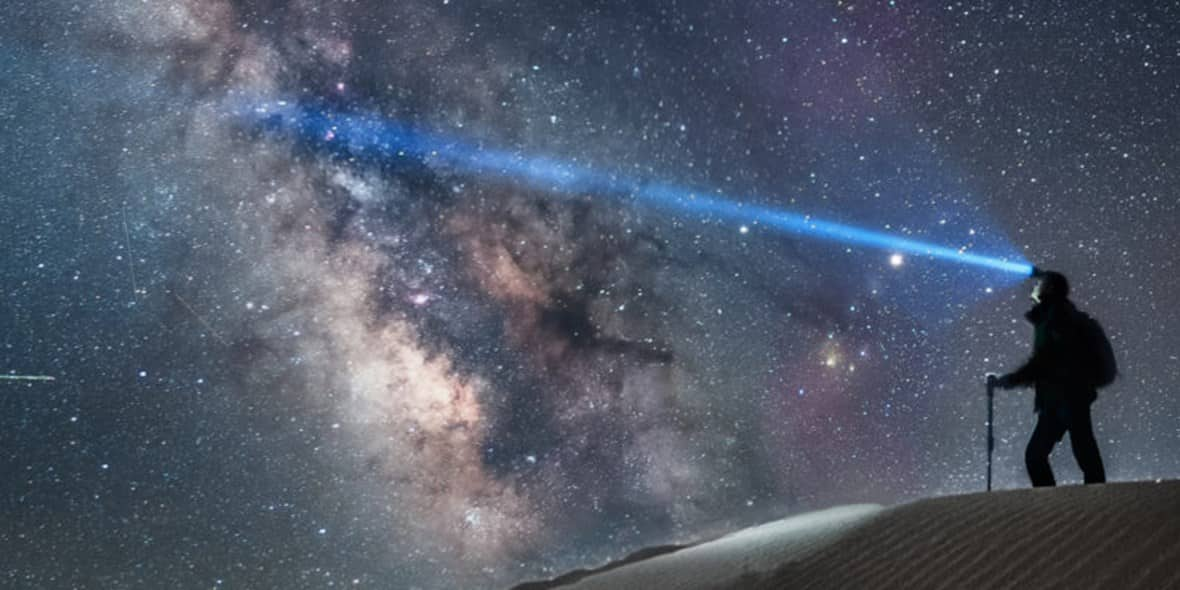 The Dubai Astronomy Group is at the forefront of astronomy in the region, regularly collaborating with organisations on futuristic and educational projects. With a packed calendar of themed events and workshops, as well as outdoor observations during key astronomical occurrences, the group is always keen to welcome fellow enthusiasts. There's nowhere like the desert for a front row seat into space, so keep an eye on their website to see what's coming up.