Food & Drink
10 of the best Emirati-run cafes in Dubai
Coffee has always been an important part of Emirati culture with a new wave of local cafés revolutionising how Dubai consumes its caffeine. Here are a few of our favourites.
Coffee has always been an important part of Emirati culture with a new wave of local cafés revolutionising how Dubai consumes its caffeine. Here are a few of our favourites.
1
To The Moon And Back
Tucked away on Al Athar Street in Jumeirah, To The Moon And Back's name is a nod to the depth of owner Zainab Al Mousawi's love for coffee, and has inspired the café's funky space-themed interior. Also influenced by Australia's café culture, Zainab sources her beans from a Melbourne roastery, and is happy to talk at length about coffee to anyone. This is a laidback venue where patrons linger for hours. The menu offers light bites and all-day toasties, including a popular pastrami sandwich from Mattar Farm – another loved homegrown brand that's renowned for their barbecued and smoked meats.
2
Number Five
Simplicity and precision are the watchwords at Number Five. Instead of a huge range of drinks, they offer just a few, but aim to make them perfect, and to pair them with the perfect pastry. Think almond croissants, cinnamon rolls and Nutella cookies baked fresh daily. The Restaurant & Bar Design Awards-nominated interior offers clean lines and natural textures, making it the perfect setting for the perfect coffee in the charming neighbourhood of Umm Suqeim.
3
Brew
A cafe that opens in time for breakfast is not as common as you might expect, but Brew on Jumeirah Road opens bright and early at 7am. Whether you need a pick-me-up to start the day or are a curious coffee connoisseur, Brew has a broad range of beans from speciality roasters around the world, and prepared in plenty of ways. A selection of baked goods complements the coffee, as does the friendly, no-fuss interior.
4
Drop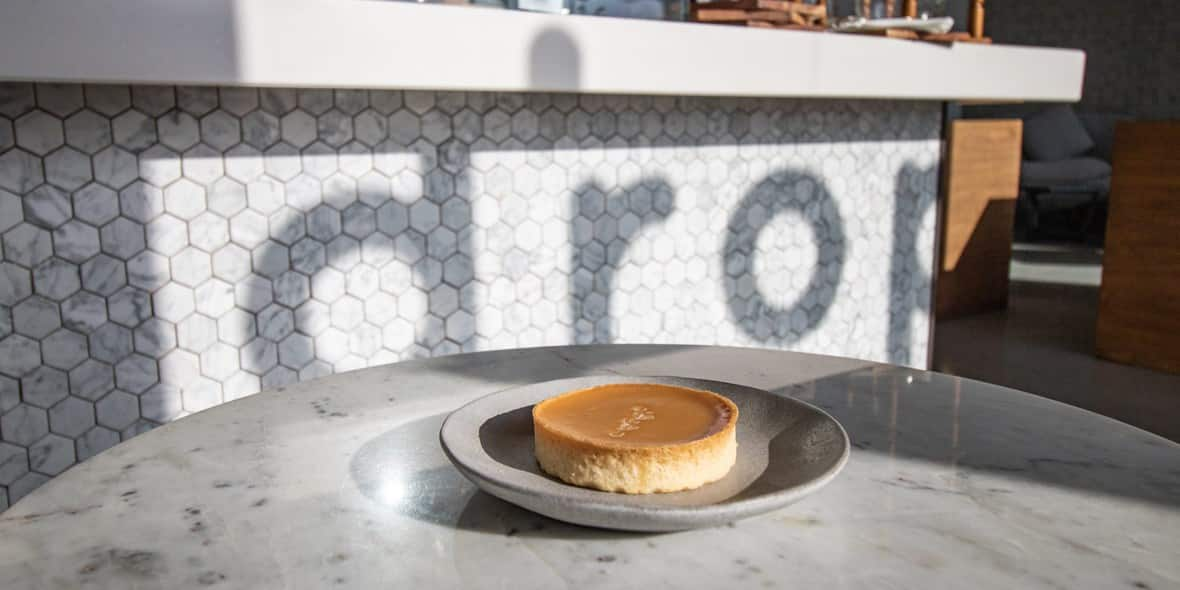 Coffee lovers will understand how seriously Drop takes the beverage when you learn they roast their beans in-house – an increasingly common practice in Dubai. Opened by Mahmood Al Khamis and Ghanim Al Qassim, Drop's two locations – in Dar Wasl Mall and The Dubai Mall – offer sanctuary to enjoy excellent speciality coffee in cool surroundings. Come for the Chemex coffee, and linger longer to try the buttery, flaky pastries.
5
The Espresso Lab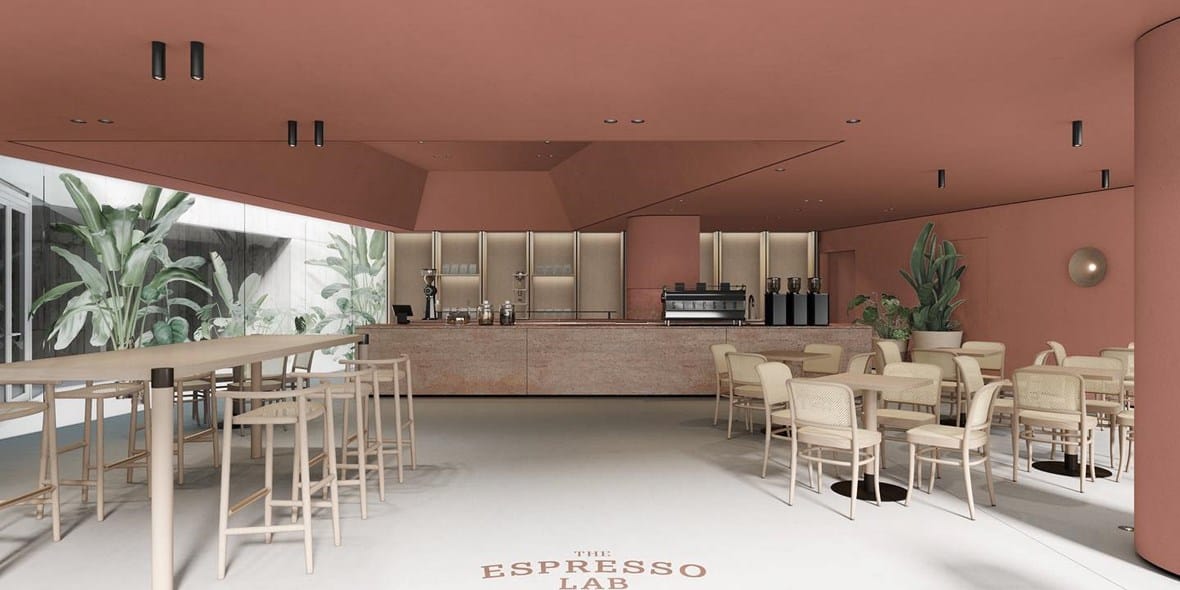 Based in Dubai Design District, it's no surprise that Ibrahim Al Mallouhi's The Espresso Lab goes all-in on a cool, ultra-minimalist design. The ethos extends to its products, too. While some food is offered, the focus is firmly
on the coffee
, with reviewers raving about its brews. The clean design and large tables make it a popular spot for meetings – provided everyone is equally serious about coffee.
6
Farmers Coffee
Organic, fair trade and sustainable offerings are the focus of Farmers Coffee. With beans roasted by Camel Step, an ethical coffee roaster in Saudi Arabia, along with guest beans from other speciality firms, Farmers is the place to get coffee, snacks and other drinks which are great for you and great for the planet – all served from a small outlet in
Al Khawaneej
. Ask them about their healthy, gluten-free Nutella cookies – you can thank us later.
7
Alchemy Coffee
If you've ever wanted to drink coffee while sitting on the bridge of a spaceship, then Alchemy is the place to do it. Within this futuristic interior, Alchemy's baristas brew coffee seven different ways, with beans sourced from single-origin farms and roasted in Dubai. Alchemy has quickly become one of Dubai's coolest coffee shops, and it's located right opposite
Dar Wasl Mall
 in Jumeirah. While the focus is on caffeine, there are a few light bites that are worth trying too.
8
The Coffee Lab
Located in Marina Cubes at Port Rashid, one of the most interesting spots in Dubai for enjoying a coffee or a meal, The Coffee Lab offers great speciality coffee and a view over one of Dubai's working ports. Enjoy a wide range of coffees (roasted locally in Dubai), have a pastry or two, and watch ships and yachts to your heart's content. Afterwards, you can stroll over to the historic
Queen Elizabeth 2 hotel that also shares an address at the port.
9
Qahwaty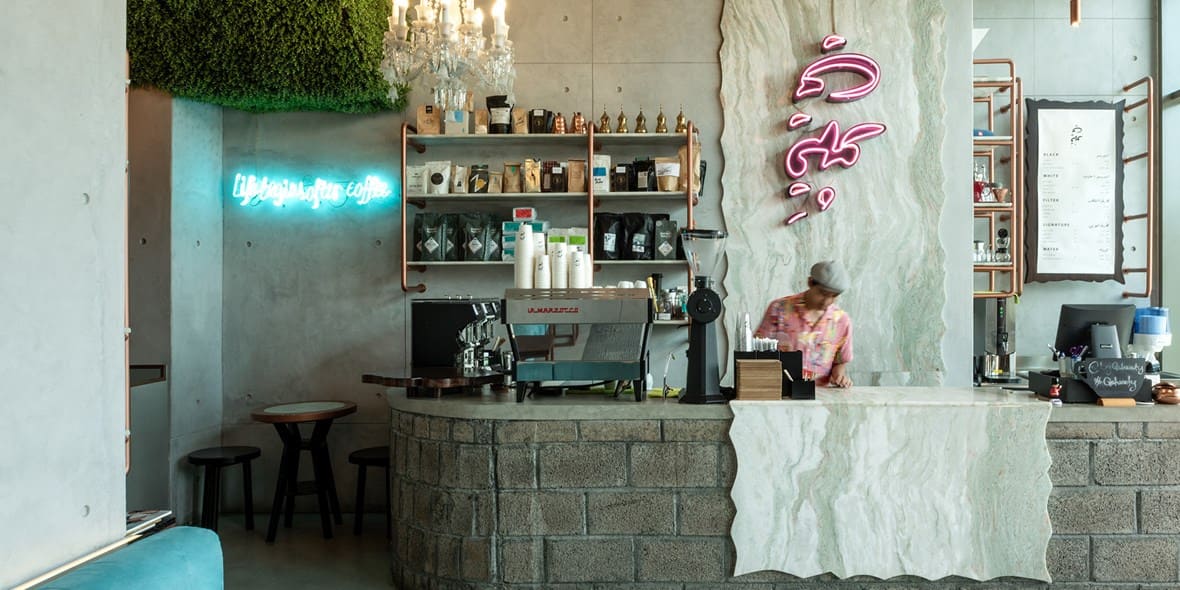 Choose Qahwaty for a very Emirati coffee experience. There's no fuss around food here, it is all about the coffee – although with creations including coffee over cornflakes, it's clear Qahwaty is anything but conventional. Each of Qahwaty's branches – at DIFC Gate Avenue, Mirdif 35 Mall or Al Quoz Pond Park – have their own style, but they all feature a traditional majlis-style seating area that's perfect for hanging out and catching up with friends.
10
Around The Block
Combining a love of coffee with a love of sneakers, Around The Block is a combination café-restaurant-sneaker studio. Aimed firmly at those who love their shoes, Around The Block, located at Wasl 51 on Al Wasl Road, comes from Emirati sneaker collector Ismail A Sharif. Come for a coffee or a meal, meet like-minded fans of Vans and more, and even get your prized shoes serviced in this slick space. We can't get enough of the truffle mac and cheese, the ATB French toast and house fried chicken!