Entertainment
7 puzzling escape rooms in Dubai
Gather your friends and test your problem-solving skills at these amazing escape rooms.
Gather your friends and test your problem-solving skills at these amazing escape rooms.
1
NoWayOut
Specialising in the magical and the mysterious, all of the rooms at NoWayOut in Jumeirah Lakes Towers are moody, dimly lit and really live up to their vibrant themes. Harry Potter fans will adore the School of Magic room, horror fans have to try The Ring based on the iconic movie of the same name, and the Da Vinci room is an absolute fan favourite. The brand has gone on to open escape rooms across Europe, along with another outpost in City Walk.
2
Phobia Escape Rooms
From an underground bunker to the home of a maniac, or a
post-modern museum
, Phobia at Jumeirah Lakes Towers lives up to its name with a range of fear-inspired thrills. Go ahead and face your fears. Afraid of the dark? The horror movie-inspired Dark Room will send shivers down your spine while you're locked in complete darkness. Alternatively, you can geek out in Vault, inspired by the popular
Fallout
computer game franchise. Book ahead to avoid disappointment and check twice as the brand has two separate venues in JLT.
3
Escape House
Things get even more interactive when there are live actors in the mix. Escape House (as you might guess) has a more homely setting in a villa on Al Wasl Road. The concept, however, is the same, with a 60-minute timer ticking down while you solve a series of puzzles and clues to find freedom. Make sure you have your
brave face
 on, because you'll also have the chance to secure footage of your daring escape through the creepy, foggy corners of the villa.
4
Escape The Room Dubai
While several of Dubai's horror-centric escape rooms have an adults-only policy, Escape The Room offers 
family-friendly
 games for puzzlers aged 12 and above. Even younger players can join in, but have to be accompanied by an adult – and parents might want to check some of the themes first. There are five themed rooms available, though Lost in Time is our favourite for epic sci-fi adventures.
5
Brain Game Dubai
Bucking the trend of only having hour-long puzzles, this brain-taxing escape room venue
in Jumeirah
 has 120-minute rooms. Does twice the time mean double the challenge? Get locked in and find out. Movie lovers will jump at the chance to re-enact moments from the film 
Se7en
, with a skin-tingling room of the same name. You can even take some of the action home, with a huge range of board games for sale.
6
Escape Hunt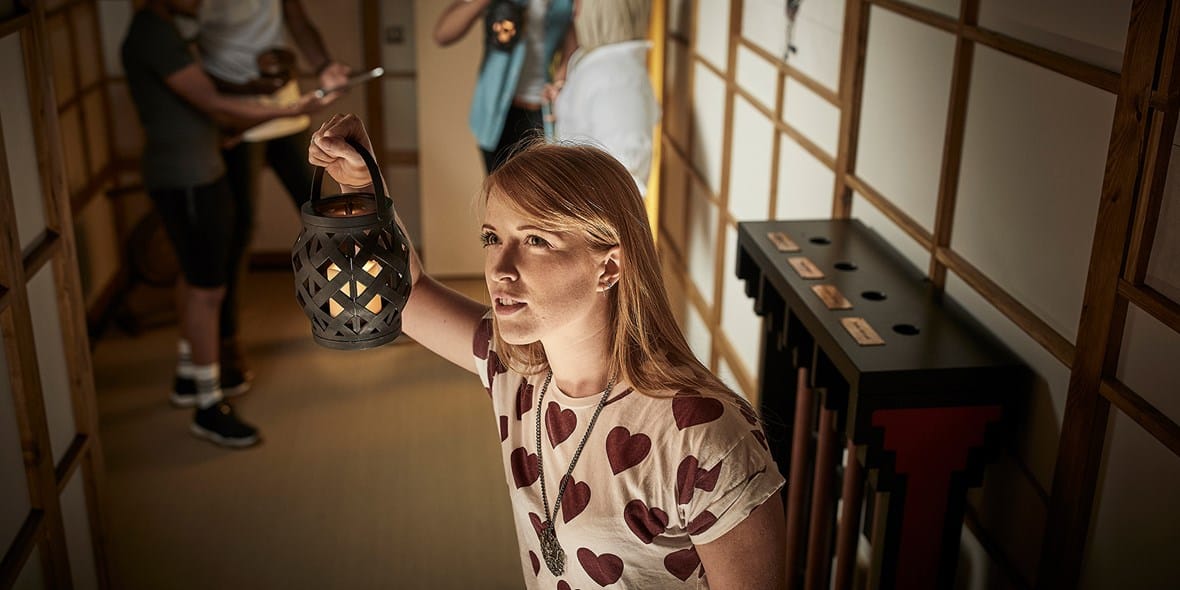 Get ready for all-out fun, themed around the classic noir-inspired Murder at the Mansion movie, to Harry Potter-esque scenarios with the School of Magic. Some games are even suitable for kids aged eight and up, although the onsite rooms are only for ages 14 and older. Escape Hunt also puts a twist on the traditional escape room experience, providing games and scenarios to play at home. You'll get a full list of everything you need, so you can try the experience wherever you are.
7
Hungarian Games
You might have visited Hungarian Games in
Al Quoz
 and not even realised that there are escape rooms on offer. The cosy cafe is popular as a board game haven, with hundreds of games available to try, and even a golf simulator to mix things up. When it comes to thrilling escapes however, the objective is familiar – find and decode clues, and puzzle your way to freedom in 60 minutes or less. The overall space can also host groups of 60 people, so get planning your parties.