Desert
From camel rides to sandboarding, gear up for incredible adventures at Dubai's golden sands with these top picks.
From camel rides to sandboarding, gear up for incredible adventures at Dubai's golden sands with these top picks.
1
Conquer the dunes in a 4X4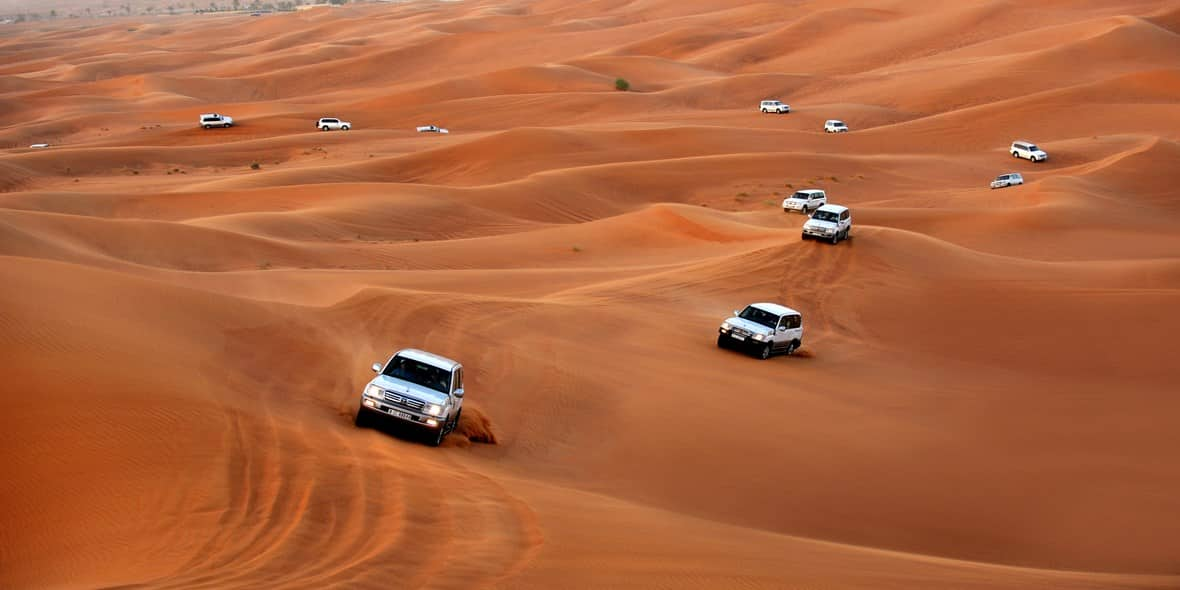 Go on an exhilarating offroad adventure in the middle of the desert. Take a four-wheel drive, an experienced driver, add some gigantic sand dunes and let the fun begin! It can be a little scary as the 4x4 skirts down the side of a towering dune, so it's wise to go with the experts if it's your first time. Sign up for the popular Evening Desert Safari at Arabian Adventures for a convenient way to sample all the desert has to offer. Begin the tour with a fun drive through the sands at dusk before arriving at a Bedouin-style camp for a lavish Arabian buffet and live entertainment. Afterwards, when the camp lights are extinguished, everyone basks in the serene stillness of a star-lit desert sky.
2
Meet the ships of the desert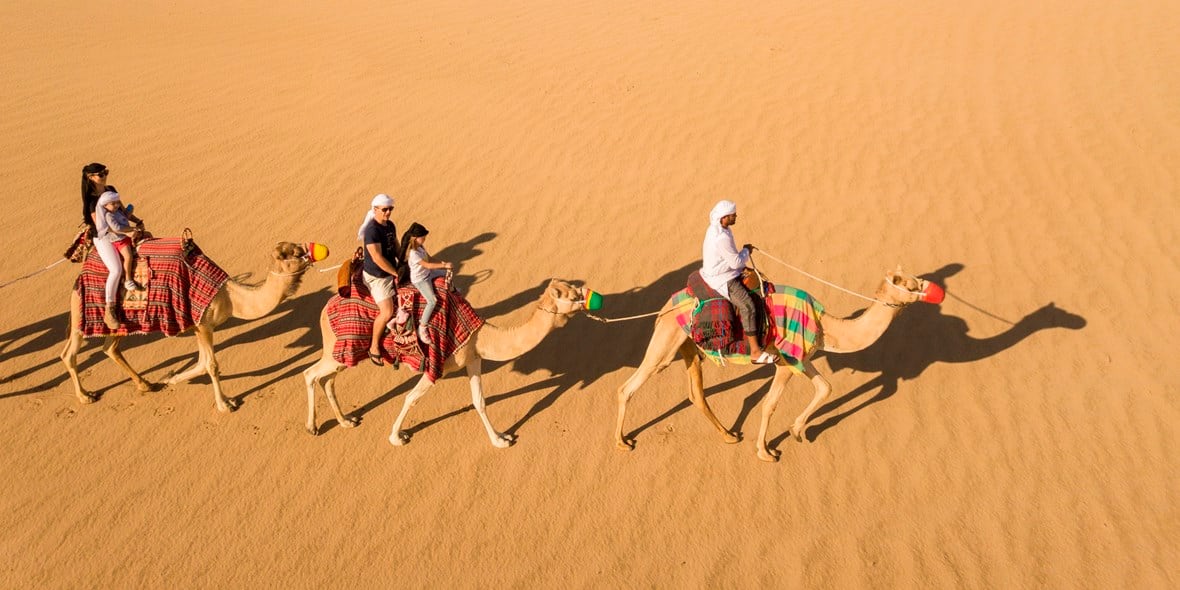 Delight the little ones with a camel encounter offered by many of Dubai's best desert experiences. For a longer ride, ensure you book a special tour such as the Camel Desert Safari with Platinum Heritage. After a short drive to the Dubai Desert Conservation Reserve, you'll climb aboard your dromedary (one hump) camel for a trail-style trek at sunset. You'll spot varieties of desert flora and fauna along the way, such as the Arabian gazelles and oryx, plentiful in the reserve. For a more in-depth take on Bedouin life, head to Al Marmoom Bedouin Experience. Here, deep in the desert sands, you'll see first-hand how desert dwellers survived the sands. 
3
Try some action-packed adventure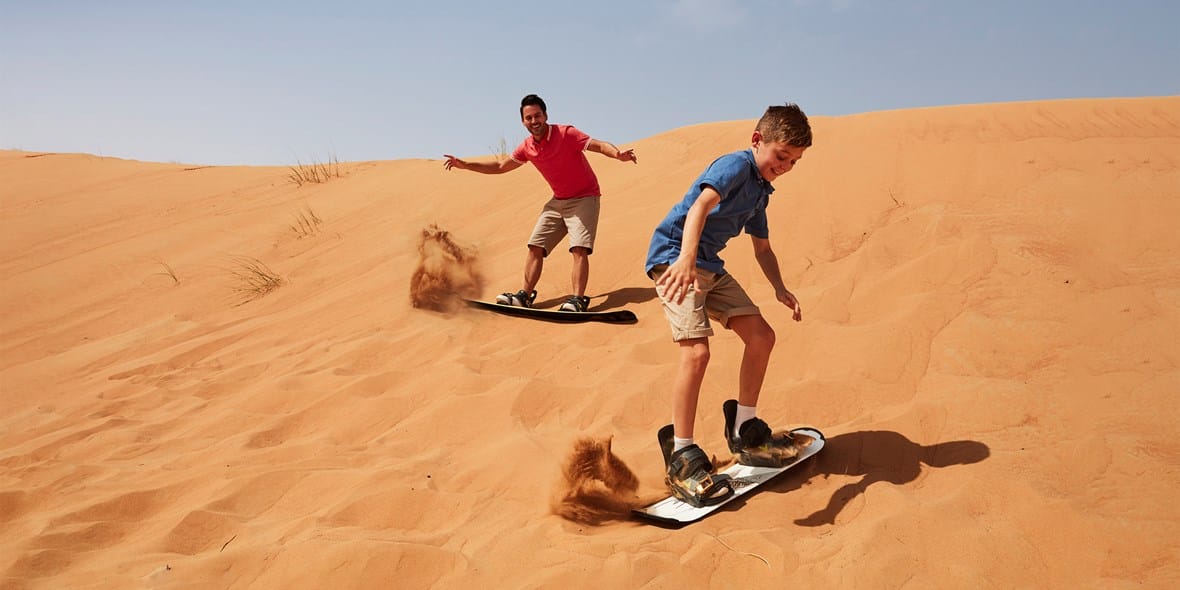 If you thought all you could do in the desert is drive, think again. Try sandboarding, or dune-surfing as it's also known, for an exceptional thrill. If you are travelling with young kids, this is one of the safest experiences and sees the rider glide down soft, sandy slopes. Many tour operators offer sandboarding as part of their desert offerings, including Orient Tours. Teens may prefer quad-biking where they can drive across dunes in their own roaring four-wheeled bike. For a once-in-a-lifetime treat, book a sunrise hot air balloon ride over the desert with Balloon Adventures. Be thrilled as you soar up 4,000ft as the sun rises over the dramatic Hajar mountains in the distance.
5
Get on your bike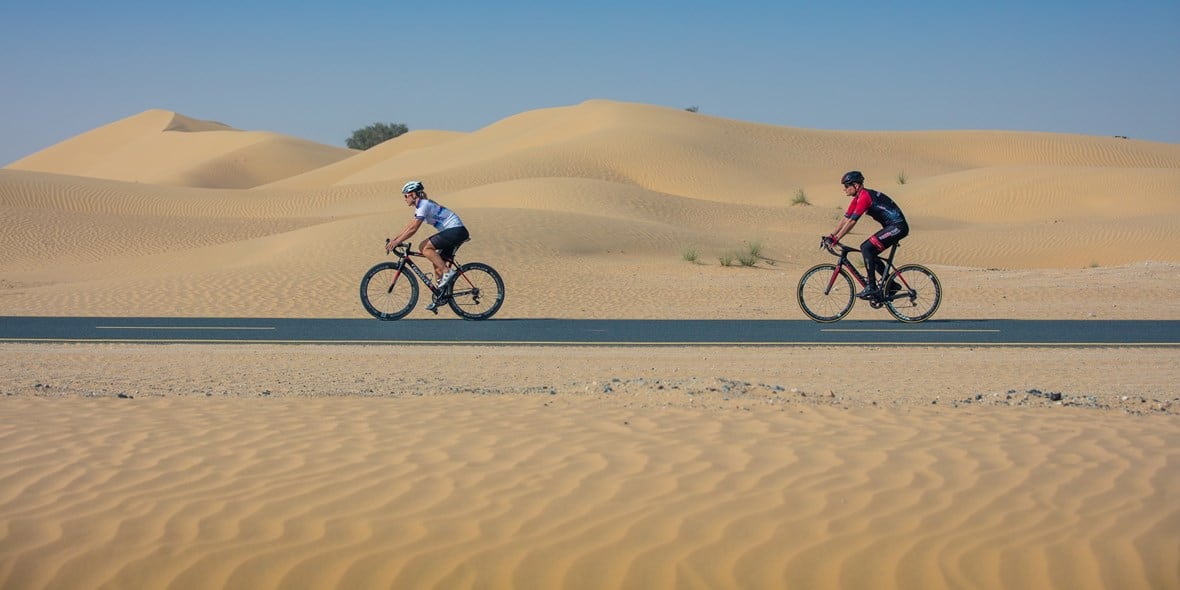 Grab the kids and explore the desert on two wheels at Al Qudra Cycling Track. The destination is popular among Dubai's adventure seekers and fitness enthusiasts, and is suitable for the whole family. With 86km of smooth track and amazing views of the desert, you might even catch a glimpse of local wildlife along the way. Some say that the best time to ride is at sunrise for incredible views and a pleasant morning breeze. Trek Bicycle Store, located at the end of Al Qudra Road, is a great place to rent your bike. Part of the track has road access for cars, but most of it is reserved for cyclists.
6
Cheer for your favourite camel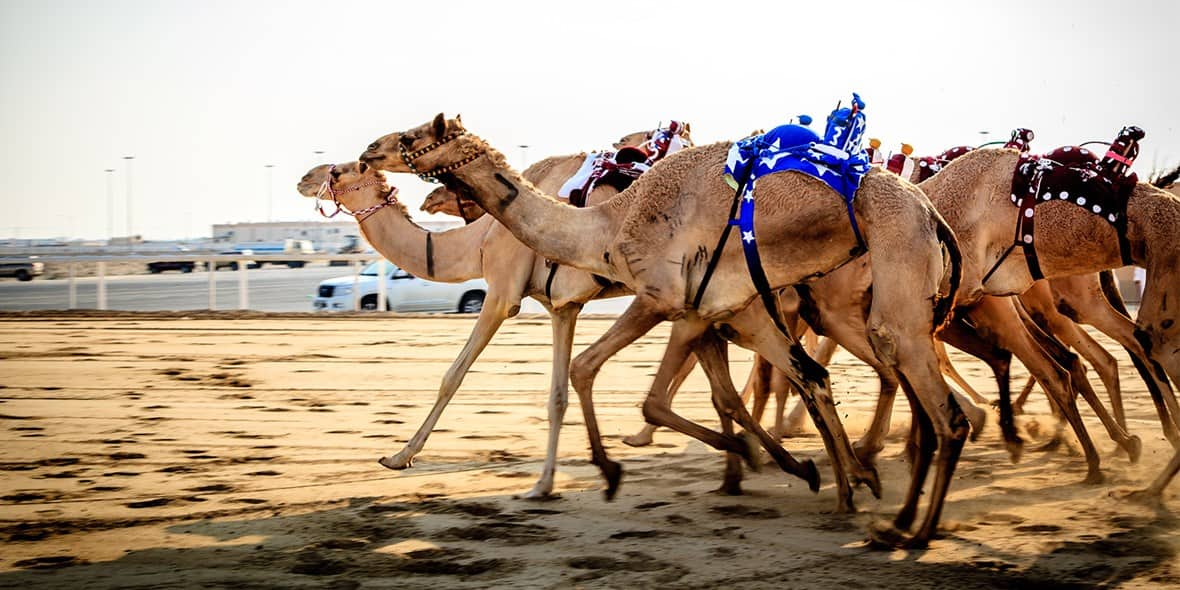 If riding the humped beasts isn't fast-paced enough for young adventurers, then a day at the camel races is sure to ramp the excitement up a notch. The Dubai Royal Camel Racing Club is a great place to experience the heritage sport. Located half an hour's drive from the city, it attracts camel owners from across the UAE, and even some from neighbouring countries. Drop in early, and the kids will have the opportunity to pet the camels and take photos with them. The club is home to the city's largest track, Al Marmoom Camel Race Track, which is a hive of activity during winter's racing season.
7
Plan a lakeside picnic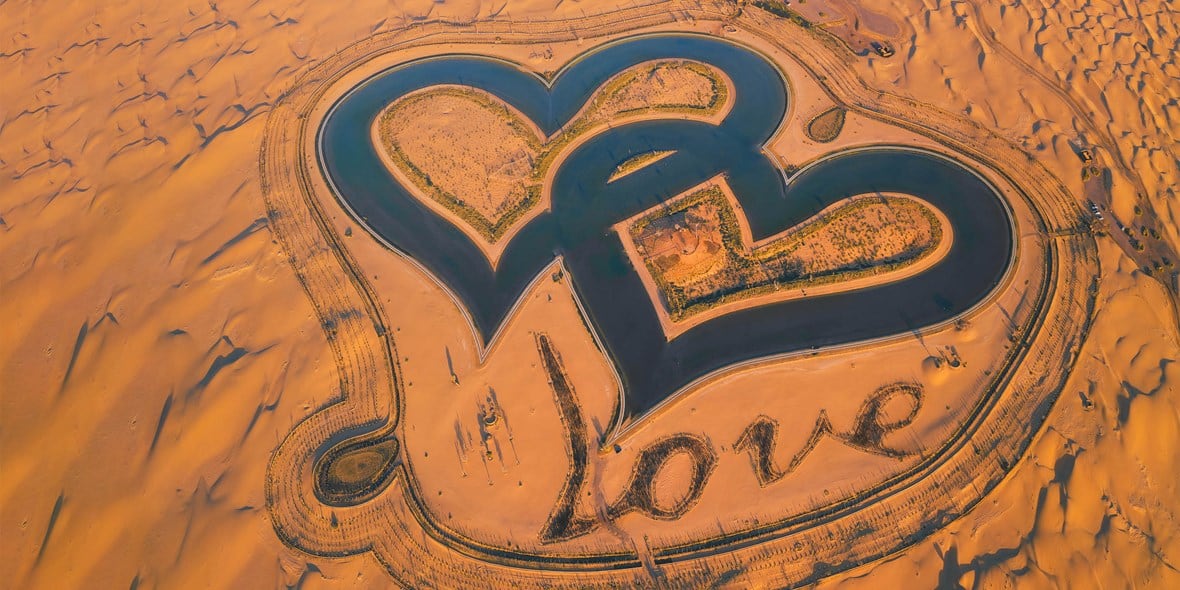 Take the tribe out to the stunning Love Lake Dubai at Al Qudra. This popular spot consists of two large, inter-connected heart-shaped lakes, which inspired its name. With plenty of parking, visitors can picnic or set up barbecues in designated areas and take in the scenery – just remember to clean up afterwards. If there's some extra energy to burn off, kids big and small can pack a football for a kick about. Watch the spectacular sunset from this venue where everything is dedicated to love. For example, sculptures of hearts and even trees are manicured in a way to spell out the word 'love' when seen from above.
8
Go wildlife spotting in the desert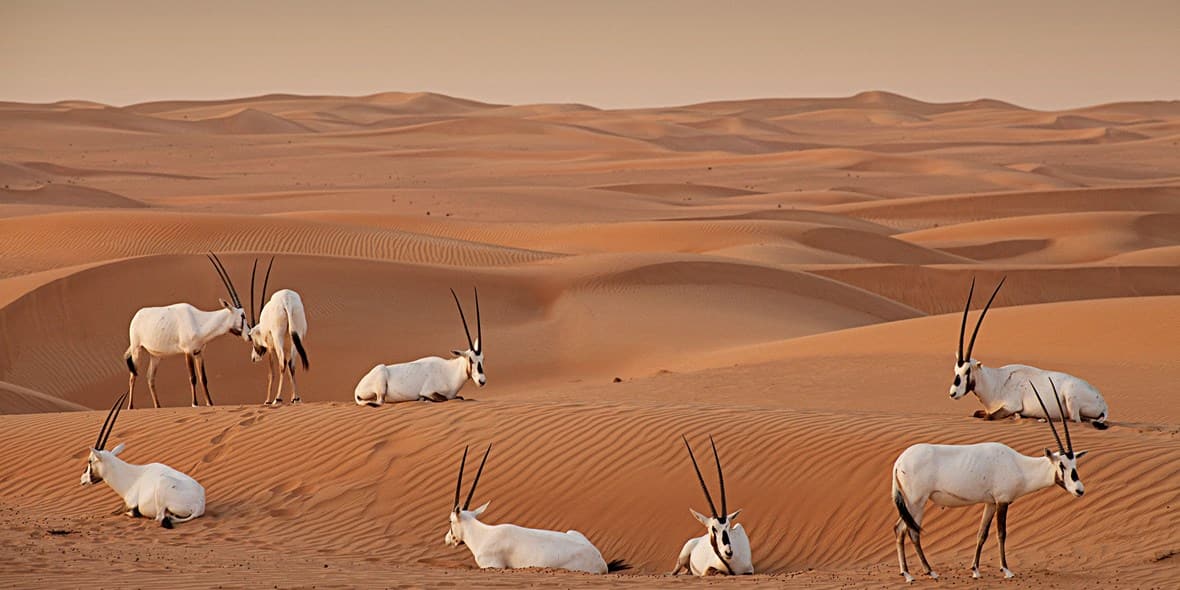 Oryx, gazelles, camels and birds – the desert is home to a range of natural inhabitants. Once considered extinct, the Arabian oryx has been successfully saved after dedicated breeding programmes and re-introductions in several areas across the UAE. Observe the oryx, and other native species, wander around freely in the protected Dubai Desert Conservation Reserve, which accounts for 5% of the emirate. To ensure minimal impact on the environment, only select tour operators can organise visits here, including Arabian Adventures, Alpha Tours and Platinum Heritage.
9
Enjoy fine dining under the stars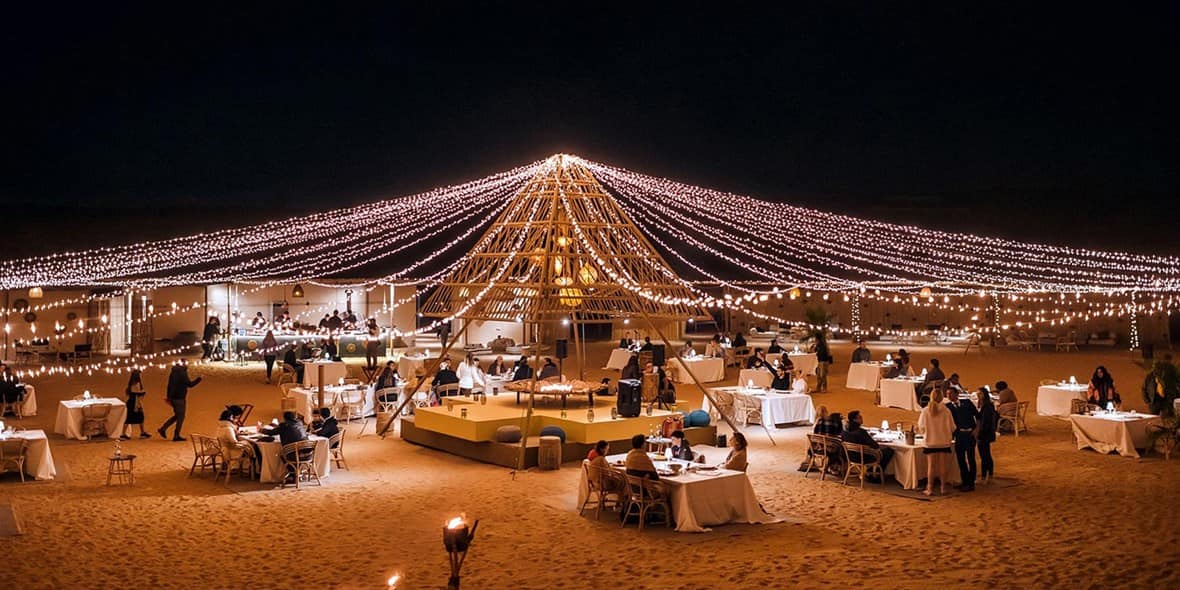 Relax on a hammock surrounded by the serene desert at Sonara Camp. In the evenings, this popular desert restaurant delights with an elaborate fine dining menu, sided by live entertainment and ambient lighting aplenty. French chef Franck Sanna's menu blends regional and western flavours, with special options for kids to choose from. There's even a dedicated Sonara Kids Camp where little ones can play volleyball, try soft archery and watch a movie under the stars. It's the perfect choice, for all ages.