Food & Drink
Must-try Arabian desserts in Dubai
From the moreish luqaimat to the rich Umm Ali, why not end your meal with some Arabian sweets?
From the moreish luqaimat to the rich Umm Ali, why not end your meal with some Arabian sweets?
1
Maamoul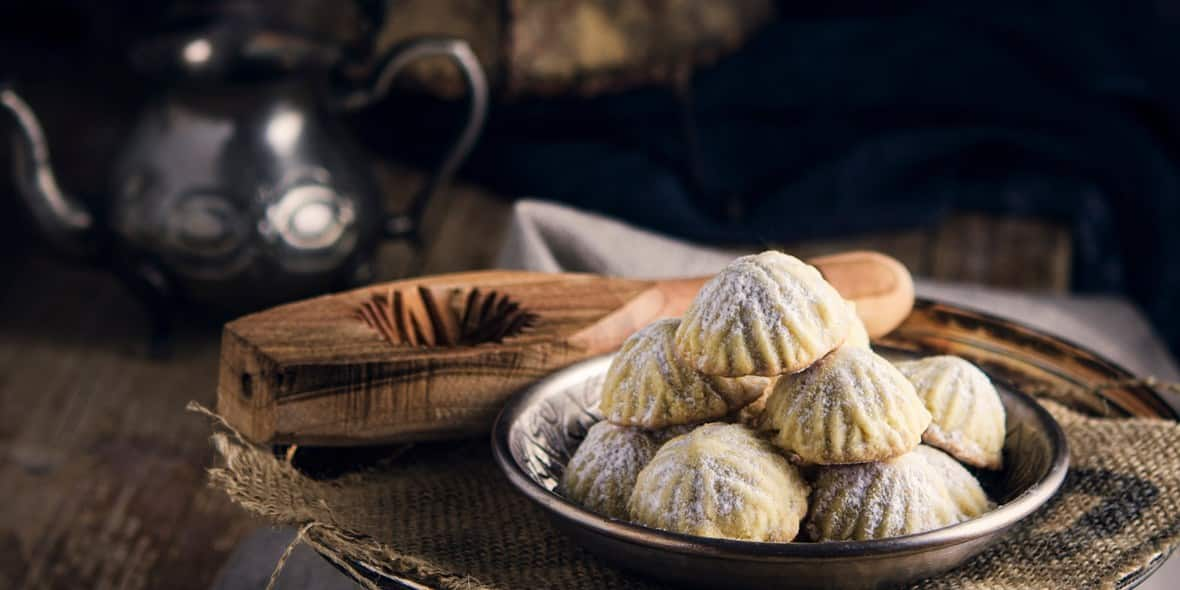 Flour, dates, spices and honey are essential ingredients for most Arabian sweets, and every Emirati grandmother has a secret recipe that's been handed down through generations. Likewise, the spiced date cookies called maamoul are sure to be found served in heaping piles in every majlis (a room for hosting guests in an Arab home). They are usually stuffed with date paste and crushed nuts, and pressed into decorative moulds before baking.
2
Umm Ali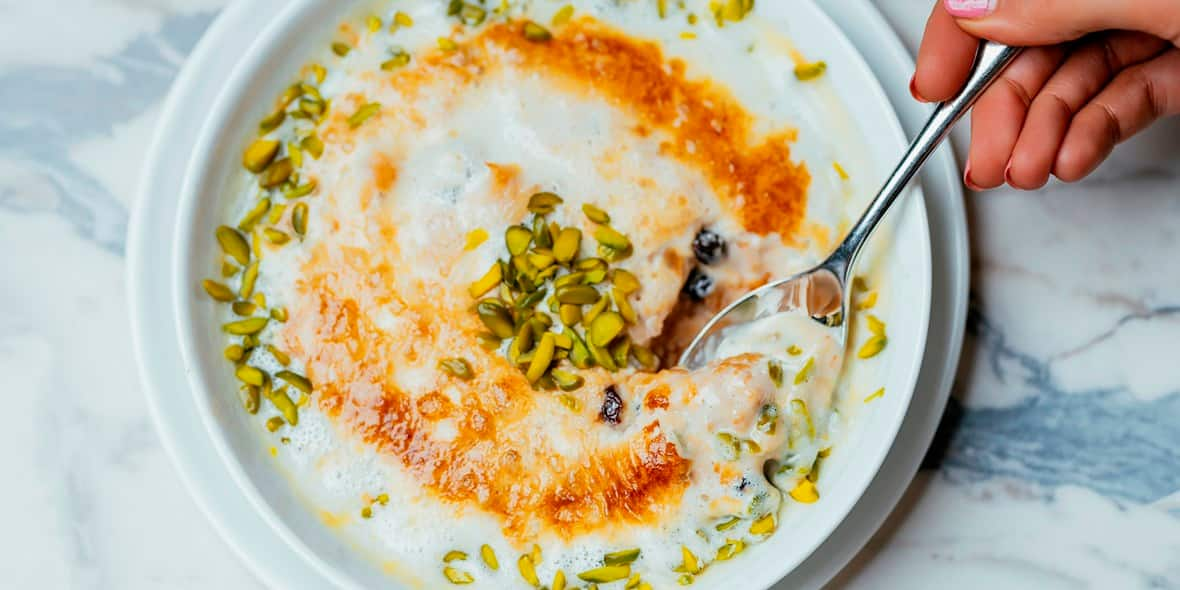 At the gastronomic core of Arabia lies the dreamy Umm Ali. Translating to 'Ali's Mother', it's a popular dessert served during Eid celebrations and other holidays. This deliciously creamy bread and butter pudding is slightly differently to the kind eaten in the West, with puff pastry or torn-up croissants layered in a large dish with pistachios, dried coconut flakes and sultanas or dates. A mixture of milk, cream and sugar is then poured over the top before being baked.
3
Basbousa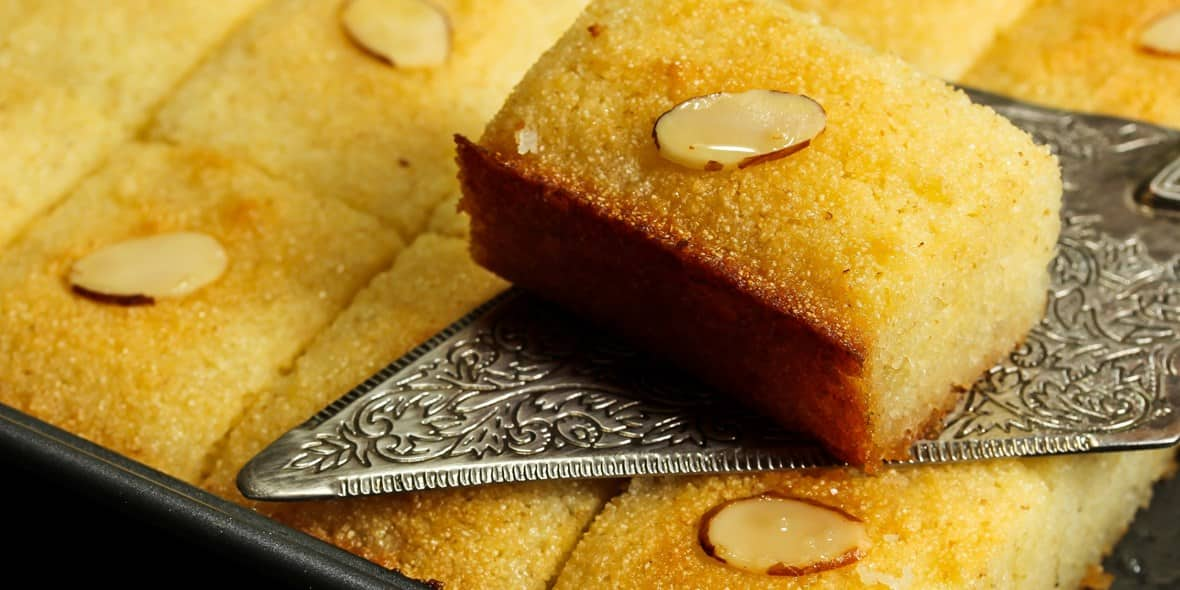 A traditional Levantine cake, basbousa is commonly eaten after family meals. It's quite a simple recipe, mostly made from semolina and sometimes powdered coconut, soaked in syrup and garnished with blanched almonds. Mild in flavour and surprisingly light, it's an easy option to make and eat compared to other regional treats. Variations can include a honey glaze, the addition of rose water or orange blossom water to give the batter a soft floral scent.
4
Chebab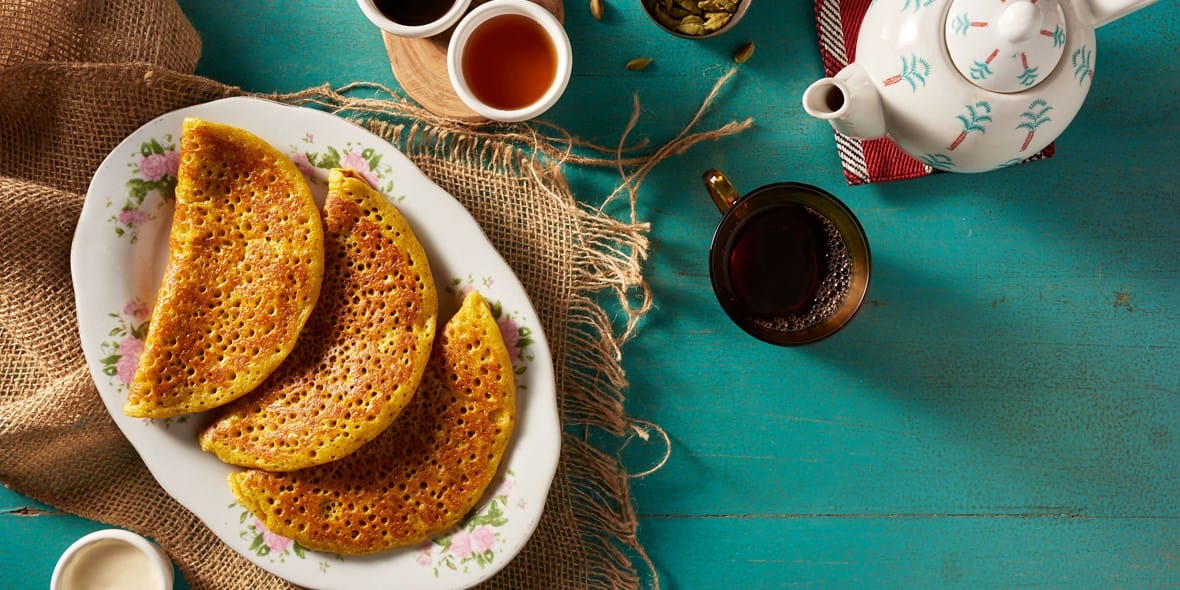 The mere mention of this tasty breakfast treat elicits squeals of delight. An Emirati favourite, this local version of pancakes is an unsurprising hit with all ages. Every restaurant that serves chebab has its own closely-guarded recipe, which usually involves taking the classic pancake batter of flour, sugar and eggs, and giving it a serious spice infusion with generous helpings of turmeric, cardamom and saffron. A few quick pan flips later and the fluffy, golden delights are ready to be served with a drizzle of sweet date syrup.
5
Khameer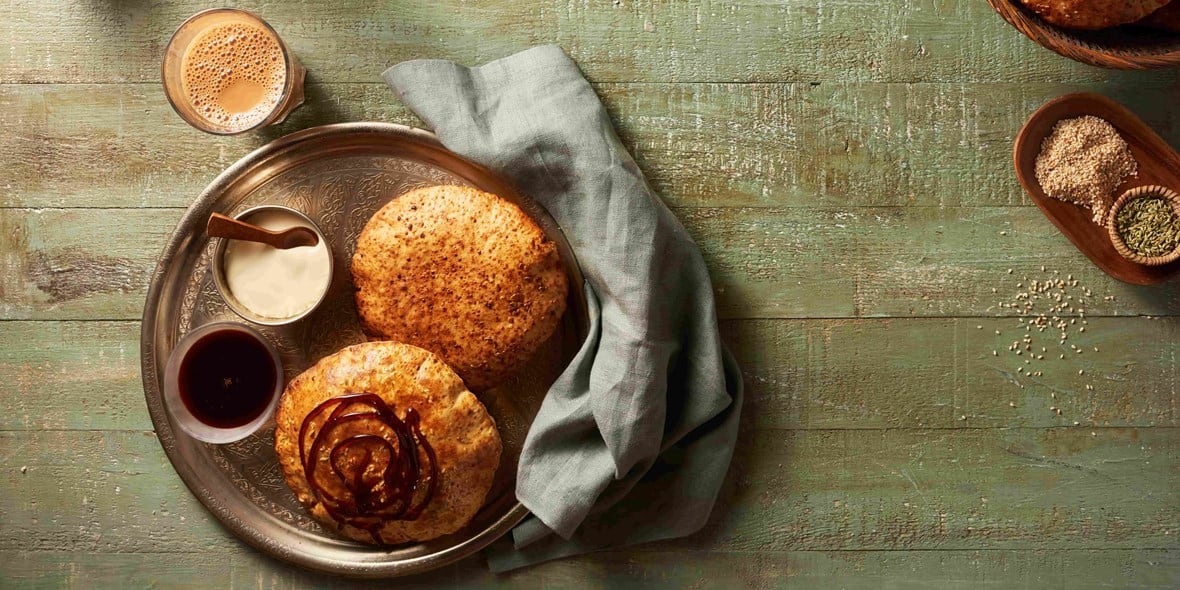 Now here's a delicious bread with decades of history. Starting out as little dough balls made from wheat or barley, there are many variations of khameer (yeast) bread. Bakers can include dates, saffron and hints of turmeric for added flavour. Once baked, they resemble puffed up buns and are served with local honey and cheese. A number of hip Emirati eateries have tweaked the humble khameer to appeal to contemporary tastes, with combinations that include Nutella, peanut butter and jam, and sweet apple pie.
6
Luqaimat
A favourite at Arabian buffet spreads, luqaimat are deep-fried dumplings that are crispy on the outside, yet soft and fluffy on the inside. Meaning 'bite-sized' in Arabic, they are often served as a precursor to more substantial desserts. Made with flour and yeast, the dumplings are flavoured with cardamom and saffron for a distinctive taste. After frying, these doughy balls are drizzled with plenty of date molasses (known as dibs) and sprinkled with sesame seeds before serving. Try it at HumYum in Umm Suqeim.
7
Kunafa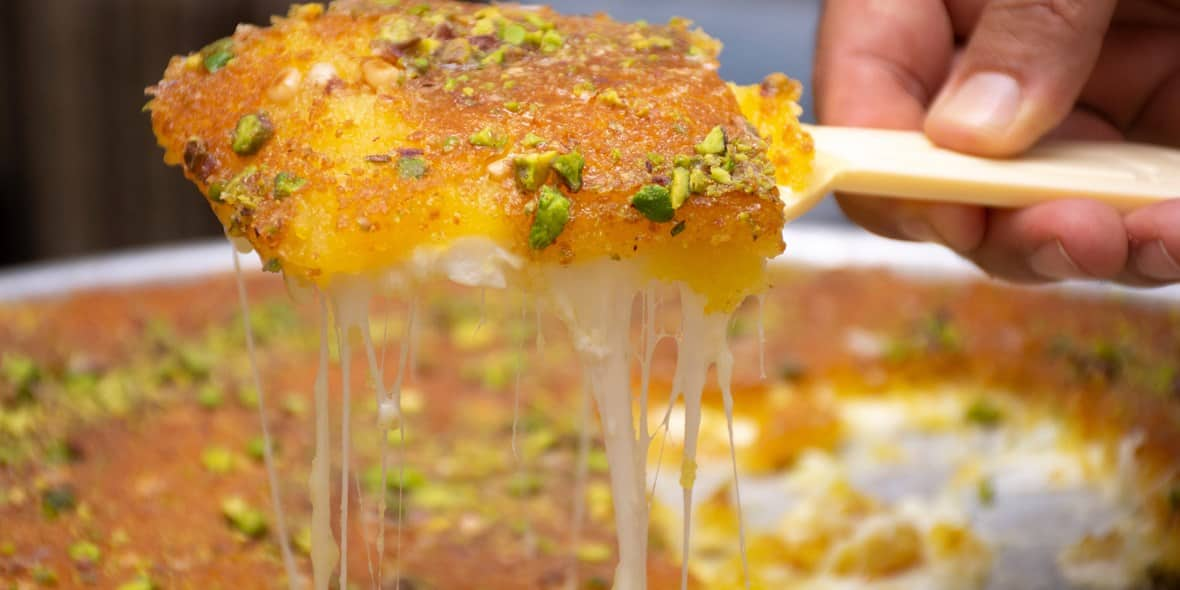 One of the region's favourite dishes, kunafa is readily available from Emirati and other Arabian restaurants. The dish is made up of a thick layer of mild white cheese, which is topped with crushed vermicelli noodles or shredded wheat. Best served piping hot and soaked in a plain or rose-flavoured sugar syrup, many eateries boast their own version of the dessert. Kunafa is also a popular breakfast food, with Arab restaurants serving it from their shop windows in Old Dubai.
8
Muhalabiya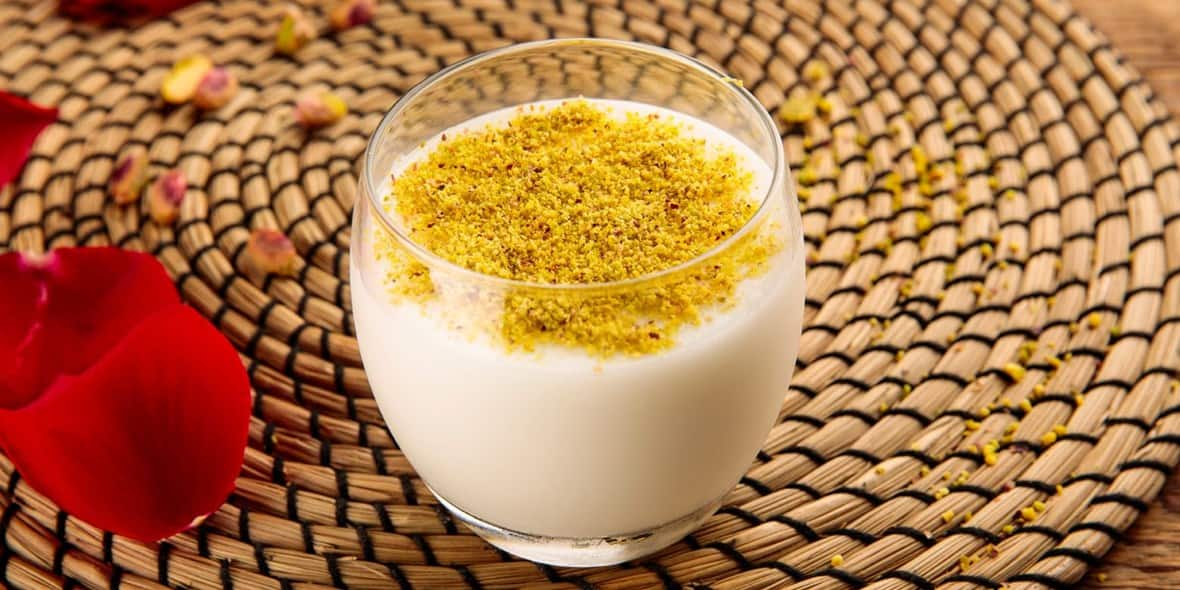 Muhalabiya – which is also known by many regional variations like muhallebi, is as creamy as it is sweet and refreshing. Its base ingredients include rice, milk, sugar and syrup – often made with rosewater, which is what gives it a distinctive flavour. The pudding is usually topped with pistachios for added appeal, crunch and flavour. A beloved treat among residents, muhalabiya is not hard to find in the city. You may come even across it in the dairy aisle at popular grocery stores in Dubai.
9
Baklava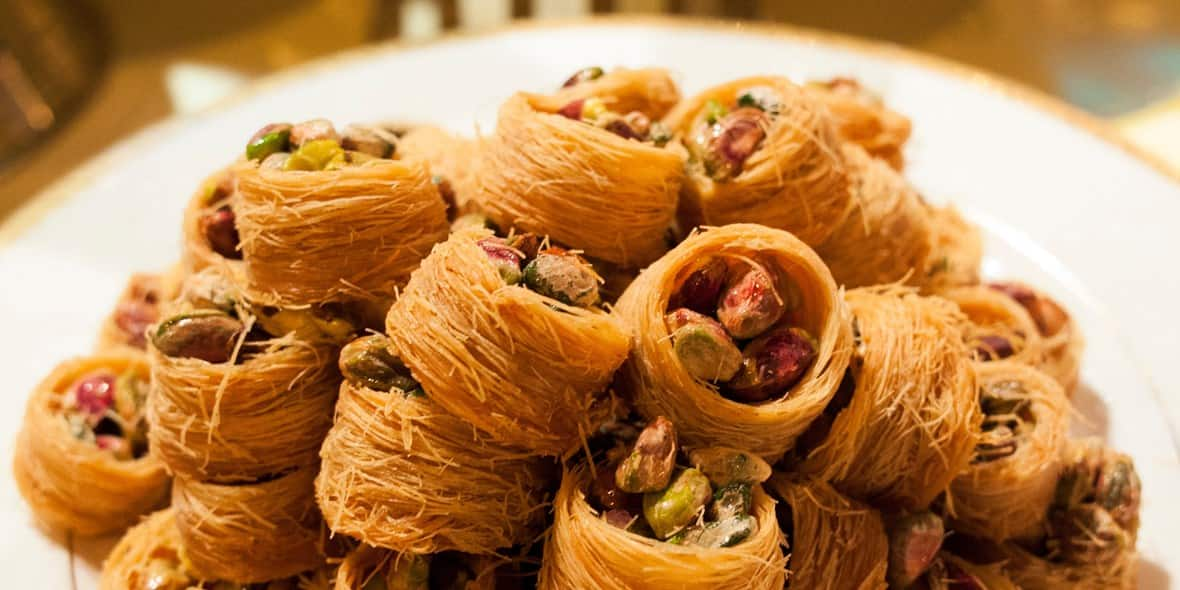 Perhaps one of the best known desserts from the region, baklava takes on many delicious forms. The multi-faceted dessert, which originated in Turkey, is crafted from filo pastry, stuffed with an assortment of nuts and drenched in sticky, sweet honey. Dubai boasts some of the finest sweet shops that specialise in traditional baklava. Try the different varieties and then pack your favourites in pretty gift boxes, ready to be taken home and shared with family and friends.