Food & Drink
The best food halls in Dubai
Adding a new spin on the traditional food court, Dubai is seeing a boom in the food hall scene. Find out where you can mix and mingle over flavours from around the world. 
Adding a new spin on the traditional food court, Dubai is seeing a boom in the food hall scene. Find out where you can mix and mingle over flavours from around the world. 
1
Depachika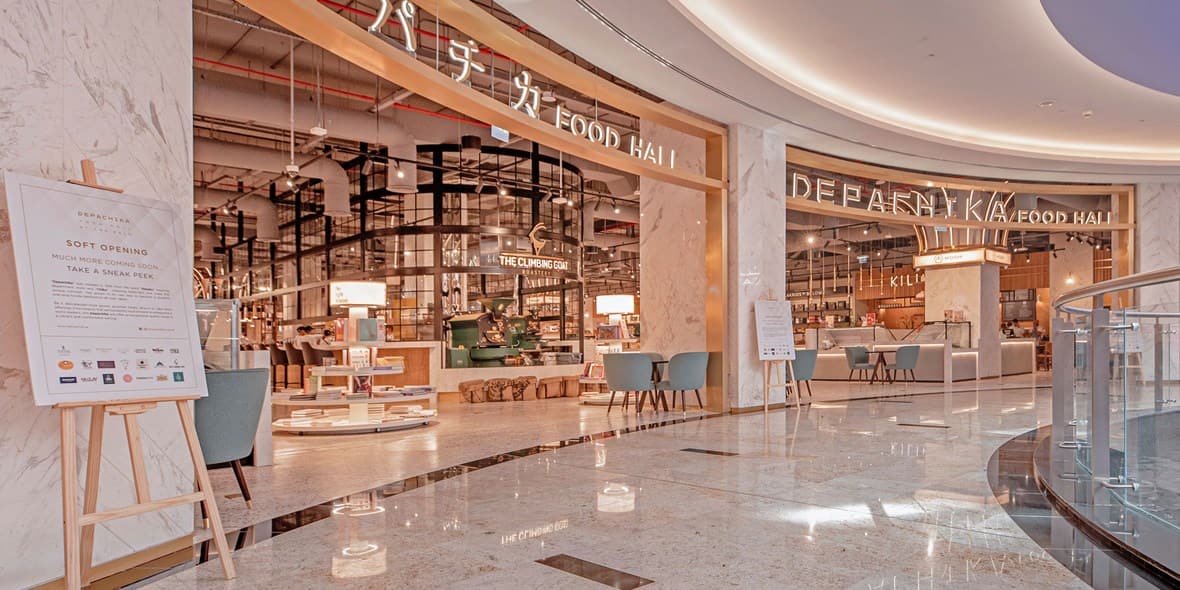 Inspired by Japanese eating areas commonly found in department stores and train stations, Depachika Food Hall at Nakheel Mall aims to deliver an experience beyond just providing food. Instead the focus is on offering a more interactive, personalised artisanal experience. This means that alongside homegrown outlets such as Lime Tree Café, Salmontini, Moishi Ice Cream, Sugarmoo and more, there is the Mamalu Kitchen where visitors can book a range of cooking classes. Expect fun food-themed events as well, including
chocolate tastings
, bakery sessions and live entertainment.
2
South Market food hall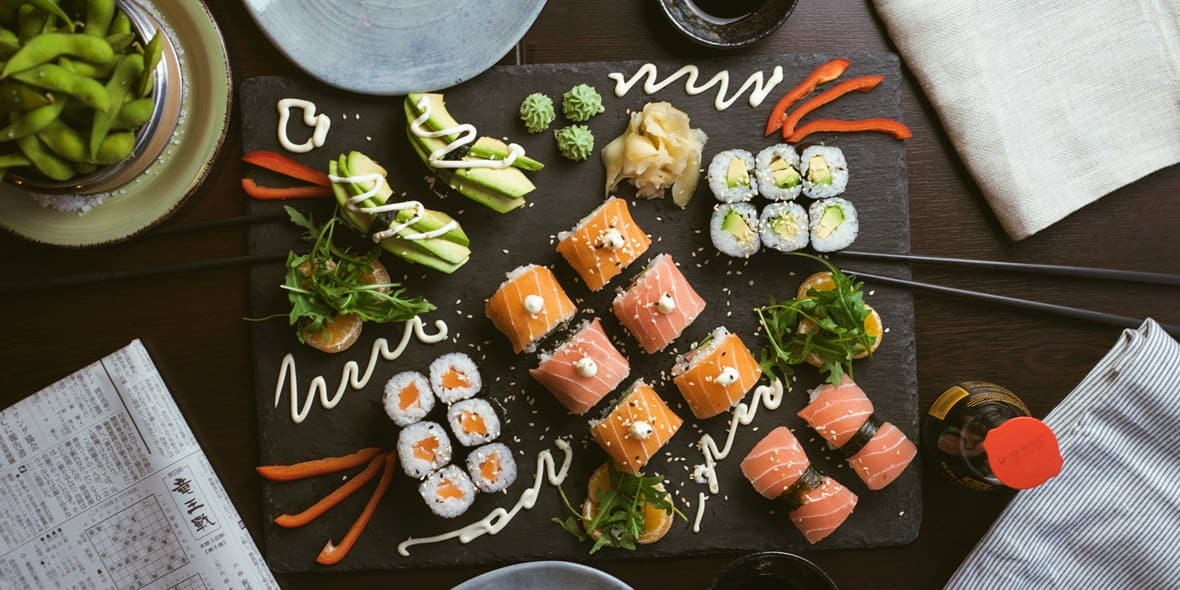 The Dubai International Financial Centre is home not only to some of the biggest names in global finance, but also high-end and boutique retail outlets and upmarket dining establishments. Located at Gate Avenue, South Market aims to similarly elevate the centre's casual dining options, featuring Burritos Beyond Borders, Katsu & Co ramen, Bahiya's Egyptian street food, and healthy fare at Earth Kitchen – with plans to rotate the dining options regularly. The setting is just as refreshing with exposed ceilings, steel beams, street art and concrete accents,
 making this modern-day marketplace the perfect pit stop.
3
Time Out Market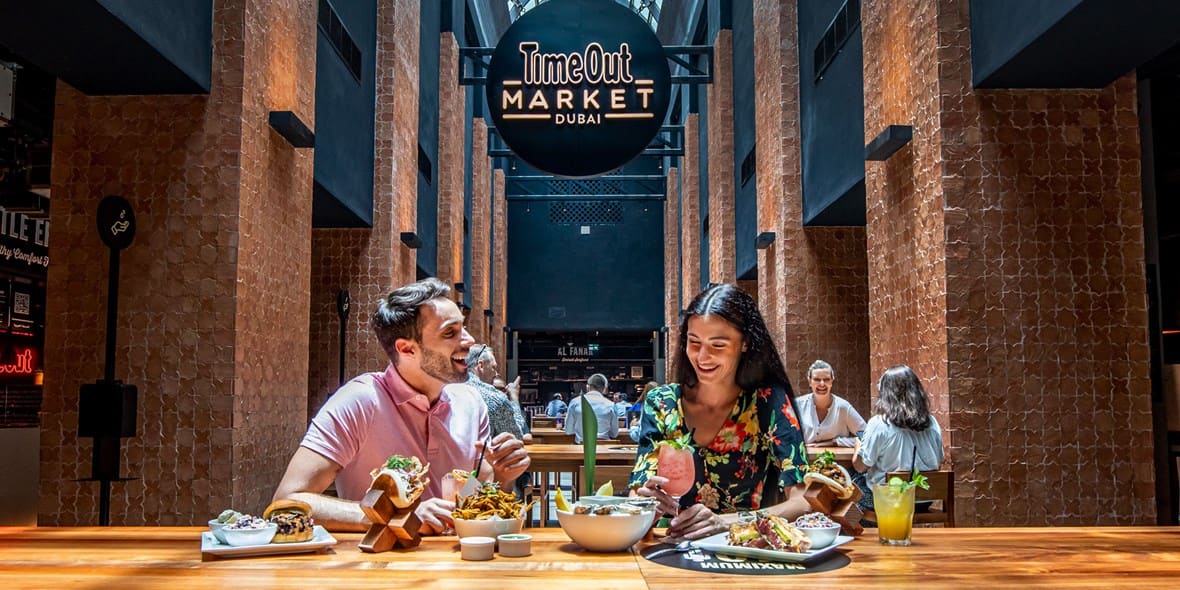 Best known for its local listings magazines in almost every major city in the world, Time Out also operates Time Out Markets in New York, Boston, Montreal and elsewhere – with Dubai now part of the esteemed fold. Curated by the Time Out Dubai team, who know a thing or three about the best places to eat in the city, Time Out Market Dubai at Souk Al Bahar features 17 different outlets from the city's best food providers, including award-winning MASTI, folly, BB Social Dining, Vietnamese Foodies and Boon coffee. Come here to see the best of Dubai's culinary talent shine.
4
Food Central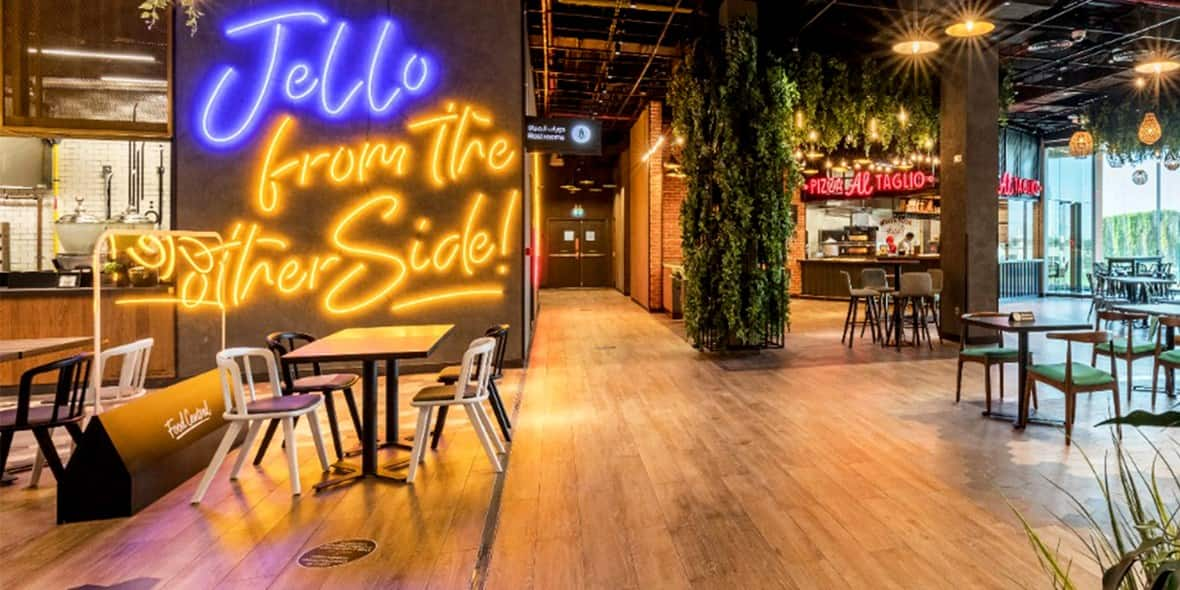 City Centre Deira has continually reinvented itself over the years, and its latest innovation is Food Central, on the eastern side of the mall. Dining options include film-inspired Kitchen 35, The Acai Spot, BKK Bistro, Balqees Honey, a dedicated Nutella outlet and more. Huge windows give the greenery-infused seating area great views to Downtown Dubai's skyline, and TUBE Dubai – a series of climbable nets suspended from the walls and ceiling – can give diners a new perspective on things.
5
Downtown Kitchens
Downtown Kitchens is an artisanal market hall in Fountain Views on Sheikh Mohammed bin Rashid Boulevard that combines an eclectic mix of homegrown and international culinary talent. Check out Truffle House, Dubai's first speciality truffle shop, enjoy pizzas at Pizz'art,
Instagram-worthy breakfasts
 at Hampstead or go all out with creative desserts at Reyo. There's plenty to savour, including speciality coffee brews. This is a great spot to refuel after a day of sightseeing in Downtown Dubai, with direct access to
The Dubai Mall
 through a link bridge from Fountain Views.
6
The Guild
Local chef extraordinaire Tom Arnel is set to transform the city's dining scene with the launch of The Guild later this year. Spanning an impressive 15,000sqft of space at ICD Brookfield Place in Dubai International Financial Centre, the new venue is quickly taking shape to serve up eight of the best homegrown brands, each with its own unique offering. Names are still are under wraps but we're expecting an interesting, tasty showcase of the world's most exciting food trends, executed by some of the city's best.
7
Al Areesh Club
Al Areesh Club is a health and sports club in Dubai Festival City, so opening a food hall is something of a departure from its normal offerings – although it fits well with Al Areesh's mission to promote wellbeing. The stylishly minimalist space is host to a few carefully created options, including B&B for top-quality meat, Earthy Blend offering the freshest possible deli selection, as well as a bakery, coffee outlet and Twisty Treats' soft-serve ice cream and gelato. Al Areesh Club is just a short drive away from
Dubai Festival City Mall
, so you can combine a visit with an afternoon of shopping.
8
Streetery Food Hall
Stepping into Streetery in the neighbourhood of
Jumeirah Lakes Towers
 is the closest it's possible to get to an Asian-style hawker food market in Dubai. Every aspect of its food, theme and aesthetic is drawn from the food stops of Singapore or Kuala Lumpur, down to the plastic stools in the lakeside seating area. While the range of outlets is limited – Zen for Thai food, Hing Kee for barbecue and grills, and Fat Aunt's for curries, dim sum and noodles – the range of dishes and flavours on offer is vast, and truly authentic. If you're craving Asian cuisine but can't pick just one, then Streetery is right up your alley.
9
The Daily DXB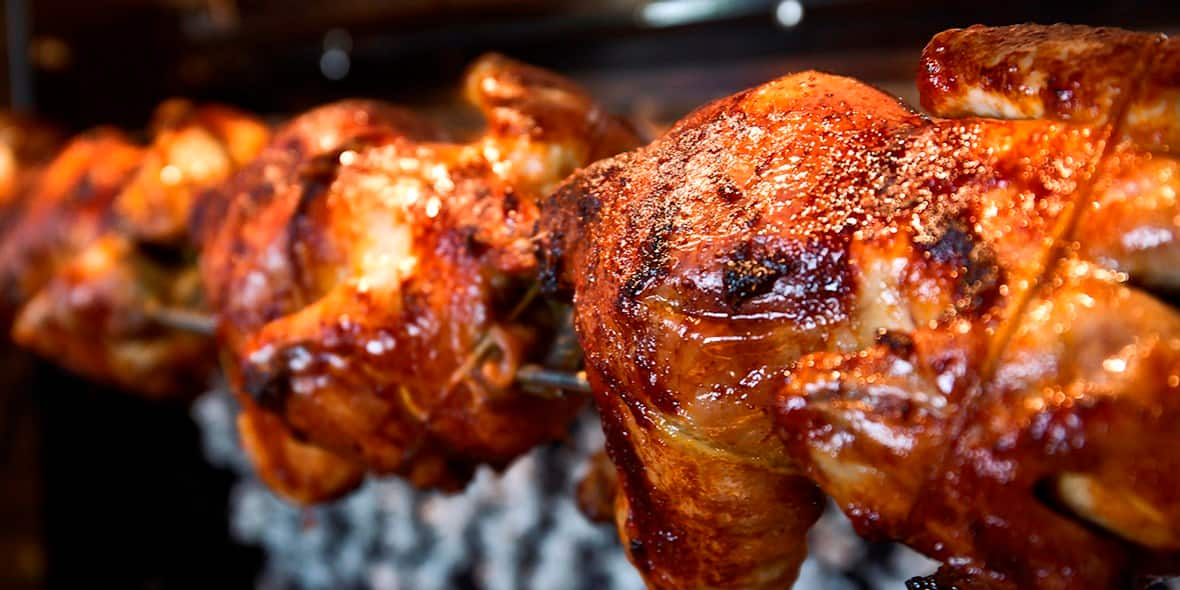 One to keep an eye out for when you're leaving Dubai, The Daily DXB at Dubai International airport is a small but perfectly formed food hall in Concourse B. It features fried chicken from The Roost, freshly-cooked Asian dishes from Walk the Wok, St Mia's Italian cuisine, and healthy Hawaiian-style poke bowls from Wanna Poke, as well as fresh pastries to take away for onboard snacking. The Daily DXB is open 24 hours a day, so it's a great way to get your last fix of
Dubai's vibrant food
 scene before your flight.
10
Social Distrikt Dubai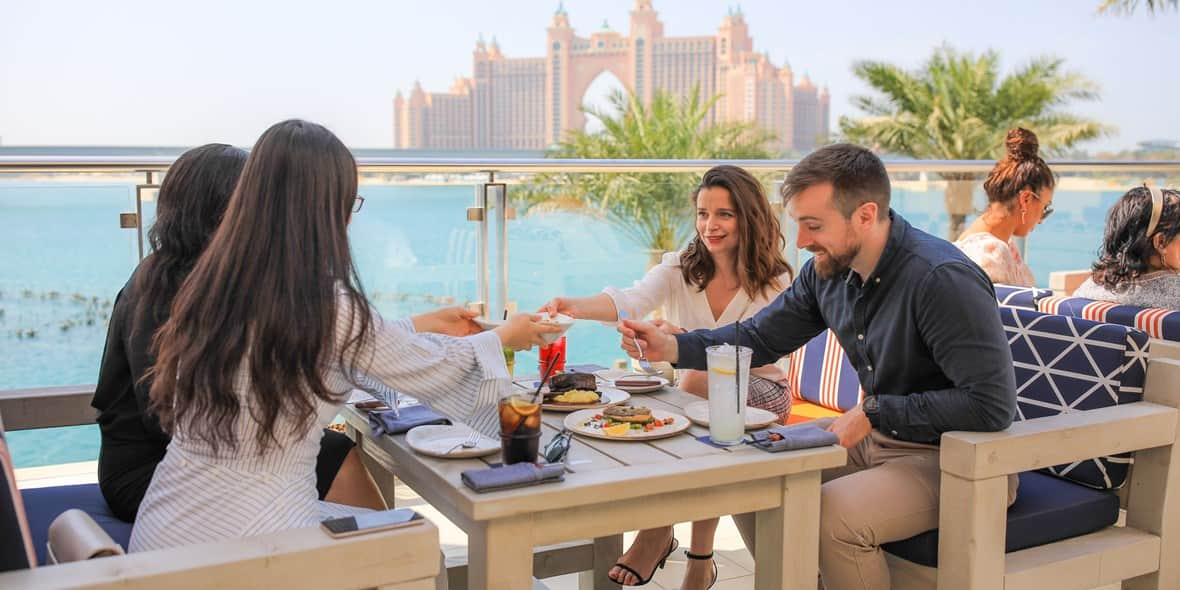 Located on Palm Jumeirah, Social Distrikt at The Pointe brings together Kitopi delivery company's diverse food outlets with stunning views over the water. Choose from Ichiban Sushi, Sweet Spot desserts, Circle cafe, Couqley French bistro and much more. The two-storey space also has a Raw music store and a FLTRD. boutique with plenty of comfortable seating – and a terrace with unbeatable views of 
Atlantis, The Palm
 – further draws.
11
Neighbourhood Food Hall
It's name shows its emphasis on the community which is what makes the casual Neighbourhood Food Hall such a favourite among the regulars living nearby. Curated to include only niche, owner-driven homegrown brands – think High Joint burgers, Authentic Ceylon curries and Maru Udon noodles – the nine-strong contingent of brands will satiate your every whim from spicy delights to fast-casual favourites. Grab one of the stools perched around shared tables or opt for a take-away and eat picnic-style outside.
12
Kitch-In
Celebrity chef Izu Ani and restauranteur Evgeny Kuzin are the names behind many a popular spot in Dubai – Gaia, Scalini and Shanghai ME are just some of this duo's culinary success stories – but now they've turned their attention to the food hall scene. Kitch-In started off as a delivery service, but has morphed into a bricks and mortar eatery in the centre of the DIFC. The automated system sees diners punch in what they want on arrival to the monochromatic, pared-down space, and your order is swiftly dispatched to your table. Korean, Greek, Japanese and Italian options – plus excellent poke bowls, sandwiches and burgers, ensure your every craving will be satiated.
Kitch-In
Food & Drink
The Marble Walk, Precinct Building 5, DIFC, Dubai