Food & Drink
Feasts with a local twist
Take your tastebuds on a culinary journey with Arabian dishes that feature flavoursome touches from around the world
Take your tastebuds on a culinary journey with Arabian dishes that feature flavoursome touches from around the world
1
Qwaider Al Nabulsi: Breakfast Dubai-style
Start your morning the way hundreds of local commuters do – with a visit to Deira's Palestinian diner Qwaider Al Nabulsi for a traditional kunafa, the Arabian version of a cheese danish. Topped with crispy shredded pastry, melted cheese oozes out from a sweetened egg-glazed roll for a finger-licking favourite. Pair with the ubiquitous iced lemon-mint drink, perfect for quenching that early-morning thirst.
2
Logma: Contemporary Khaleeji eats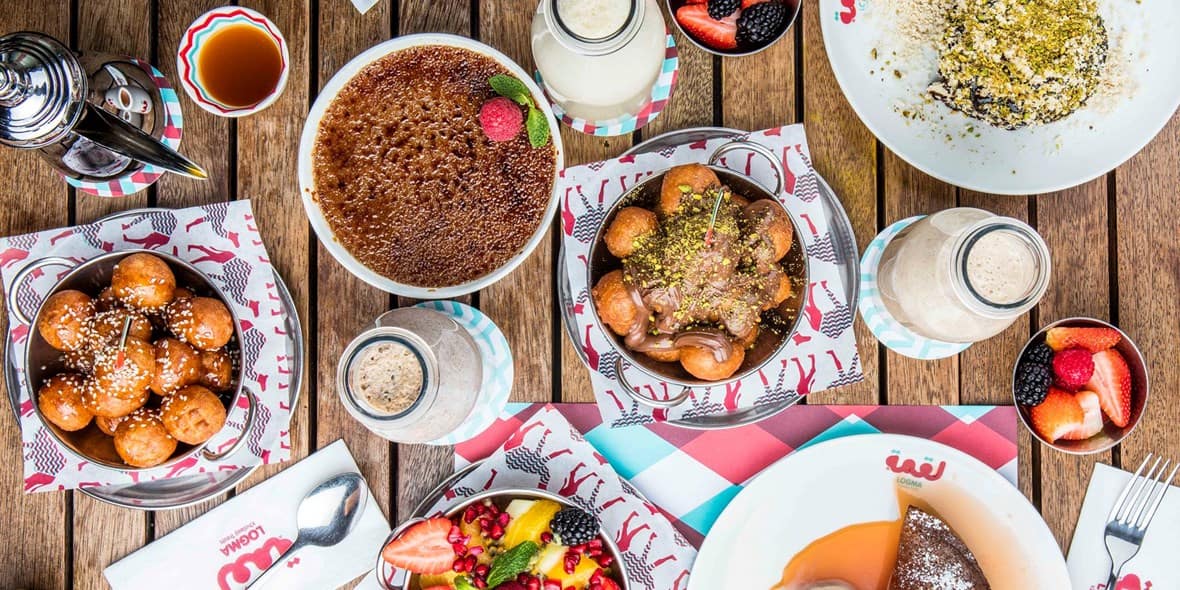 Take quality ingredients; add a dash of style and a sprinkling of atmosphere … et voila! You have Khaleeji treats from Logma. The food is as attractive as the venue at the Dubai Mall, and when the weather is nice you can get a terrace table with spectacular views. Start the day off with a 'Traditional Breakfast Platter' packed with balaleet, khameer and regag, with a side of date syrup, and cream cheese. Tickle your tastebuds with luqaimat in the afternoon, and, if you have enough space, welcome the evening with chebab katayef – a crisp pancake with dates, mascarpone, saffron and cardamom syrup, finished with a dollop of vanilla ice cream.
3
Al Tawasol: Family-style feasts
Dining with a large group? Pull up a cushion and share your meal family-style (minus cutlery) in one of Deira's traditional tent rooms. Al Tawasol is a favourite among Yemeni expats, craving for a taste of home. Fill up on dishes like 
shorbat adas
 (lentil soup), Emirati chicken 
machboos
 (chicken cooked with rice in a blend of roasted spices) and 
laban
 (thickened drinking yoghurt). There's even a half-sheep dish for the extra-peckish. End your meal with a cup of
cardamom-scented coffee
, made from green beans, served strong and sweetened with a few drops of sugar syrup.
4
Zaroob: Break bread with the best
An afternoon craving could see you mingling with the business crowd at Lebanese hotspot, Zaroob. Specialising in manakish (the collective term for flatbread bakes and wraps) and open 24 hours, the eatery has a huge menu of fresh mezze and grills. Inside you can enjoy the street-inspired artwork, while the outdoor terrace is popular with locals looking to catch some sunlight. Be warned – servings are super-sized, although it's a welcome common practice for leftovers to be automatically wrapped up to take away.
5
Al Samadi Sweets: Bite-sized delights