Hotels & Accommodation
Discover the best places for glamping in Dubai
Whether you're looking for a luxurious night under the stars, or an authentic Bedouin-style experience, here are the best places for glamping in Dubai.
Whether you're looking for a luxurious night under the stars, or an authentic Bedouin-style experience, here are the best places for glamping in Dubai.
Terra Solis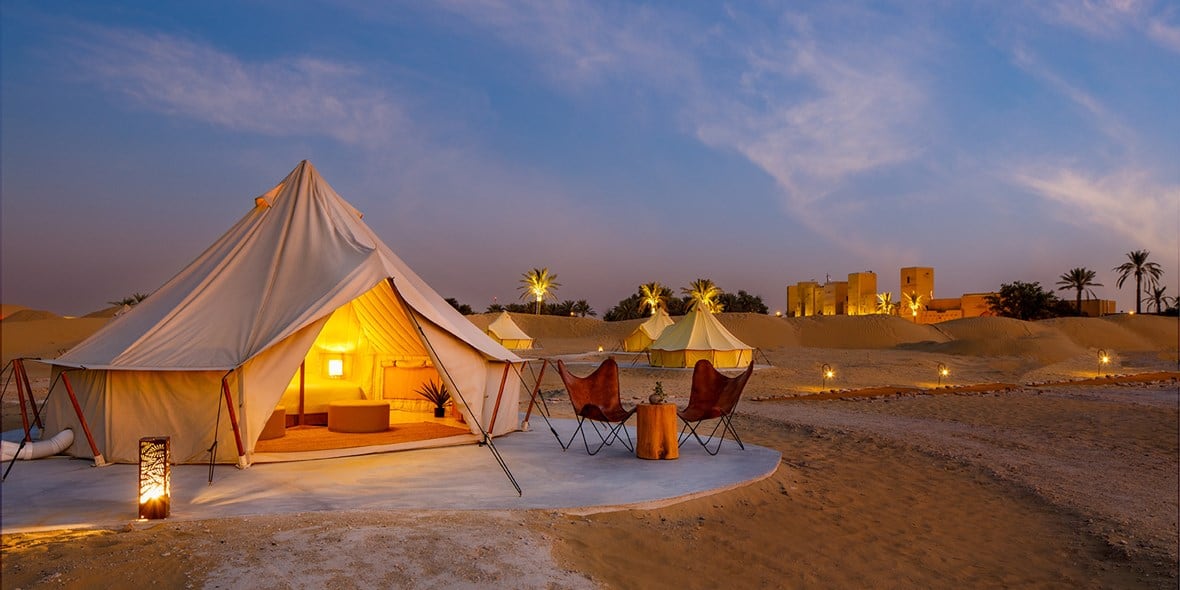 Immerse yourself in the essence of Tomorrowland at Dubai's very own Terra Solis. An exclusive oasis glamping site launched by the world famous music festival, is open to desert sojourners until June 2023 (reopening in September 2023). Whether you want to enjoy the reviving natural ambience and revel in soothing rhythms during the day or with a memorable overnight stay, this secluded destination amid undulating dunes is certainly worth a visit. There are plenty of culinary surprises to discover here too.
The Nest by Sonara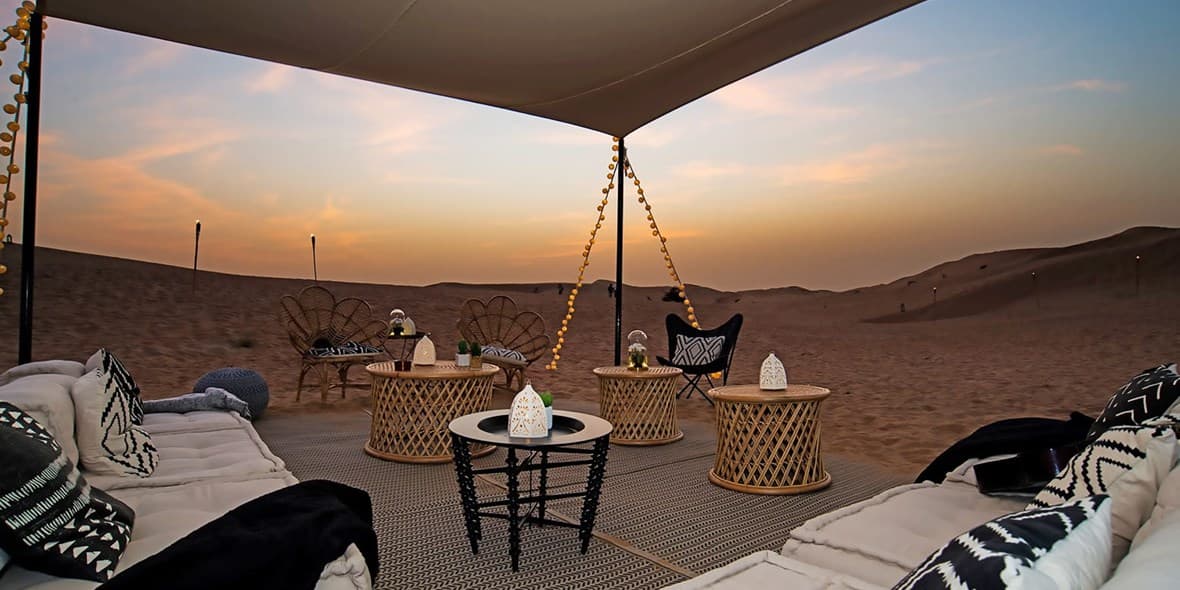 The Nest by Sonara is a luxurious glamping spot within Sonara Camp in Dubai Desert Conservation Reserve. The overnight experience sees guests stay in dune-inspired lodges with luxurious amenities and facilities. Spend the evening enjoying Sonara's famed desert restaurant, with seasonal cuisine and exceptional entertainment, before retreating back to your lodge for a peaceful night's sleep. In the morning, an outdoor breakfast will be prepared, giving you another opportunity to soak up the beautiful surroundings before heading back to the city.
Starlight Camp
Sleep in your own bubble tent under the stars in this unique desert experience, located just over an hour away from the Dubai city centre. The team at Starlight Camp will set everything up for you and share the secret location just ahead of your arrival, adding a sense of adventure and mystery to your stay. Guests can relax, enjoy the dunes and cook their own meals under the stars (a charcoal grill barbecue and plates will be provided), while breakfast in the morning will be served. This will guarantee to make your Dubai trip even more memorable, and is perfect for special occasions.
Platinum Heritage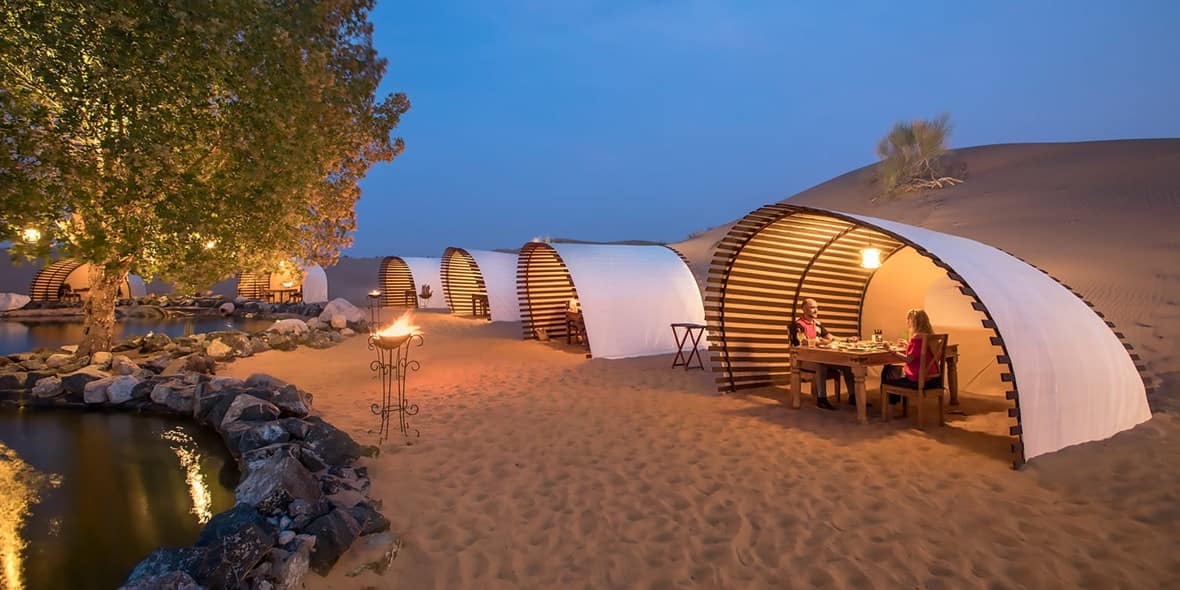 Platinum Heritage is a leading operator of desert experiences in Dubai, highlighting local Emirati culture and providing ultra-luxury expeditions. The camp offers day trips or overnight experiences, where you'll be welcomed into an Arabic stone dwelling room, inspired by Bedouin accommodation. For a truly unforgettable experience, add on a hot air balloon ride to take you soaring above the desert for sunrise.
Sand Sherpa
For a more rustic experience, Sand Sherpa provides camping trailers equipped with a tent, utensils, camping accessories, sofa, dining set-up, and grill along with 8kg of wood to make your own barbecue and fire pit. When booking, choose from a pre-set menu of beef, lamb, chicken or vegetarian dishes, and your ingredients will be waiting for you when you arrive, ready to cook on the flames. The camp also offers nature walks and 4x4 driving experiences.
Terra Cabins at JA Hatta Fort Hotel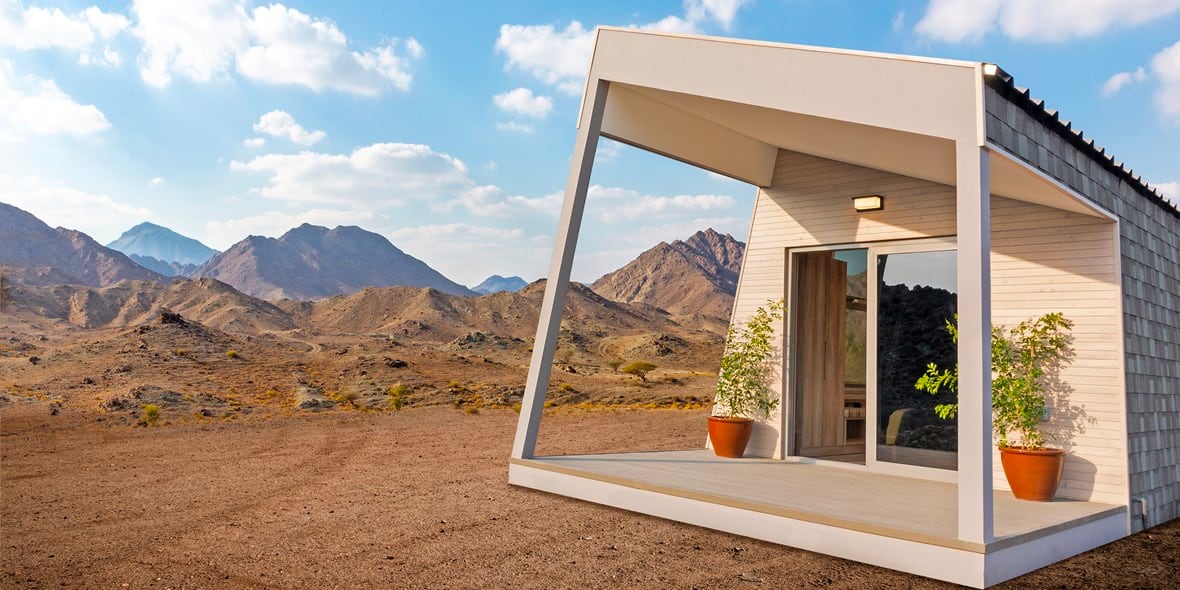 If you want to combine your glamping experience, with the benefits of a classic resort stay, the Terra Cabins at JA Hatta Fort Hotel might just be for you. Located on the hotel premises, the cabins sleep up to six guests, and come with several amenities including a walk-in shower, dedicated patio and a projector for those late-night movies. Guests staying at the cabins can also access all the facilities, pools and dining options at the hotel.