Desert
Call of the wild: Dubai's desert wildlife
From graceful gazelles to stately oryx, keep an eye out for these native dwellers when you venture into the desert.
From graceful gazelles to stately oryx, keep an eye out for these native dwellers when you venture into the desert.
1
Oryx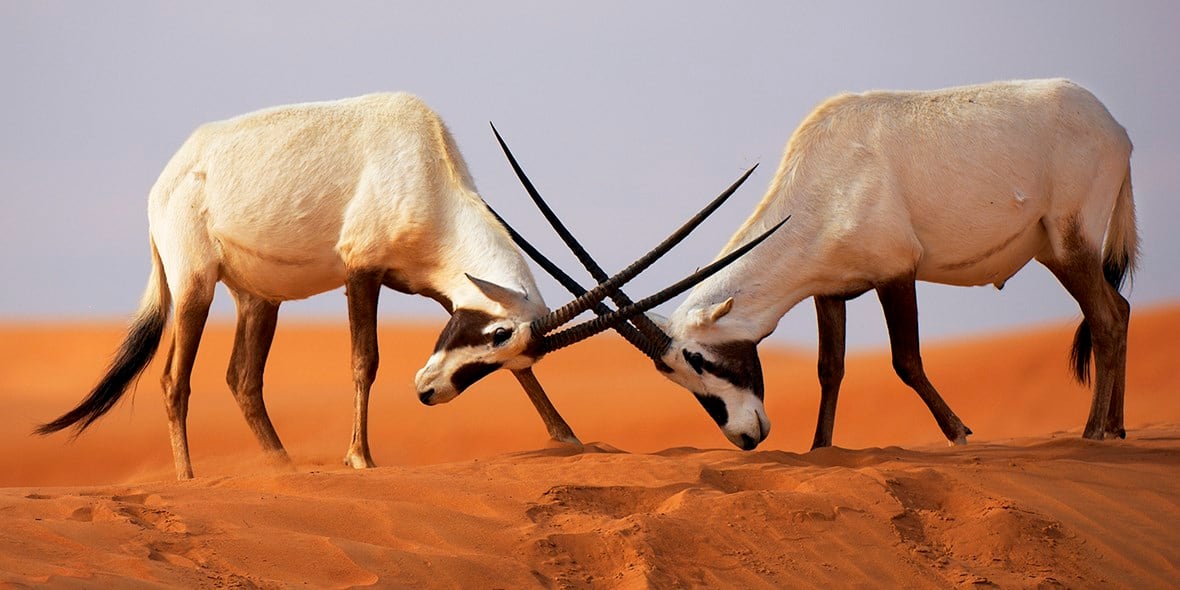 With its long, straight horns and distinctive shape, the Arabian Oryx (Oryx leucoryx) makes a regal statement against the golden sand dunes. Considered all but extinct in the 1960s, this animal has been saved following comprehensive breeding programmes and reintroductions into its natural habitat. Oryx sightings are common in the Dubai Desert Conservation Reserve, as well as the desert near Bab Al Shams, where several feeding stations have been built. While the animals tend to stay within the restricted area, they are known to wander freely during the winter seasons.

Arabic name: Al maha
Did you know? An adult oryx's white skin helps reflect the hot sunlight, while the calves are born with sand-coloured skin to ward off predators.
2
Gazelles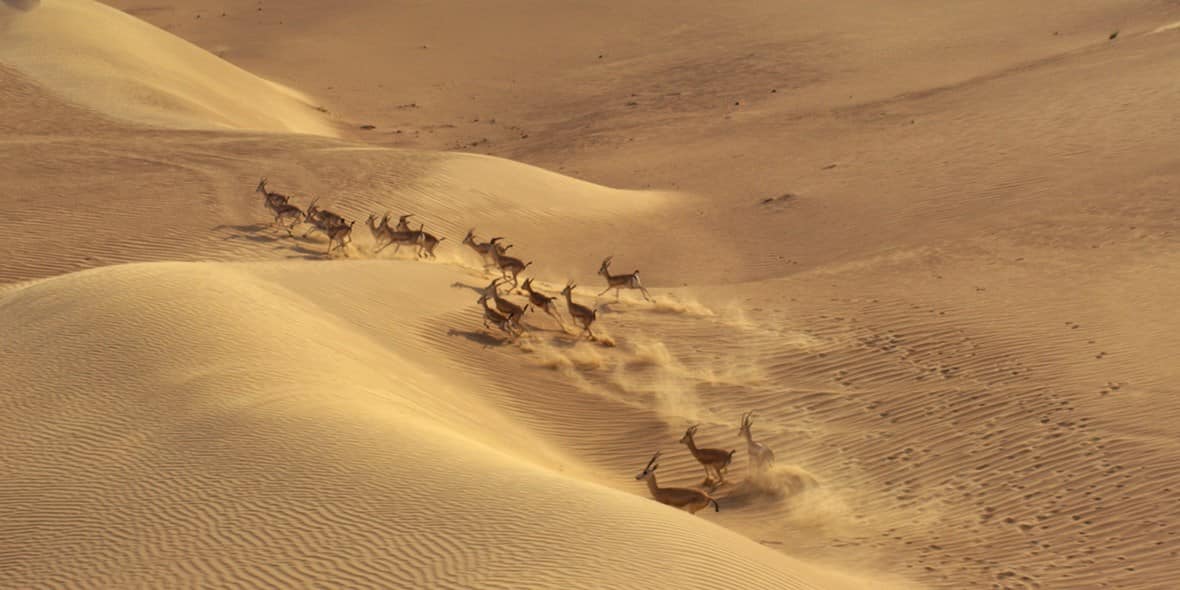 Two species of this graceful mammal are prevalent in the UAE: the Mountain Gazelle (Gazella gazella), which is found primarily in mountainous areas and on gravel plains, and its fairer cousin, the Arabian Sand Gazelle or Reem Gazelle (Gazella subgutturosa), which has been reintroduced in the wild over the past two decades. The more agile Mountain Gazelle can reach speeds of up to 65km/h in times of danger, and is highly territorial, marking its area with a wax-like secretion. The Reem Gazelle is considered vulnerable and is on the international endangered animals lists; it is extinct in other parts of Arabia.

Arabic name: Al gazal al reem (sand gazelle); Al gazal al jabali (mountain gazelle)
Did you know? Female Reem Gazelles are mostly hornless, unlike others of their species.
3
Birds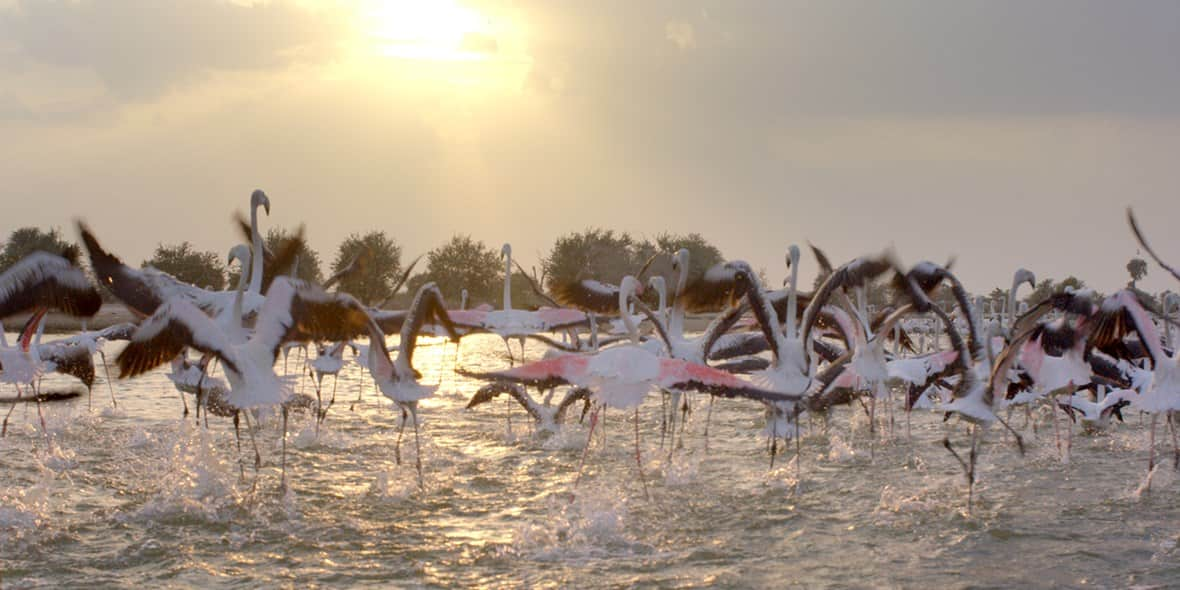 Among the hundreds of bird species present in the desert is the rare Asian Houbara Bustard (Chlamydotis macqueenii), also known as MacQueen's Bustard. Keen birdwatchers have spotted this migratory bird near Al Qudra Lakes, which are water bodies in the Seih Al Salaam desert. The lakes are home to a whopping 170 types of bird species, including some that are on the endangered or vulnerable list. In addition, the aptly named Swan, Flamingo and Duck Lakes welcome their namesakes, as well as several other species of migratory and resident birds.

Did you know? The Houbara Bustard can survive without drinking water. It soaks up all its water needs from the food it eats, allowing it to survive in the most arid of climates.
4
Geckos and lizards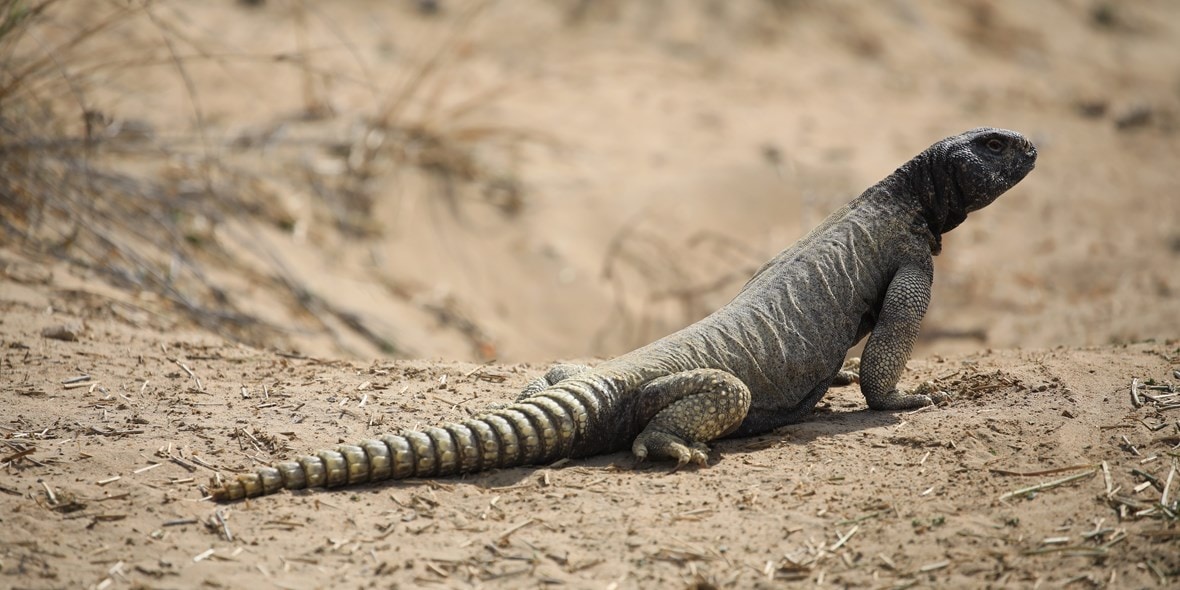 The desert is rife with reptiles, including lizards, geckos and toads. The Spiny-Tailed Lizard (Uromastyx aegyptia leptien), known locally as dhub, is the most prevalent and is highly-suited to the desert environment. These creepy critters are able to survive on little vegetation for months on end, and are known to live for up to 80 years. Also present is the Wonder Gecko, one of the largest of its kind, with distinctive reflective eyes.

Arabic name: Dhub (Spiny-Tailed Lizard)
Did you know? Dhub meat is considered a delicacy among some Gulf communities.