Arts & Culture
Where to see stunning street art in Dubai
Discover a different side to the city on a self-guided tour around its most vibrant and artistic neighbourhoods.
Discover a different side to the city on a self-guided tour around its most vibrant and artistic neighbourhoods.
1
Sheikh Mohammed bin Rashid Boulevard
On this boulevard, a short walk from Dubai Opera and Burj Khalifa, is an impressive collection of large outdoor sculptures. The works draw on themes close to the heart of HH Sheikh Mohammed Bin Rashid Al Maktoum, Vice President and Prime Minister of the UAE and Ruler of Dubai: equestrian life, desert landscapes, and the strength of the local community. The Wings of Mexico by artist Jorge Marin perfectly captures the city's soaring ambition, optimism and connectivity between cultures.
Other must-sees are Donald Greig's playful Camels, and Together by Syrian artist Lutfi Romhein, which features stylised sculptures of an Arab man and woman. The black and white sculptures are made of sleek granite and marble, and resemble giant chess pieces.
2
Jumeirah Beach Road
One of the city's most famous roads has been given a new lease of life, with spectacular works of art by 30 local and international artists. A few of the pieces, hidden in plain sight in tucked-away alleys, are a celebration of life in the city. Murals of children playing traditional games and Arabian dhows sailing across the seas can be found mere metres from abstract wonders such as Bicycamel by Barcelona-based artist Ruben Sanchez.
Start in the north and walk your way down south to see how many you can spot. Getting hungry? You won't have to go far to find a tasty treat. 
3
City Walk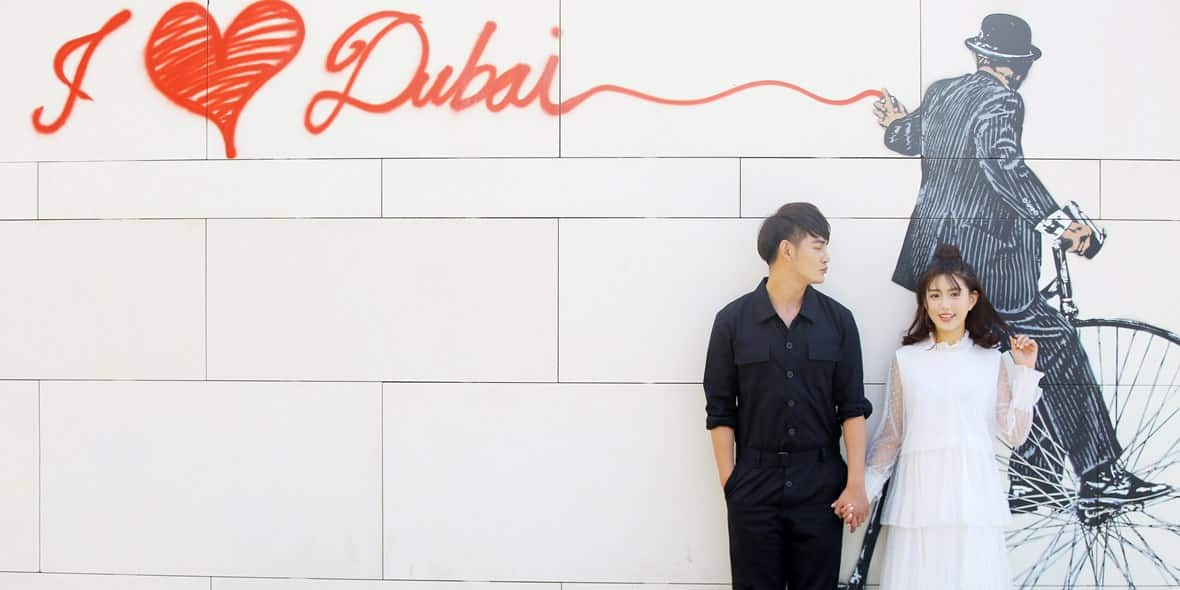 Local developer Meraas sought to introduce street art to the City Walk development and brought in 15 of the best street artists from all over the world as part of the Dubai Walls initiative. The mostly large-scale creations add an enticing extra element to the district, with works that are surprising, innovative and sometimes confronting.
From D*Face's provocative 'aPOPcalyptic' technique to Blek Le Rat's delightful stencils, Ron English's vivid 'wildstyle' and Australian artist RONE's evocative portraits, there is something for every artistic taste to admire.
4
La Mer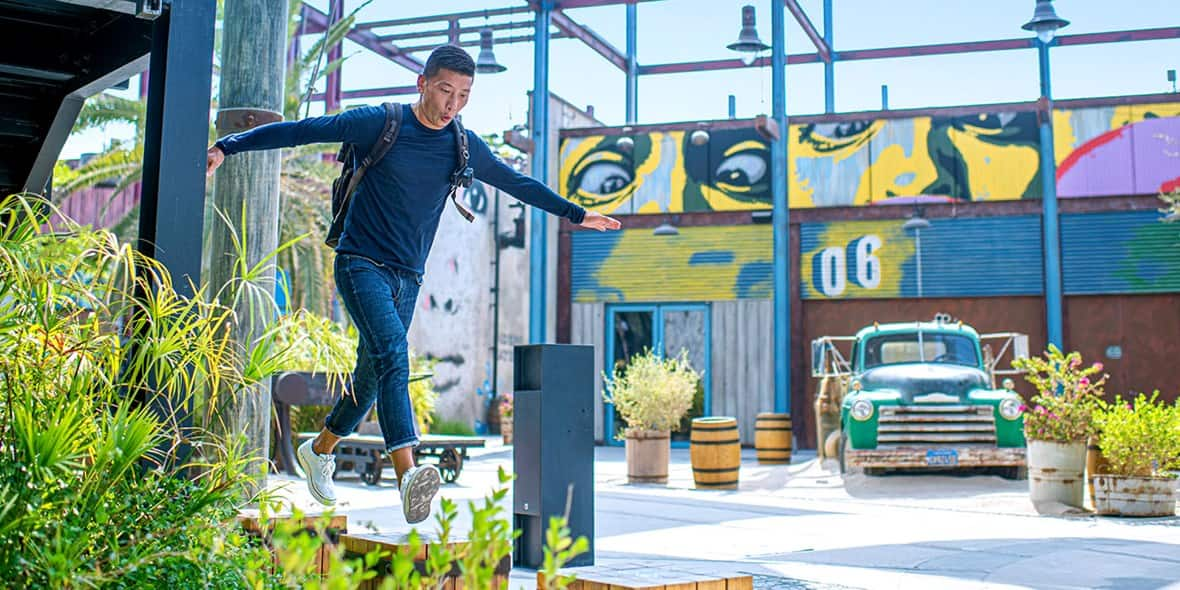 An ode to urban creativity, La Mer is an open-air gallery featuring striking graffiti murals and unique decorative art by the beach. A true Dubai sun, sea and sand wonderland, the district presents a kaleidoscope of colour with large wall paintings that feature everything from telephones and camels to feathered wings and retro icons.
5
Dubai Metro
Murals reflecting the city's essence and aspirations have popped up on pillars of the Dubai Metro, thanks to an initiative by Brand Dubai. The works of international artists – Peruvian Daniel Cortez and Miami-based artist Evoca1 – can be found between the DIFC and Emirates Towers stations, located along Dubai's main arterial highway Sheikh Zayed Road. Dreamy and inspirational, highlights include the painting of an astronaut hanging from the strings attached to a bunch of planets, as well as a giant floating jellyfish installation.
6
Karama
Bustling Karama, bordering Bur Dubai and Oud Metha, is one of the city's older neighbourhoods. Home to everything from small stores selling all manner of fashion and accessories to delectable street food and boutique hotels, this is an area with plenty of heart.
To breathe new life into its historic streets, eight artists unveiled huge murals on the sides of 12 apartment buildings and shops in the busy district back in 2016, boosting the buzz. Spend a day exploring and see if you can spot all 24 artworks.
7
Jumeirah Beach Residence
Take a stroll along The Walk at Jumeirah Beach Residence (JBR) and discover unique 3D paintings splashed across buildings, street corners and even staircases. Big, bold and bright, there's plenty to discover thanks to the incredible artists from around the world that made their mark in this popular district back in 2016 for the Dubai Canvas 3D art festival.
Highlights include a giant swooping eagle painted on the side of a building, and the huge mural of prancing horses in the sea set to a sky of geometric rainbow colours.
8
Satwa
2nd of December Street in Satwa is a landmark in its own right. Locals still refer to it lovingly as Dhiyafa Street, thought it was officially renamed in 2011 to mark the UAE's 40th National Day. It's a fitting choice as on one end you'll find Union House – the very place where the constitution was signed in 1971, signalling the birth of the United Arab Emirates as a nation – while the other lays out an inimitable slice of community life and a hotspot for serious street food.
Today, it's also an open-air art gallery, thanks to an initiative known as the Dubai Street Museum. It saw 12 artists from around the world paint 16 murals on several buildings along the street, with each of the artworks showcasing the UAE's rich history and culture.
9
Al Fahidi Historical Neighbourhood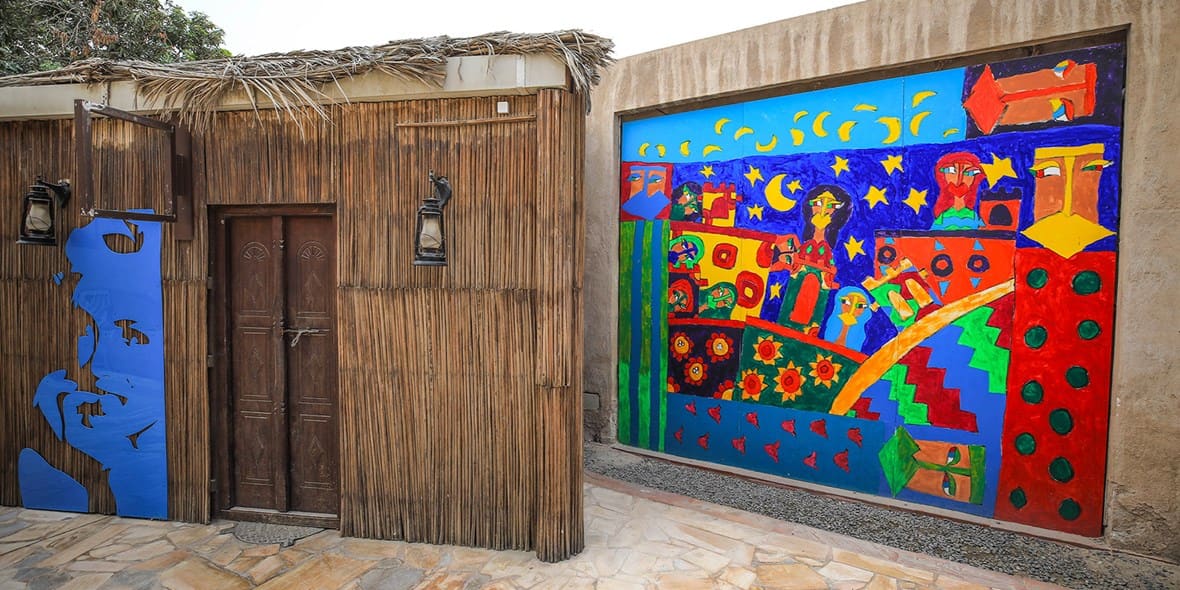 The Al Fahidi Historical Neighbourhood is the cultural heart of the city and there are artistic surprises around every corner. The district's traditional architecture, complete with barjeel wind towers and courtyard houses, presents the perfect canvas for colourful, large-scale murals. You can discover the highlights on a daytime stroll, including several pieces that were specially commissioned. Don't miss the symbolic masterpiece that celebrates the UAE's Mars Mission, reflecting themes of Emirati tradition and modern science.
10
DIFC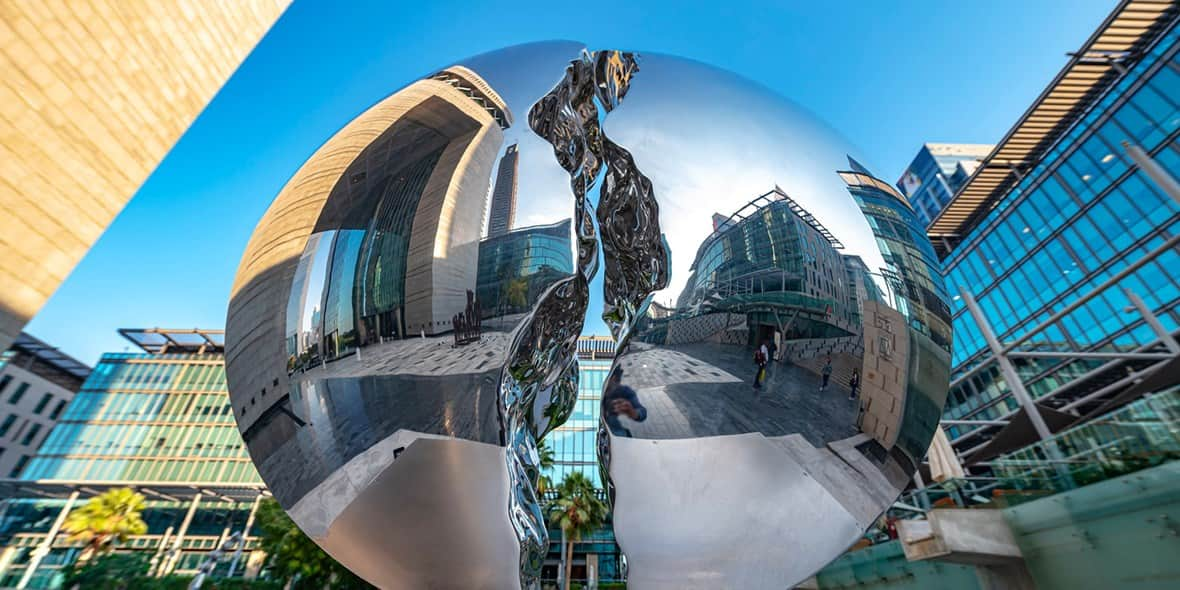 Dubai International Financial Centre (DIFC) is not only home to some of the city's best commercial art galleries, but it also regularly plays host to public collections of art, particularly sculpture. In recent years, the DIFC Sculpture Park exhibition has covered themes including "Harmony of Different Voices" and "Tales Under The Gate", which have included works from famous artists and up-and-coming talents alike.
DIFC Sculpture Park normally runs from spring to autumn, but even outside these times you can wander through the district and see its permanent installations, including Pillar of Fortitude by Helidon Xhixha. DIFC's galleries are also open year-round, and offer an ever-changing glimpse into Dubai's latest artistic trends.