Sports
Where to go horse riding in Dubai
Saddle up and discover thrilling horseback activities, from an action-packed game of polo to riding in the desert.
Saddle up and discover thrilling horseback activities, from an action-packed game of polo to riding in the desert.
1
Discover the dunes at Al Jiyad Stables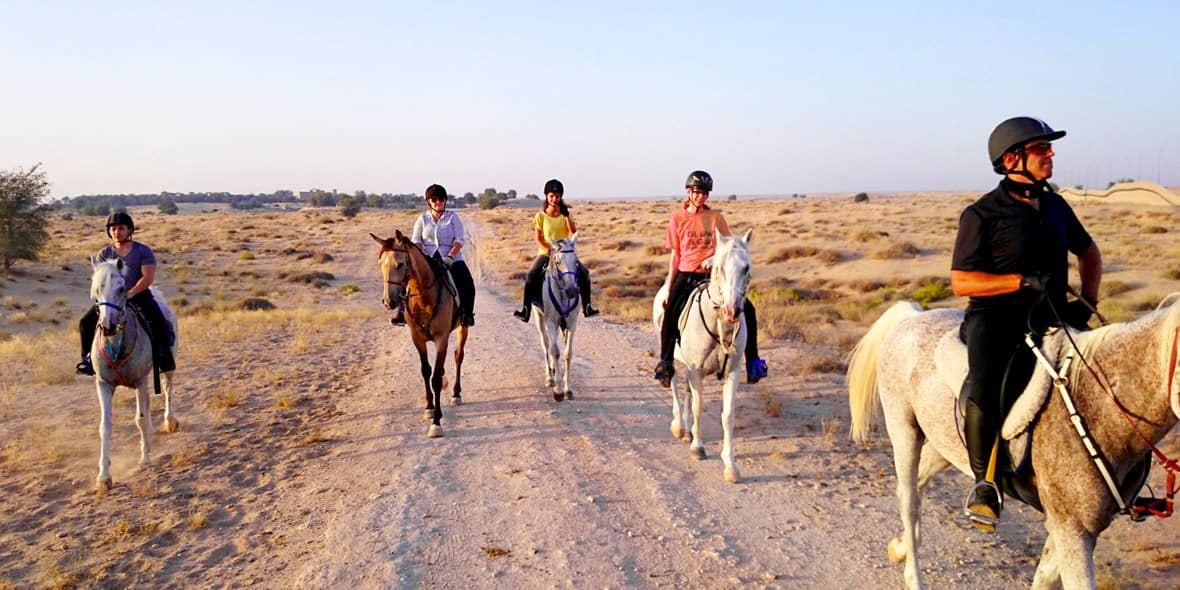 From quad biking to dune driving, there are plenty of activities to enjoy in
Dubai's desert
. One of the most memorable, though, is horse riding. Head to Al Jiyad Stables on Al Qudra Road, which has more than 120 Arabian equines in its stables that are available to ride. On your noble steed, you'll get the chance to explore 
Al Marmoom Desert Conservation Reserve
 – the largest of its kind in the country – and get a closer look at the wildlife that calls it home. 
2
Ride from sand to sea at JA The Resort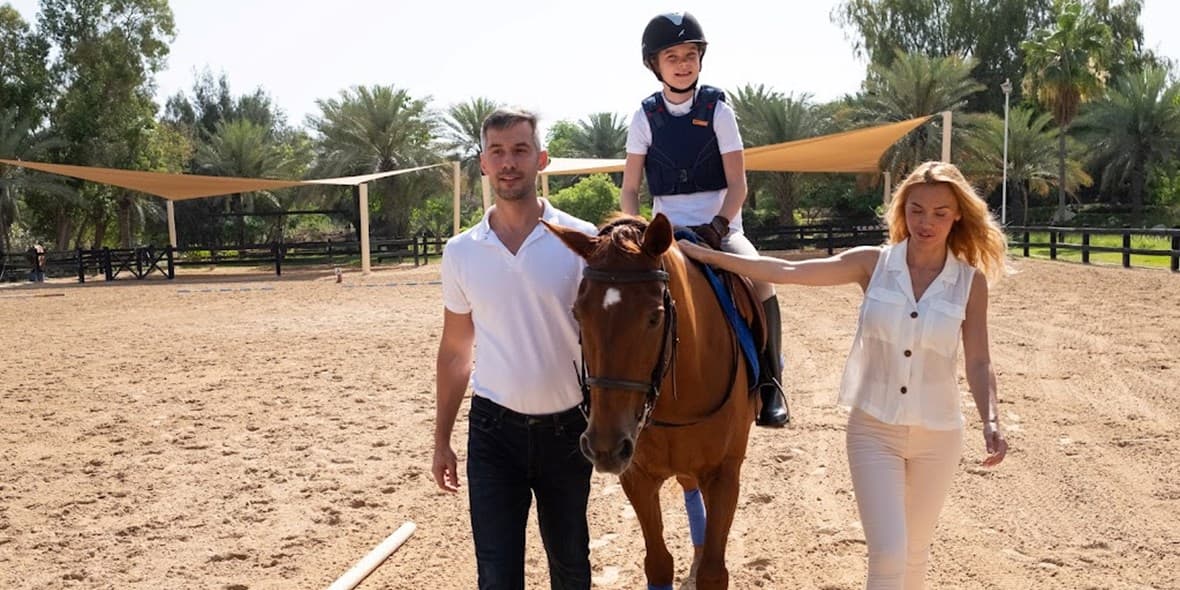 At JA The Resort's Equestrian Centre in
Jebel Ali
, beginners and experienced riders alike can saddle up for riding classes or gallop straight in for an expedition. It's just a short distance from the resort's main entrance, so you can trot around the centre's spacious riding arena before heading to the 800m private beach, where guests can
go for a swim
 in the warm waters of the Arabian Gulf alongside their horse. Anyone above the age of three and under 75kgs can opt for a fun pony ride as well.
3
Score a win at Dubai Polo & Equestrian Club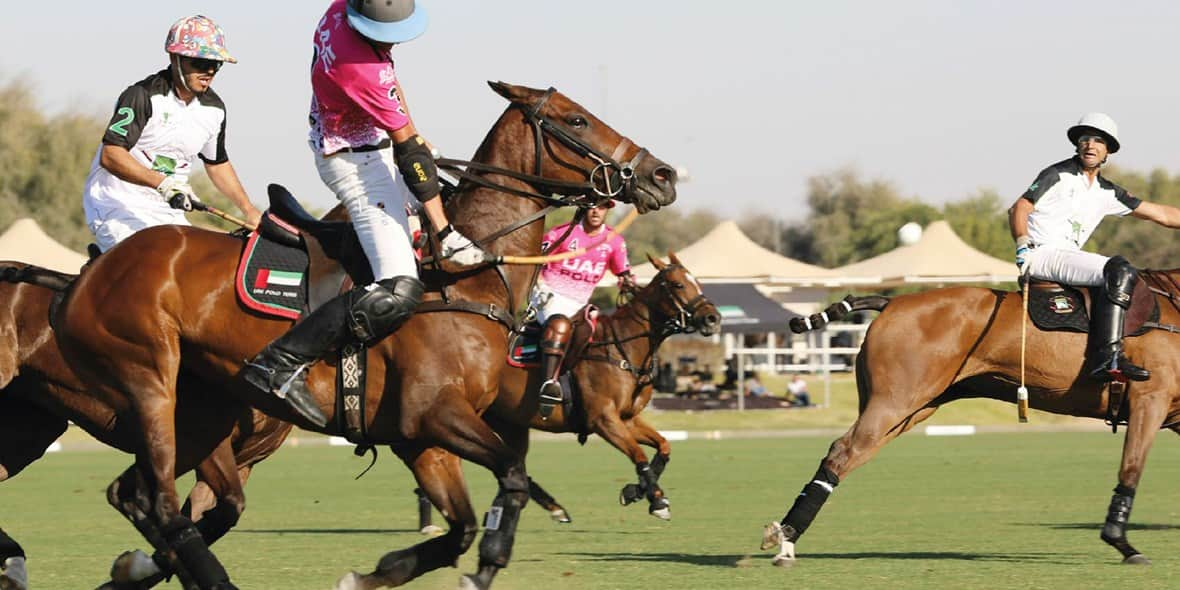 Learn how to play the game loved by royals right here. At Dubai Polo & Equestrian Club, which also hosts international tournaments and prestigious matches, visitors can sign up for polo lessons. Whether you're an aspiring sportsperson who's never played before, or you're looking for a quick refresher course, you can take to the fields for a hands-on class and hit the ball around. Invite 
your friends
 to join in the fun too – it will be a day to remember.
4
Explore the famed stables of Meydan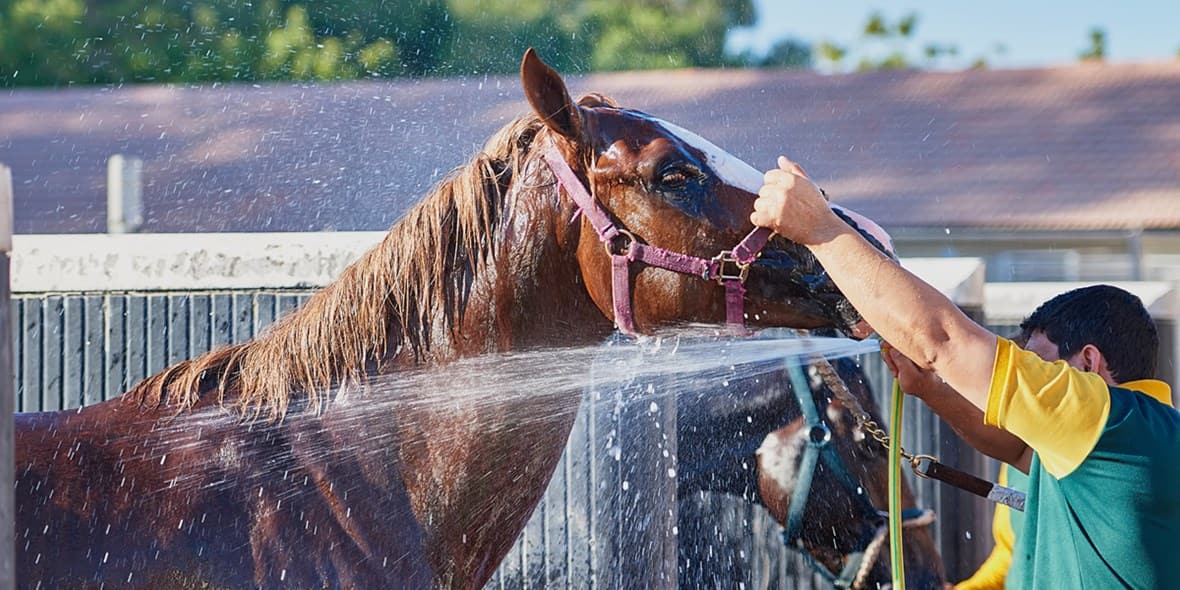 Go behind the scenes and discover what it takes to make a thoroughbred racing star. At Meydan Racecourse, equine enthusiasts can take a guided tour of the stables and learn how horses are groomed, trained and prepared for the many races that take place here, including the prestigious Dubai World Cup. The experience also includes breakfast at Farriers Restaurant, and a chance to meet both the horses and their trainers.
5
Go show jumping at Emirates Equestrian Centre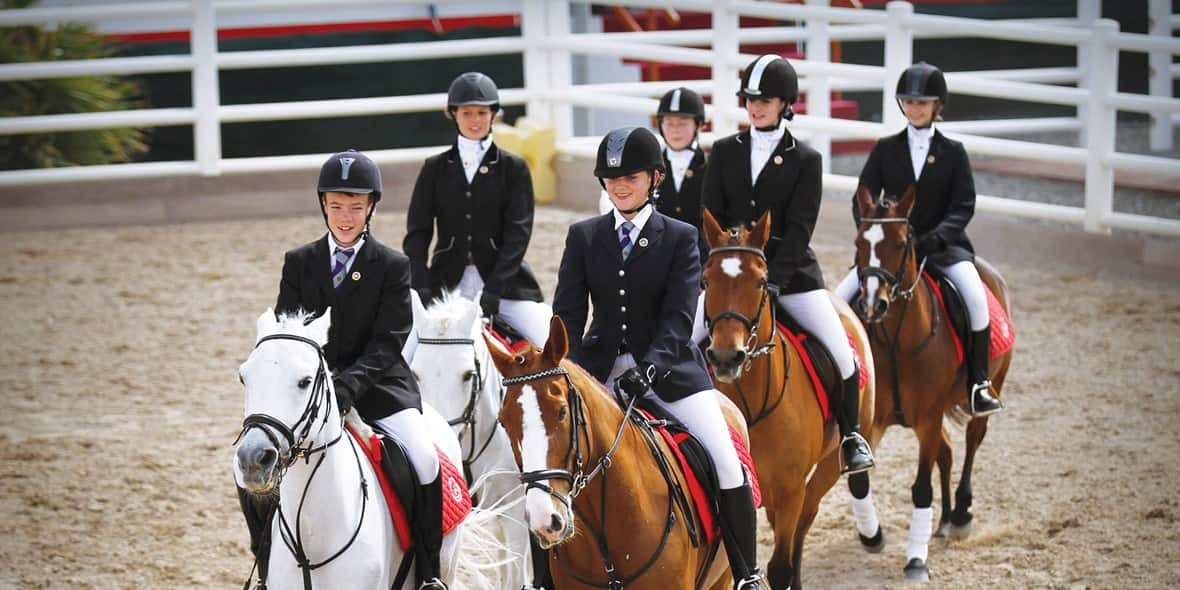 6
Book a family fun ride at Bab Al Shams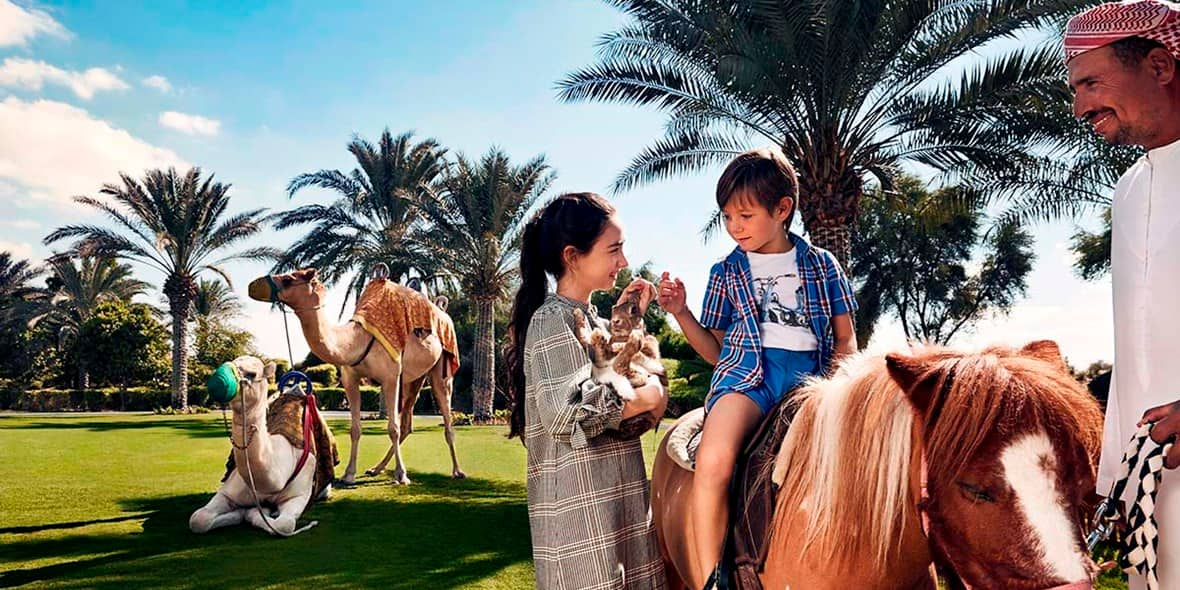 This luxury resort in the middle of the desert offers plenty of equine activities for both guests and visitors. The stables at
Bab Al Shams Desert Resort & Spa
 are full of horses suitable for riders of all abilities, as well as ponies for the younger equestrians out there. There are daily hour-long desert rides, from 6am to 6pm, so you can canter out into the dunes as a family and make the most of the scenery. You'll feel as though you've stepped back in time.
7
Pony rides for little ones at Al Ahli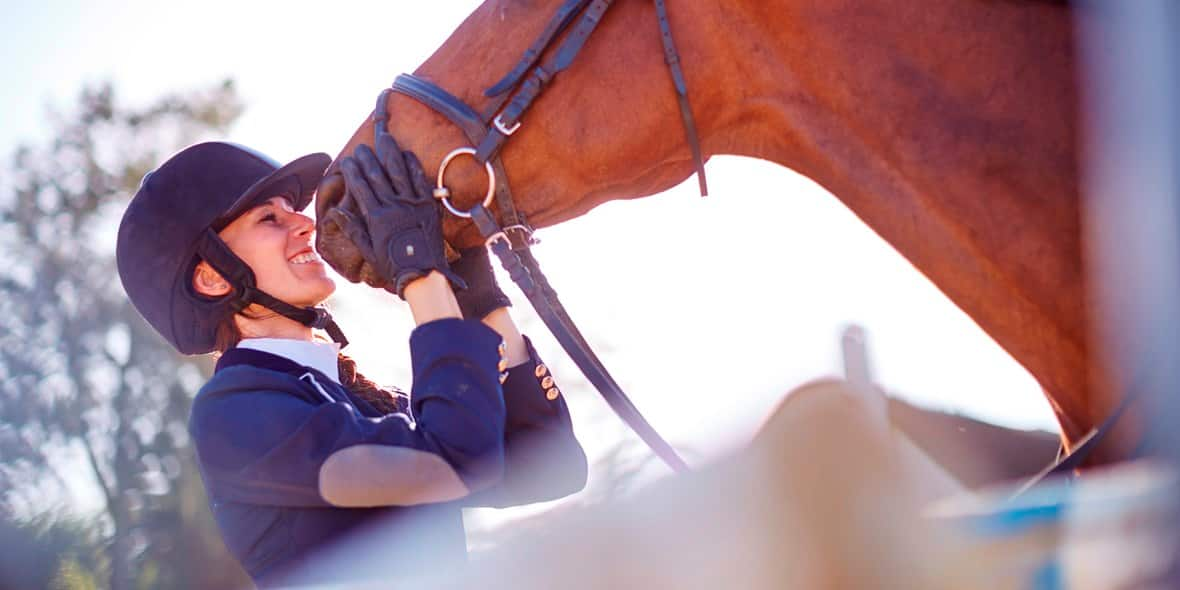 8
Moonlit forest rides in Mushrif Park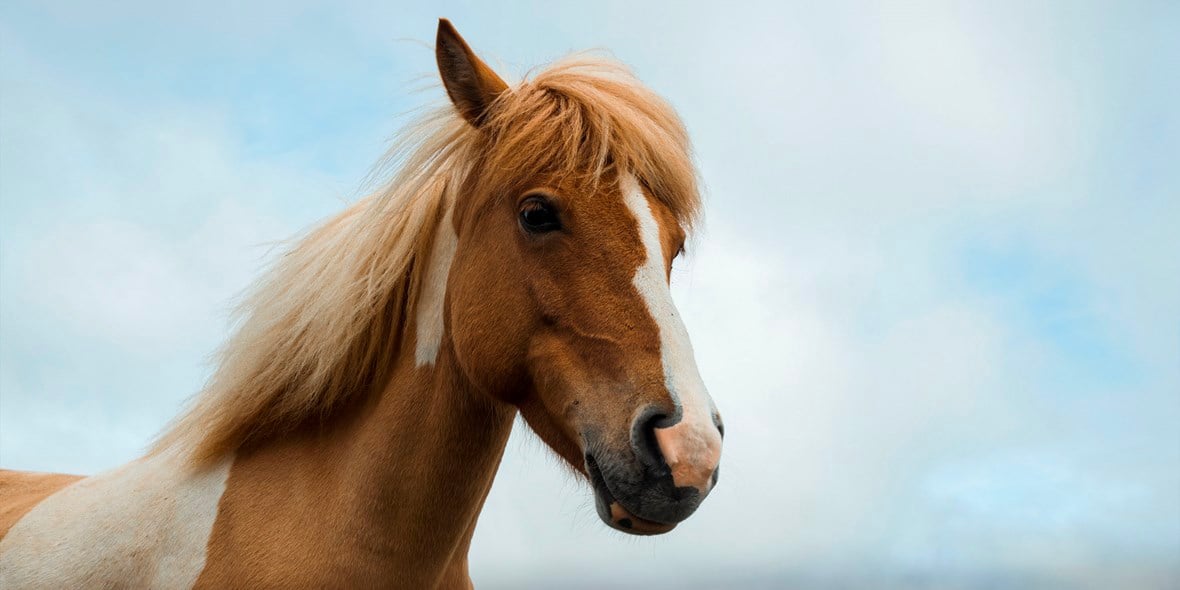 Try something different on your next holiday by going horse riding under the full moon. Organised by Winners Equestrian Club, one of the oldest horse clubs in the city, the unforgettable night ride will take you through Mushrif Park's natural ghaf tree forest – you may even catch a glimpse of the nocturnal animals that call this stunning park home. It has quickly become one of the most romantic experiences to enjoy while in the city, so book ahead.
9
A luxurious setting at Al Habtoor Polo Resort and Club
This posh venue boasts state-of-the-art facilities and offers everything from horse and pony riding lessons for beginners to coaching for jumping and dressage. If you're looking to get competition ready, there's an option to lease a horse for a couple of days a week or even on a monthly basis. Al Habtoor Polo Resort and Club is also known for its lavish weekend brunch, so if you don't feel like mounting up, just book a spot here to feast on favourites and spot pros on the polo field.
10
Hone your skills at Desert Palm Riding School
This is another great option for those looking to learn how to ride. There's an impressive collection of horses and ponies to choose from – starting as small as 11 hands and going up to 18 hands. Kids and adults can opt for group, semi-private or private lessons, or sign up for dressage and eventing competitions that are held every week in affiliation with the Emirates Equestrian Federation.
11
All things horse at Dubai City Stable
Located off Emirates Road, Al Dhabi Group's Dubai City Stable is your one-stop shop for everything horse-related. They have learn-to-ride sessions for kids and adults, along with an array of offerings like horseback riding at the beach and desert, as well as an overnight mountain journey option. Create a lifetime memory by booking their desert photoshoot services to capture beautiful moments with your stallion surrounded by golden sands.
12
Magical sunset rides with Al Ali Stables
A sunset horse riding experience in the middle of the desert is truly out of this world, and if this is something that interests you then head to Al Ali Stables on Dubai-Al Ain Road. Here you also have the choice to ride in an indoor arena with a group, or you can sign up for a private lesson with one of their expert trainers. Plus there's a large playground onsite for your little ones, which doubles up as the perfect venue for birthday parties and other special celebrations.