Food & Drink
Hearty hotpot restaurants in Dubai
From high-end feasts to the budget best, here's where to enjoy authentic hotpot in the city.
From high-end feasts to the budget best, here's where to enjoy authentic hotpot in the city.
1
Seven Hotpot
Flavoursome broths, heaps of seafood and meat, and fresh stringy noodles, Seven Hotpot is always a safe option for Chinese hotpot. The restaurant in Dubai Marina is often packed with hungry diners plunging ladles into simmering pots and scooping out mounds of juicy meat and traditional Chinese vegetables. The pared-back spot is perfect for a thrifty group outing, starting at just AED110 for a portion that could easily serve four. You can even split the pot to sample two varieties of broth alongside a vast selection of ingredients to dip.
Seven Hotpot
Food & Drink
Shop #10, Continental Tower, JBR 1 - Dubai Marina
2
Xiao Wei Yang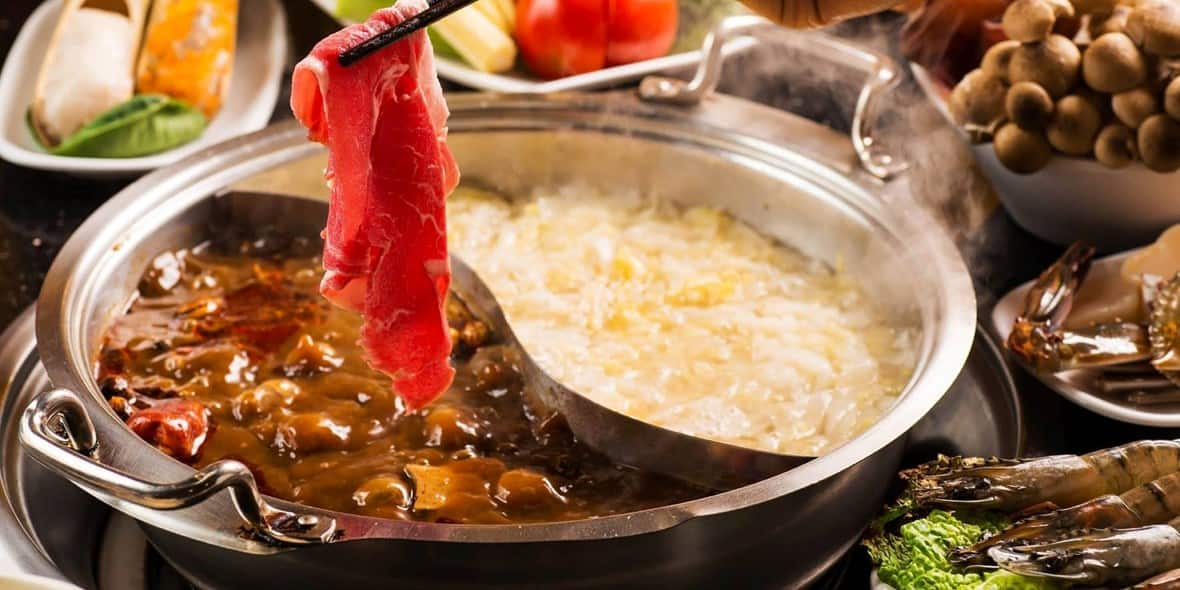 Tucked away behind the modest doors of Xiao Wei Yang (Little Lamb Restaurant) lies a no-frills dining experience you won't forget any time soon. The Chinese eatery in Dubai Marina offers a variety of appetising choices that are made using fresh ingredients and homemade sauces, but it's the hotpot here that steals the show. Pick from a white (mild) and a red (spicy) steaming broth, or opt for half and half to try both. Then, choose the ingredients you want to cook in it, with everything from thinly-sliced beef and chunky fish balls to crunchy lotus root on offer.
3
Nine Squares Restaurant
For authentic Chinese hotpot in Dubai, Nine Squares on Jumeirah Beach Road ticks all the boxes. Here, the bubbling pan is split into nine sections so you can carefully keep an eye on every ingredient, rather than losing them in the steaming liquid. Choose from a variety of spice levels, select your meat, fish and vegetables (the homemade black tofu is delicious), and cook your own dinner in delightfully cosy surroundings. We recommend booking a table in advance as this eatery is very popular, especially on weekends.
4
Sonamu Restaurant
Sonamu is a Korean barbecue restaurant in Deira's Asiana Hotel that offers one of the city's best hotpots. The eatery is renowned for its authenticity, with diners flocking from all over the city to savour traditional Korean flavours. The glittering golden space impresses with towering ceilings and giant bonsai trees, while several
private dining
 rooms allow for an intimate experience. Looking for something out of the ordinary? From delicious seafood bean paste to mouthwatering kimchi options, you'll find it all here.
5
Kimura-Ya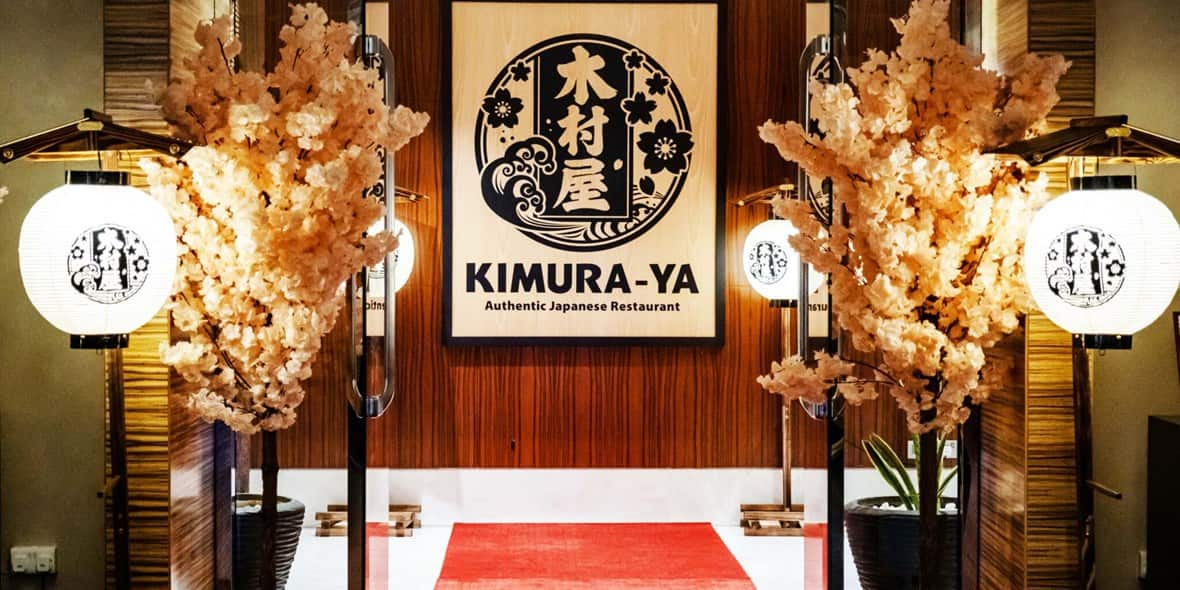 An authentic izakaya-style restaurant, Kimura-Ya specialises in Japanese hotpot. A well-known name in Tokyo, it is a testament to the eatery's popularity that there are now multiple branches across the city, including one in Business Bay. Gather your family and friends, and make it a point to order the hotpot. Everyone can join in the fun, with a steaming broth placed in the centre for you to cook your choice of sliced meats and vegetables. Don't leave without trying the wagyu, but keep your wits about you – to overcook it would be nothing short of a travesty.
6
Fujiya Japanese Restaurant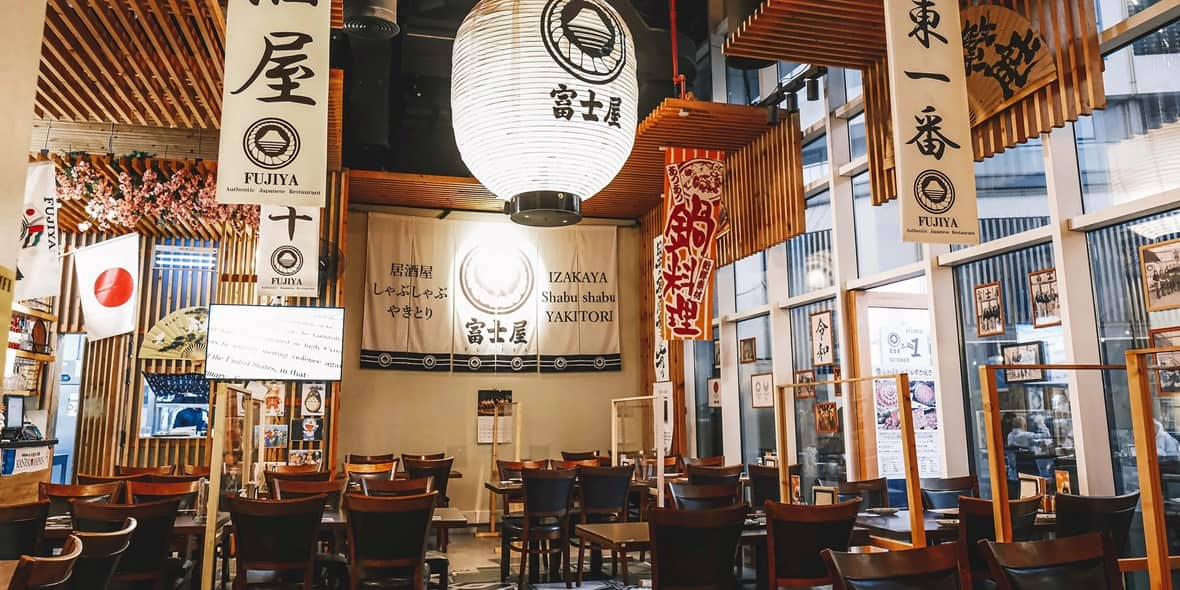 Looking for authentic Asian cuisine? It doesn't get any more traditional than this welcoming Japanese restaurant in the Garhoud neighbourhood. Fujiya Restaurant is the big sister of Kimura-Ya, and the menu is packed full of classic, delicious dishes including a tremendous hotpot. The vibe is friendly and the interiors are suitably subtle, making it a great place for good food and conversation. For a taste of traditional hotpot in Dubai, this should be on your must-visit list.
7
Beef King Hotpot Chinese Restaurant
Beef King may be an unassuming eatery in Barsha Heights but what it lacks in bells and whistles, it more than makes up for in hotpot that hits the spot. The menu offers a phenomenal range, including everything from the signature 'spicy' broth to tangy tomato varieties, creamy mushroom soup and even a mild version if you're looking to swerve the heat. Fill it to the brim with tofu, fresh crab, noodles and plenty of vegetables, and dig in. Prices start from just AED10, making it a very affordable option.