Arts & Culture
Borrow a book from the best libraries in Dubai
Whether you want to browse new titles or find a quiet corner to read in a Dubai library, there are lots of private and public spaces to explore in the city.
Whether you want to browse new titles or find a quiet corner to read in a Dubai library, there are lots of private and public spaces to explore in the city.
1
Mohammed bin Rashid Library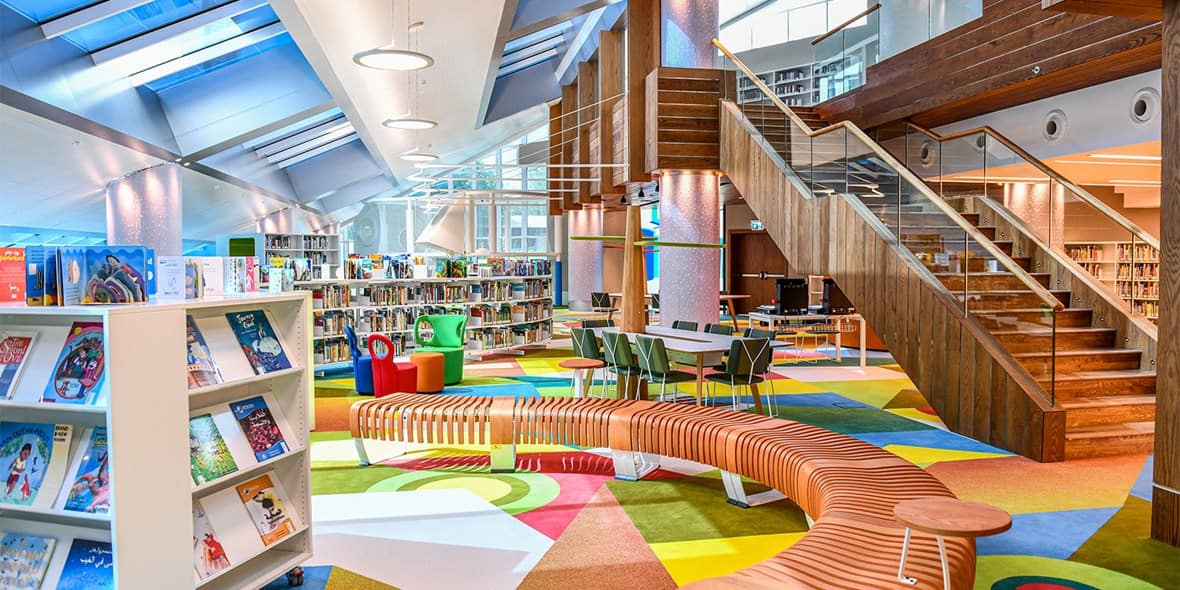 The largest library in the Arab world not only hosts some of the most important works from around the globe, but also acts as a cultural centre to spark conversations. Aside from hosting workshops, expect regular programmes such as film screenings at this Al Jaddaf hotspot. The seven-floor structure itself is also spectacular, design to resemble a book perched on a traditional rehl or lectern. Although children under five aren't allowed, all other ages will find plenty to fascinate at the high-tech space.
2
Al Safa Art & Design Library
This long-standing space was founded in 1989 as part of the Dubai Public Library network and completely revamped in 2018 to create a serene, light-filled spot with sleek interiors. This public library is aimed at both adults and children, with membership options for both. Adults can borrow up to 25 books to take home, while children can pick 10 at a time after paying a small deposit fee. Make sure to enquire about their special exhibitions, book signings and community events.
3
The Old Library
There is something intrinsically charming about a non-profit library run entirely by volunteers. Rightly named, it has been running for over 50 years and is the oldest English lending library in the city. What started with a donation of two parcels of books in 1969 by a London patroness named Lady Verney has flourished into a 25,000-strong library. For an annual membership fee you are free to browse and borrow from this much-loved entity's Gold & Diamond Park location.
4
Hor Al Anz Library
This family-friendly public library was set up to service the Deira neighbourhood, and not only has general interest sections but also special shelves aimed at women and a standalone kids room. Both English and Arabic titles are stocked, with helpful staff able to guide those looking to research or find specific items. A handy cafeteria outside can fuel you during breaks while plenty of power sockets and comfortable seating ensures visitors can keep their laptops charged while working away from the office.
5
Jameel Arts Centre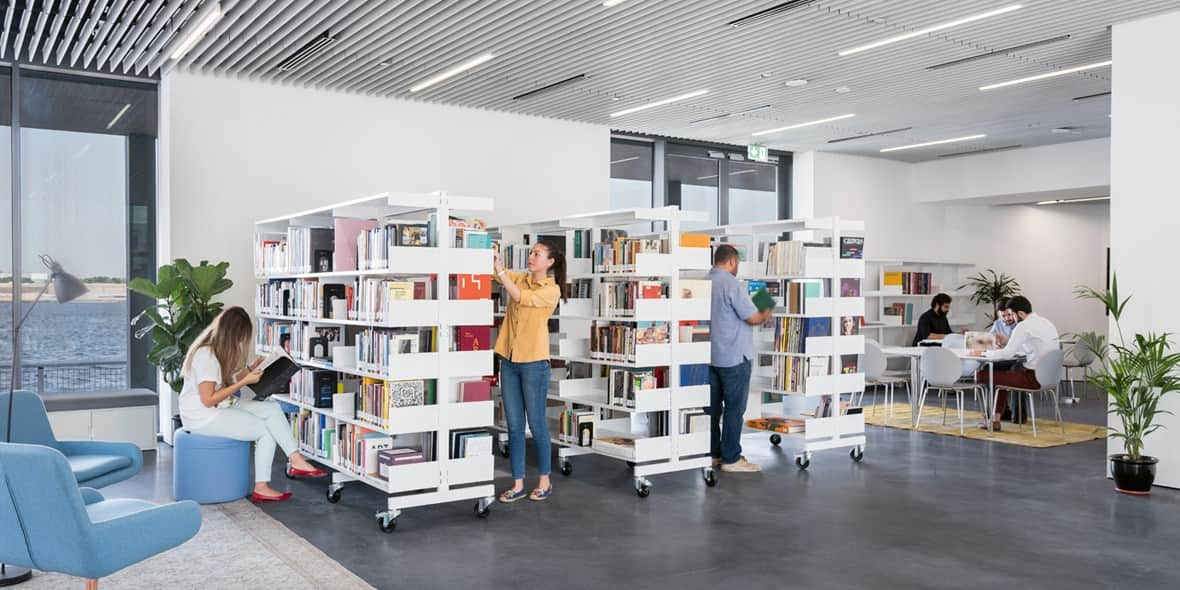 Situated on the edge of the Dubai Creek in Al Jaddaf, this contemporary gallery and research centre not only curates work by established and upcoming artists, but fuels further creativity by providing them with the resources they need. Reference books in both English and Arabic lure visitors while regular discussions, talks and workshops held in the space add another dimension to the offering. The in-house farm-to-table restaurant Teible is worth dining at too.
6
Al Mankhool Library
A favourite stop for reading fans, Bur Dubai's Al Mankhool Library has a very well-priced membership if you are powering through a multitude of books. There's also plenty of contemplative corners to get your work done. From a brightly-coloured children's area to a VIP section for extra exclusivity, this 3,750sqm government-run library caters to all demographics and interests.

7
Etihad Museum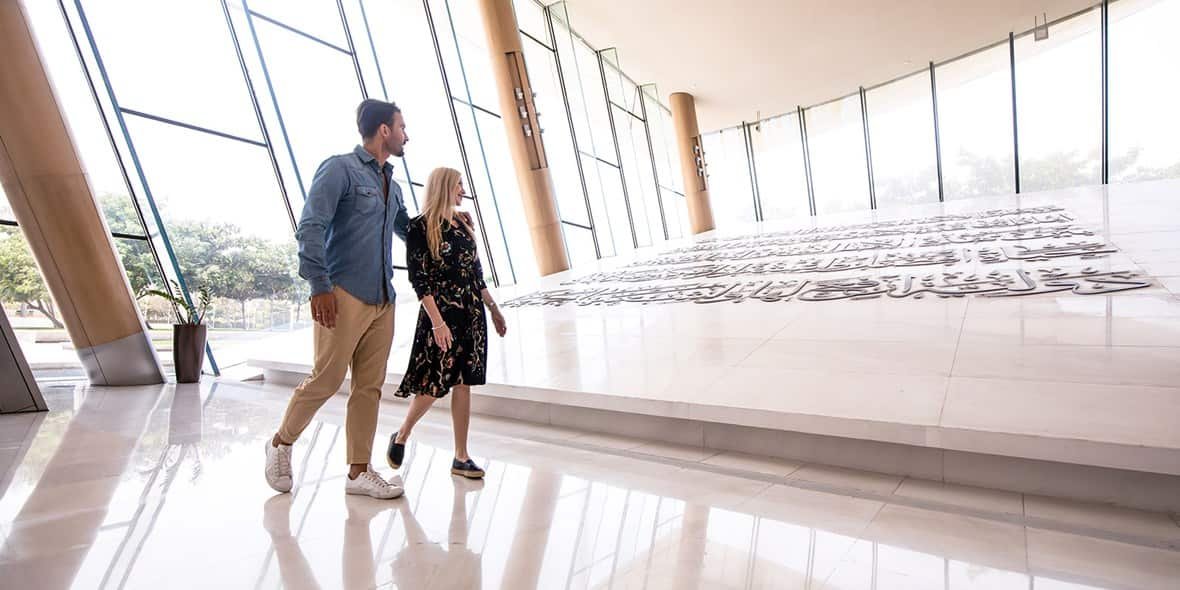 Given that the Etihad Museum celebrates the nation's union, it is only right that its rich collection of books – and other research materials including CDs and audio tapes – shine a spotlight on the politics and history of the UAE. To access the library you'll need to buy a museum entry ticket, which means you'll also get to enjoy the exhibitions and displays that tell the story of how this country came to be formed. Although you can explore and read to your heart's content, this is an archival spot so you cannot take books off the premises.
9
Al Rashidiya Library
10
Hatta Public Library
With over 70,000 titles housed under its roof, this library's location is a big draw. It's perched at the foot of majestic hills, near Al Wadi Park in Hatta. Summer camps add to the fun for little ones, while their dedicated selection of eye-catching titles is a favourite year-round draw. Aside from English and Arabic, there are also options in other languages to borrow, with classrooms and a function room adding to the community feel.
11
Al Twar Library
Easily reachable via metro thanks to its proximity to the Dubai Airport Free Zone station, this borrowing-focused public library in Al Qusais also has plenty of research facilities. It encourages a strong community spirit among younger members via both summer and winter camps, and regular skill-building workshops. Al Twar Library also has a beautiful garden area, which is popular among residents looking to read in the winter sunshine.