Arts & Culture
Admire Dubai's beautiful mosques
Dubai is home to stunning mosques, each uniquely elegant and ornate. Some are even open to the public and offer guided tours for a closer look.
Dubai is home to stunning mosques, each uniquely elegant and ornate. Some are even open to the public and offer guided tours for a closer look.
1
Jumeirah Mosque
Located close to Dubai's glittering coastline, Jumeirah Mosque has become a city landmark. Built in 1976, this elegant structure features regal white minarets and an intricate dome reminiscent of the Fatimid architectural traditions from Syria and Egypt. Its interiors are bright and airy, adorned in pastel designs, Islamic calligraphy and golden chandeliers. Looks familiar? That's because an image of the Jumeirah Mosque appears on the AED500 bank note. This mosque is open to the public too, with the Sheikh Mohammed Centre for Cultural Understanding offering daily guided tours that are worthy of every holiday itinerary.
2
Al Farooq Omar bin Khattab Mosque
The Al Farooq Omar bin Khattab Mosque is one of the UAE's largest. It's fondly known as Dubai's very own 'Blue Mosque', inspired by Turkey's famous Sultan Ahmed Mosque, blending the best of Ottoman and Andalusian styles. It features four soaring minarets, 21 domes, 124 stained-glass windows and a traditional fountain. Open to all visitors, you'll find thousands of Turkish iznik tiles adorned on the walls and arches inside, complemented by rich red and gold carpets on the floor. The mosque offers great views outside as well, thanks to its location opposite the rolling greens of Al Safa Park.
3
Al Salam Mosque
A striking structure, Al Salam Mosque comprises multiple domes arranged in a stacked, pyramid-like fashion. Its exteriors catch the eye with crimson-red bricks, gold domes and white accents along the edges. It embodies a mix of Emirati and Ottoman architectural influences and, on its front facade, reads the shahada – one of the five pillars of Islam. The mosque is especially dramatic at night when shimmering green and gold-hued lights show off every intricate detail. While not open to the general public, visitors can admire this masterpiece from the outside.
4
Abdul Rahman Siddique Mosque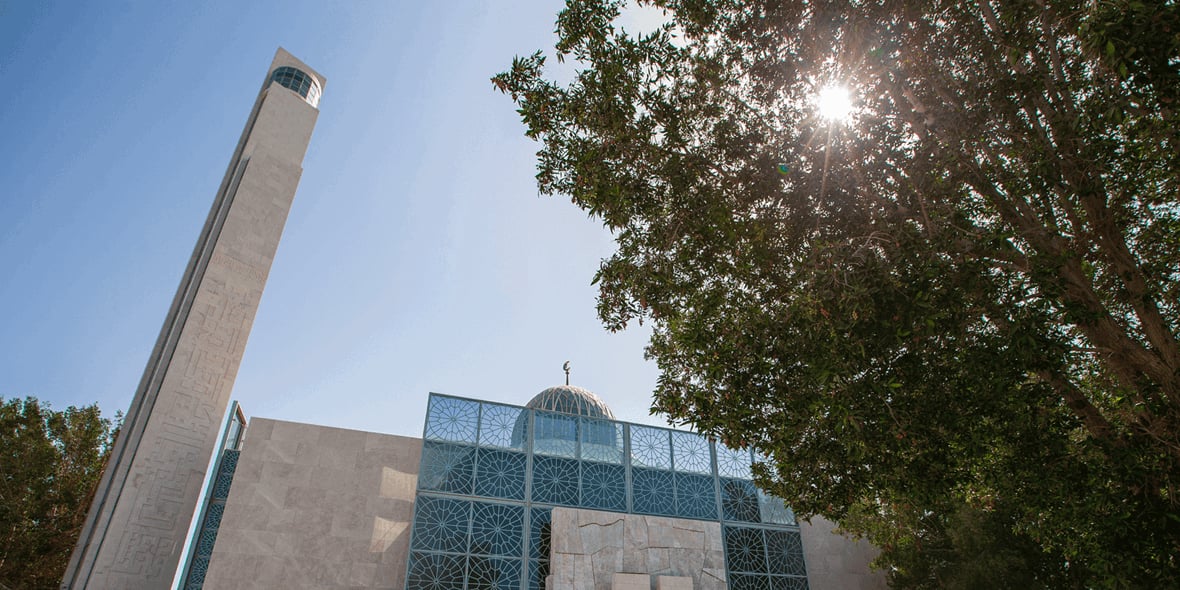 Much like its home on Palm Jumeirah
, the Abdul Rahman Siddique Mosque moves away from convention in both look and feel. A distinctly modern structure, the mosque uses principals of minimalism to make spirituality and worship the central focus. 
From a linear minaret to a cubist main hall, the mosque's rigid lines and geometric elements separate it from its counterparts across the city. While white and blue glass glisten in the sunshine from the outside, it's constructed in a manner that allows natural light to filter towards the 
qibla – 
the direction Muslims face while praying towards Mecca. 
5
Masjid Al Rahim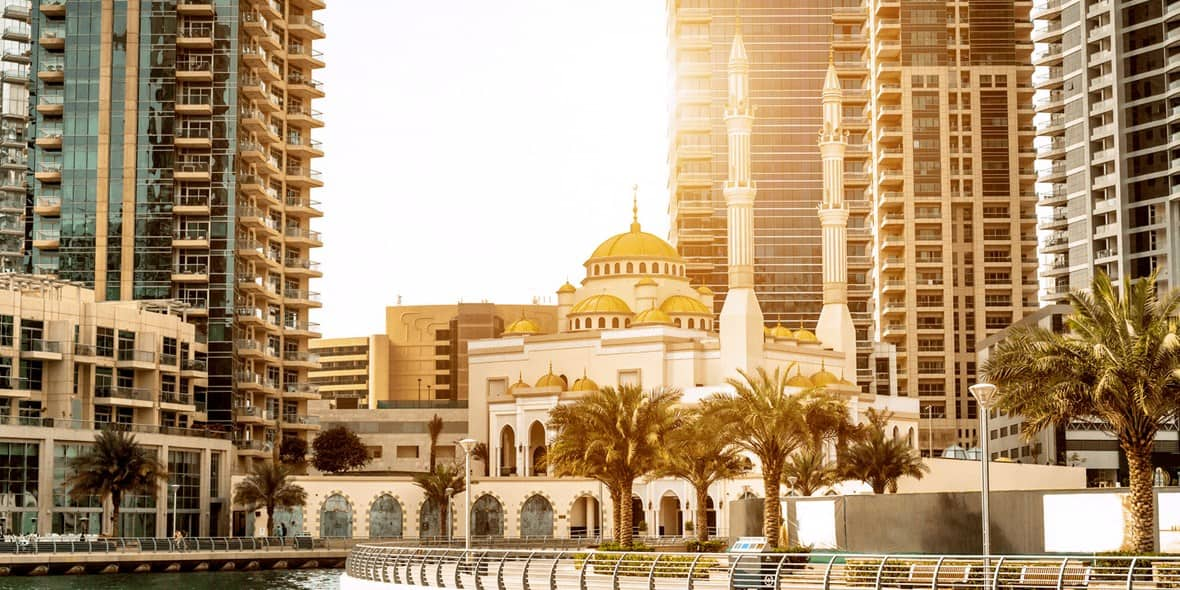 Set to the backdrop of the towering Dubai Marina skyline, Masjid Al Rahim is a stunning sight to behold. Located at the southern end of Dubai Marina Walk, this divine structure is crowned by a single dome, while the facade facing the marina's waters is bordered by a waterfall. Open only to worshippers, it features a library and school where students can study the Quran, and adds a local touch to the neighbourhood's contemporary setting. It's easily accessible and just a short walk away from the Dubai Marina Mall metro station.
6
Khalifa Al Tajer Mosque
Better known as Dubai's 'Green Mosque', Khalifa Al Tajer is the first eco-friendly mosque in the region. Islam has a rich tradition of highlighting the importance of conserving natural resources, and this 100 percent environmentally-friendly mosque reflects that. 
Located by the east of the iconic Dubai Creek, the mosque is built using green materials and features solar panels for power and a climate-controlled system that regulates air-conditioning according to prayer times and number of visitors. The mosque is also in the vicinity of Deira's famous Gold Souk, so there's lots to explore nearby.
7
City Walk Mosque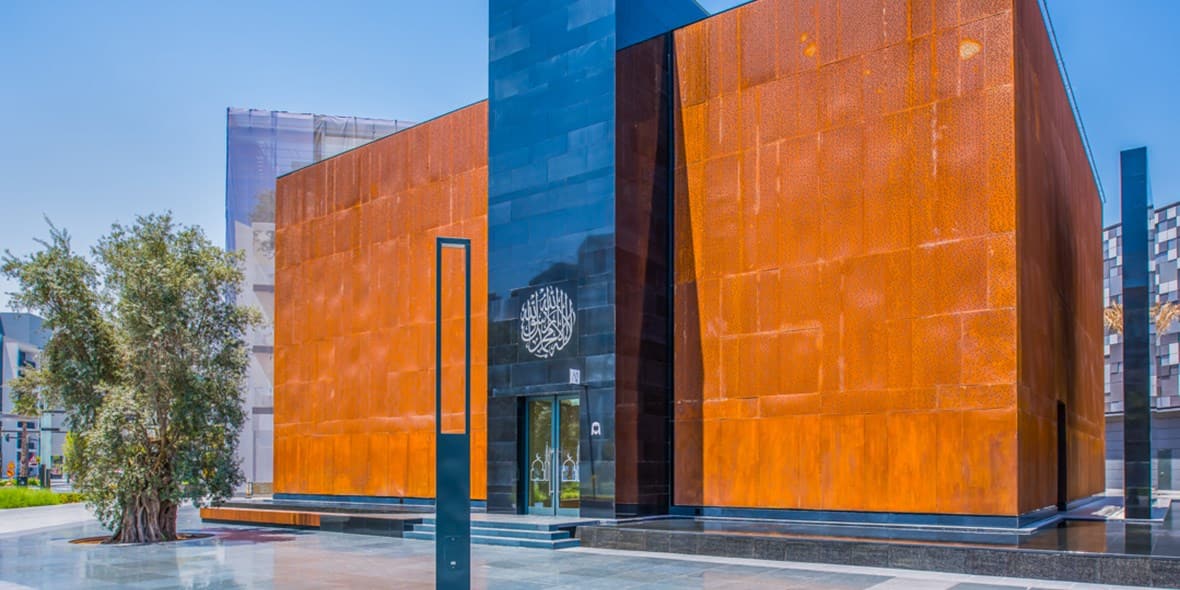 Perfectly blending in with City Walk's urban aesthetic, the district's mosque takes the unassuming shape of a rust-brown cube. Moving away from classical elements such as minarets or domes, its sleek lines and glass doors reflect serene minimalism. At night, the structure is gently lit up creating an ethereal effect. You'll also want to take a closer look at the huge sculpture by Emirati artist Mattar bin Lahej on one side of the building – inspired by a verse in the Quran, it features a classic Arabic font in stainless steel crafted in the form of rippling waves.
8
DIFC Grand Mosque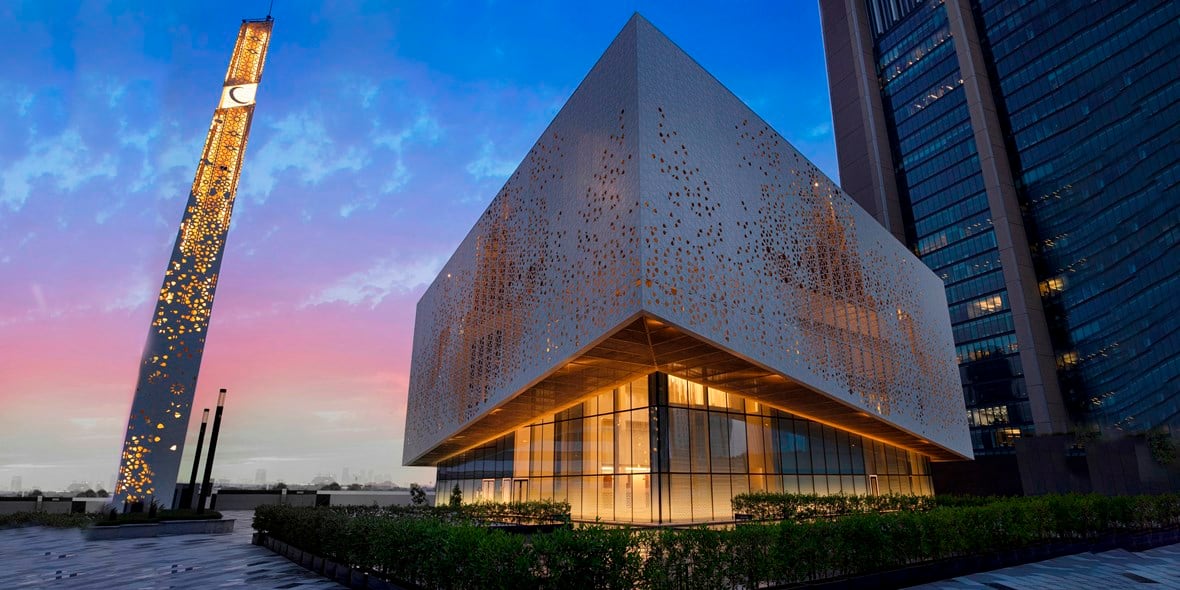 A striking structure by the Gate Village in Dubai International Financial Centre (DIFC), the Grand Mosque's design is inspired by traditional Islamic architecture with intricate mashrabiya elements. With sharp angular lines evident from its exterior, look closer and you'll see the mosque is enveloped with a screen of graduated perforations that allows light to spill inside – it's a memorable modern take on a classic style, and one that doesn't fail to impress.
10
Marvel at the beauty of Mosque of Light
Located in the neighbourhood of
Al Quoz
, the Mosque of Light is another shining example of contemporary creativity in the Middle East. Designed by Sumaya Dabbagh from Dabbagh Architects, the mosque's geometric
mashrabiya
-inspired details act as miniature windows, presenting a play of light inside for worshippers, while outside it's a vision in white with a singular rounded minaret and sleek understated dome. For more creativity and artistic inspiration nearby, go gallery hopping in
Alserkal Avenue
. It is also known as the Mosque of Mohamed Abdulkhaliq Gargash.