Sights & Attractions
The heart and soul of the city, it's easy to while away the day immersing yourself in memorable activities at Dubai Creek. Follow our itinerary to spend one perfect day at the historic area.
The heart and soul of the city, it's easy to while away the day immersing yourself in memorable activities at Dubai Creek. Follow our itinerary to spend one perfect day at the historic area.
1
6.30am: Breaking dawn in Deira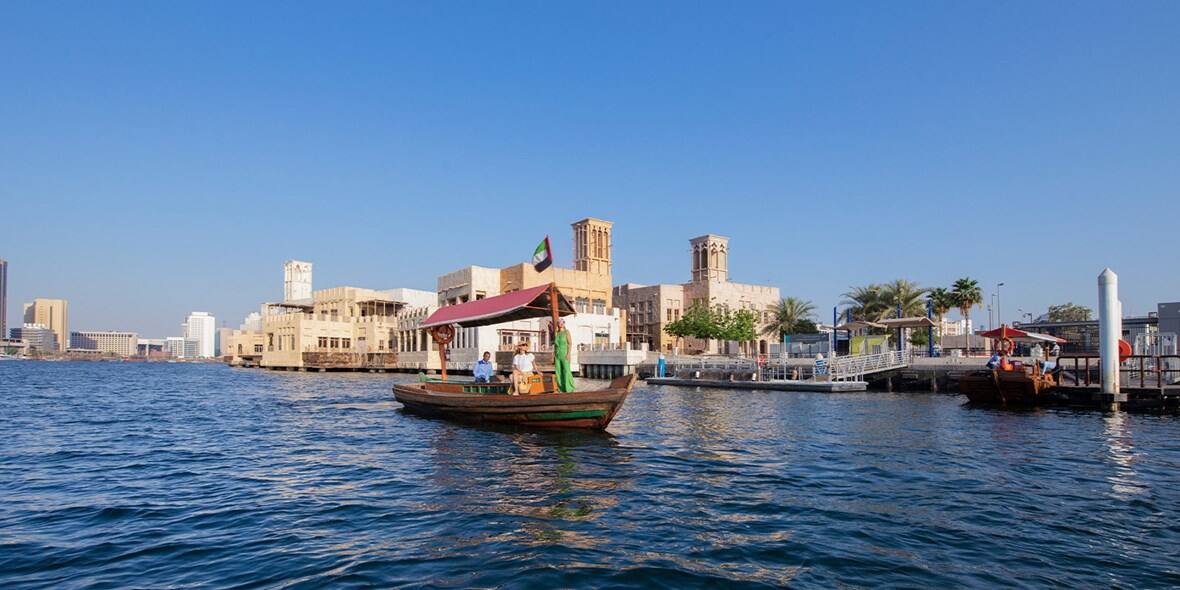 Start off your morning at the the saltwater inlet that flows through some of the city's most storied neighbourhoods. For Instagram-worthy views, we recommend heading out at dawn towards the Deira abra station, which is a short walk from the Gold Souk metro stop. If you're an avid photographer, this is the spot for capturing pristine Dubai moments as a fresh day unfolds. You'll be equally content to hit pause and watch the sunrise in this tranquil setting, as the waterway fills up with wooden abras and the city slowly awakens.
2
8am: Going for gold and Arabian finds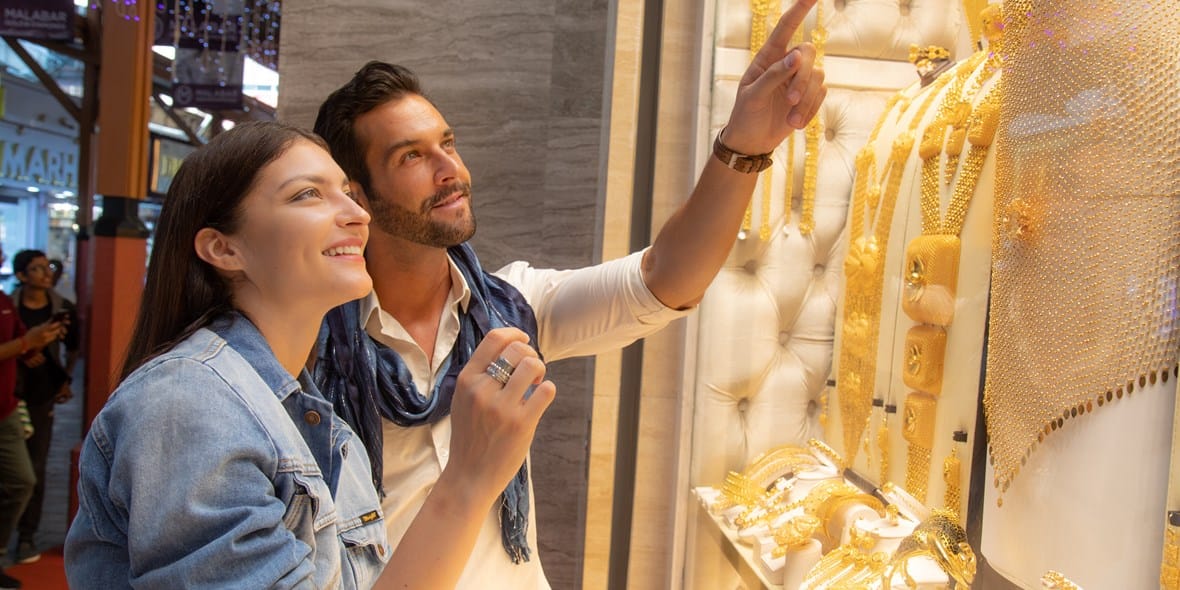 Deira's traditional souks that specialise in gold, perfume and spices open between 7:30am and 9am, so there's plenty to explore right where you are. Hit the narrow lanes for some early morning shopping – bargains included – as you discover handcrafted jewellery, delightful scents and baskets brimming with colourful herbs. There's a good chance you're feeling peckish by now – if you haven't had a bite yet, grab a fresh fruit juice from any one of the vendors or cafeterias as you wander around – you're sure to be amused by the drink varieties and names on the menu. A big breakfast lies ahead on the itinerary, so be sure not to quench your appetite entirely.
3
10am: Cross the Creek to Bur Dubai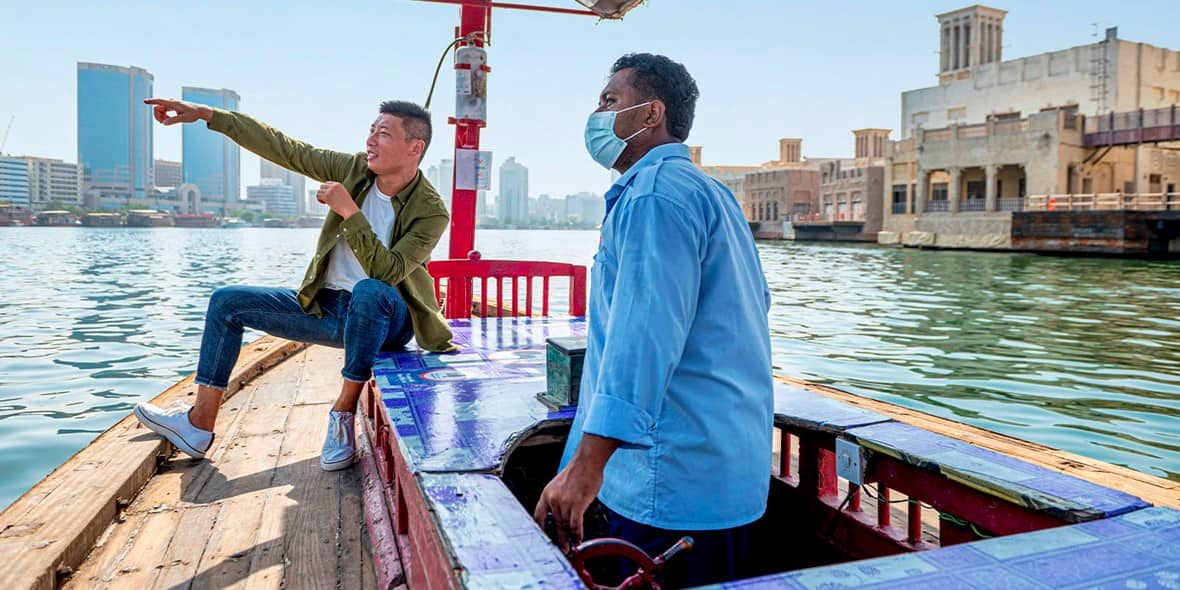 You could spend a whole, happy day right where you are. But if you're keen to continue experiencing creekside haunts, make your way back to the waterfront and catch a ride on a traditional abra boat to the Bur Dubai district on the other side of the Creek – the short one-way trip costs just AED1!
4
10:30: Breakfast at Al Seef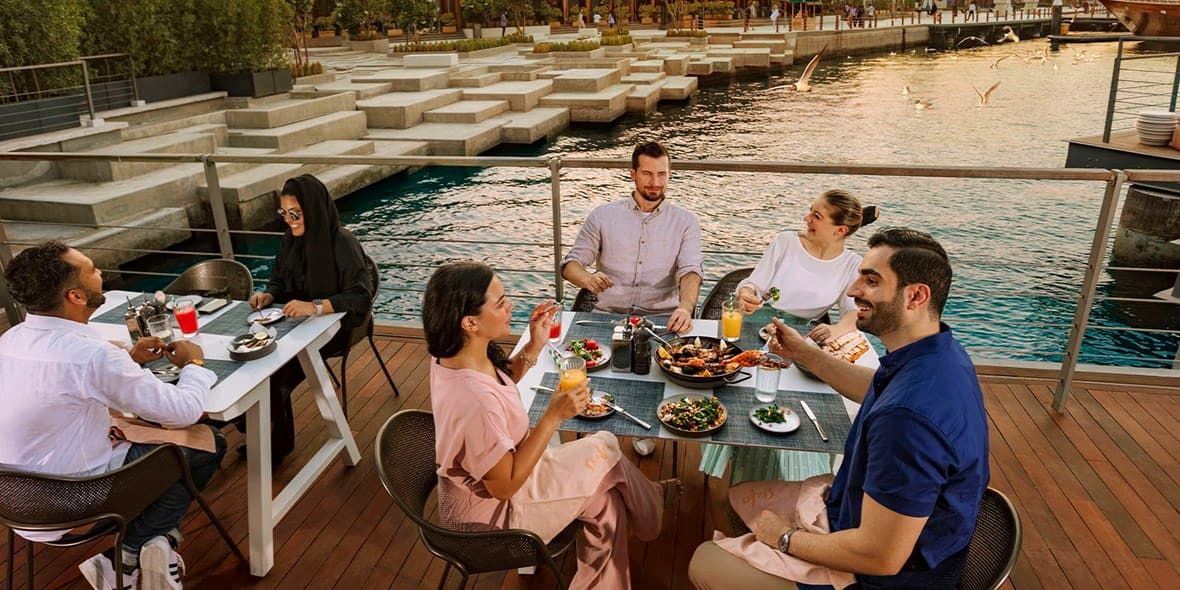 Once you alight at the Bur Dubai abra station, hail a taxi and head east to the lifestyle destination Al Seef. Hugging 1.8km of Dubai Creek's shoreline, Al Seef celebrates the nation's heritage with plenty of traditional architecture, including stately wind towers and sandstone buildings. To get a real taste of Dubai, consider a leisurely breakfast at Al Seef Heritage Hotel's restaurant, Saba'a. The family-style menu features an elaborate spread in the mornings, complete with authentic Arabian dishes and Emirati flavours. Well-fed and rested, round up your visit to Al Seef with a stroll along the stunning waterfront and marina, where chic outlets line the promenade and the brilliant white of harboured yachts perfectly complement the native sandy and sea-toned hues.
5
1:30pm: Walk down memory lane at Al Fahidi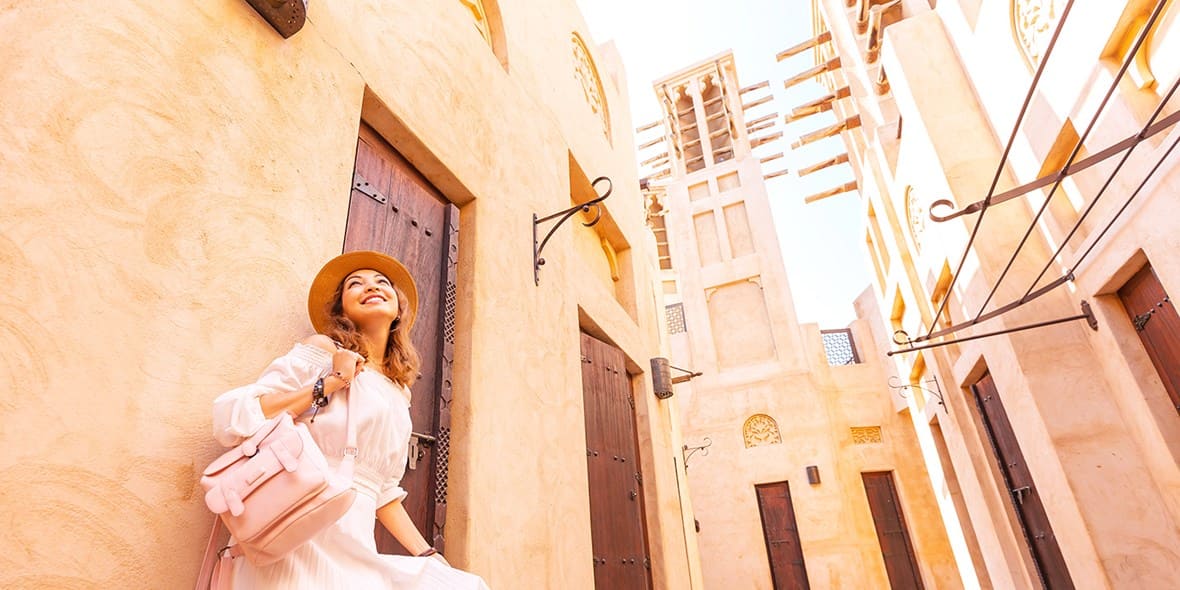 You're now ready to delve further into the Dubai of the past. Leave the charm of Al Seef and walk towards Al Fahidi Historical Neighbourhood. Despite the bustling roads around it, you are welcomed by calming wind towers made of stone, gypsum and sandalwood. Choose one of the winding streets to begin discovering over 50 houses, now repurposed as museums, art galleries and cafes, as well as quaint spaces for special events. Eager to learn Emirati culture and customs from the experts? Stop by Sheikh Mohammed bin Rashid Al Maktoum Centre for Cultural Understanding (SMCCU) to sign up for Arabic classes, heritage tours and guided mosque visits, or make a note to come back for a traditional Emirati meal.
Other must-visit venues here include the Coin Museum, Calligraphy House (Dar Al Khatt) and XVA Gallery Art Hotel & Café. Depending on how long you've been wandering around, you may be in the mood for a late lunch or snack. There's no better stop than the cosy and popular Arabian Tea House, where 150 types of tea and delicious servings of local specialities await.
6
4pm: Style yourself at the Textile Souk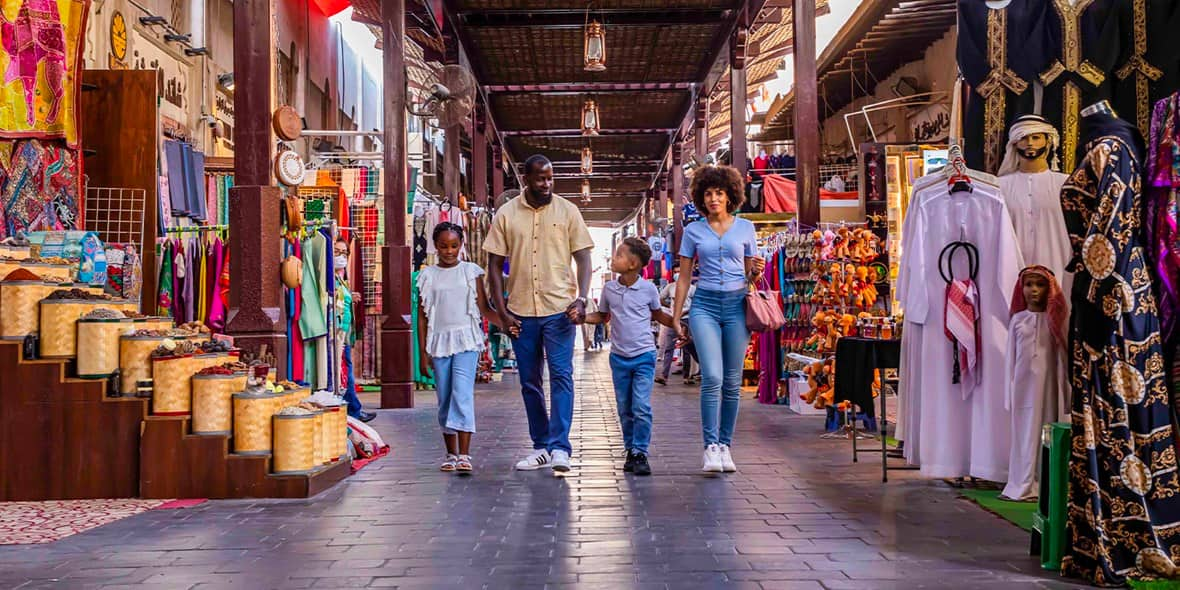 You've taken in the sights and sounds and got your fill of Dubai's history, culture and cuisine – now all that's left is to pick up a few souvenirs or even adorn yourself in traditional garb. Get a taxi and head back towards the abra station but stop at the Textile Souk, which reopens at 4pm for a busy evening session.
From flowing kaftans to the finest silk scarves, you'll find all the fabrics and fashions at countless stalls in the marketplace. If you prefer to design an outfit, pick up the material and accessories you fancy and visit any of the skilled tailors onsite to create your look.
7
Choose your own adventure
You can decide to end your day with even more cultural glimpses at Al Shindagha Museum before 7pm. Or enjoy a sundowner on the deck of the Queen Elizabeth 2 – the former flagship of cruise company Cunard is permanently harboured at the nearby, historic Port Rashid. To truly crown your Creek-inspired journey (you've earned it), we recommend a dhow cruise – many of which offer dinner experiences aboard a traditional wooden trading ship, and there are no shortage of options to choose from. With live entertainment accompanying a lavish spread, you can sit back, feast and reflect on a day well spent as you glide further inland along the Creek and watch the city come aglow at night.