Adventure
Outdoor activities in Dubai
When cooler weather arrives, it's the perfect time to head outside – here are some of Dubai's best outdoor activities, from most to least energetic.
When cooler weather arrives, it's the perfect time to head outside – here are some of Dubai's best outdoor activities, from most to least energetic.
Thrill as you glide over the water at high speed
Dubai's watersports scene is legendary, with dozens of options for excitement on – or in – the water. A great place to start is waterskiing, or wakeboarding which uses a single larger board while a speedboat pulls you across the water – and you try to stay upright. There's also more novel powered watersports on offer, including flyboarding, jetskiing, parasailing and even miniature submarines.
Paddle your own canoe to really test yourself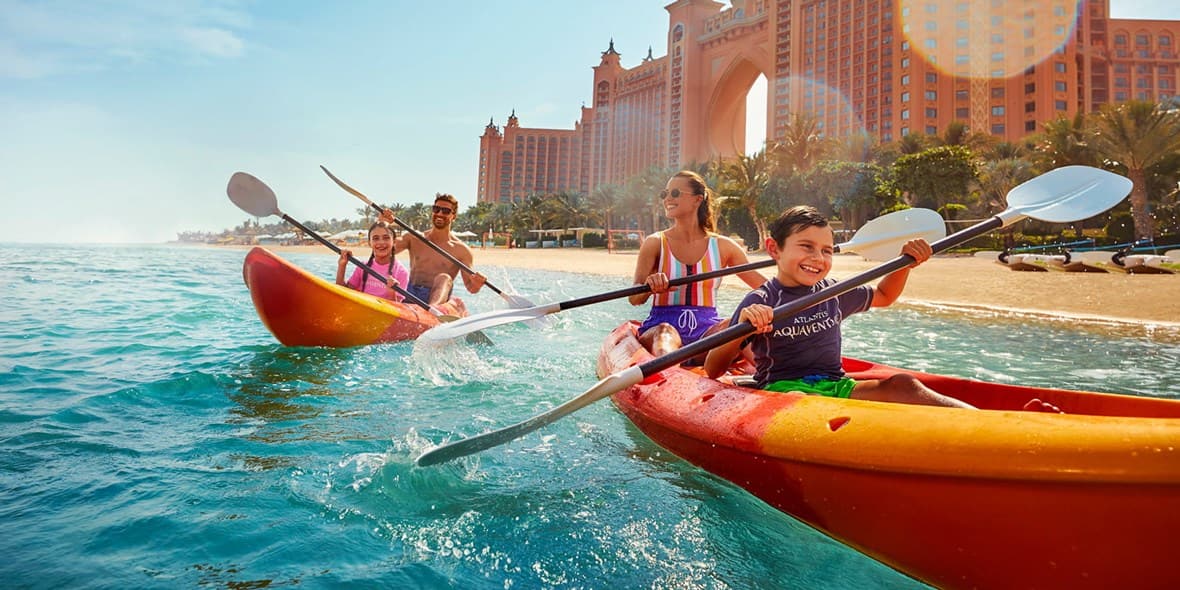 It's time for a full body workout surrounded by the serene waters of the Arabian Gulf. Hire a canoe or kayak from providers such as IGNITE water sports and take yourself – and your family – around the fronds of Palm Jumeirah, or test your balance and coordination with stand-up paddleboarding. For more thrills, wakesurfing sees you make the most of the waves created by a boat – but with no rope attached – while kitesurfing uses the power of the wind.
Get running or cycling on Dubai's perfect tracks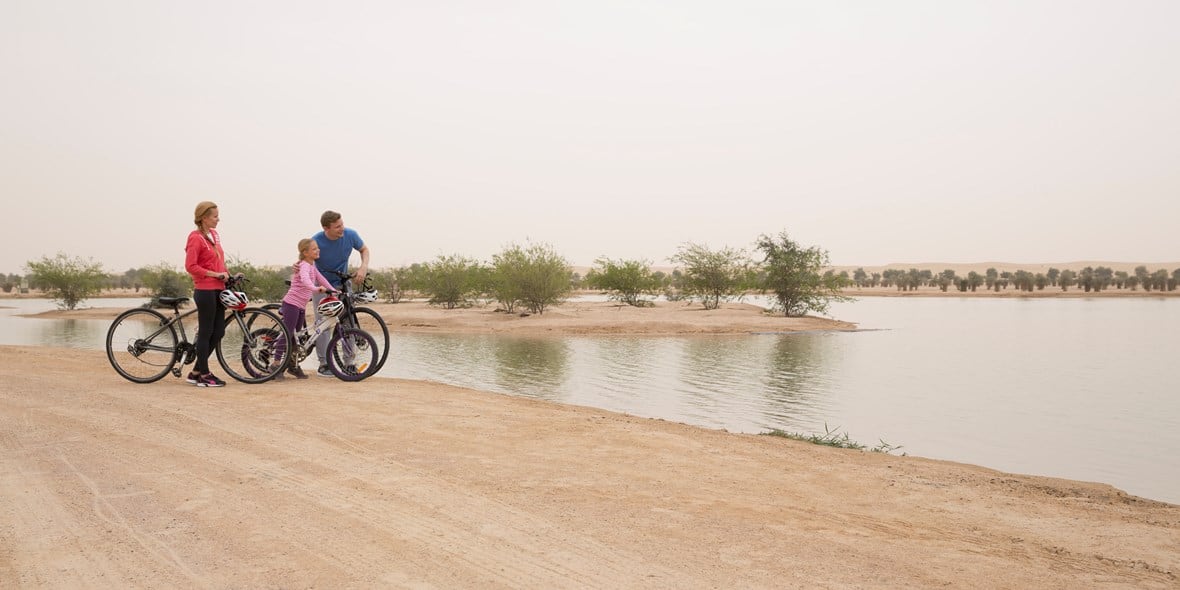 Back on land, Dubai offers fantastic facilities for both runners and cyclists. In the city, runners can enjoy dedicated paths along Jumeirah Beach Road and around several of the city's parks – as well as Marina Walk at Dubai Marina. And out at Al Qudra, both cyclists and runners can take advantage of a dedicated 85km track, which offers stunning desert and city skyline vistas – and no cars. There are plenty more options for running and cycling in Dubai too.
Explore the rugged beauty of Hatta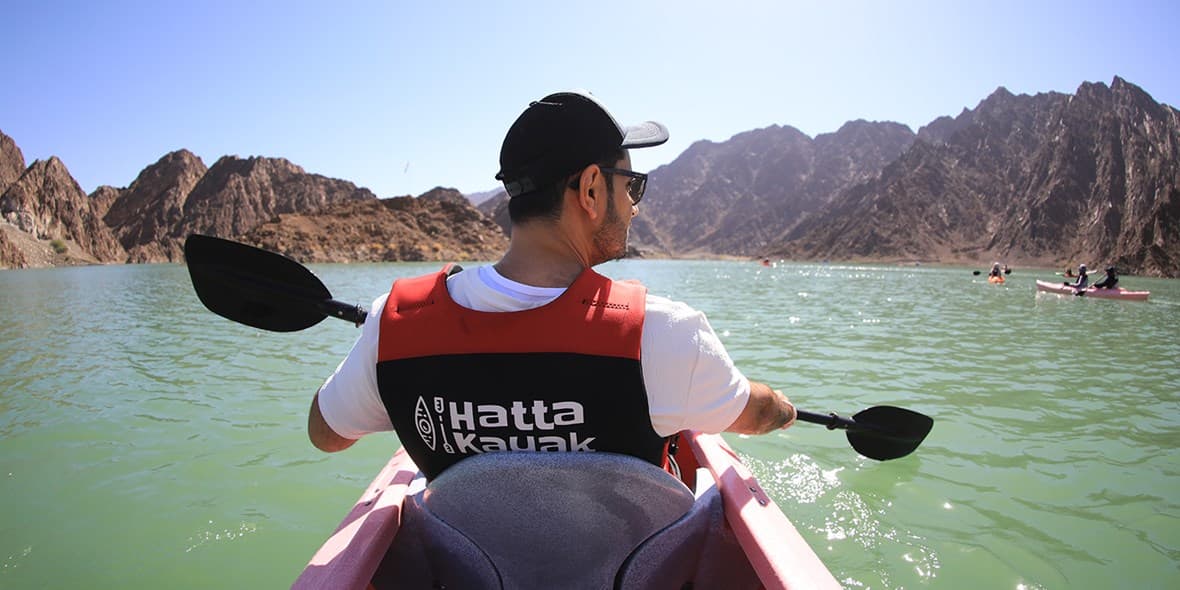 An exclave of Dubai near the border with Oman, Hatta is a small town in the Hajar Mountains, and boasts some of the most stunning scenery in the emirate – along with fantastic outdoor activities. Head to Hatta Wadi Hub for hiking, mountain biking, ziplining and more, or to Hatta Dam to kayak on its peaceful waters. While Hatta is great for a day trip, you can also make a longer adventure of it, with Hatta's accommodation options ranging from camping and glamping to a luxury hotel.
Find excitement in the sands of Dubai's desert
Some people just cannot resist the thrills to be found among the desert's majestic dunes – and there are quad bikes, dune buggies and more to satisfy their need for speed. If you're planning to drive off-road in the desert, it's important to do it with an established provider which offers appropriate vehicles, and all the safety equipment you'll need. For quad bikes, try OceanAir Travels, while Big Red Adventure Tours offers plenty of fun offroad options. You can also see our complete guide to offroading in Dubai below.
Take a desert safari for a tour of the dunes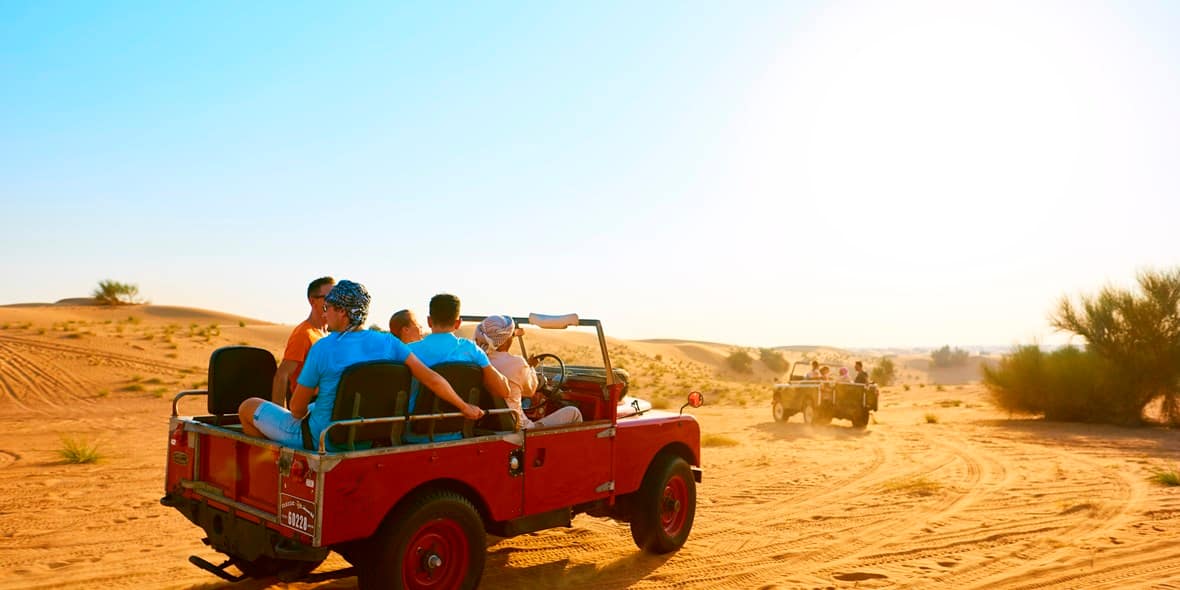 If you're not quite ready to get behind the wheel of a dune buggy, a desert safari is a great way to experience Dubai's rolling sands, and let an experienced professional do the driving for you. Choose from tour operators including Arabian Adventures and Platinum Heritage among others, with options including an evening safari complete with an Arabian feast, an overnight trip to a private oasis or even wildlife-watching trips in Dubai's conservation areas.
Camp out under clear desert skies
Desert camping is the ideal way to get away from the city's noise and energy – and to rediscover your own energy in the process. There are plenty of options for camping in Dubai, from organised trips – including astronomy sessions – with providers including Platinum Heritage, to DIY campsites and even glamping. Have a look at our camping guide below, or see how to combine camping and hiking in Dubai.
Go horseback riding at one of Dubai's stables
Horses are an integral part of Arabian culture, so it's no surprise Dubai boasts plenty of stables and equestrian facilities. Whether it's your first time ever in a saddle, you're an experienced rider or you want to get involved in polo or dressage, you'll find the right venue – and the right steed – in Dubai. Have a look at our guide to horse riding in Dubai for more information.
Gain your sea legs with a fun nautical activity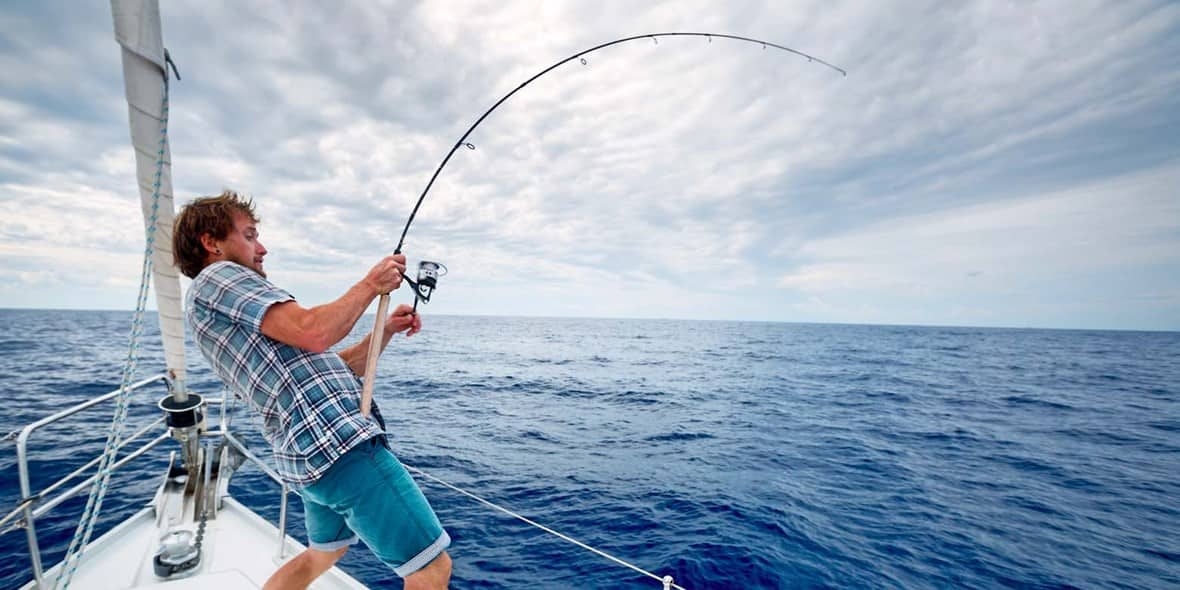 Whether you want to experience the thrill of handling a sailing ship, fancy trying your hand at some deep-sea fishing, or are looking forward to cruising in style aboard a luxury yacht, you can find your kind of fun on Dubai's waters. Get in touch with providers including Xclusive Yachts or Ocean Active for yacht or fishing trips, or head to Dubai Offshore Sailing Club to see where the wind takes you.
Explore Dubai's heritage with a walk by the creek
Dubai Creek is the ancient heart of the city, making it a perfect place to wander around and discover Dubai's history. Start at Al Fahidi Historical Neighbourhood before heading up the creek, through the Textile Souk and towards Al Shindagha. Then you can cross over to explore Deira's souks and markets, along with the working Dhow wharfage – all accompanied by the noise of boats, the shrieks of gulls wheeling overhead and all the other sounds of a working waterway.
Enjoy a leisurely stroll or picnic in Dubai's parks
Scattered throughout the city, Dubai's peaceful and picturesque parks offer a respite from the city's hustle and bustle, and each has its own unique character. Creek Park sits alongside Dubai's main waterway, while Safa Park has Dubai Water Canal running through it. Al Mamzar Beach Park is ideal for a barbecue on the coast, and Zabeel Park boasts the majestic Dubai Frame – making it ideal for selfies.