Health & Fitness
Work out in Dubai's outdoor fitness spaces
Feel good about a free outdoor workout during Dubai's cooler months at these scenic fitness hotspots.
Feel good about a free outdoor workout during Dubai's cooler months at these scenic fitness hotspots.
1
Sun, sweat and sand at Kite Beach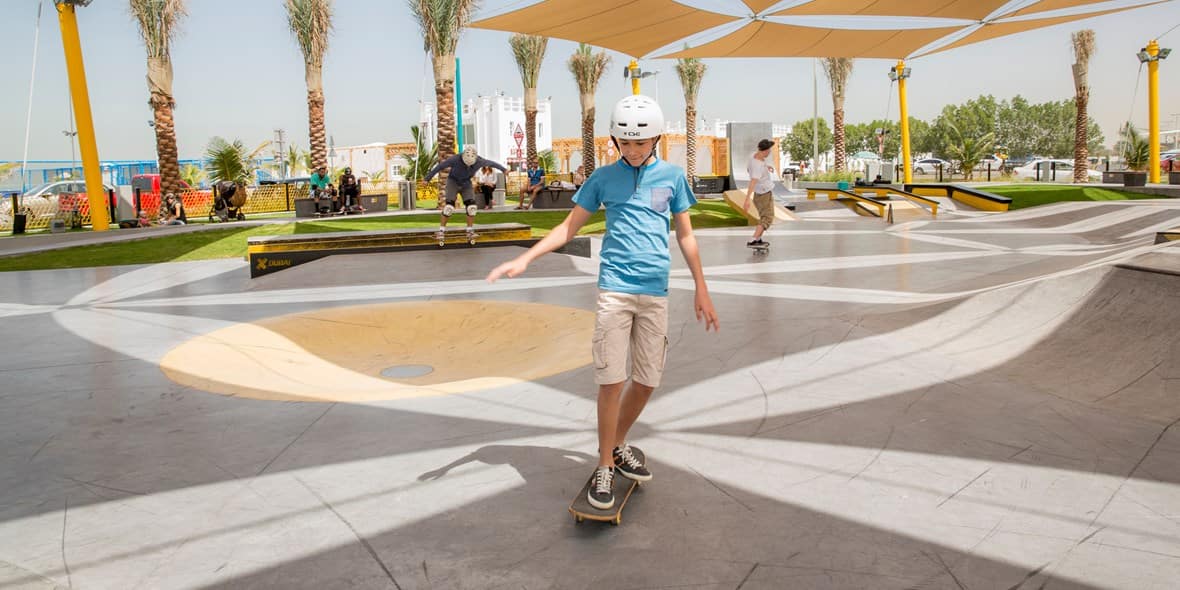 Fresh air and the sound of the waves will leave you feeling rejuvenated as you run at Kite Beach's cushioned running track. This free beach is very popular with Dubai's running community, so you'll be in good company. Early risers can join paddle boarders in the water while yogis perform sun salutations on the sand at the break of dawn. There's also volleyball courts and, next door, XPark by Etisalat provides plenty of curves and lanes to master new tricks.
2
Island fitness at Al Ittihad Park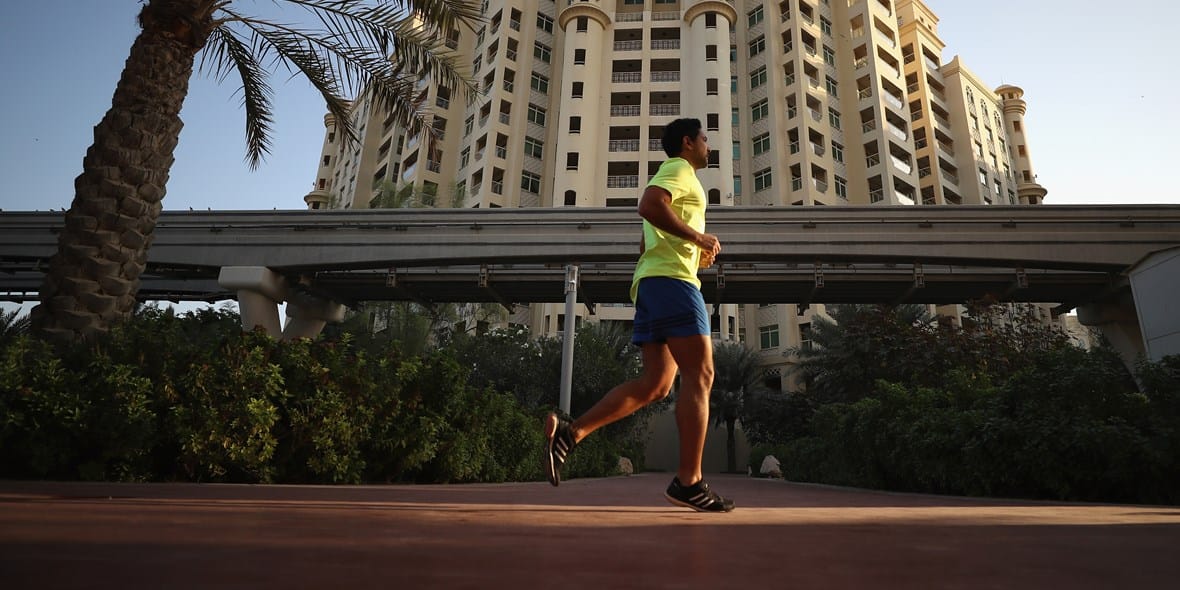 Dubai's famed Palm Jumeirah island is also the home of Al Ittihad Park, which features a mix of workout stations located alongside a running track. Lined with beautiful foliage, this is definitely one of the most scenic running locations in the city. The park is most picturesque at sunrise and sunset when vibrant colours fade across the sky. It's also great for families as there is a playground to keep little ones occupied for hours.
3
Work out to Downtown views at Burj Park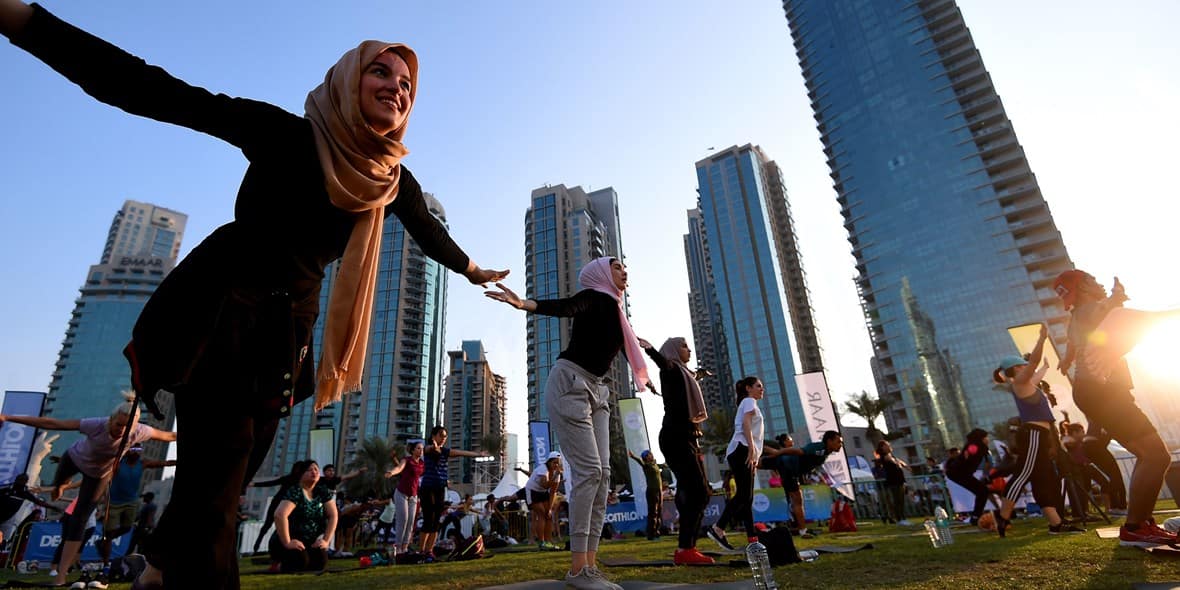 Want to work out in the shadow of the Burj Khalifa? Get to the grass at Burj Park in Downtown Dubai and stay fit as you marvel at the tallest building in the world. You'll often see group classes, yoga tribes and CrossFit fans getting in their daily dose of exercise at this free-to-visit park. Easy access to surrounding cafes and restaurants means you can grab a bite after with your new workout buddies.
4
Cruise the desert at Al Qudra Cycle Track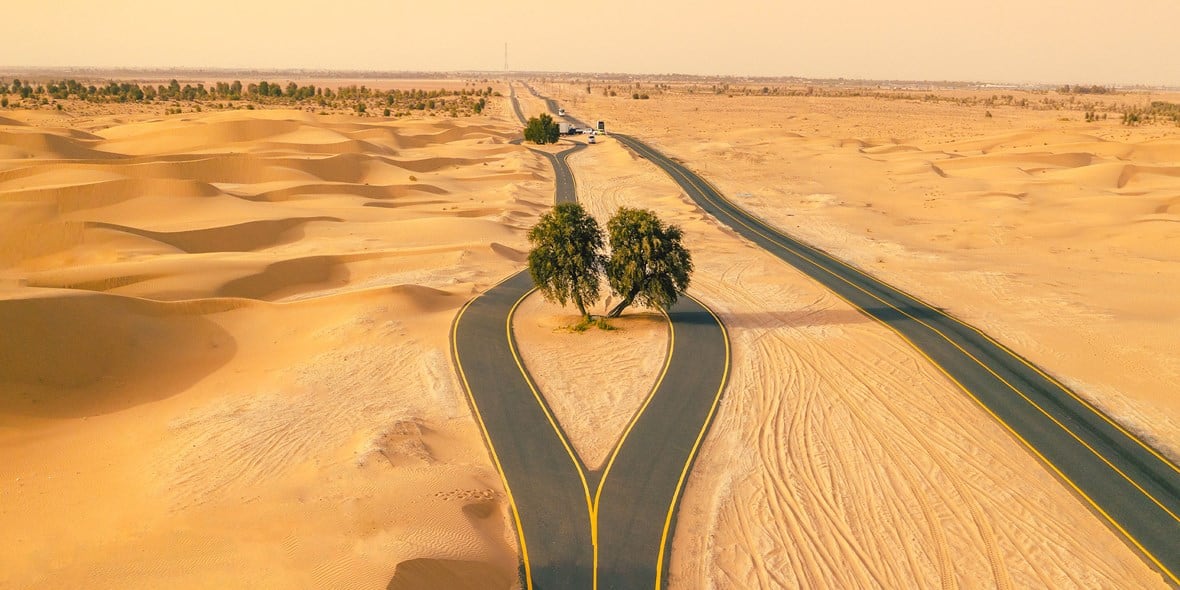 Hugely popular with Dubai's cycling community, the Al Qudra Cycle Track has loops of up to 84km set to the backdrop of the desert. Great for both professionals and amateur riders, the track is busiest during early morning and late afternoon, with cyclists and fitness fanatics arriving from across the United Arab Emirates. You don't have to worry about bringing your own bike either as rentals are available on-site.
5
Burn rubber at District One Meydan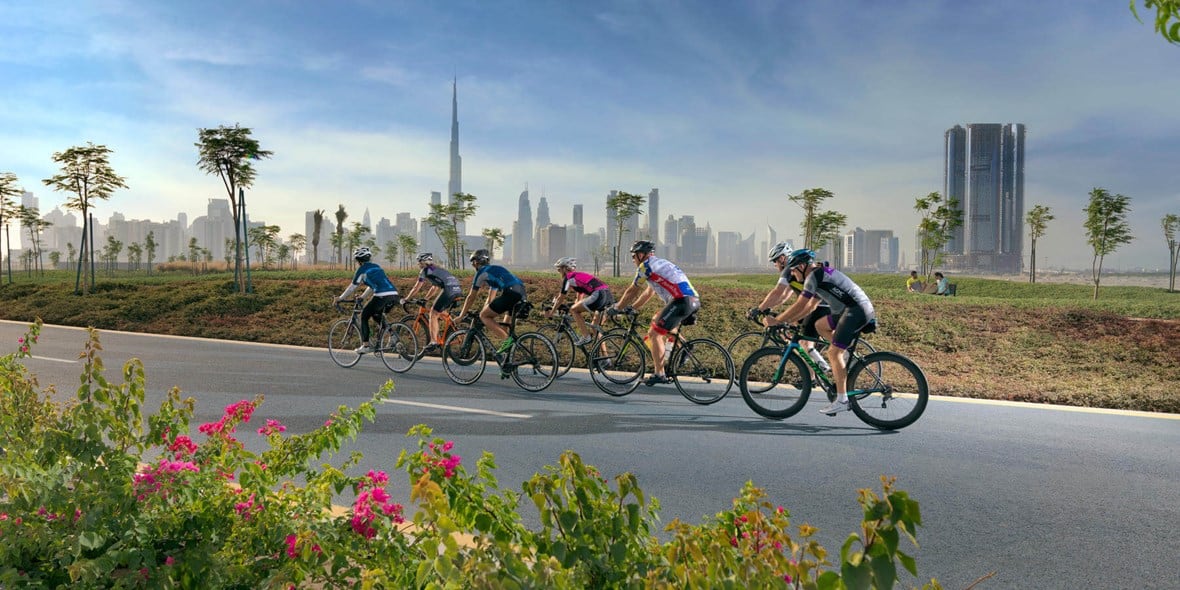 You can enjoy a bike ride alongside a frame-worthy view of Dubai's stunning skyline at Dxbike, an eco-friendly 8.4km track in Meydan. The perfect symmetry of the towers lining up on either side of Burj Khalifa presents beautiful views during the day, but the evening scene is extra special with tower lights glittering in the distance and a more serene vibe. The District One area also has dedicated running paths and plenty of green space for leisurely walks.
6
Pick up speed at the DropZone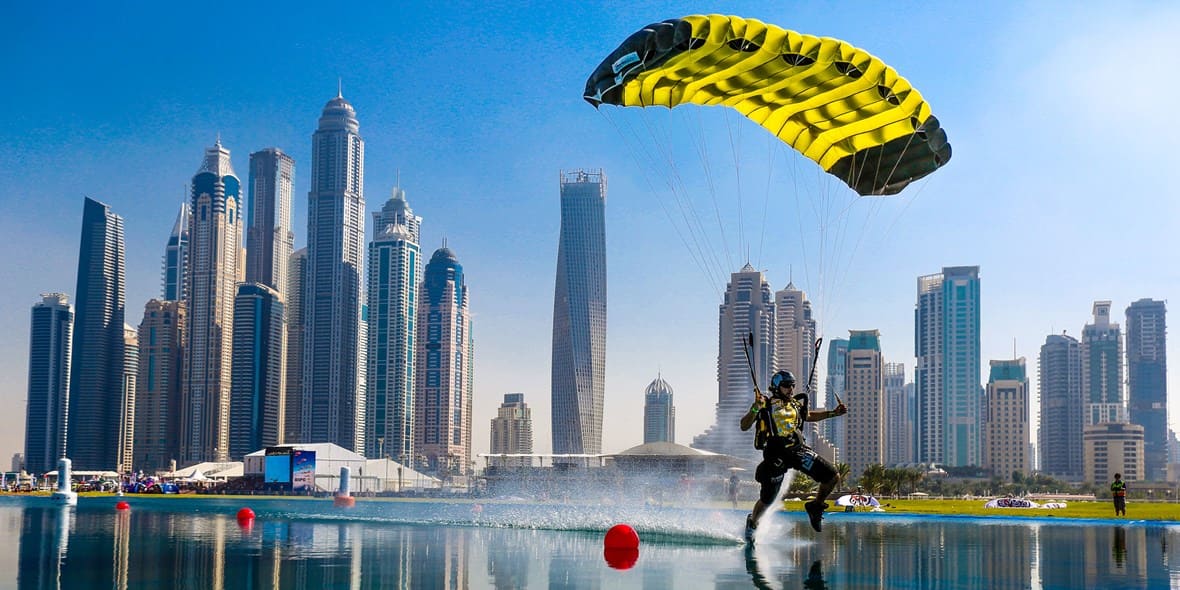 Climb the ropes, chin-up on the monkey bars and test your best time on the sprint track at SkyDive Dubai's DropZone in Dubai Marina. This open-air playground is an opportunity for you to get in some challenging workouts for free. There's also plenty of green grass for yoga, meditation and group activities as you take in the fresh air and watch the skydivers above.
7
Break a sweat at Dubai Marina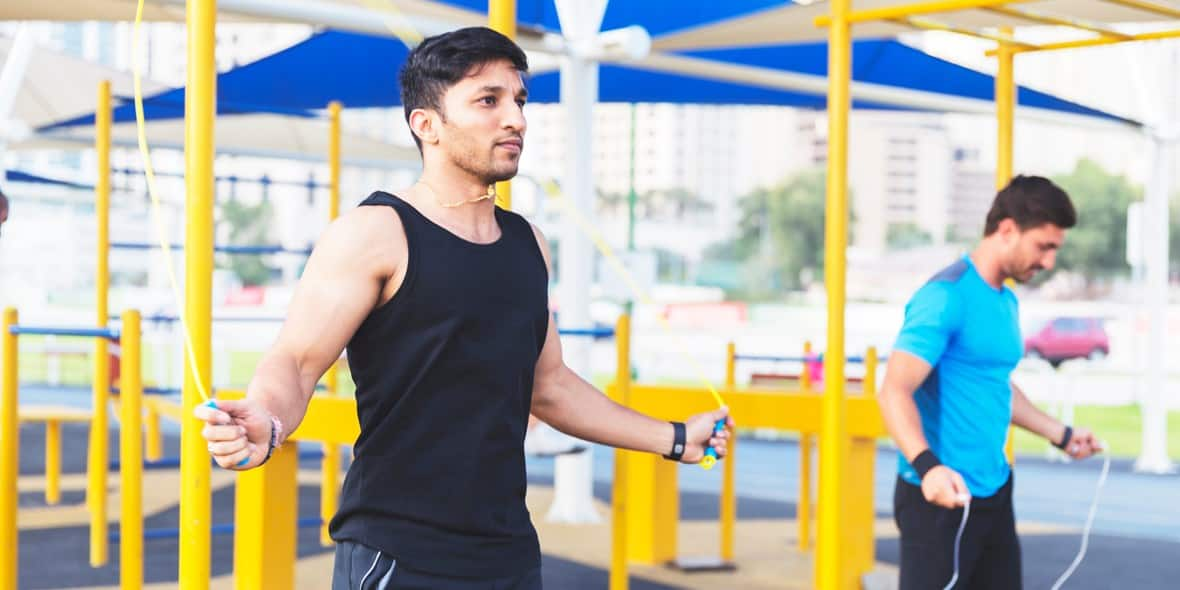 Located just opposite Dubai Marina Mall is a great outdoor fitness zone that will help build core strength as you soak up some sunshine. The pull-up equipment is free to use and a great way to meet fellow fitness-goers in the community too. The location, at the promenade of Bay Central Tower, is also popular with cyclists and runners who appreciate the perfect blend of energy, sights and architecture.
8
Sports day at Al Barsha Pond Park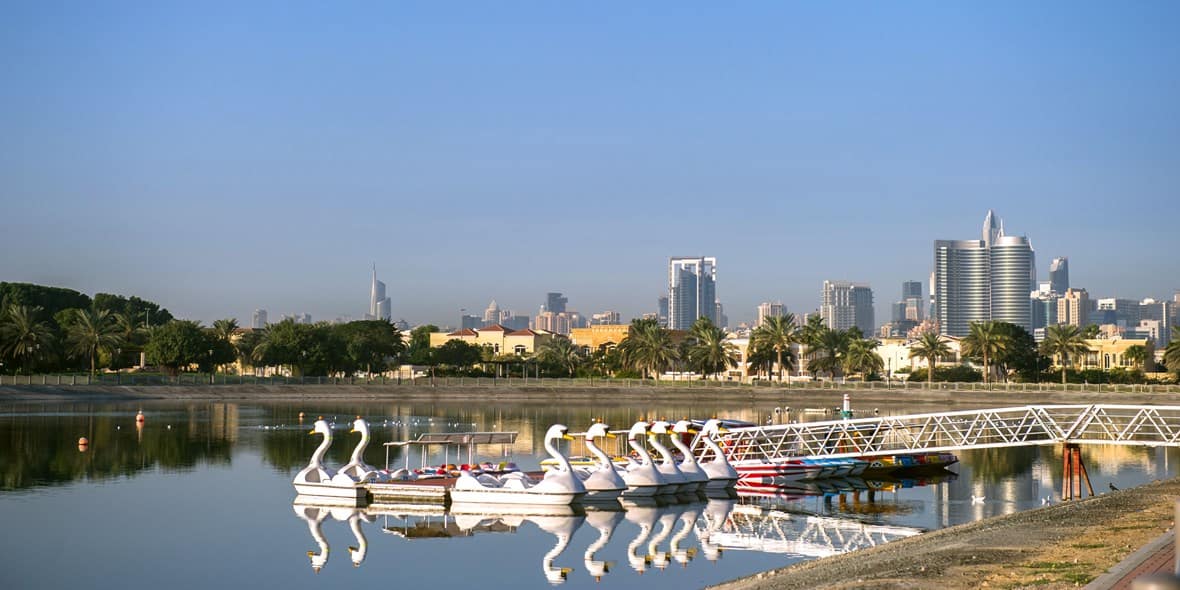 This family-friendly park is the ultimate location for fitness enthusiasts to exercise for free. There's a jogging and cycling track, as well as fitness stations with equipment for bodyweight exercises, including elliptical machines, pull-up bars and a calisthenics area too. You'll often find yogis coming to practise quietly by the pond but, for those who'd rather make some noise, there's basketball, tennis and volleyball courts and a football pitch.
9
Breathe in the sea air at Palm Jumeirah Boardwalk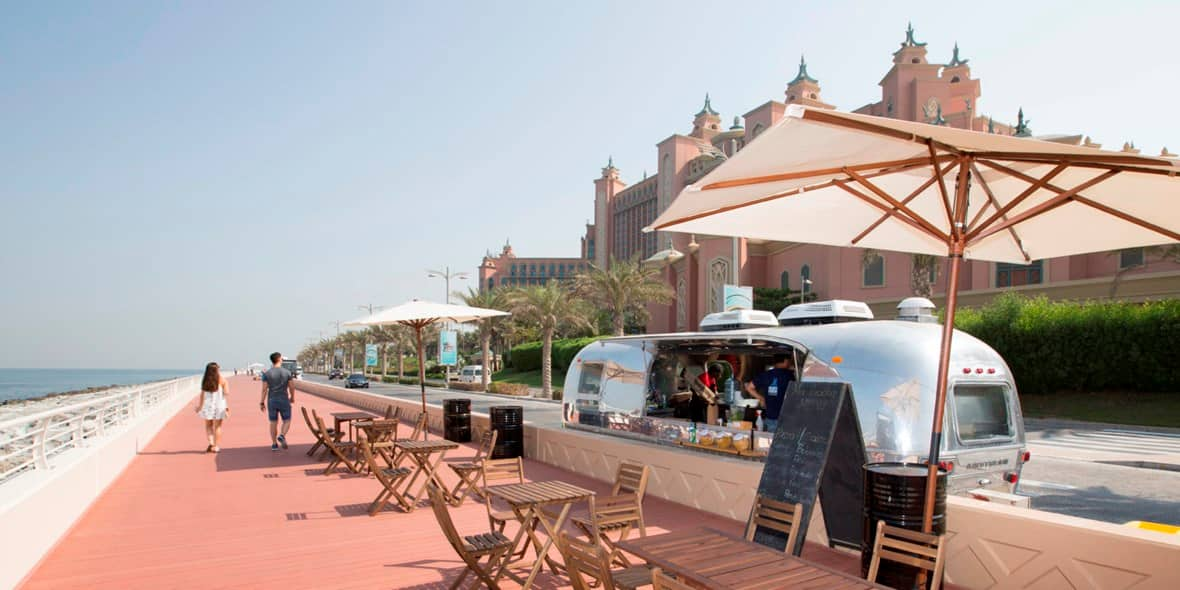 10
Get on your bike at Mushrif National Park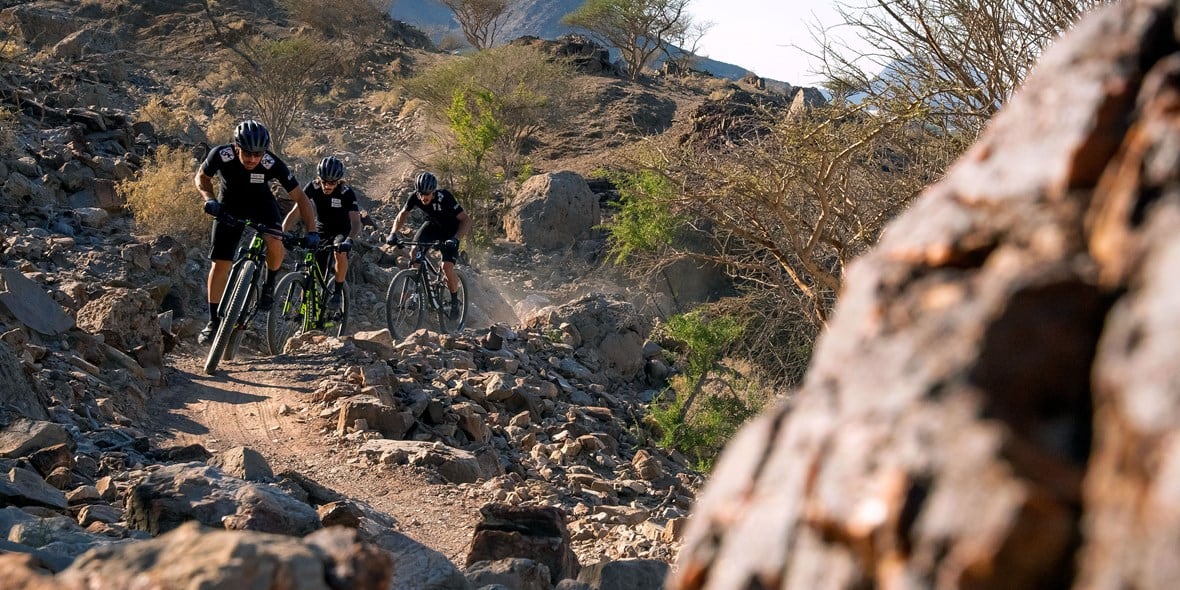 Head to Mushrif National Park and discover a new bike track where you can put your pedal to the metal. The park recently opened up the first 20km stretch of what will soon be 50km of mountain biking trails. With enough space for 3,000 cyclists per day, and 3m wide paths of varying difficulty aimed at everyone from beginners to seasoned cyclists, you'll find something for you whatever your cycling ability.