Family
Holiday hot list: Family fun in Dubai
Theme parks, beaches, play centres and more! Find out what makes Dubai the ideal family holiday destination.
Theme parks, beaches, play centres and more! Find out what makes Dubai the ideal family holiday destination.
1
Theme park thrills at Dubai Parks and Resorts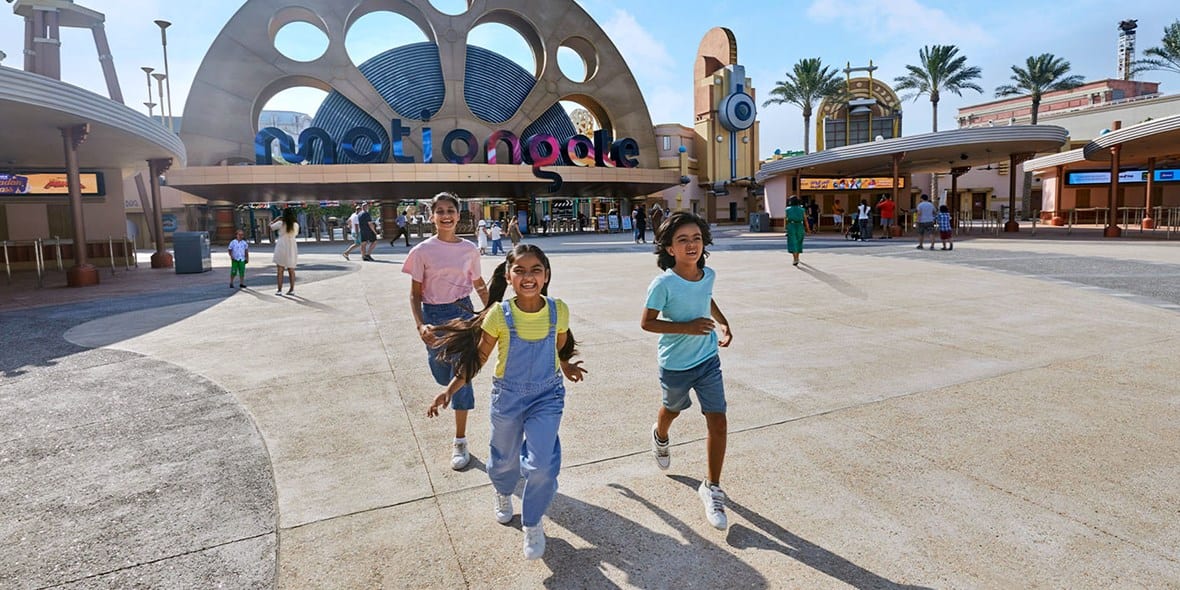 An entertainment wonderland for both the young and young at heart, Dubai Parks and Resorts is home to two incredible theme parks and a waterpark. Spend the day dancing with the lovable Smurfs at Motiongate Dubai, build unforgettable memories with little ones at LEGOLAND Dubai, splash about at LEGOLAND Water Park or chill out and grab some tasty bites at Riverland Dubai (which is also home to JumpX, the world's largest inflatable park). One day is never enough, with a huge array of rides, shows and attractions to explore.
2
Delight for little ones at OliOli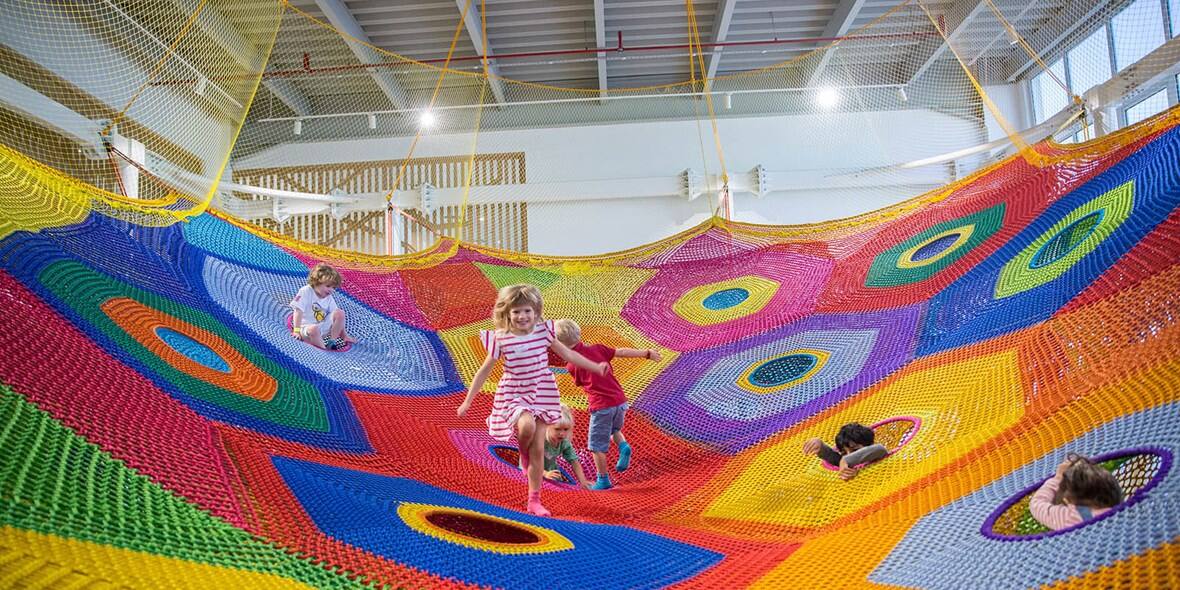 Since launching in 2017, this interactive children's museum has redefined the playtime rulebook. Deriving its name from the Hawaiian word for "joy", OliOli comprises eight interactive galleries for children aged two to 11. There are dozens of activities for kids to engage in and learn from, including launching rockets, creating 3D models and building forts. There's also a gallery dedicated to toddlers, designed to stimulate their curiosity and sense of wonder.
3
Animal encounters at The Green Planet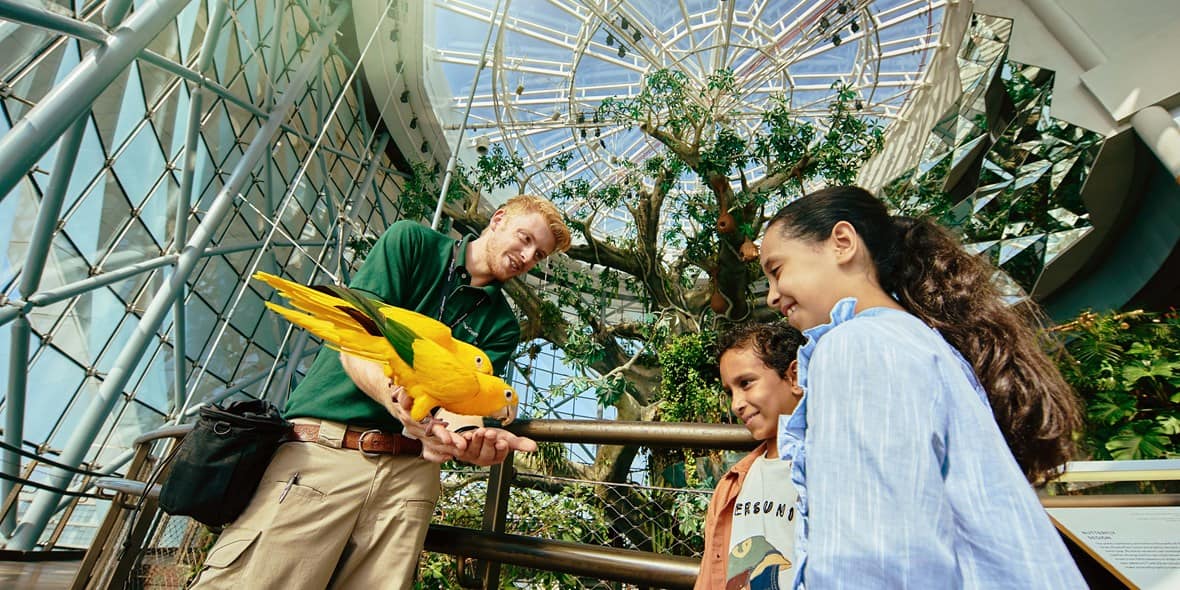 Take a walk through a tropical rainforest right here in Dubai. Head down to The Green Planet in the chic open-air shopping district of City Walk to be transported into a natural ecosystem filled with flora, fauna and fun. Here you'll encounter 3,000 plants and animals from brightly-coloured toucans and elusive geckos to butterflies and even a porcupine – oh and don't miss the resident sloth! The immersive vertical bio-dome is a treat for any budding environmentalist.
4
Sunshine sessions at Kite Beach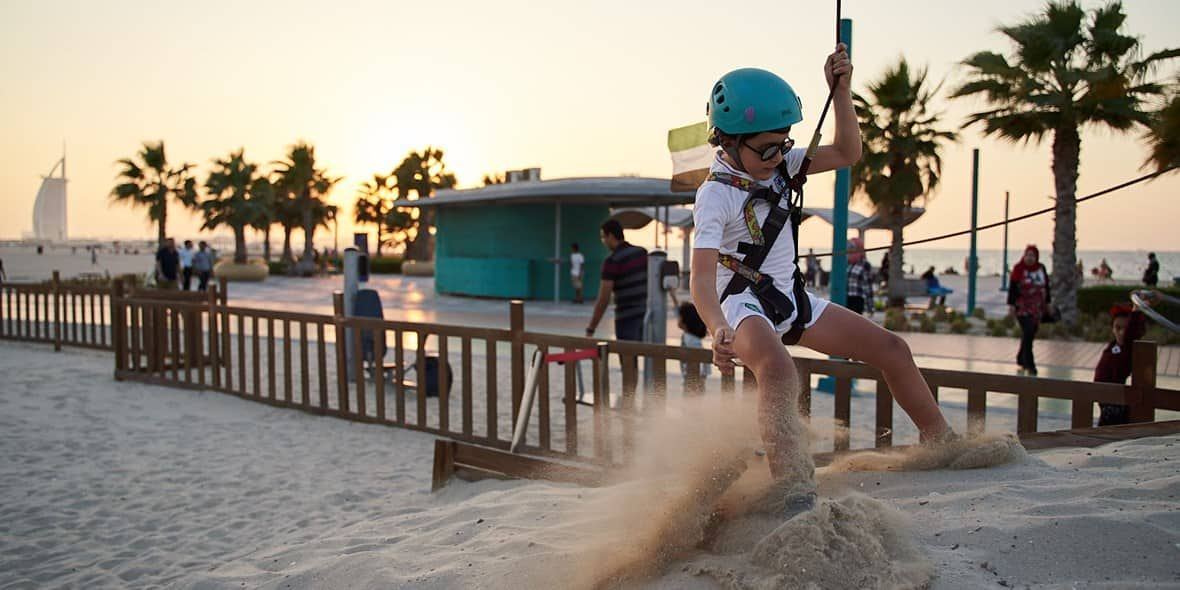 Visit one of Dubai's favourite spots for a beach day and a great view of the Burj Al Arab. Named after the numerous kite surfers that enjoy the perfect wind and waves at this destination, Kite Beach is also ideal for a family beach day. You can indulge in a quick bite at the many outlets here, including sliders and milkshakes at the the famous food truck, Salt. Or, simply sit back and enjoy the kite surf show while your children enjoy the many play areas, like the adventure course at Wire World.
5
Non-stop action at IMG Worlds of Adventure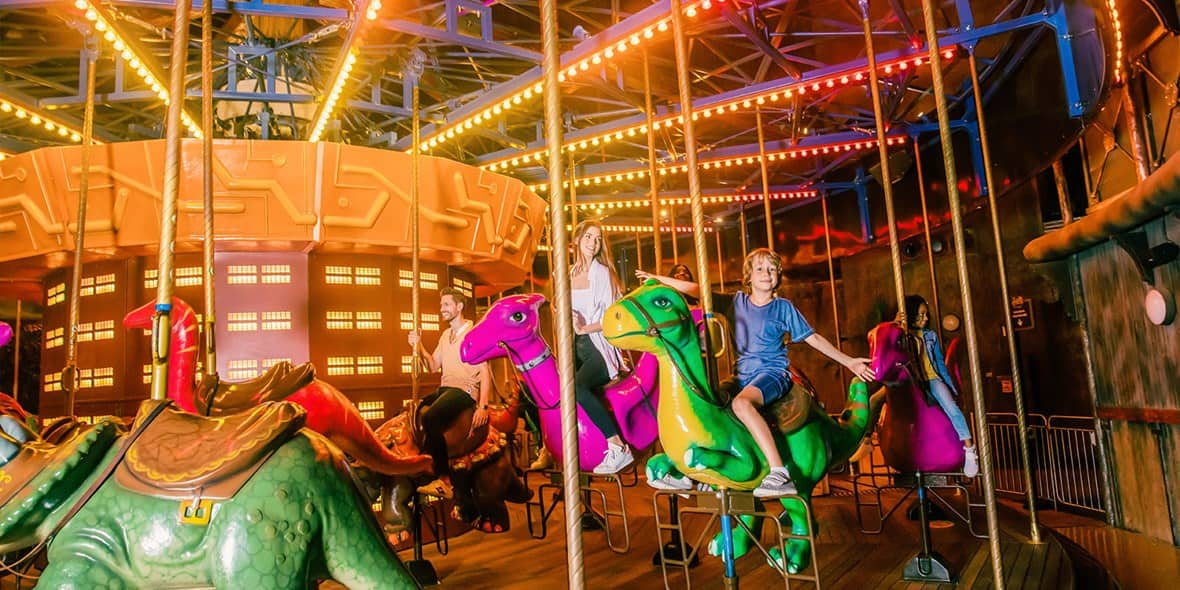 IMG Worlds of Adventure offers a world of thrills for the whole family. Give your youngest children a multi-sensory adventure at this indoor theme park with Ben 10, Gumball, The Powerpuff Girls and LazyTown, while the big kids can enter Marvel's universe with characters like Spider-Man, The Hulk, Iron Man, Thor and The Avengers. Don't miss Jurassic thrills in the Lost Valley, where you can interact with life-size dinosaurs.
6
Winter wonders at Ski Dubai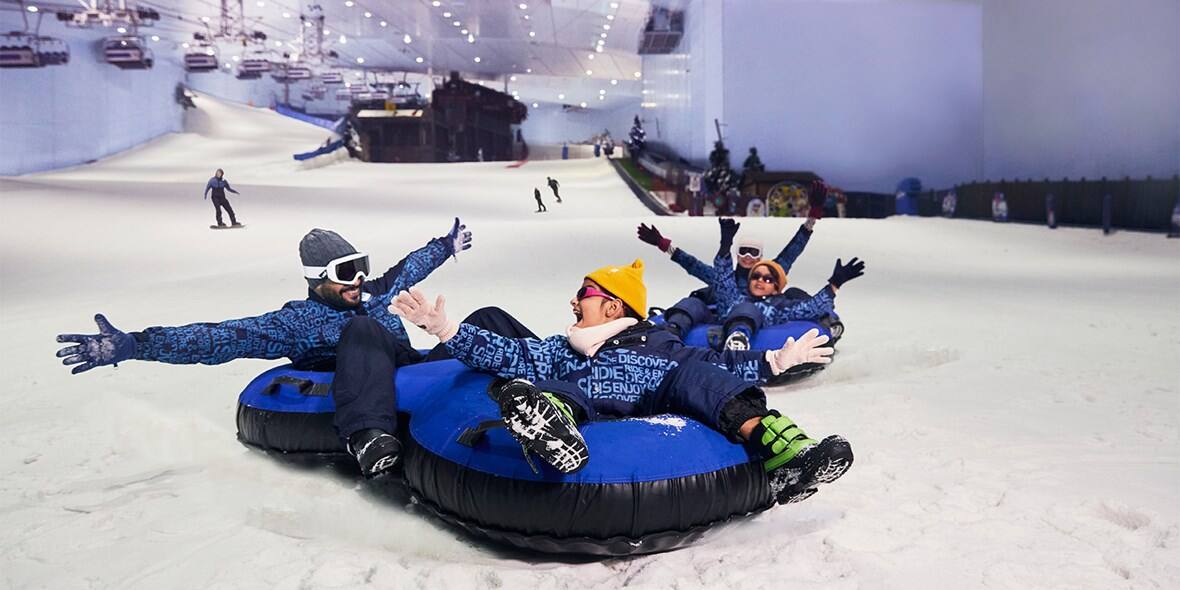 A shopping spree with a side of real snow? Only at Mall of the Emirates' Ski Dubai! Brave the challenging slopes as a family with skis, toboggans or snowboards, or build a snowman in the popular snowpark. You can also make friends with the resident penguins and sip on a creamy hot chocolate, all year round. It's a truly unforgettable experience.
7
Indoor skydiving at iFLY Dubai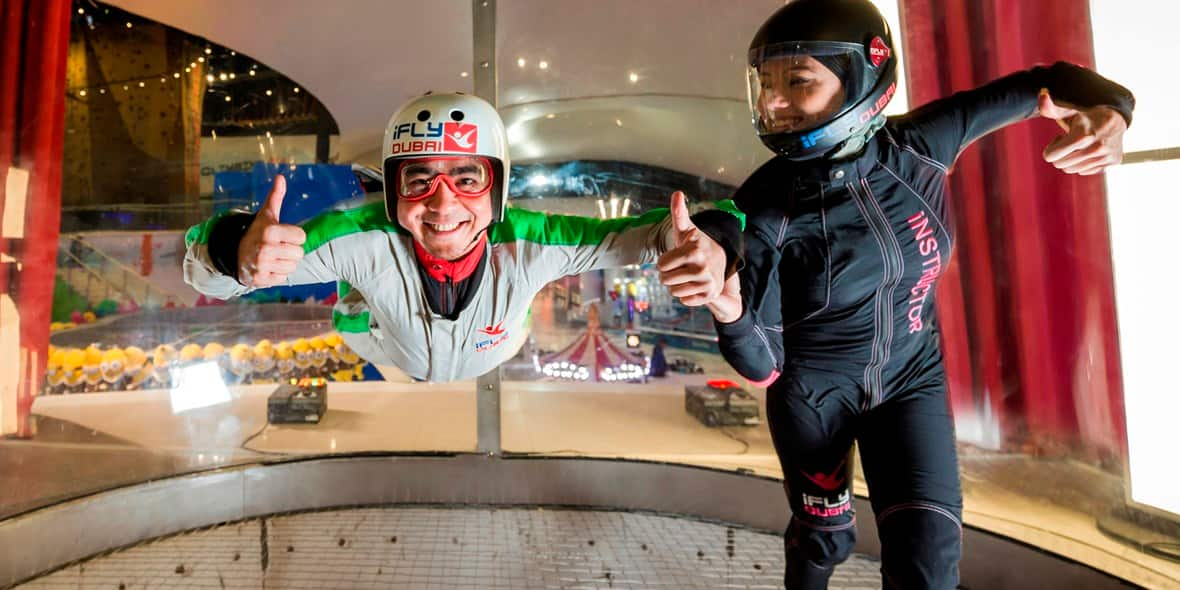 At iFLY Dubai at City Centre Mirdif, children and adults get the chance to experience the thrill of skydiving safely, without ever going any more than three metres from the ground. Strap on the special suit and enter the facility's technologically advanced vertical wind tunnel for a truly thrilling experience. Almost anyone can try it (starting from aged 3), which makes iFLY a fun experience for the whole family.
8
A day at The Beach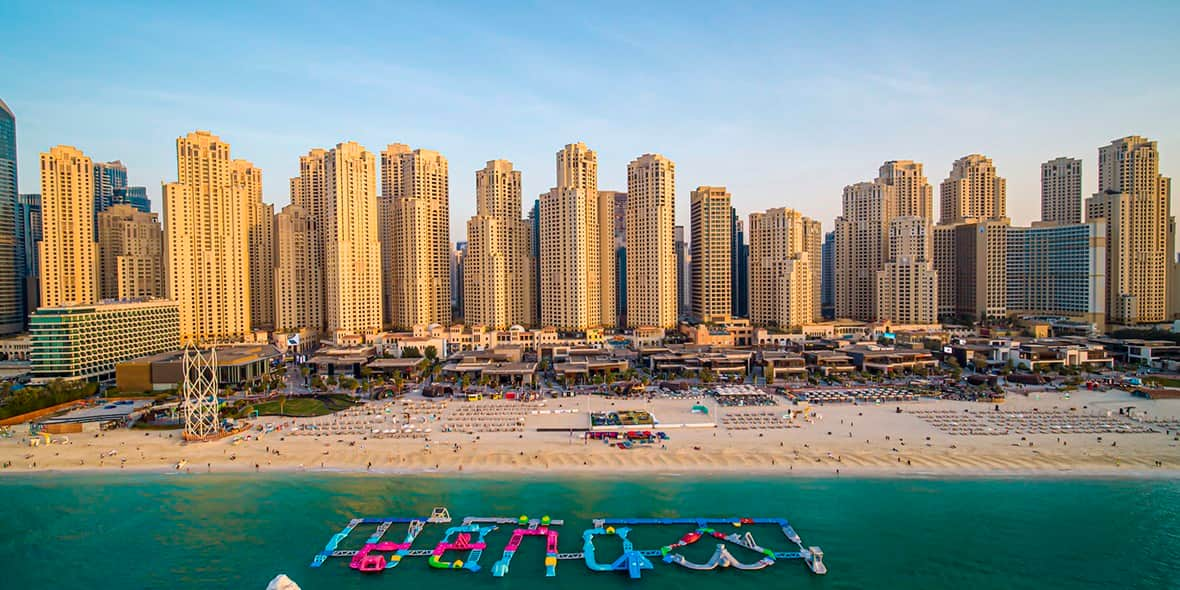 Jumeirah Beach Residences (JBR) is famous as one of Dubai's most popular beachfronts, and its close proximity to a whole host of restaurants, cafes and shops makes it more than worthy of its status. On the same strip is The Beach, which features excellent dining and shopping options, plus a cinema, play areas and even a mini children's splash zone. Don't miss AquaFun, an inflatable floating obstacle course that drifts just offshore for those wanting to test their balance and skills on water.
9
Magical moments at Miracle Garden
Amidst the Dubai desert is a lush garden filled with greenery and flowers – a real-life oasis that's open seasonally. Just a few minutes' drive out of the main city, Dubai Miracle Garden already features more than 45 million blooming flowers, and has aims to become the world's biggest flower garden. For those who thrive on nature's bounty, this is very much the place to be.
10
High-energy fun at Aventura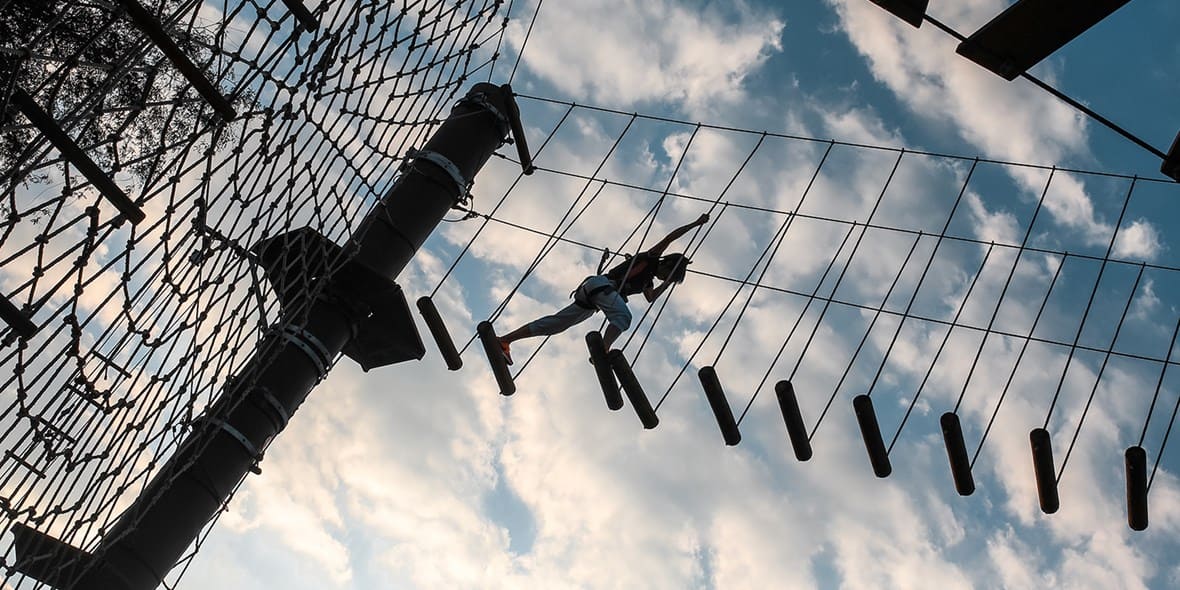 Step into nature with Aventura Parks, Dubai's one-of-a-kind adventure course at Mushrif Park. Spanning over 35,000sqm, Aventura Parks offers experiences like ziplining, rope climbing and even a Tarzan swing from the treetops. The parks offer five different levels of fun for individuals, ranging from new explorers to thrill seekers. The lowest height option caters to children between the ages of four and seven at 30cms off the ground, while the Thriller experience is for adult adrenaline-seekers wanting to fly high from eight metres up.
11
New adventures await at Hatta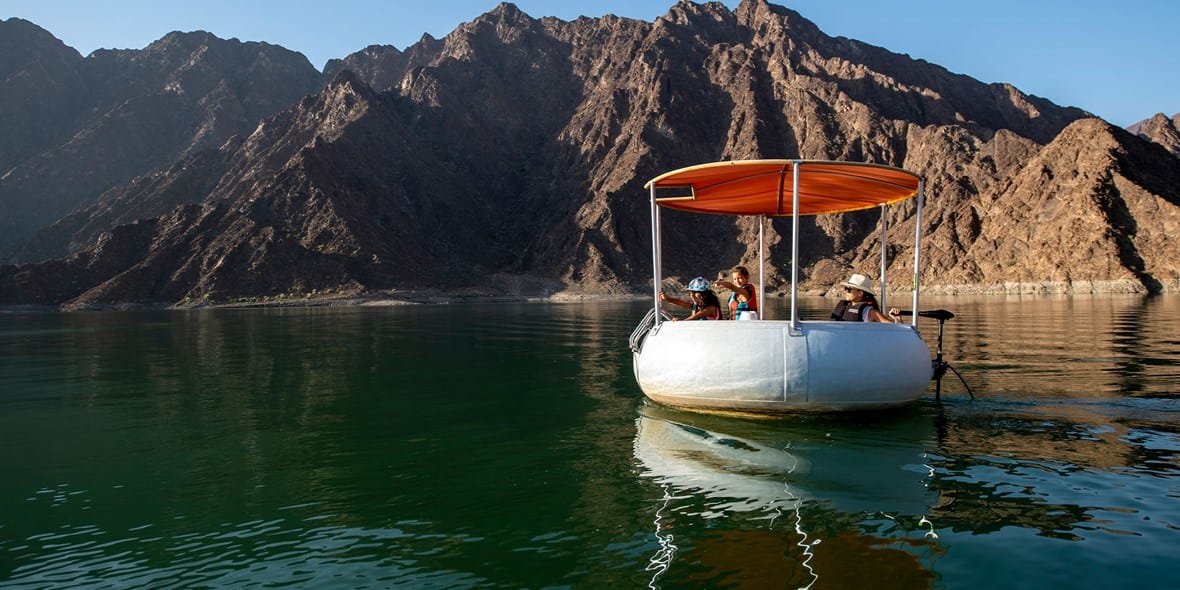 Hatta is the city's go-to destination for adventure enthusiasts, located about 100kms from the Dubai's city centre. Take in views of the Hajar mountains while following dedicated hiking trails that wind along the rugged landscape – there's something for visitors of all abilities, including children. For more fun, check-in to the Hatta Wadi Hub, home to thrills both big and small. Spend the day mountain biking, kayaking or even zorbing down a hill. This is also where you'll find Asia's first water jump park – Hatta Drop-In.
12
Picnics in the sunshine at Zabeel Park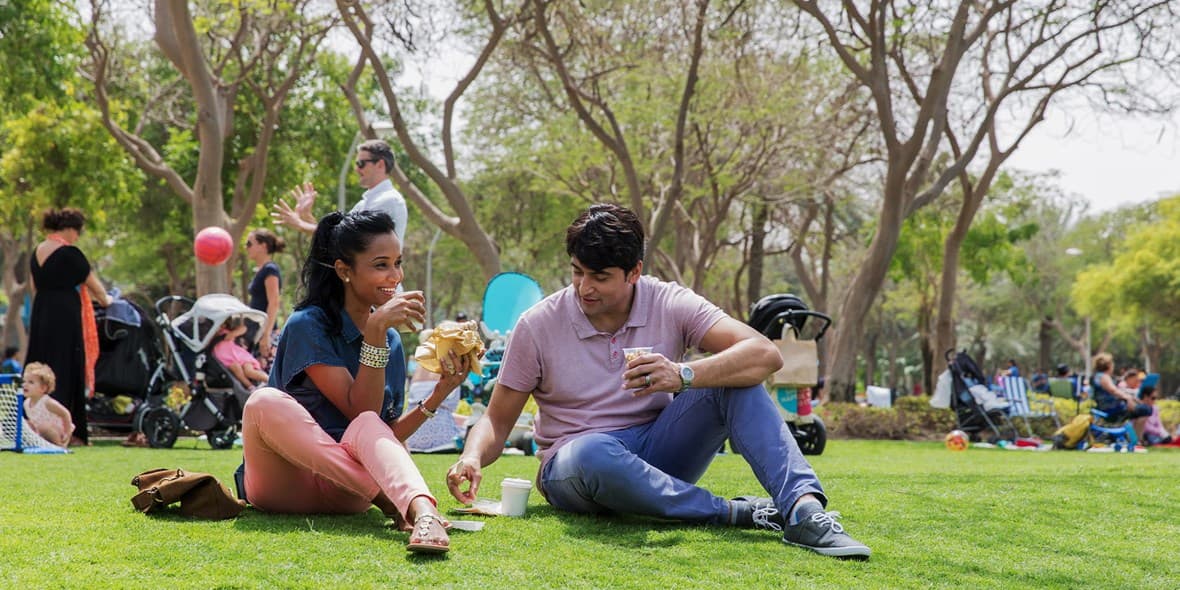 Nestled in the city centre is Zabeel Park, one of Dubai's largest parks that's ideal for a day of family fun. It's home to a children's edutainment centre and regularly plays host to pop-up markets featuring homegrown brands in the winter months. Bring the family over for a picnic in the sunshine and enjoy the variety of sports activities on offer – from mini-golf to skateboarding. Afterwards, make time to visit the park's other onsite attractions too, Dubai Frame and Dubai Garden Glow.