Experiences
Top 10 relaxing spots in Dubai

Zahirah Marty
Entrepreneur
Entrepreneur Zahirah Marty knows a thing or two about unwinding in the city. Follow her tips for finding Dubai's luxurious calm.

Zahirah Marty
Entrepreneur
Entrepreneur Zahirah Marty knows a thing or two about unwinding in the city. Follow her tips for finding Dubai's luxurious calm.
1
Hammam experience at Talise Ottoman Spa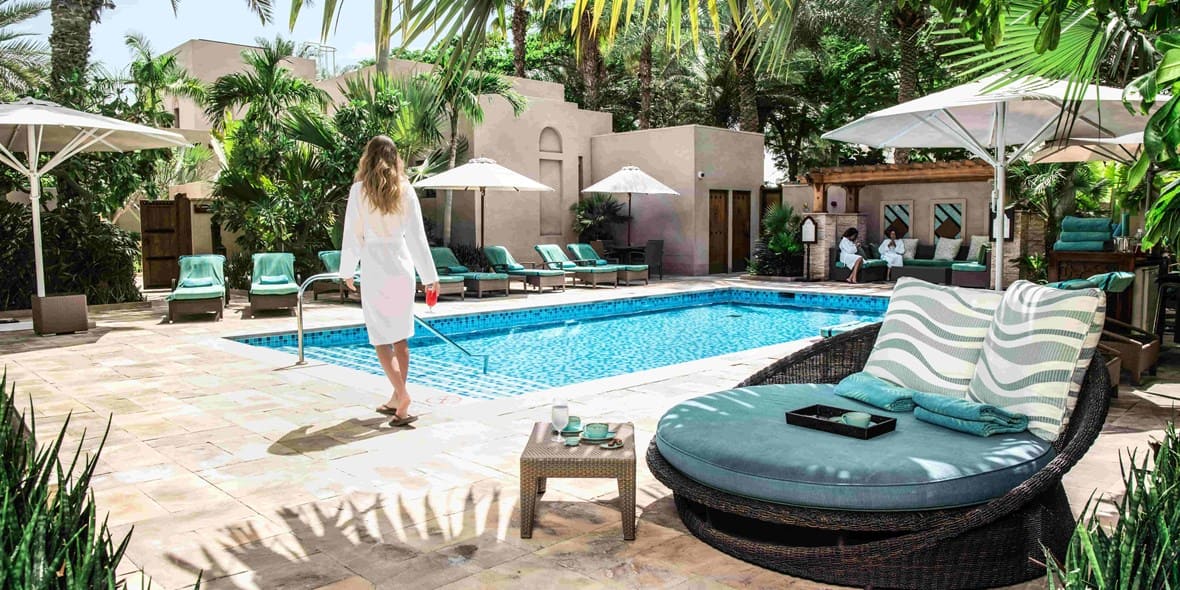 As far as luxurious experiences go, you can't beat being massaged, bathed in a blanket of heavenly bubbles and wrapped in a delicious body mask. Talise Ottoman Spa at Jumeirah Zabeel Saray offers one of the best hammam experiences I've ever had – even compared to Morocco and Turkey! It's a remarkable experience from arrival to departure and leaves you fully appreciative of why the royals of yesteryear regularly enjoyed this soul-settling treat.
2
Stay at Fairmont The Palm (even for a day!)
I think of this as a home away from home – a place to share fabulous experiences with my family, or simply take some time out for myself. Fairmont The Palm's strength lies in its flawless customer service and the lengths they go to in order to ensure your time at the property is magical. From
sun soaking on the beach
 to massages at Willow Stream Spa, the natural surroundings and attentive team make for an unforgettable experience.
3
Desert picnic among the dunes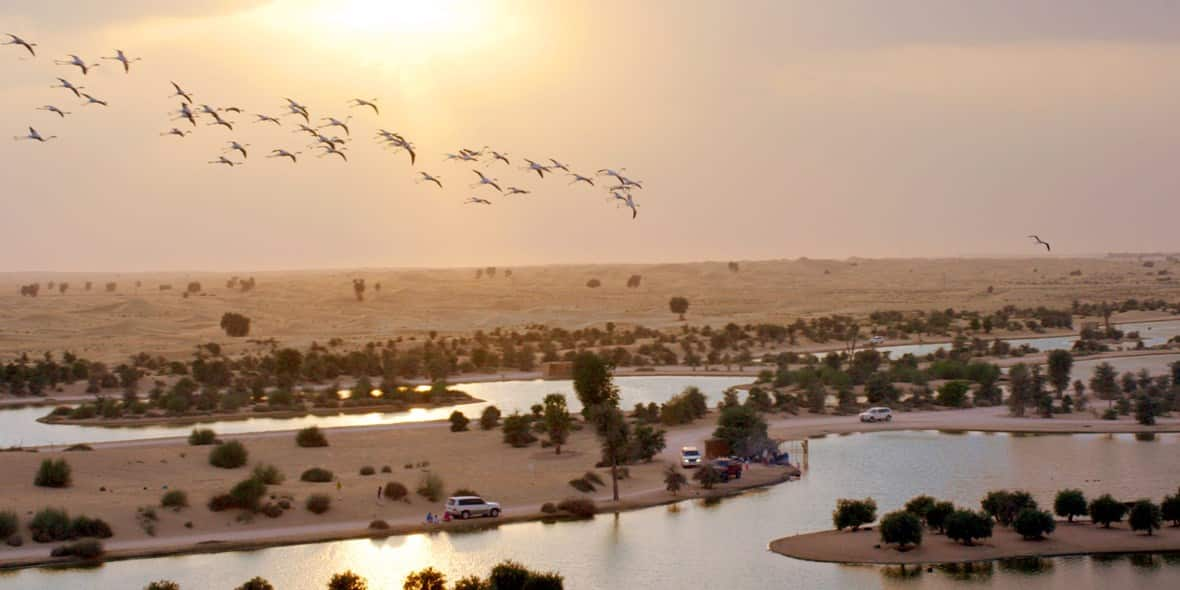 It's a little off the beaten track, but I highly recommend a glamorous picnic nestled between pristine dunes, carefully curated for a group of any size. I love escaping to the desert with my girlfriends to create our own 'Carrie Bradshaw and friends' moment, soundtracked by classic female anthems under the stunning night sky! It's a stylish and relaxing take on traditional adventure experiences, and can also be tailored to incorporate pop-up beauty treatments.
4
Float in a hot air balloon
The serenity of sailing over magnificent desert dunes is something that must be seen to be believed. There's a sense of stillness as the balloon glides through the air, punctuated by the occasional gush of flames overhead. You can end with a warm sunlit breakfast in moderate temperatures (the balloons don't fly during the summer). It's worth the early start to get a unique perspective on this iconic landscape, with the chance of spotting some local wildlife wandering below.
5
Sunsets and dhow watching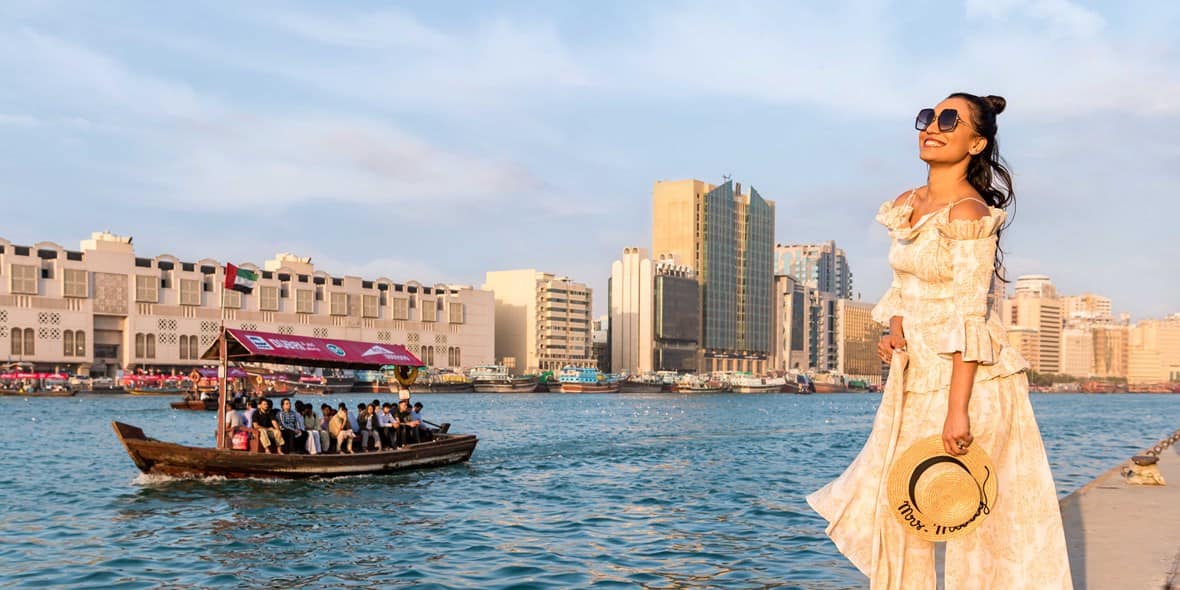 Away from the bustle and energy of 'older' Dubai, I love nothing more than to sit beside Dubai Creek at sunset, sipping on a fresh juice or saffron-infused tea. The dhows shuttle people back and forth for a mere AED2, so you can watch the sun's golden blanket give way to the bright trails of traffic and boats – like a real-life timelapse!
6
Marvel at the skyline from Dubai Creek Harbour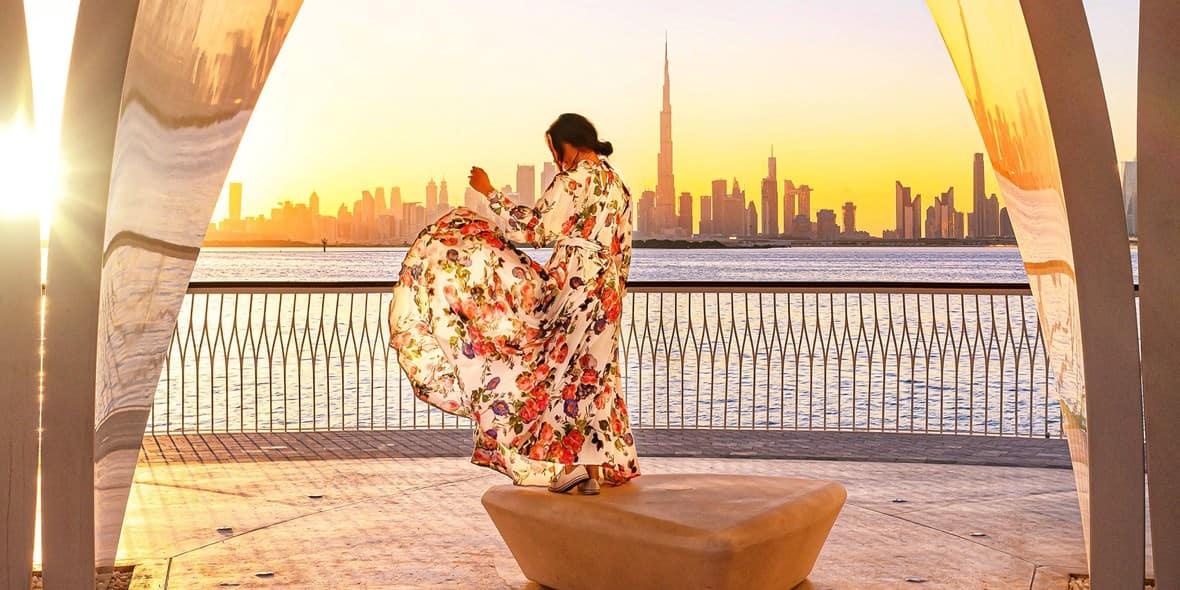 Dubai Creek Harbour is one of the city's popular destinations for a truly unique view of the Dubai skyline. The terrace at Vida Creek Harbour sets a frame for those picture-perfect fiery sunsets, across a channel of water that turns to glass on a calm night.
7
Surround yourself by nature at The Farm
The Farm at Al Barari is only a short drive from Downtown Dubai, but it feels a world away. With its tall trees, lush vegetation and a mouth-watering menu, the owners describe it as an 'oasis of calm', and it certainly is. The menu is inspired by global cuisine and this botanical retreat offers true escapism.
8
Listen to the waves at Secret Beach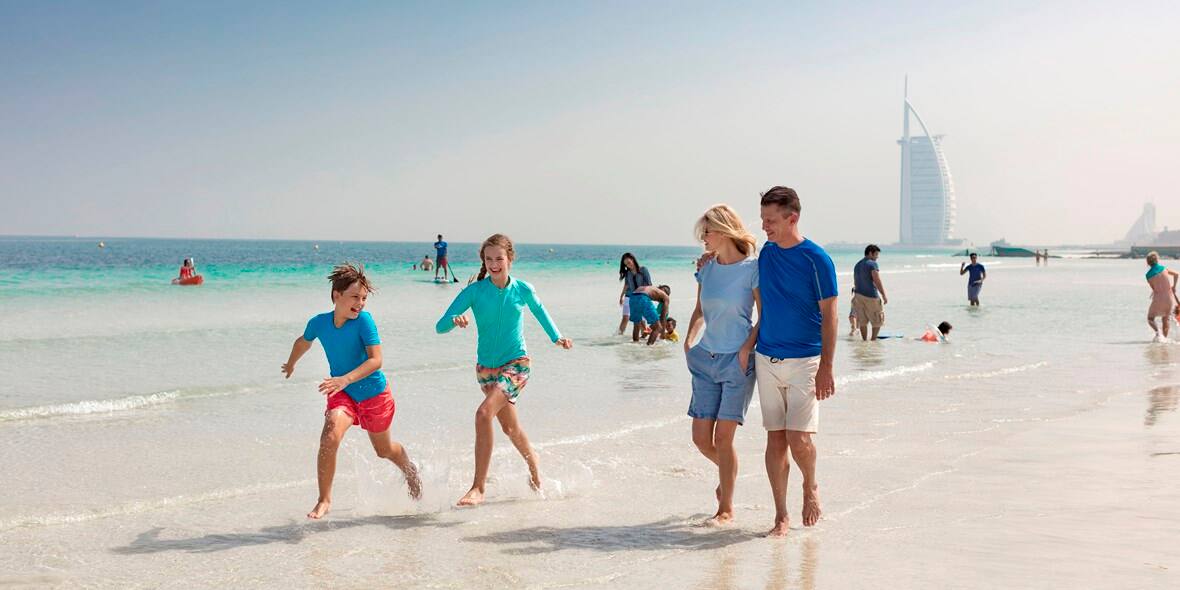 Some secrets are best shared. Located next to Palm Jumeirah, Al Sufouh Beach (also known as Secret Beach) is a non-commercialised stretch of sand hidden between two breakers. It's a much-loved spot for camping. On any given morning, just after sunrise, the sky turns to soft pastel shades and ripples brush the pristine white sands. The ground between the breakers is cradled, leaving nothing but endless water views and the stunning sight of Burj Al Arab.
9
Explore the waters around Palm Jumeirah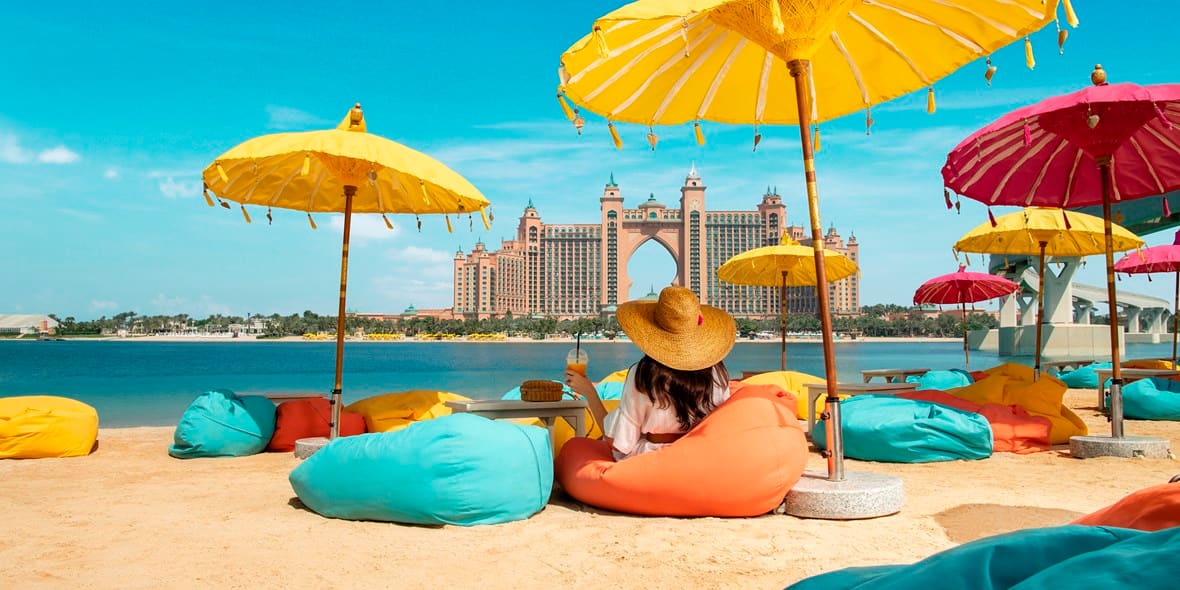 Dubai is often overlooked for its open water diving experiences, but the waters around the Palm can surprise you with their diverse marine life. As a new diver, you're often taken to some of these spots for practice dives. However, even for more confident divers, the comfortable conditions make for a soothing exploration of this magical underwater realm.
10
Skydive over The Palm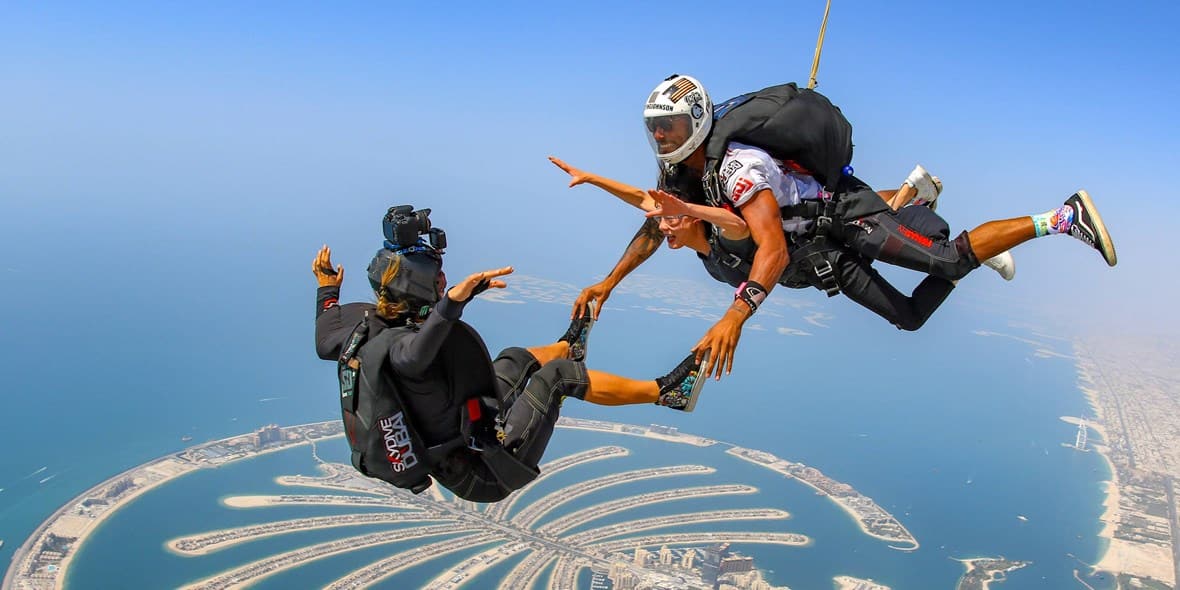 It may not be everyone's top pick for a relaxing spot, but my experience of sailing down from 30,000 feet with Skydive Dubai left me with a strange sense of calm…after the initial adrenaline rush! As a tandem jumper, you enjoy a very steady descent once the parachute opens, giving you time to take in the sites of Dubai Marina and Jumeirah Beach Residence – it's an unbeatable vantage point.