Food & Drink
Top 10 street food spots in Dubai

Taste your way around the city as food explorer Arva Ahmed reveals the best ethnic eateries, old-school favourites and hole-in-the-wall culinary secrets.

Taste your way around the city as food explorer Arva Ahmed reveals the best ethnic eateries, old-school favourites and hole-in-the-wall culinary secrets.
1
Sultan Dubai Falafel for Palestinian-style falafels
Tucked away on Al Muraqqabat road in Deira is the city's best Palestinian falafel and hummus spot. No ordinary dry brown-bellied falafels here, the fryers at Sultan Falafel churn out moist, vibrant green falafels loaded with parsley, coriander and dill. The fresh baked puffy pita (khubz) from their sister restaurant next door is the perfect excuse to play sandwich artist. Order some fix-ins: slow cooked fava beans (foul), chilli sauce (shatta), pickles, deep-fried eggplant and cauliflower. Finally, add some velvety hummus splashed with a zesty green pepper and lemon sauce (tatbeela). The pros know to use their fork to smash and smear the falafels inside the pita pocket before adding all the fix-ins. 
2
Falafel Alzaeem for smoked eggs and freshly-baked ka'ak
Funnily enough, the claim to fame of this popular haunt in Deira is actually not the falafel. It's their fresh-rolled Jerusalem-style ka'ak bread dusted with heaps of crunchy sesame seeds. Try a fresh loaf smeared with cheese, lots of tart chilli
shatta
, herby za'atar, and boiled eggs that have been smoked in a bed of wood chips for six painstaking hours. You'll find
Falafel Alzaeem
 on Al Doha Road in the Hor Al Anz area.
3
Sind Punjab for the best chicken tikka since 1977
Deep in the lanes of Meena Bazaar is a Punjabi chicken tikka spot that has been a firm favourite of the local Indian community since the 70s. Sind Punjab threads the juiciest skewers of marinated chicken and cooks them over charcoal until smoky and delicious. No one ever left Sind Punjab without a round of some of their other signature favourites – creamy butter chicken and spicy chana (chickpea) masala mopped up with a stack of flaky laccha parathas. Grab a lassi (yoghurt-based drink) or try their fresh-pressed sugarcane juice with a squeeze of lime to drown out the spice.
4
Rangoli for delicious Indian street food
This old-school Indian vegetarian restaurant in Karama may be a little light on ambience, but Indian families who know their chaat (street food) will swear by the pani puri here. These one-bite globes (puri) of crunchy dough are filled with mung beans, spicy chili water (pani), and sweet date and tamarind chutney. The entire liquid-filled puri has to be popped into your mouth all at once, and regulars can polish off multiple plates of this explosive sweet-spicy-tart snack within record time. Other favourites include the spicy puffed rice with raw mangoes and chutney (bhel), a tangy potato and peanut bun (dabeli), and sweetened webbed tubes of fried dough (jalebi).
5
Hor Al Anz Bakery for fresh cheese and zaatar bread
The tiny Afghani/Pakistani bakeries dotted across Old Dubai churn out piping hot breads that are a worthy companion to a spicy lentil stew. They can even be enjoyed solo, out on the street by the blazing ovens. This closet-sized bakery in Deira's Hor Al Anz has two kinds of ovens – a pizza-style one to make tender, flat and pliable rotis and a cylindrical tanoor oven to make more crunchy, chewy, bubbly breads. But I recommend their stuffed bread, shaped like a stocking and slapped against the hot walls of the tanoor oven until it gets puffy and golden. Try the savoury one with cream cheese and za'atar, or the sweet kind with sticky honey and cheese (be careful, the honey gets scalding hot!).
6
Al Habasha Ethiopian Restaurant for comfort food from Africa
You'll find this place bustling with Ethiopian diners – an excellent sign for a restaurant that serves authentic Ethiopian fare in Deira's Abu Hail area. Al Habasha is owned by the effervescent Sara, who sources choice ingredients like butter and traditional fermented bread (injera) from her home country. Try the fiery red chicken stew (doro wat). It's the Ethiopian national dish and is ladled directly over the fermented spongy injera. Served without cutlery, the traditional way is to eat with your right hand, using the injera to scoop up juicy bits of food without staining your fingers (a rare feat). There are plentiful options for vegetarians as Ethiopians have many 'fasting days'—and the misir (lentils) and shiro (stew of chickpea powder) are particularly delicious. The food tends to be quite spicy but you can order in some cooling aib (homemade cottage cheese) to dull the fire, or ask for the alitcha (mild or more literally, 'coward') version of stews. While dessert has no place in traditional Ethiopian cuisine, enjoy a post-meal coffee ceremony complete with incense, charming mini-cups, a perky black brew and the Ethiopian coffee snack of choice – popcorn!
7
Foul Abo Al Abbas for fava favourites
No one – not even the servers – are quite sure when this Sudanese shop opened in Karama. Some say twenty years, others thirty, and many can't remember a time when the shop wasn't there. With an incredibly focused menu that can be read all in one breath, the main specialty of this cafeteria is its foul – slow cooked fava beans. While the dish is found all over the Middle East, the Sudanese often dot theirs with chunks of white cheese similar to feta and serve it alongside hot dog-style buns (samoon) rather than pita bread. Don't leave without trying a plate of their Sudanese sausages – it comes with a menacingly spicy peanut dakwa sauce whose heat is best extinguished with a swig of hibiscus juice (karkade).

8
Spice Souk cafeteria for eggy rolls with Chips Oman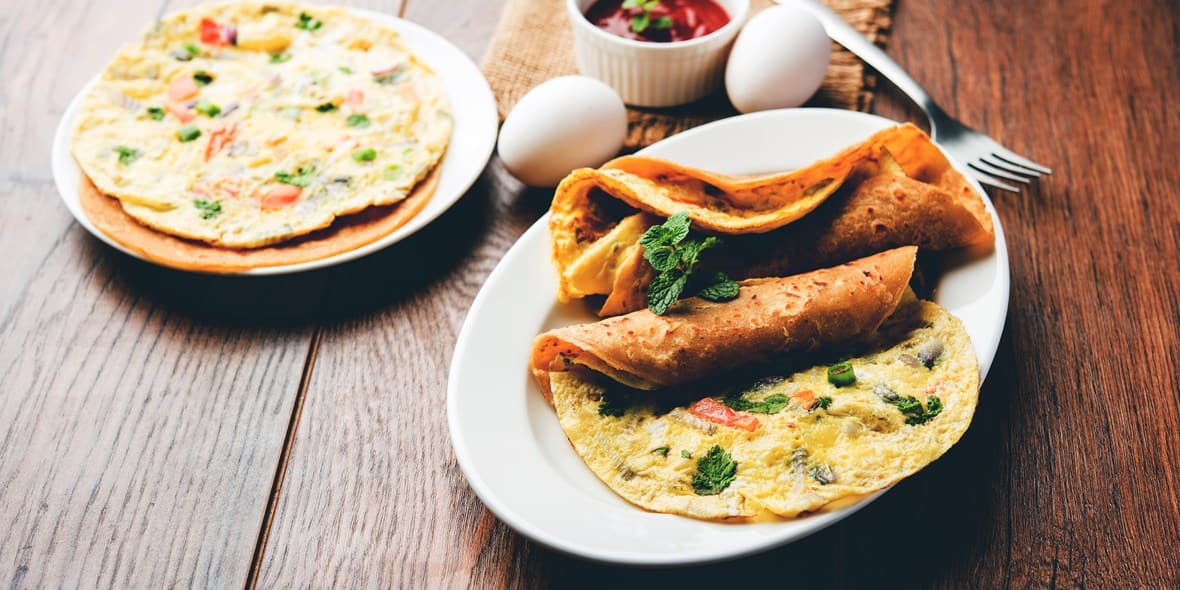 9
Shiraz Nights for fantastic spicy chicken shawarma
Competition is tough at this local shawarma hangout in Deira's Baniyas area. Right next door, wall to wall, is another older Iranian kebab and shawarma restaurant Hatam Al Tai – also vying for the local palate. Each restaurant has its own set of loyal customers queuing outside its shawarma window. If you only have the appetite to try one, go with the Shiraz Nights' version as their chicken shawarma is wrapped in a lacy thin Iranian bread that lets the fillings shine. If heat is your thing, try the spicy version with a pat of chili-garlic aioli (spicy towm). Grab your shawarma and a tall glass of layered fruit cocktail and walk over to the Naif Park nearby to enjoy your meal al-fresco.
10
Sadaf Iranian Sweets for irresistible Persian treats