Essential Information
Top tips for travelling with children to Dubai
Dubai is one of the best cities in the world for family travel. Follow our guide to make the most of your family holiday.
Dubai is one of the best cities in the world for family travel. Follow our guide to make the most of your family holiday.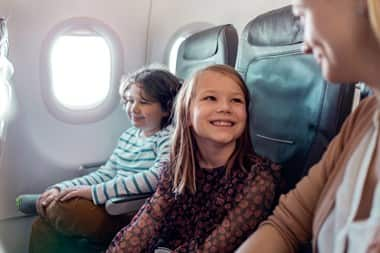 Getting to and from Dubai
Most airlines have dedicated food and entertainment for young flyers, so make sure to book these if required. Dubai's airline, Emirates, has age-appropriate toys and activity packs for babies, infants and older children, as well as vast amounts of child-friendly entertainment available on demand at every seat.
When you arrive in Dubai, Dubai International Airport has strollers available as soon as you get into the airport. On departure from Dubai, there are also plenty of dedicated facilities for families, including a trampoline playground, play areas in various airport lounges and more.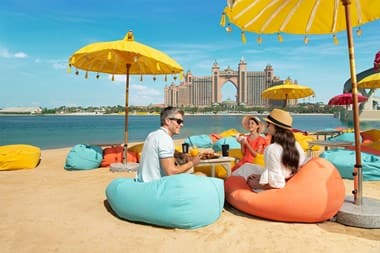 Where to stay
Most hotels in Dubai are extremely child-friendly, but some definitely go the extra mile, with dedicated kids' clubs, child-minding services and more.
Atlantis The Palm is a great choice for a self-contained family holiday. Not only is the hotel itself vast and equipped with separate clubs for younger and older children, but it is attached to Aquaventure Waterpark, and The Lost Chambers Aquarium. Between these, and the dozens of rides and activities they offer, you might not ever need to leave the hotel.
For a classic beach holiday, Jumeirah Beach Hotel is one of the most family-friendly sea-front resorts in Dubai. Complete with kids clubs, fun activities and more, it is also next door to a waterpark – in this case Wild Wadi. But being on the mainland, it offers easier access to Dubai's other sights, and is just a short cab ride away from Mall of the Emirates among other must-see places.
If your main priority is to enjoy Dubai's theme parks, then the Polynesian-themed Lapita at Dubai Parks and Resorts is a fantastic option. Within walking distance of Motiongate and Legoland Dubai, Lapita is specifically designed for families, with two children's clubs, a lazy river and endless pools.
And to get away from it all, have a look at Rixos The Palm. One of the most luxurious resorts on the Palm Jumeirah, Rixos is famous for its pristine beaches and relaxed atmosphere. What makes it ideal for families, though, is its excellent kids club, which can help keep your little ones entertained while you enjoy some time to yourself.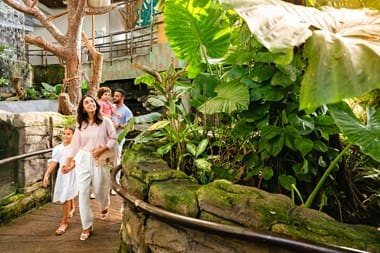 What to do
Whatever age your children are, Dubai has dozens of options for fun family activities. Beyond the theme parks, waterparks and kids' clubs mentioned above, there's never any shortage of fun things to do.
Kids of all ages will enjoy The Green Planet, Dubai's indoor rain forest, whether it's for the pretty animals and trees for younger visitors, or learning about new and fascinating creatures for older kids. Aventura Park in Jumeirah is also based around getting close to nature, but with an emphasis on physical activity – great for more active children.
If you all have a taste for adventure, then a desert safari is a great family activity, from an exciting ride through the desert dunes (you can ask the driver to take it easy) to getting up close to camels, sand surfing, henna painting and more. And for an even more dramatic experience, check out mountain safari options in Hatta – just be careful the wild mountain goats don't steal your lunch…
And for indoor experiences, Dubai's malls come into their own. Mall of the Emirates offers Ski Dubai, City Centre Mirdif has iFly's indoor skydiving, and Ibn Battuta Mall boasts Fun City, trampolining and bowling. But the undisputed best mall for a family day out is The Dubai Mall: with ice skating, go-karting, Kidzania, games arcades, Dubai Aquarium and more, you will not run out of fun things to do.
We've only scratched the surface of Dubai's family-friendly activities – for more ideas, have a look at new family experiences in Dubai, family-friendly desert activities, and a family beach holiday in Dubai.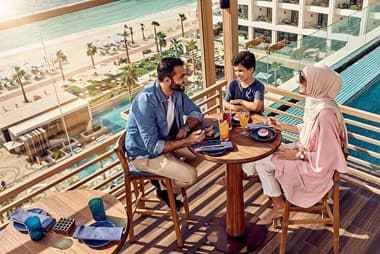 Where to eat
Finding something which will make everyone happy can be tricky when dining out as a family. Luckily, Dubai's diverse food scene can cater to every palate, literally.
For a safe choice, almost all of Dubai's malls have diverse food courts, with something for everyone in close proximity. Choose from fast food or plenty of healthier options, or even Lebanese, Indian, Chinese or other speciality cuisines. Alternatively, most malls have great fast-casual dining options which are specifically designed for families.
Many of Dubai's best restaurants are in hotels, and these can be great for satisfying your desire for gourmet cuisine while keeping younger family members well-fed too. Almost all restaurants will have a dedicated children's menu, and most will be happy to accommodate requests for particular dishes. A particular highlight for hotel dining is Atlantis, The Palm, with a plethora of restaurants from big-name chefs, alongside family-focused eateries.
If your young ones are graced with more adventurous tastes, then don't be afraid to sample some of the dozens of international cuisines available in the city. The vast majority of establishments will give children a friendly welcome, as well as delicious food.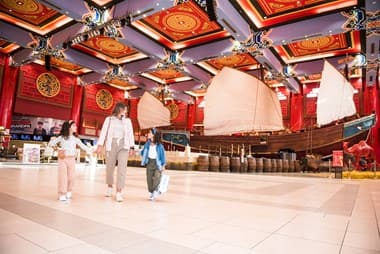 Childcare options
While it's very easy to spend time with your children in Dubai, there may be times when you want some time without them.
For this, the best option is a babysitting or childcare service at your hotel – most hotels will require you to be a guest there to use it (although some resorts may include a certain amount of childcare as part of a day pass). Costs can vary significantly, as can levels of service and ages catered for, so check before booking.
If you're planning to visit a mall, many malls in Dubai offer a paid-for childminding service, so you're free to browse and shop at your leisure.
One popular way of having some independent time to relax is to enjoy a family-friendly Friday brunch. Brunches are hugely popular in Dubai and vary enormously, but many cater specifically to families, and offer dedicated children's entertainment such as magicians, performances, interactive sessions and more, which can do an excellent job of keeping young ones occupied.
(Please note that availability of these services may be affected by the Covid-19 pandemic, so please check ahead before making firm plans.)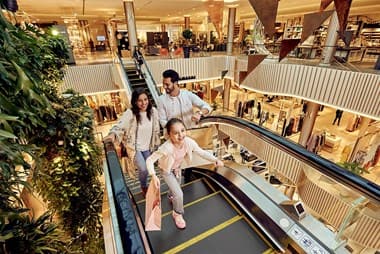 Accessing the necessities
Almost all of Dubai's major tourist attractions and shopping centres are well-equipped to cater to visitors with children. Baby changing facilities are ubiquitous, and all major malls and supermarkets offer paid or complimentary stroller rental.
If you need to get hold of essentials such as diapers, formula or other products, these are readily available at supermarkets and pharmacies throughout the city. However, be aware that brands and varieties may differ from what you have at home, so if you have very particular requirements, it's best to do more detailed research.