Food & Drink
Dubai's best vegetarian restaurants
Discover delicious plant-based dining with a world of flavour in Dubai.
Discover delicious plant-based dining with a world of flavour in Dubai.
AVATARA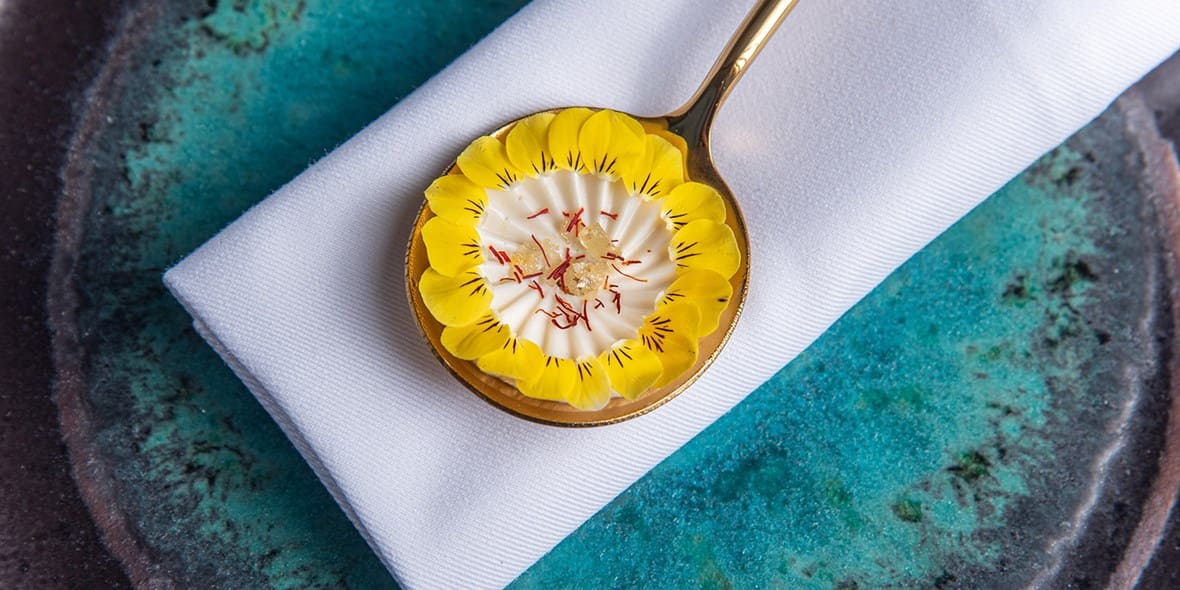 An exclusive one Michelin star, vegetarian degustation experience, AVATARA is defined as the reincarnation of soulful Indian food. Helmed by Passion F&B, the culinary masters behind The World's 50 Best-lauded Trèsind and Trèsind Studio, AVATARA focuses on locally-farmed, seasonal ingredients, presented with panache. Each dish from the 10-course menu arrives with an explanation of the ingredients and origin, often with a personal anecdote from the chef.
Opening Hours: Tuesday to Sunday: 6-11:30pm and Sunday 1-3:30pm
Contact: +971 58 143 2867
Average price: AED450 per person for a 16-course set menu
AVATARA
Food & Drink
voco Hotel, Sheikh Zayed Road, Dubai
Rasoi Ghar
Specialising in food from the predominantly vegetarian Indian states of Gujarat and Rajasthan, Rasoi Ghar offers a prix fixe menu that changes daily. Touches of Indian hospitality colour the home-style meal, which is made up of unlimited starters, a thali-style main course featuring different offerings on different days of the week and a selection of mouthwatering desserts. The best bit? Servers offer you a sample portion of every dish available that day, then keep your bowls full of your favourites until you're bursting at the seams.
Opening Hours: Monday to Sunday: 12-3:30pm and 7-11:30pm
Contact: +971 4 388 5711
Average price: AED100 for two people
Quattro Ristorante
You may not typically associate Mexican or Italian cuisines with vegetarianism, but this restaurant tucked away in Bur Dubai is set to redefine your perceptions. Originally from Mumbai, the concept uses molecular gastronomy techniques, seasonal ingredients and creative flair to offer a menu to tempt even the most committed carnivores. Highlights include spiced queso (Mexican cheese) and handmade ravioli, rolled fresh every day.
Opening Hours: Monday to Sunday: 12-3:30pm and 6:30-11:30pm
Contact: +971 4 393 1233
Average price: AED230 for two people
My Govinda's
Priding itself on being one of only a handful of Dubai's sattvic restaurants – an Ayurvedic concept that refrains from using garlic and onions in cooking – My Govinda's has an eclectic menu that includes a wide range of Indian specialities, as well as vegetarian twists on some Chinese and Italian favourites. The menu includes a good selection of low-calorie, high-protein, nutritious vegan and gluten-free options. The combination of quality ingredients and a lighter approach to cooking ensures that healthy doesn't have to mean tasteless.
Opening Hours: Monday to Sunday: 8:30am-11:30pm
Contact: +971 4 396 0088
Average price: AED165 for two people
Rangoli
A budget option with branches in Old Dubai, this restaurant serves up an unlimited vegetarian thali from around AED30 per person. Each comprises a platter of smaller silver bowls filled with different dishes. Allow servers to refill your plates with a colourful selection of curries including yellow dahl, chickpea curry and potato stir-fry. Scoop up the tantalising sauces with freshly-made bread, and activate your taste buds for more, including the restaurant's spicy snack chaat items.
Opening Hours: Monday to Sunday: 9am-11:30pm
Contact: +971 4 323 6075
Average price: AED85 for two people
Comptoir 102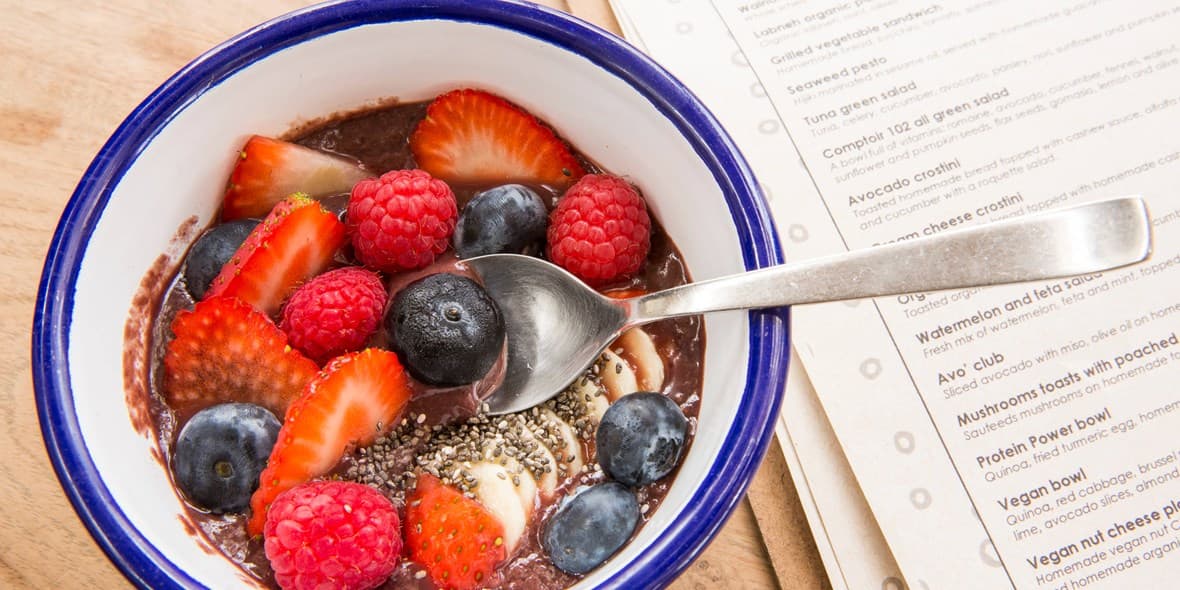 This stylish French-owned organic cafe and boutique has a great selection of vegetarian bites, sugar-free juices and dairy-free smoothies. Breakfast buffs pull up a seat here for an açai bowl with berries, coconut water and banana. Meanwhile, there are a handful of nutritious lunch options to help you power through a day of sightseeing, including an all-green salad of fennel, avocado, walnuts, argan oil and sunflower seeds.
Opening Hours: Monday to Sunday: 8am-10pm
Contact: +971 4 385 4555
Average price: AED235 for two people
Saravana Bhavan
A veritable institution originally from Chennai in South India, this is now an international chain with a few branches across Dubai. Saravana Bhavan is a long-standing favourite, having developed a following for its inexpensive, fuss-free dishes. Fans of the typically tangy and spicy flavours of South India will love the authentic dosas (rice flour flatbreads) and idlis (savoury rice flour cakes) served in steel plates, in a basic, canteen-style environment.
Opening Hours: Monday to Sunday: 7am-11pm
Contact: +971 4 353 9955
Average price: AED115 for two people
Moreish
This cute and cosy family-run restaurant near BurJuman mall whips up vegetarian plates with imaginative, home-approved culinary additions and Insta-worthy appeal. You can feel the owners' passion for food and hospitality in every bite, and even in their creatively-phrased menu. Warm up with a roasted pumpkin soup, stay for the vibrant beetroot risotto or gouda-laden macaroni, and end with a rosemary sponge cake topped with purple frosting made from a lavender infusion.
Opening Hours: Monday to Sunday: 11:30am-11:30pm
Contact: +971 4 591 0441
Average price: AED180 for two people