Adventure
Best places to go hiking and camping in Dubai
Adventure seekers will find everything they need to know with this handy guide.
Adventure seekers will find everything they need to know with this handy guide.
1
Lakeside camping in Al Qudra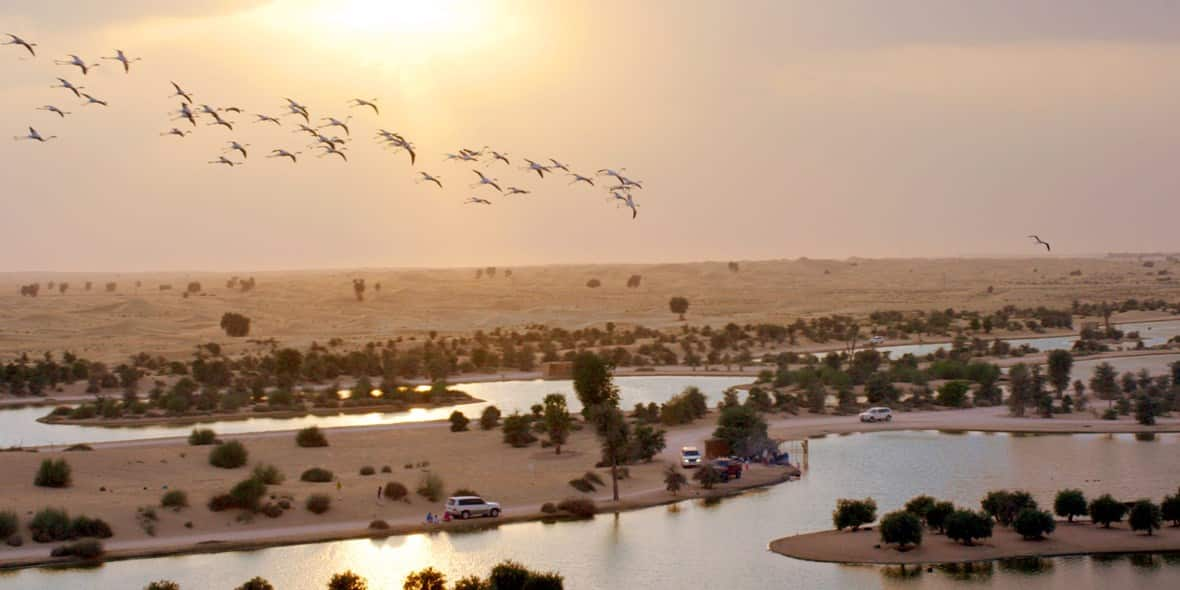 Experience the joys of camping without venturing too far from the city at the tranquil 
Al Qudra Lakes
. Head to the serene getaway in the
Al Marmoom Desert Conservation Reserve
 and admire the lush surroundings and wildlife, including more than 200 species of birds that call the lake home. This is one of the most developed camping spots in Dubai. With guided signboards to aid your trip planning, it's perfect for beginner campers and families. Once there, you can cycle through the desert on the 
Al Qudra Cycle Track
, which offers an 86km and a 50km loop. For a memorable experience with a special someone, be sure to check out the heart-shaped Love Lakes too.
2
Hiking trails in Hatta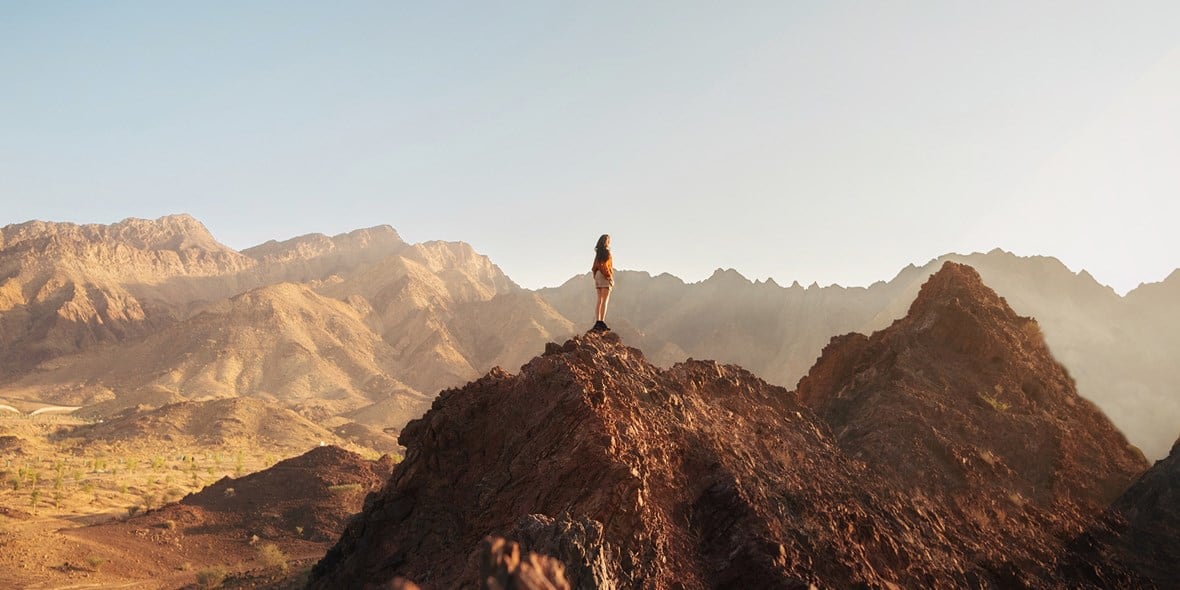 Escape the city limits into the mountain enclave of Hatta, for hiking, camping and a host of adrenaline-fuelled activities. Located on the foothills of the Hajar Mountains, Hatta is 130km east of Dubai's city centre. This popular weekend hideout offers up breathtaking views and is an ideal spot for overnight camping in Dubai. For hiking enthusiasts, there are 32.6km of marked trails ranging in severity from easy to extreme which are free to use all year round. Starting off from the 
Hatta Wadi Hub
, the routes cover undulating terrain, winding wadis and craggy peaks.
3
Mountain glam at Hatta Sedr Trailers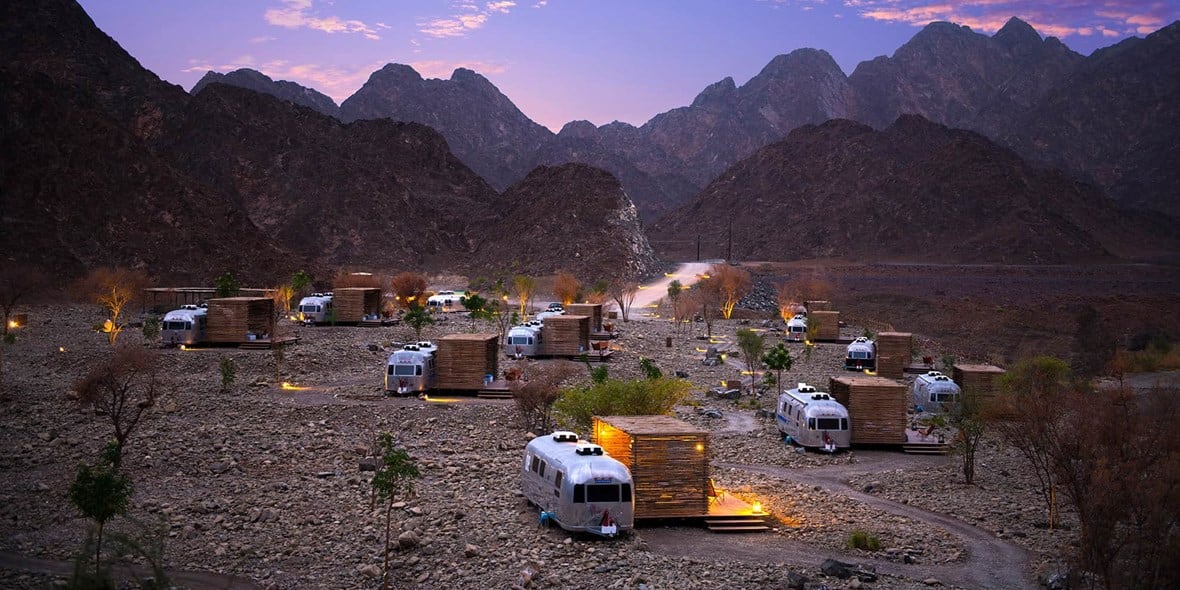 Those looking for a luxurious camping experience in Hatta can book the Hatta Sedr Trailers. These purpose-built high-end caravans offer up dramatic views of the mountainscapes, with the comfort of 'glamping'.  Each trailer features a terrace laid out with luxe couches and chairs, as well as a kitchenette, private bathrooms, air-conditioning and even a television. Nearby, the Hatta Wadi Hub has a host of activities from mountain-biking to axe-throwing to keep you entertained. Available during the winter months, it's best to book your trailer in advance as spaces fill up fast.
4
Desert camping in a Conservation Reserve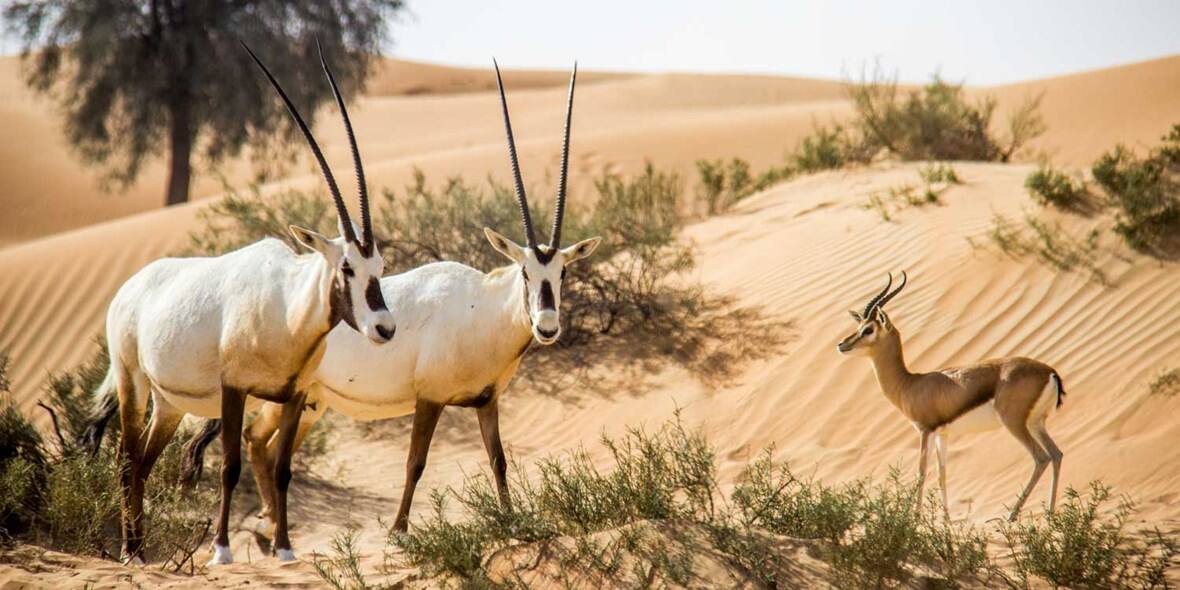 5
Stargazing at the Starlight Camp
Here's your chance to camp under the desert's starry skies. Starlight Camp is located deep in the Arabian desert, 45 minutes away from Dubai International Airport. The team takes care of all the arrangements for a private camp for your group to enjoy an exhilarating escapade. Relax under a crystal roof tent, fronted by a warm bonfire, a dining area, fully-equipped barbecue, a dining trailer, outdoor toilets and showers, and other amenities. Activities include nature walks and stargazing – so this is an experience you won't soon forget.
6
On the wild side at Lahbab
Stunning red sands and the option to stargaze from Fossil Rock makes the Lahbab Desert a fantastic option for campers. There are plenty of imposing rocks and dunes nearby to explore, such as the Pink Rock for dramatic views of desert vistas, or Big Red, a 300-foot sand dune that provides endless entertainment for adventure seekers. At Big Red, whether on a quad-bike or sandboards (which you can rent en route to these popular spots), there's plenty to give you an adrenaline rush. From here, it is easy to cross over to Hatta for more camping opportunities.