Spotlight on Expo 2020 Dubai
1851

London

The first World's Fair was held in London's Hyde Park and visited by six million people.

The first Expo was known as The Great Exhibition or the Crystal Palace Exhibition, referring to the recognisable structure built especially for the event.

The building was lauded as an architectural marvel and was later moved to South London, to an area known today as Crystal Palace.

1904

St. Louis, USA

Known as the Louisiana Purchase Exposition, and more informally as the St. Louis World's Fair, this world expo was attended by over 19 million people.

Contributions to science, technology and consumer goods were unveiled; from Alexander Graham Bell's 'radiophone' – the first wireless telephone, to the X-ray machine and the ice-cream cone.

1939

New York, USA

New York's first World's Fair took place in 1939 in Queens and welcomed over 44 million visitors.

During a tremulous time in world's history, the expo testified to the ingenuity of human imagination with inspiring exhibits from the Westinghouse Time Capsule that was to remain buried for 5,000 years, to the View Master – a concept close to today VR headsets, and the first colour television.

1970

Osaka, Japan

Expo '70 was the first of three World's Fairs in Japan. The expo hosted 78 countries and welcomed over 64 million visitors. Similar to the first expo held in London, the designers used the roof of the single festival plaza as a unifying symbol.

Every day we use some of the most memorable attractions exhibited, including the first mobile phone, the first IMAX film, and conveyor belt sushi.

2005

Nagoya, Japan

Japan's second World Expo, Aichi 2005, was held under the theme 'Nature's Wisdom', focusing on ecology and environmental wonders. 121 countries participated and 22 million visitors attended the event.

Showcases explored the relationship between people and nature, with exhibits such as the first humanoid robot and a screening of the film My Neighbour Totoro in the 'Forest Experience Zone'.

2021

Dubai, UAE

One of the first global mega-events since the pandemic, Expo 2020 will bring the world together to seek solutions to our greatest challenges, showcasing the latest scientific and technological advances from medicine to space travel.

Dubai invites you to join the making of a new world, meet more than 200 countries and organisations from around the globe and discover life-changing innovations that will have a meaningful impact on our planet and its people.
World's fair through the years
1st
World Expo
In the Middle East, Africa and South Asia region
200+
Participants
191 countries, plus multilateral organisations, educational establishments and businesses
A pavilion
for every country
For the first time in World Expo history, every country has a dedicated pavilion
182
Days
For 6 months, experience the whole world in one place at Expo 2020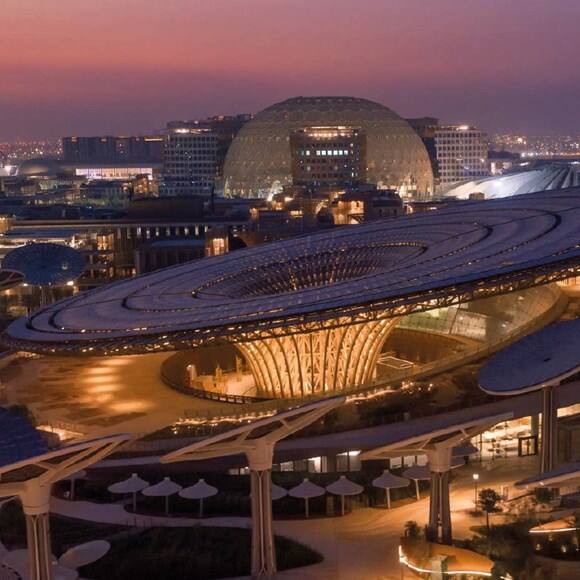 Expo 2020 Experiences
With daily shows, engaging events and cultural adventures, be a part of history in the making.