Make the most of Diwali in Dubai with incredible prizes
From 14-28 October, celebrate Diwali in Dubai with huge prizes up for grabs for shoppers at locations citywide.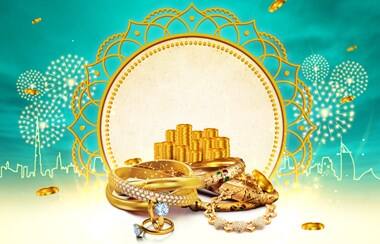 Celebrate Diwali in the City of Gold
Celebrate Diwali in the City of GoldAll that glitters is gold in Dubai, especially when it comes to Diwali! Shop for fabulous new jewellery with unbeatable deals at participating outlets in the city, and you could be one of 30 lucky shoppers winning up to AED150,000.
To enter, all you have to do is spend AED500 or more on gold, diamond, pearl or precious jewellery to receive a raffle coupon. If you're the holder of the winning ticket you'll receive AED5,000 in shopping vouchers to spend on future jewellery shopping expeditions.
What's more, shop for less this Diwali and discover up to 50% off on making charges on select jewellery collections in participating stores citywide. Plus, bargain hunters can enjoy 50% off on diamonds. You're in for a surprise too with some lucky shoppers receiving gifts to make your shopping experience extra special.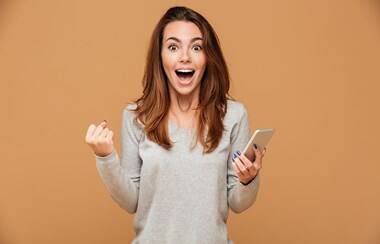 Win 100 cash prizes this Diwali with Idealz
An online shopping experience like no other awaits shoppers this Diwali with 100 lucky shoppers winning cash prizes. 99 winners each take home AED1,000 in cash with one very lucky winner scooping up an incredible grand prize of AED100,000 in cash.
To be in with a chance all you have to do is purchase a Rosso Set, available for just AED20. Each purchase, until 24 November, entitles you to one coupon entry into the prize draw. Shop now to be in with a shot at the grand prize.
Winners will be selected via a raffle draw on 25 November. Download the Idealz app or enter through the website at idealz.com and make this Diwali extra special!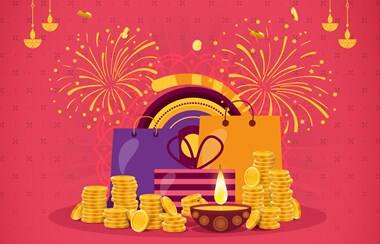 Shop and win gold
Make your Festival of Lights celebrations brighter than ever before by winning 20 grams of 24-karat gold. Spend AED200 or more at participating shopping malls in Dubai to enter the digital raffle.
There's enough treasure in Dubai Shopping Malls Group's chest for 20 winners, worth a total of AED100,000. Shop for everything you've been jotting down on your wishlist or start picking out dazzling Diwali gifts to increase your chances of winning.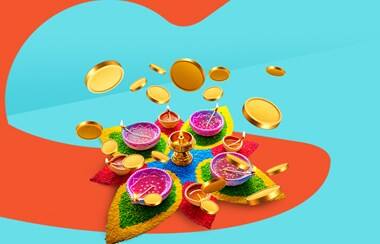 Spend and win at City Centre Deira
Celebrate Diwali at City Centre Deira from 14-30 October and you could be in for a golden surprise. Shop and win a gold coin worth AED1,000 every day. Spend just AED300 at participating stores to be in the lucky draw!
With plenty of fun activities for the whole family, your shopping experience got a lot more fun. Sign up for a Bollywood Zumba workshop, participate in a digital Rangoli competition, or enjoy watching an Indian artist design a colourful Rangoli pattern; you can also get yourself dolled up with a Henna artist to deliver magnificent designs for you.
With traditional performances to enjoy and fun experiences to explore, Diwali feels closer to home at City Centre Deira.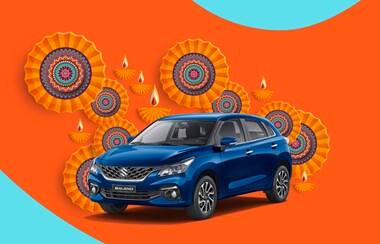 Win a Suzuki Baleno at City Centre Al Shindagha
Keep one eye on the road and another on the prize this Diwali. Shop at City Centre Al Shindagha from 1-28 October to be in with a chance to win a brand new Suzuki Baleno, 2023 model.
To take part all you have to do is spend AED200 at any store in City Centre Al Shindagha and scan your receipts on the SHARE app to enter the draw.
Download the SHARE app from Google Play or the Apple Store to also enjoy all the benefits of the programme, including earning and redeeming points from leading Majid Al Futtaim Malls retailers, sharing them with family and enjoying exclusive offers.
Spend and win up to AED25,000!
Head to the Diwali Bazaar in Festival Plaza to be in with a chance to win a whopping AED25,000. From 29 September to 28 October, spend just AED150 at any store in the mall to enter the prize draw.
The pop-up market, open from Thursday to Sunday until 23 October, is the best place to find independent, boutique and specialist Diwali retailers. The one-stop-shop for all your Diwali needs is open from midday to 10pm.
Join in on all the fun and take home incredible bargains with high-quality fashion, accessories, décor and more up for grabs. That's not all, watch incredible cultural shows every weekend and make it a day to remember for the kids with arts and crafts workshops scheduled from 22-24 October. Plus, stand a chance to win cash up to AED3,000 when you participate in Festival Plaza's Rangoli competition on 23 October.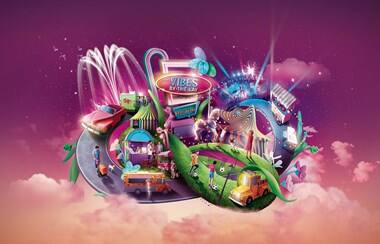 Win prizes at Dubai Festival City Mall
Celebrate Diwali at Dubai Festival City Mall for a chance to win prizes, shop incredible offers and watch amazing entertainment. From 14-28 October, spend just AED300 to be in with a chance to win. 10 lucky shoppers will each win a gold bar weighing 50 grams this Diwali.
That's not all, visit Vibes by the Bay to find homegrown brands and local businesses with plenty of gift ideas for friends and family as well as a variety of tantalising food trucks to try.
Once shopping is out of the way, set your sights on the record-breaking water and lights show IMAGINE with a choreographed special production for the occasion. Whatever you do this Diwali, make sure to watch the spectacular fireworks show hosted by Dubai Festival City Mall on 23 October. Show starts at 8:30pm.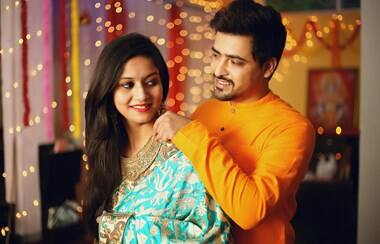 Earn Emirates Skywards Miles
This Diwali, turn your festive shopping into a earning spree with Skywards Everyday. From 14-28 October, shop at participating jewellery stores and earn 1 Mile for every AED3 you spend. Shop fabulous jewels and gold at Roberto Coin, Farah Jewellery, Fiori Jewels, Kalyan Jewellers and many more.
Rack up your Miles to upgrade on your travel and hotel stays, have fun filled family days out, or even purchase tickets to a wide range of sporting and cultural events across the globe.
Make sure to use your Skywards Everyday app on every purchase at participating outlets to start earning rewards and unlock fantastic travel benefits. You can download the Skywards Everyday app from iOS and Google Play Store.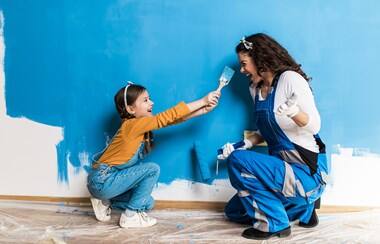 Win a home makeover worth AED 30,000 with Pan Emirates
Pan Emirates, one of the region's go-to destinations for contemporary and affordable furniture, is celebrating its 30th anniversary by giving you a chance to win a free home makeover worth a whopping AED30,000. Spend AED1,000 or more, from 15 October to 15 November, in any of their showrooms or online at panemirates.com for a chance to win.
Three lucky shoppers will each win gift vouchers worth AED30,000 to spend on a home makeover at Pan Emirates. Visit Pan Emirates' showrooms in Dubai in Al Barsha, BurJuman, Dubai Festival City Mall, Madina Mall, Cityland Mall beside Global Village or Festival Plaza to participate in the lucky draw.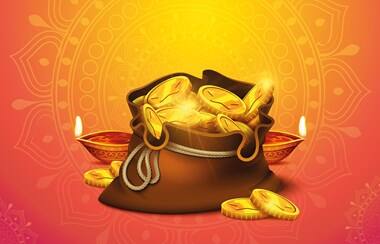 Scratch and win gold at Centrepoint
Centrepoint is home to a wide range of affordable brands with plenty to choose from for men, women, and kids as well as for the home. This Diwali, from 14-24 October, shop at their stores in City Centre Deira, Ibn Battuta Mall, Oasis Mall or Sky Gardens and win prizes.
All you have to do is spend AED200 to be eligible for a scratch card that could be your ticket to win gold coins with 20 being given away. 500 shoppers can also win gift vouchers worth AED100. With babyshop, Splash, Shoemart and Lifestyle under one roof, there's no better reason to go shopping than now. Terms and conditions apply.