Beaches
Embark on a foodie walking tour in Jumeirah
From Dubai's Jumeirah Corniche to the tip of Palm Jumeirah's 'floating' crescent, there's plenty to see, do and eat on this seaside walking tour.
From Dubai's Jumeirah Corniche to the tip of Palm Jumeirah's 'floating' crescent, there's plenty to see, do and eat on this seaside walking tour.
1
Sand, sports and sweet potato fries at Kite Beach
True to its moniker, Kite Beach is a popular spot for kite flying – both competitive and leisurely – as well as thrilling watersports, with stand-up paddleboarders and kite surfers dotting the depths offshore. This beach is also known for its development into a foodie destination, with several casual dining concepts within an open-air courtyard.
Sample tasty beach bites such as Smart Brat's sauerkraut-loaded German bratwursts, Kaakunada's traditional Lebanese sesame-baked stuffed breads, and try some freshly-ground coffee at 95 Degree Speciality Coffee. Don't miss Emirati-owned truck turned burger restaurant, Salt – its American-style burgers and cheese fries make a hearty meal for sun-seekers. You can also sit down in Circle Cafe for excellent light snacks and salads.
2
Fish frenzy at Umm Suqeim Fishing Harbour
Walk along the beach promenade in a westerly direction for 2.5kms, which roughly takes 25 minutes, and you will reach your next stop, the Umm Suqeim Fishing Harbour. Every day, the local fisherman display the day's catch, with everything from Dubai's versatile hammour fish to Omani lobster at bargain prices.
After casting your eyes over the still-salty catches, pull up a chair for a spicy seafood feast at Bu Qtair (means 'sweet water' in Arabic). This humble cafeteria, which has been around since the 1980s, offers the choicest pick of prawns or fish from its daily menu. You can complement this meal with an Indian-Emirati curry sauce, lentils and warm, flaky paratha bread, while enjoying the cafe's outdoor dining area.
3
Azure views and more at Beachcombers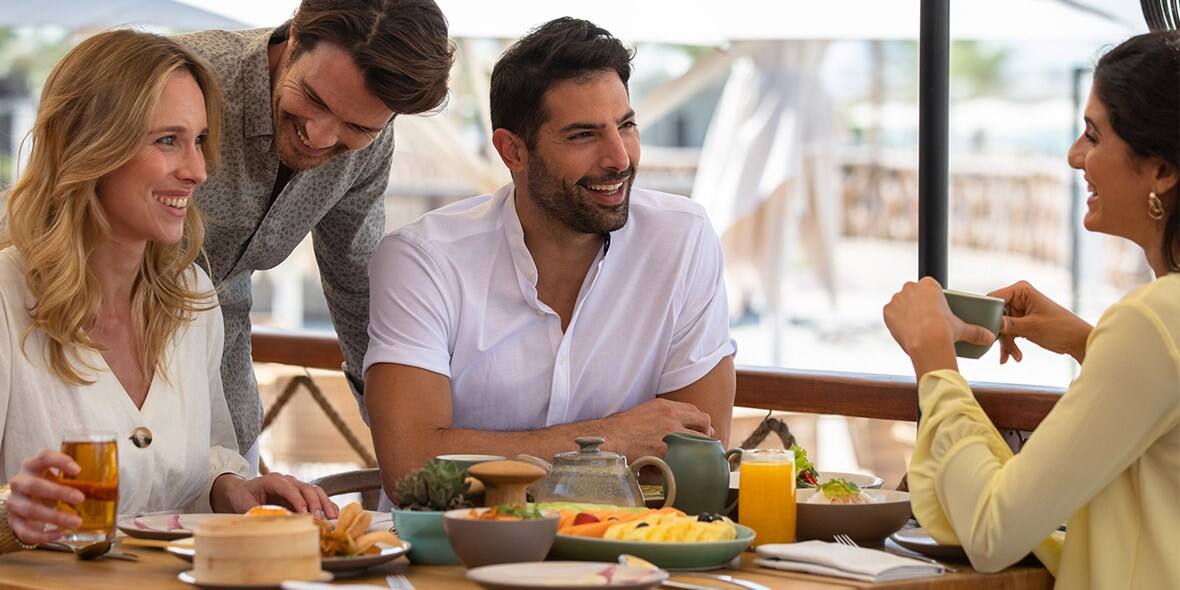 Continue to walk around the curve of the harbour for a few minutes, and you'll reach the stretch of public beach. This family-friendly spot is usually a hive of activity on the weekends, with locals and visitors enjoying the clean sands and calm waters.
Stroll to the far end and you will find Beachcombers at the iconic Jumeirah Beach Hotel. This idyllic spot offers delicious beachside bites alongside the best views of the Burj Al Arab. Tuck into Pan Asian specialities that are creatively presented at à la carte dinners and the much-loved Saturday family brunch.
4
Enjoy, eat and exercise at Palm West Beach
Hail a taxi at the handy Jumeirah Beach Hotel valet, and take no more than 10 minutes to reach your next destination, Crescent Road on Palm Jumeirah. With all-day seaside entertainment and the best Dubai skyline views along the 1.6km of promenade and beachfront, be prepared to have a fun time with your friends and family.
Get your daily dose of exercise along the walking and running trail, indulge in lazy beachfront breakfasts, or build sandcastles against the backdrop of picture-perfect sunsets at Palm West Beach. You can choose from an array of shoreside restaurants including KoKo Bay, Surf Club, Lucky Fish, Jones The Grocer, Señor Pico and Orange Chameleon, among others.
5
Five-star meals at Atlantis, The Palm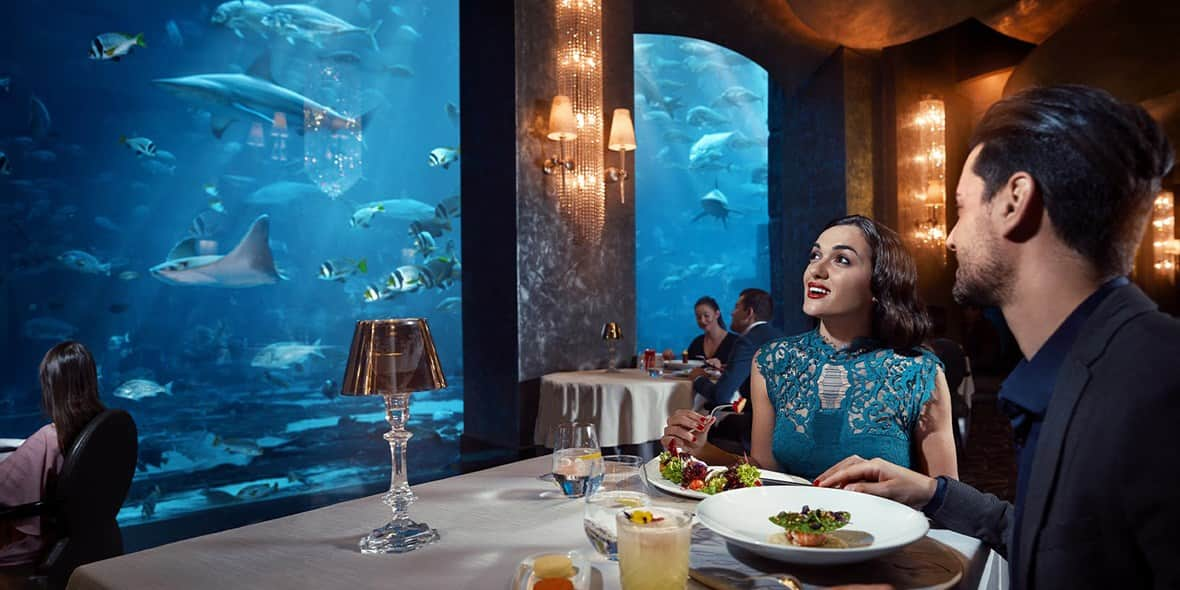 Jump in another taxi and just ten minutes later you'll find yourself pulling up to the famous Atlantis, The Palm. Resembling a seashell-pink sandcastle, the five-star hotel is known for its stunning suites, impeccable service and incredible dining options.
With a roster of award-winning restaurants and lounges on the hotel grounds, this venue is a foodie's paradise. You can choose from Gordon Ramsay's Bread Street Kitchen, sublime sushi and more at Nobu, or the remarkable tasting menu at Ossiano.